This Slow Cooker Italian Sausage and Kale Soup with Sweet Potatoes is hearty yet perfect for a light fall dinner. Paleo friendly and low carb.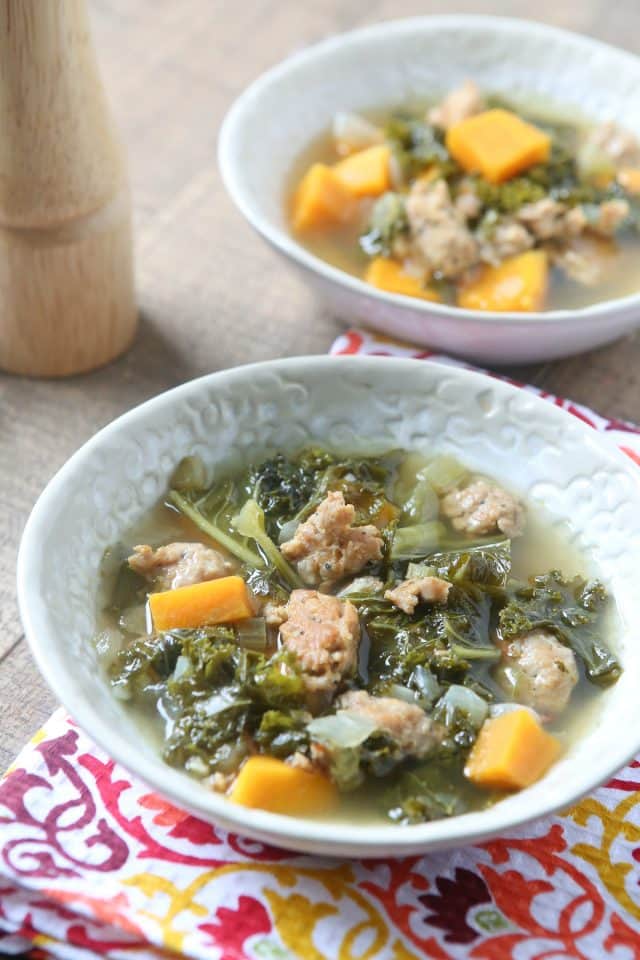 It never fails, the first couple weeks after school start and the sickness begins. Last week and weekend we had 2 streps and 1 virus hit us and we were literally at the doctor 3 different days with 3 different kids. It all started in preschool, which sounds about right and thankfully did not end with the parents although my allergies have been going a little haywire lately and my sinuses are acting up. Soup is always my go-to when I feel like this and although my 2 boys don't typically partake in it, my daughter and husband do and I felt extra good about them eating a bowl of this Italian Sausage and Kale Soup with Sweet Potatoes from my friend Natalie's new cookbook, The Big Book of Paleo Slow Cooking. Nothing but good stuff in this soup.
I made the soup on Sunday for part of dinner (see my weekly meal plan from this week here) while everyone ate grilled chicken parmesan sandwiches. I needed a light dinner, and I knew leftovers would be perfect for lunch this week. My daughter who was under the weather a few days longer than the rest, had some soup for dinner a couple times as well and I think it hit the spot. At least I know it did for me!
Are you following me on Instagram, Twitter, Facebook and Pinterest? If you'd like to subscribe to Aggie's Kitchen and have each post delivered straight to your e-mail box, then please add your email here. Happy cooking!
There are affiliate links in this post. I make small earnings through any purchases made through these links. Thank you for supporting Aggie's Kitchen!