Give your body a boost of nutrition and hydration with this gorgeous Dragon Fruit Smoothie.
Click here to pin this Dragon Fruit Smoothie recipe!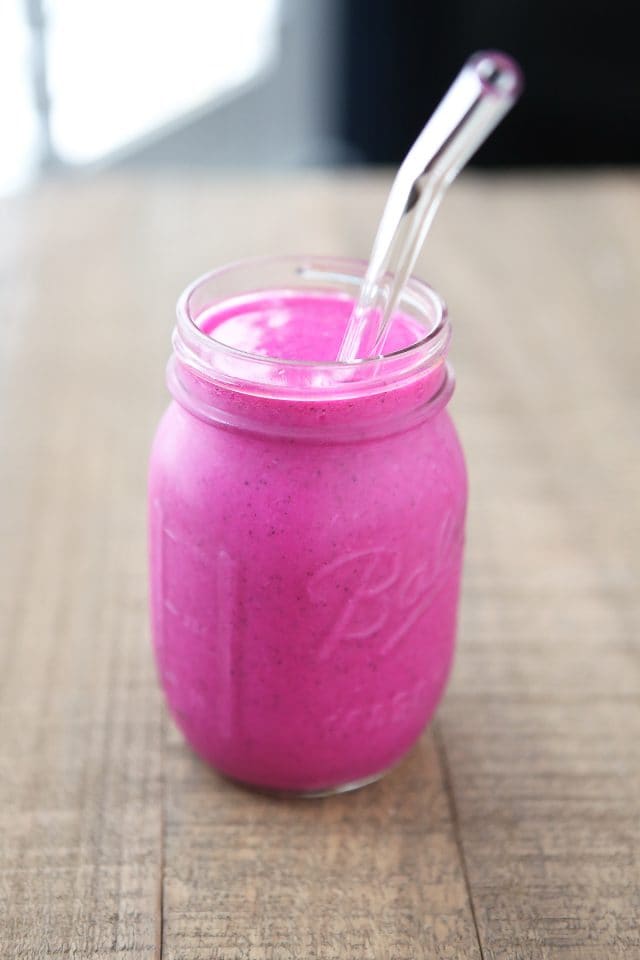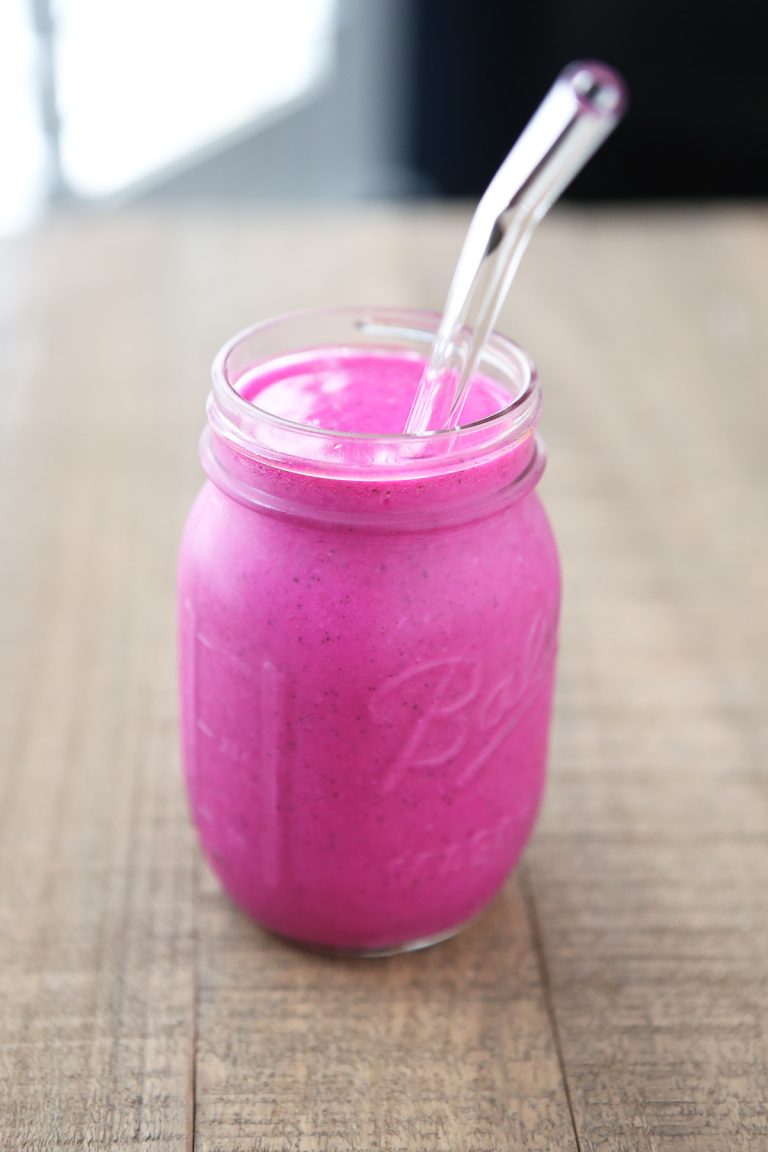 Earlier this month, I mentioned that I was working on rebuilding some positive habits to get my health, fitness and general well being back on track. One of those habits I mentioned was getting back into the gym regularly, specifically early morning workouts. One thing I love about working out early in the morning (other than the obvious feeling of getting it out of the way) is the peaceful drive I have to and from the gym. It's still dark, there are barely any cars on the road and it just feels quiet. I like to spend the ride to the gym listening to podcasts, specifically self improvement/motivational podcasts. This is my time to listen to something that will promote growth and knowledge whether it be relating to my business, health or spirituality. I go in phases with what I'm listening to. I was on a big Chalene Johnson kick last year, and lately I've been going through old episodes of the Happier podcast by Gretchen Rubin after a friend of mine mentioned it to me recently. I've listened to it before but not regularly so I'm really enjoying catching up on different episodes each day.
One episode that struck me was episode #90 where Gretchen and Liz discussed a very relatable topic – the Essential Seven, aka the 7 areas in which every desirable habit falls. The sisters went through the list and discussed what they each could do personally to make their lives happier, healthier, more productive or more creative and I just thought this was such a do-able exercise for anyone who is in the frame of mind where they want to improve aspects of their lives. I figured I would share with you my Essential Seven and ask that you share yours as well! (Just copy and paste the list into the comment section and add to it). I would love to hear from you!
1. Eat and drink more healthfully

2. Exercise regularly

3. Save, spend, and earn wisely

4. Rest, relax, and enjoy

5. Stop procrastinating, make consistent progress

6. Simplify, clear, and organize

7. Engage more deeply—with other people, with God, with yourself, with the world
One thing that I am personally trying to do that happens to fall under #1 is to drink more smoothies. I really loved smoothies for years but somehow got out of the habit of making them. A friend of mine (who is a marketing rep for food brand, no relationship with blogging) recently introduced me to these dragon fruit smoothie packs from one of his clients. He shared some samples with me and I have been obsessed with making this smoothie a few times a week, specifically after a workout or in between meals. Not only is the color absolutely gorgeous (I think that is why I fell in love), but it is so refreshing.
Are you following me on Instagram, Twitter, Facebook and Pinterest? If you'd like to subscribe to Aggie's Kitchen and have each post delivered straight to your e-mail box, then please add your email here. Happy cooking!
There are affiliate links in this post. I make small earnings through any purchases made through these links. Thank you for supporting Aggie's Kitchen!