Cucumber Avocado Salad
Refreshing Cucumber Avocado Salad with lemon is a perfect side dish any time of year! Enjoy it along with grilled dishes or add canned tuna to your salad for a high protein meal. Ready in less than 15 minutes!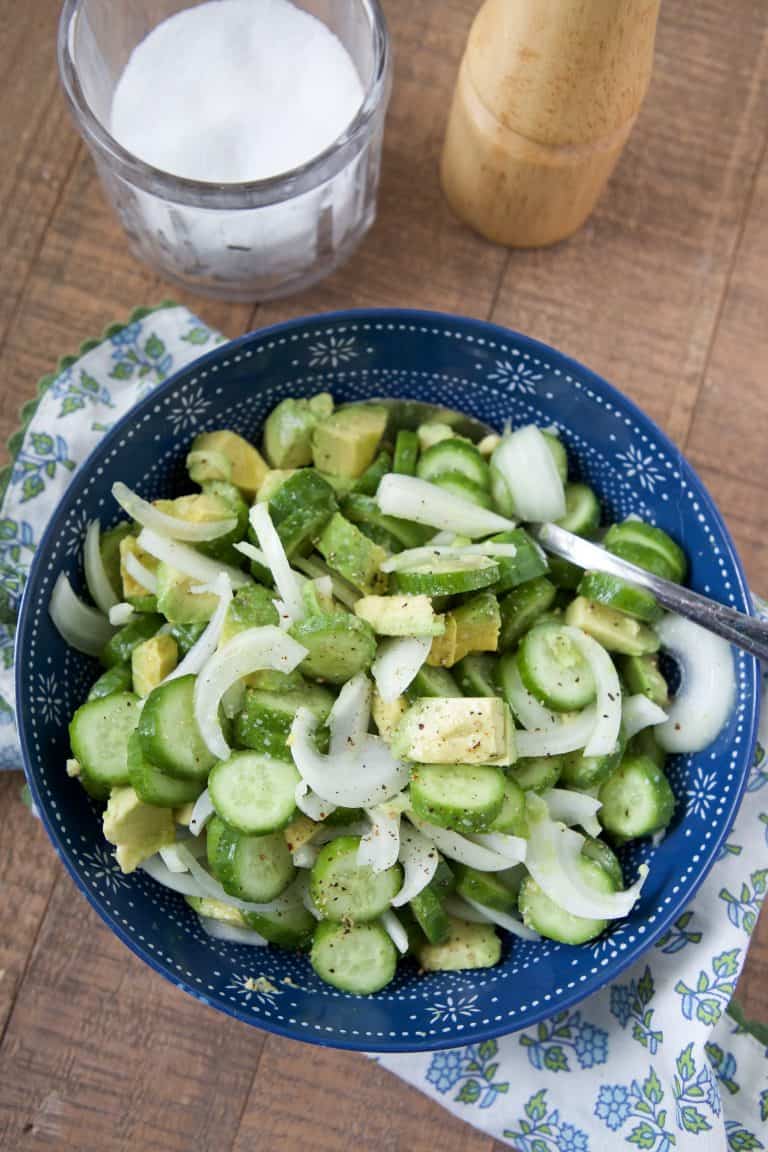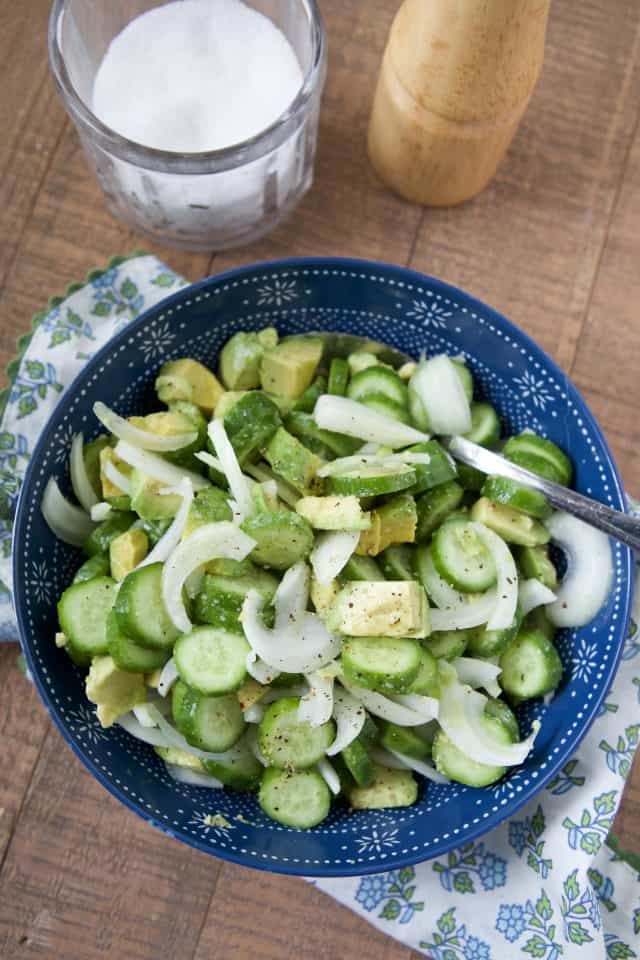 We are officially in my favorite food season. All the fresh vegetables! I have to say, in Florida we are in this season most of the year, but when the weather is as hot as it is right now all I crave is cool, refreshing salads like this Cucumber Avocado Salad.
I have made this simple salad several times over the last few weeks and each time I make it my daughter and husband dish out the compliments. They are currently the only salad eaters in the family (in addition to me) although my oldest son does like his veggies, just served in a more deconstructed version and not in salad form. I'm good with it.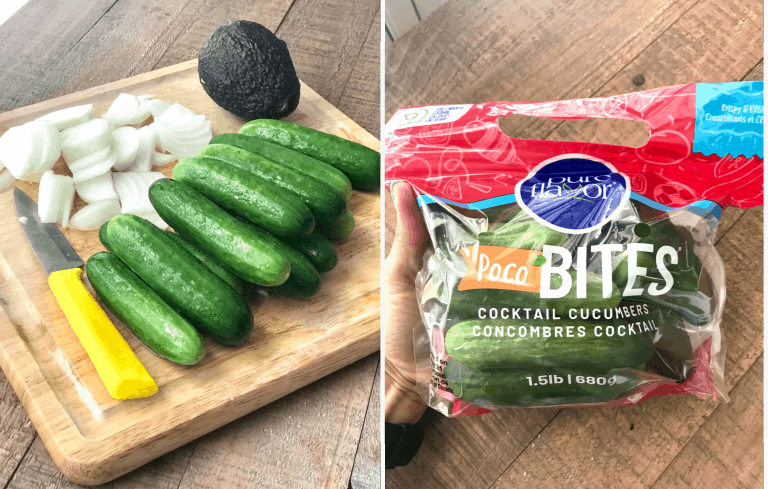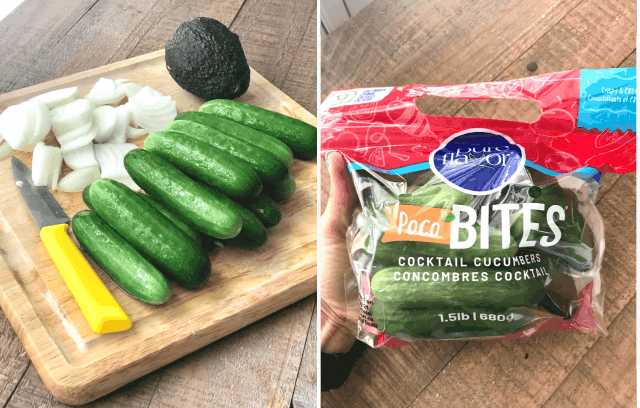 For this easy cucumber salad recipe, you just need a few ingredients:
Persian or cocktail cucumbers – I find Persian cucumbers at Trader Joe's and cocktail cucumbers at Costco or sometimes at my regular grocery store.
Avocado
Sweet or Vidalia onion
Lemon – I use a lemon press like this one to get ALL the juice out.
Coarse sea salt and fresh ground pepper – try pink Himalayan salt if you have it. I get mine in a grinder at Costco but I see lots of Himalayan pink salt at Home Goods too.
Pretty simple, right?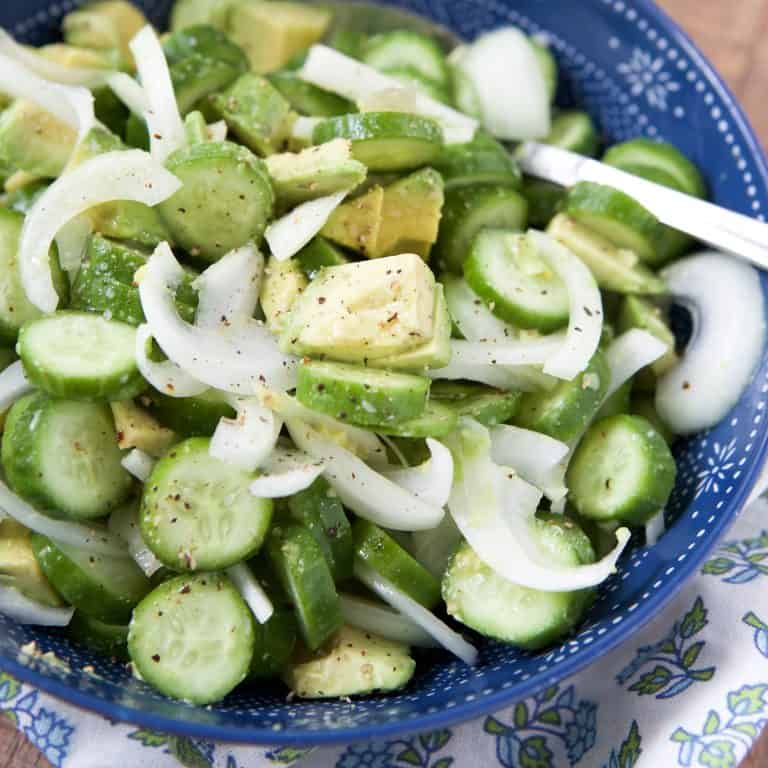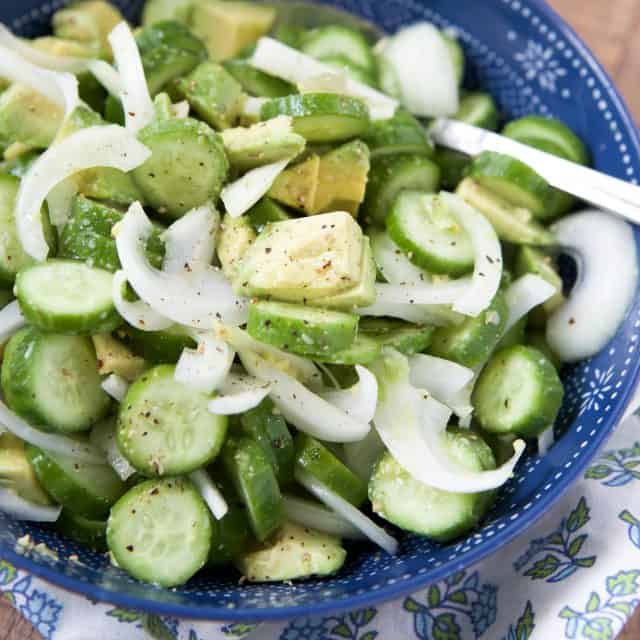 If you are grilling chicken, shrimp or steak, this cucumber avocado salad would make the PERFECT easy side dish to go on your plate. But if you are like me and are trying to eat more salads at lunch time, then add some canned albacore tuna to a bowl of cucumber avocado salad and squeeze more lemon for a veggie packed, high-protein lunch (or dinner!).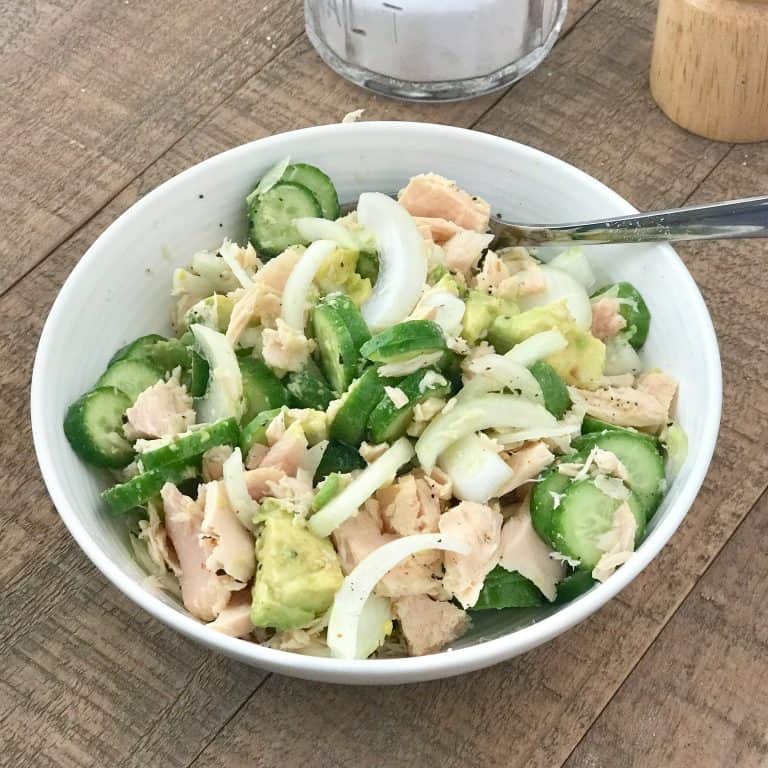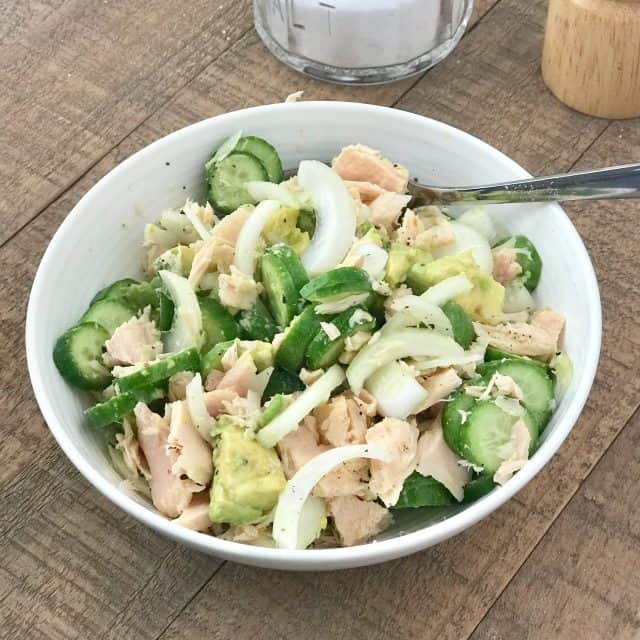 Summer Salads and Side Dishes
I know I'm craving all the simple summer salads and side dishes right now, and there are quite a few I want to try like my friend Lora's Sweet Summer Corn and Cucumber Salad. We spoke recently about how much we love this time of year because of all the fruits and veggies so we are both planning on sharing more fresh recipes using summer produce like cucumbers, corn, watermelon and tomatoes, just to name a few. It's fun to have friends who love summer produce (all produce!) as much as you do and exchange ideas.
#FreshSummer 2019 project:
We came up with a theme for each month of our #FreshSummer recipes. For the month of June we chose to share something we both made with cucumbers! Please join Lora and I all summer long with new or your tried and true favorite cucumber recipes. If you make a cucumber recipe, tag us on Instagram with #FreshSummer. Follow us @aggieskitchen and @savoringitaly to see our stories and catch everything delicious! We will be back in July with something else that's super fresh for your summer kitchen!
Some of my personal favorite summer salads and side dishes:
Spinach Salad with Peaches, Gorgonzola and Almonds
Lemony Green Bean Pasta Salad with Walnuts
Cherry Tomato and Blue Cheese Salad
If you make this cucumber salad recipe or any of my summer side dish recipes please be sure to tag me on Instagram @aggieskitchen #aggieskitchen and #freshsummer!
Print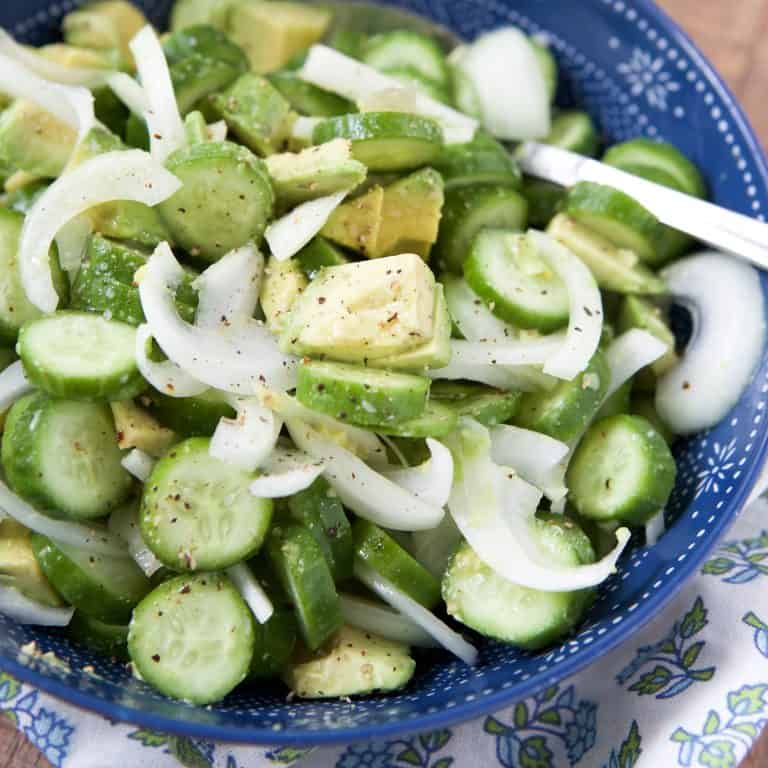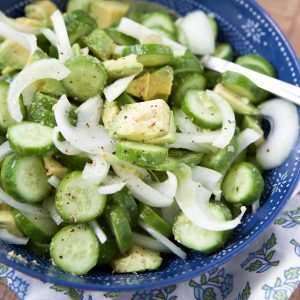 Cucumber Avocado Salad
Author:
Prep Time: 15 minutes
Total Time: 15 minutes
Yield: 4 servings 1x
Category: Salad
Refreshing Cucumber Avocado Salad with lemon is a perfect side dish any time of year! Enjoy it along with grilled dishes or add canned tuna to your salad for a high protein meal. Ready in less than 15 minutes!
---
Ingredients
8 – 10 Persian or cocktail cucumbers, sliced
1 sweet Vidalia onion, sliced thin
2 avocados, diced
juice from 1 lemon
coarse salt and fresh ground pepper
---
Instructions
Add cucumber, onion and avocado to a bowl. Squeeze lemon over salad and sprinkle with salt and pepper. Gently toss to combine. Serve immediately.
---
Notes
Serving suggestions:  Add feta, canned tuna, and/or garbanzo beans (for more flavor and protein) or serve with grilled shrimp, chicken, or steak.
Keywords: cucumber, avocado, onion, lemon, salad, side dish
Are you following me on Instagram, Twitter, Facebook and Pinterest? If you'd like to subscribe to Aggie's Kitchen and have each post delivered straight to your e-mail box, then please add your email here. Happy cooking!
There are affiliate links in this post. I make small earnings through any purchases made through these links. Thank you for supporting Aggie's Kitchen!