Spinach Salad with Peaches, Gorgonzola and Almonds
Your taste buds will be singing with this Spinach Salad with Peaches, Gorgonzola and Almonds. One of my favorite summer salads!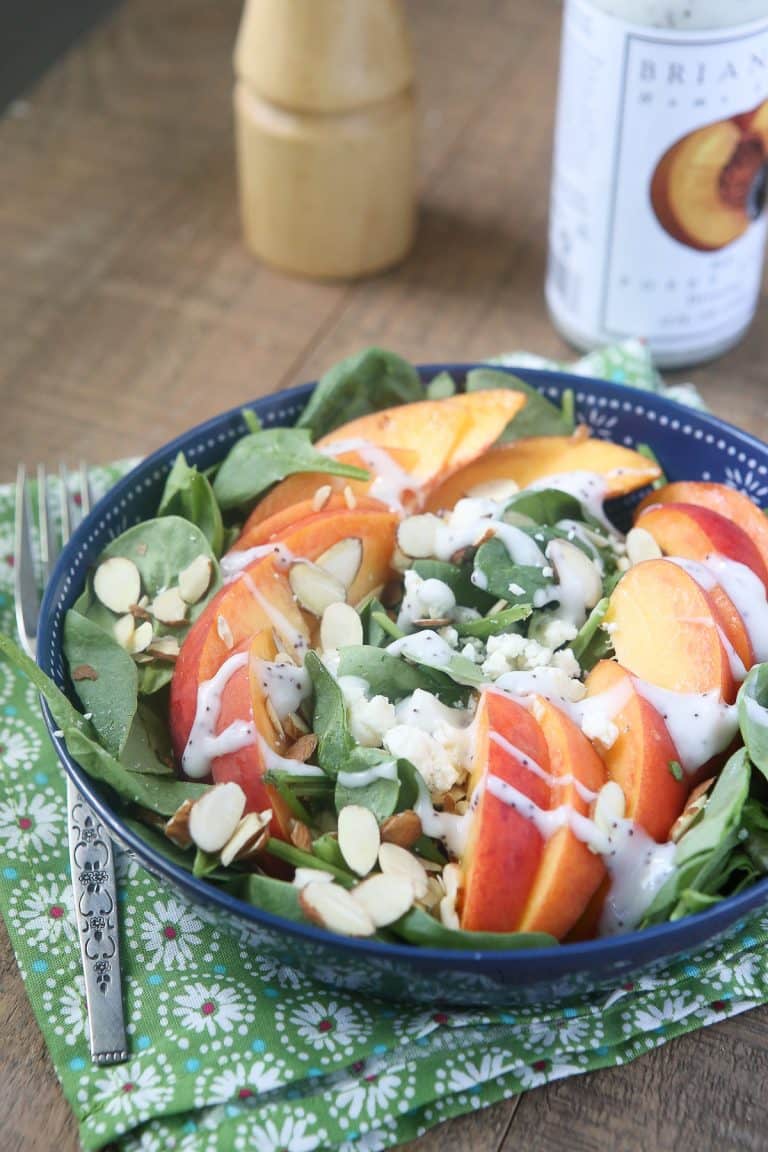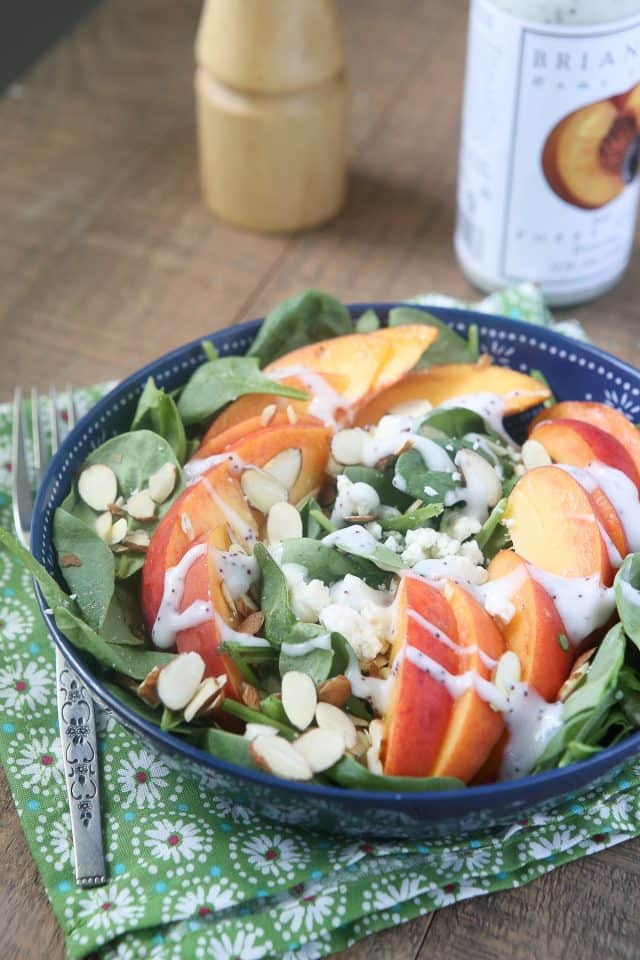 Are we seriously starting the last week of July? I'm not ready for another summer to end, although technically it doesn't end for a while but with school lurking around the corner it always feels like the season is over before it really is. That's not fair, in my opinion. There are so many things I love about every season, but one thing I truly love about summer is all the produce we have available to us. Summer fruits and veggies are my favorite. Right now, I'm absolutely hooked on peaches and my kids and I have been eating them daily. Sweet summer peaches are the best.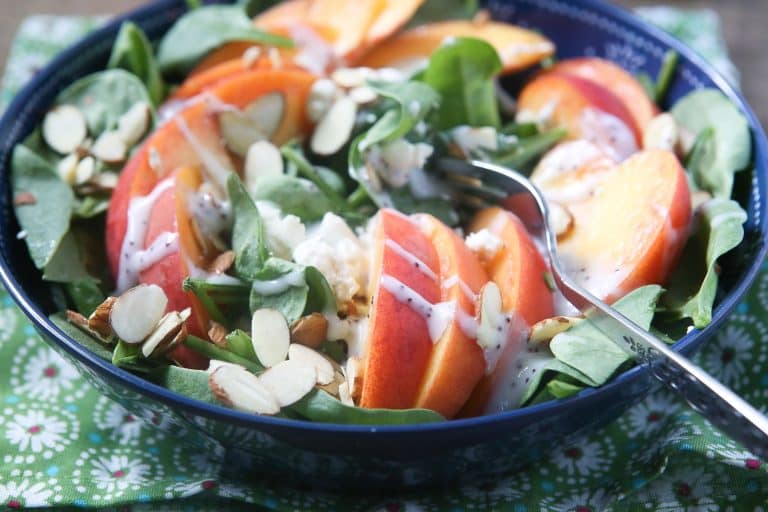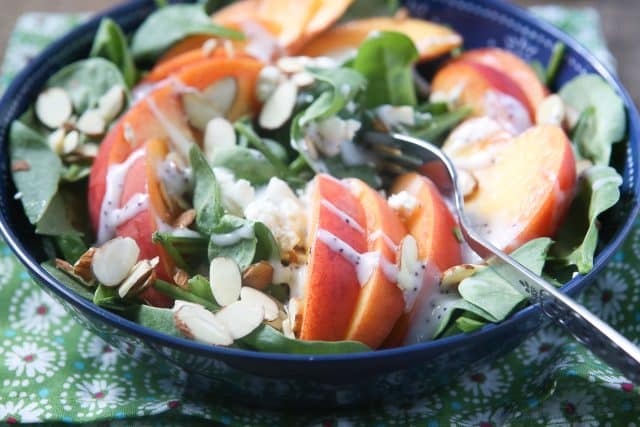 Have you tried adding peaches to a salad? I tried this Spinach Salad with Peaches, Gorgonzola and Almonds several years ago and always look forward to summertime when the peaches start showing up in the produce section. When I'm picking out my peaches, I like to get ones that are still a bit firm and leave them out to ripen on the counter for a day or two. If you are having an intense peach craving and want to eat one immediately then select one that starts to give when you gently press on the area around the stem. If it gives, then it's ripe and ready to eat.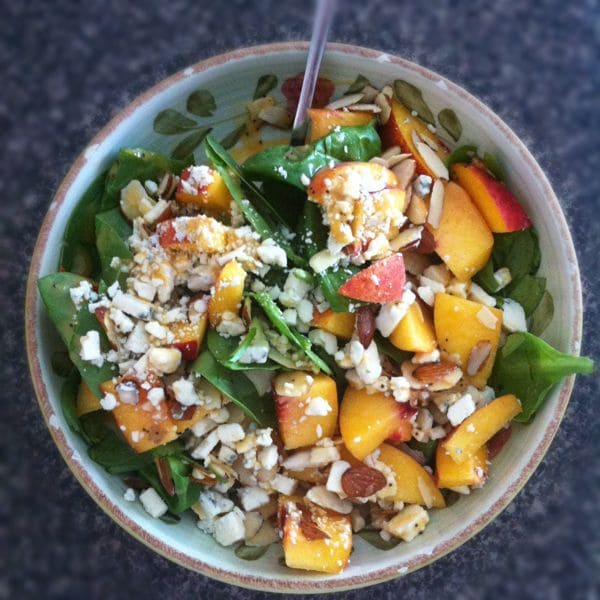 (I originally posted this Spinach Salad with Peaches recipe in September, 2012, here's the pic I snapped with my iPhone! I recently updated the photos for this post to share again, but I always like to keep my original photos when I can.)
I know I've mentioned before that I have been focusing on weight loss and body composition this year and a lot of my results have come from tracking my food in My Fitness Pal (if you want to connect there, you can find me under aggiegoodman). Tracking my food has become a daily habit for me, and one of the most helpful tools on MFP has been to "save meals", especially ones that I tend to eat often. It makes tracking SO much easier when you can just add a quick meal in without thinking too hard. It also provides nutrition information for the meal which has helped me in providing that same information for my recipes when I post them here for you. You can save a meal by clicking on the 3 dots in the meal section (if you are using the app), Save Meal should then come up as an option. When I am actively tracking it makes a huge difference because I take the time to measure out ingredients like the almonds and gorgonzola and dressing in a meal like this – those can be calorie killers and if you are trying to drop weight then it does make a difference. I don't worry too much about exact measurements of fruits and veggies because they are fruits and veggies.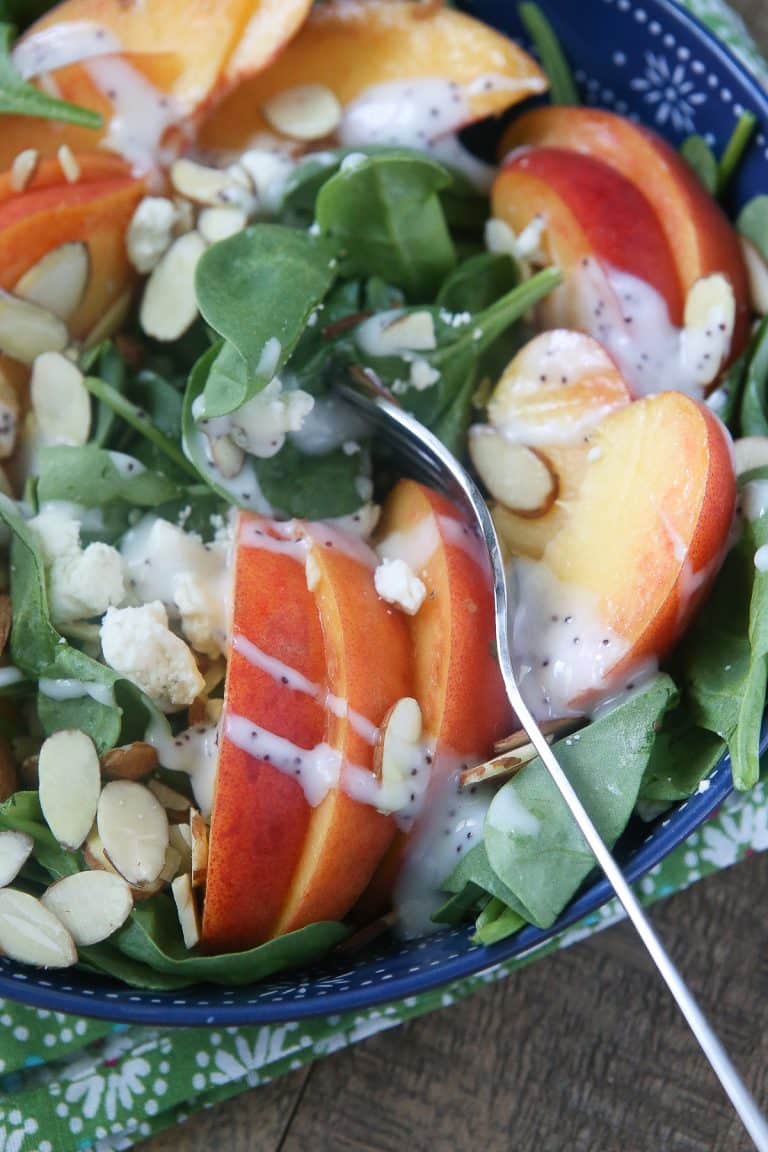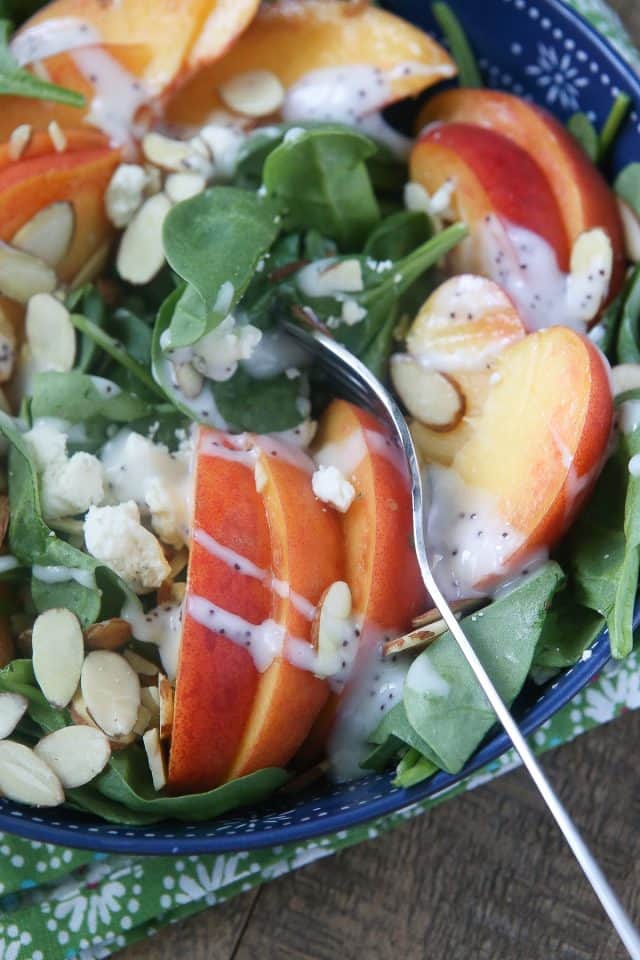 You'll have to let me know if you try this Spinach Salad with Peaches! If you are a fan of salads with fruit in them (like this Spinach Strawberry and Walnut Salad) then I think you will enjoy it.
Seasonal recipes using peaches :
Honey Almond Ricotta Spread with Peaches
Fresh Peach Salsa with Grilled Chicken | Kroll's Korner
Peach Parfaits | Love and Zest
Print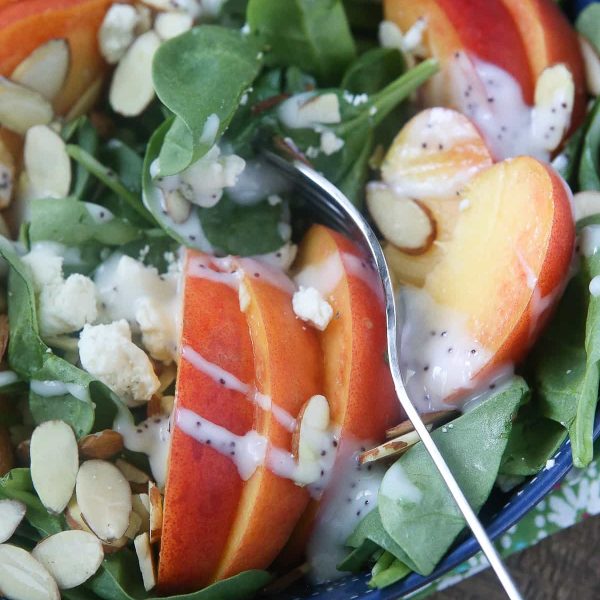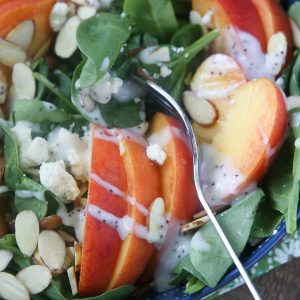 Spinach Salad with Peaches, Gorgonzola and Almonds
Author:
Prep Time: 10 minutes
Total Time: 10 minutes
Yield: 1 salad 1x
Category: Salad
Cuisine: Vegetarian / Salad
Your taste buds will be singing with this Spinach Salad with Peaches, Gorgonzola and Almonds. One of my favorite summer salads!
---
Ingredients
2 handfuls (cups) fresh baby spinach leaves
1/8 cup (2 tablespoons) crumbled gorgonzola
1/8 cup (2 tablespoons) sliced almonds
1 peach, sliced or cut in chunks
2 tablespoons of your favorite poppyseed dressing (I love this one from Brianna's)
---
Instructions
Combine all ingredients in large bowl or plate to make one salad. Drizzle with dressing and enjoy.
---
Notes
Nutritional Information (calculated via My Fitness Pal): 372 calories / 25 g fat / 9g protein / 23g sugar / 28g carbs
( calculated using Brianna's Poppyseed Dressing )
---
Nutrition
Serving Size: 1 salad
Calories: 372
Sugar: 23 g
Fat: 25 g
Carbohydrates: 28 g
Protein: 9 g
Keywords: spinach, peaches, almonds, salad
Are you following me on Instagram, Twitter, Facebook and Pinterest? If you'd like to subscribe to Aggie's Kitchen and have each post delivered straight to your e-mail box, then please add your email here. Happy cooking!
There are affiliate links in this post. I make small earnings through any purchases made through these links. Thank you for supporting Aggie's Kitchen!