Honey Almond Ricotta Spread with Peaches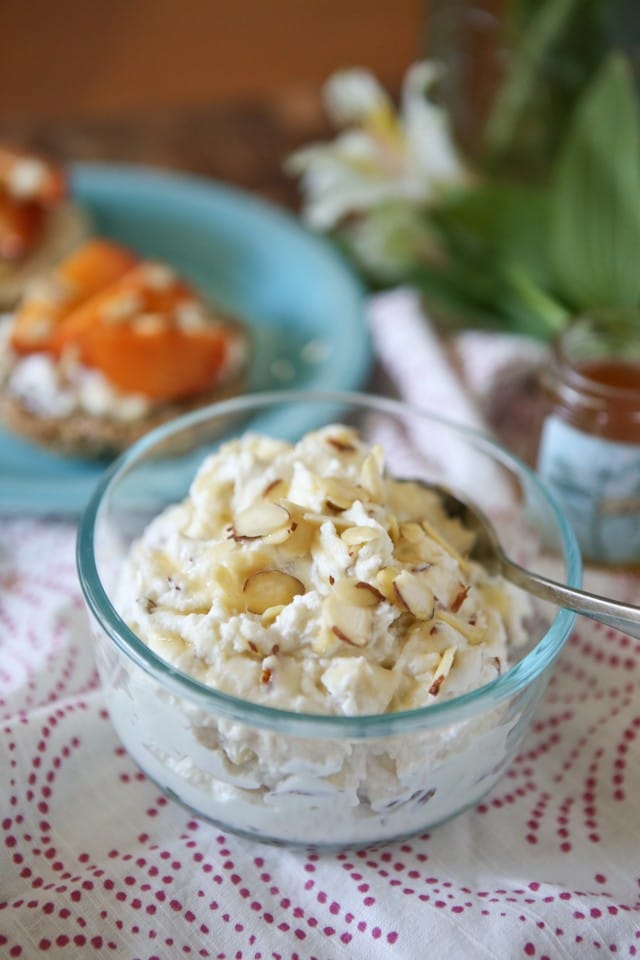 (This recipe for Honey Almond Ricotta Spread is sponsored by Fisher Nuts.)
A few years ago I was in New York with my husband for his company holiday party. It was such a great trip, and we ate at some really amazing places. One restaurant, Laconda Verde, came highly recommended by Gail, and was absolutely memorable. I still think about the food we ate there – in particular a baked egg dish and their house ricotta plate immediately come to mind (you can check out photos of our meal here). I couldn't help but think of that ricotta plate as I put together this Honey Almond Ricotta Spread. As much as I'd love to tell you I made this ricotta from scratch, you know that I did not. (wink)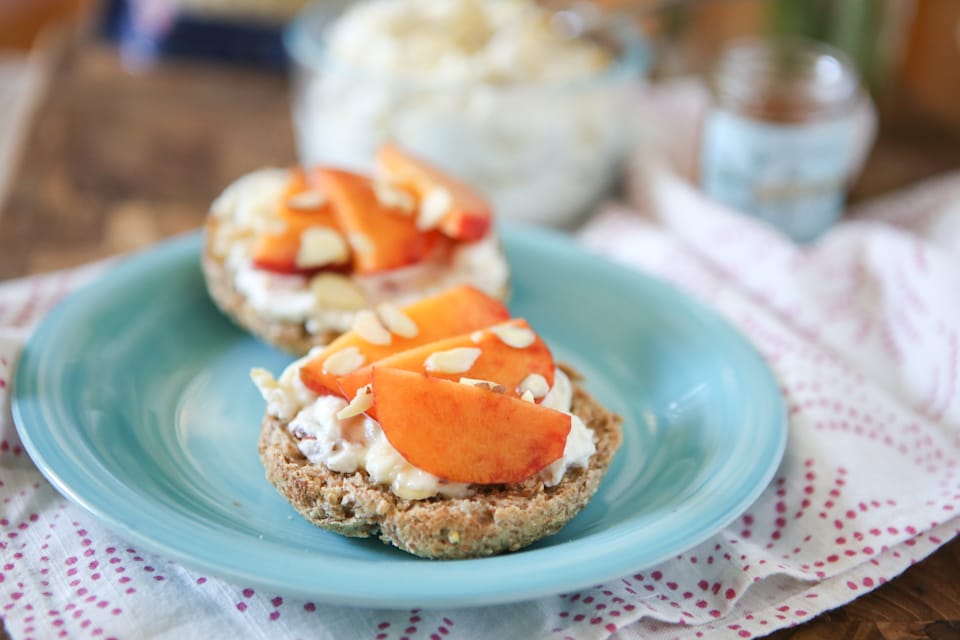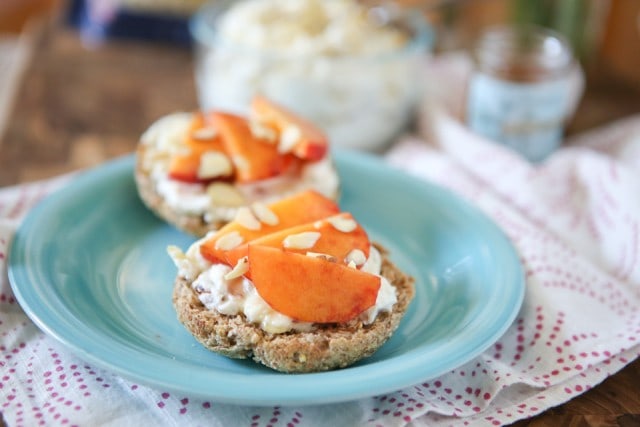 Ricotta was one of my favorite snacks growing up and one that I occasionally crave, especially when slightly sweetened up with a little honey and served with nuts and fruit. When I was young, my grandma served it to me quite simply in just a bowl with a sprinkle of sugar, so I guess you can say this version is the grown up version of my childhood treat. If you don't normally think of ricotta as anything other than an ingredient in lasagna, think again – it is absolutely delicious served this way, especially for breakfast or brunch (hint hint, Mother's Day is just a few days away).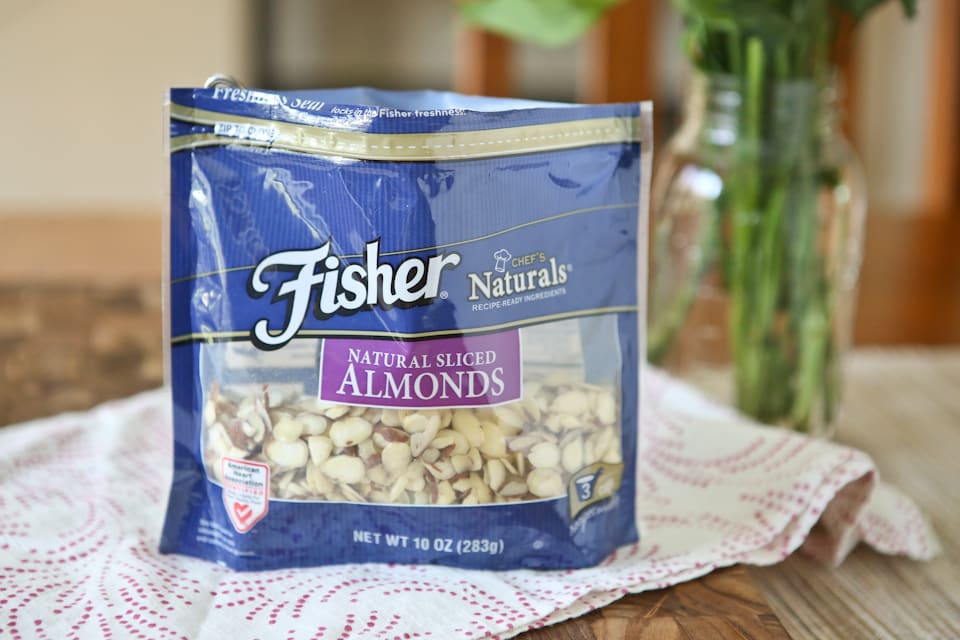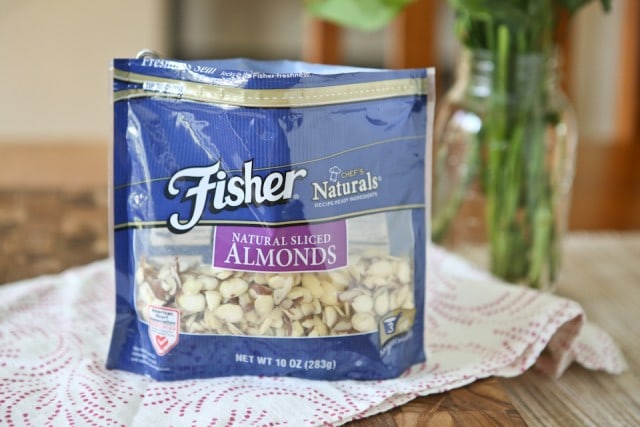 I used whole milk ricotta for it's richness but you can easily swap it out for part-skim. This spread comes together so easily with just a little almond extract, honey and a good handful of Fisher Sliced Almonds for crunch. Spoon it over some hearty whole grain bread or my favorite Ezekiel muffins with some fruit for something a little different (and a bit indulgent) for breakfast. Or just grab a spoon and enjoy it simply on it's own or as a topping for some fruit.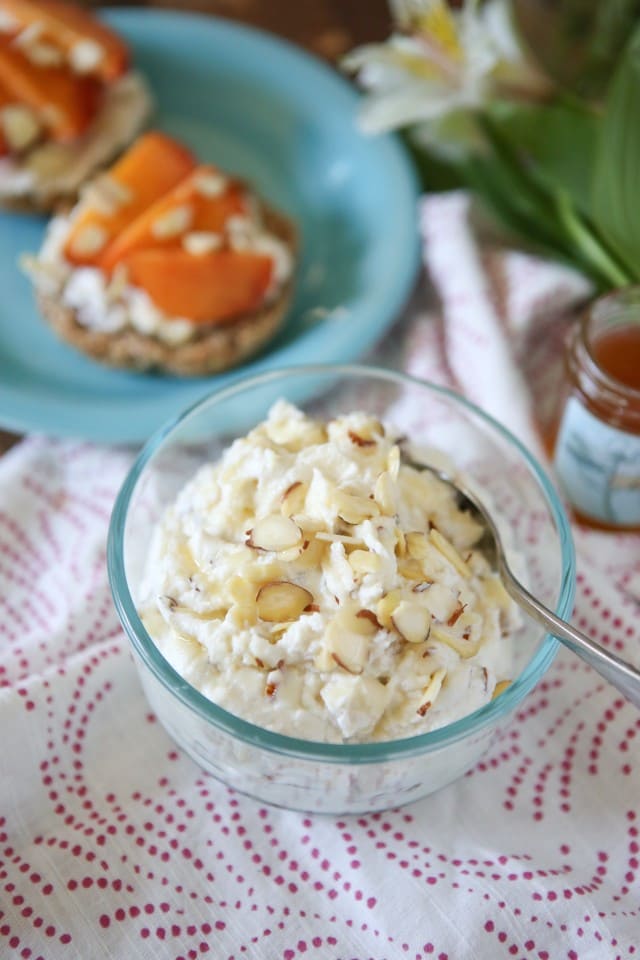 Honey Almond Ricotta Spread with Fruit
Yield: serves 4-6
Total Time:15 minutes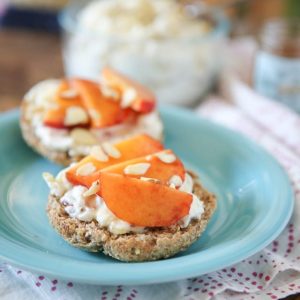 Ingredients:
For the ricotta spread:
1 cup whole milk ricotta
1/2 cup Fisher Sliced Almonds
1/4 teaspoon almond extract
1 teaspoons honey
zest from an orange, optional
For serving:
hearty whole grain toast, english muffin or bagel
sliced peaches
extra Fisher sliced almonds
extra honey for drizzling
Directions:
Combine ricotta, almonds and almond extract in a medium sized mixing bowl and gently stir to combine. Transfer to a serving bowl and sprinkle with additional sliced almonds and drizzle with a teaspoon of honey.
To serve, toast your bread. Spread 1 tablespoon of ricotta spread on each piece of bread. Top with sliced peaches, sliced almonds and honey.
Need ideas for Mother's Day? Here are a few I recipes I would love served to me for breakfast in bed:
Spring Toasted Almond Fruit Salad | Fisher Nuts
Scrambled Eggs with Smoked Salmon | Aggie's Kitchen
Mango and Macadamia Nut Parfaits | Fisher Nuts
Blueberry Coconut French Toast | Well Plated
Pancetta & Mushroom Crustless Quiche | Cookin' Canuck
This post is in partnership with Fisher Nuts, however all opinions are my own. #ThinkFisher
Follow Aggie's Kitchen's board Healthy Recipes on Pinterest.
Are you following me on Instagram, Twitter, Facebook and Pinterest? If you'd like to subscribe to Aggie's Kitchen and have each post delivered straight to your e-mail box, then please add your email here. Happy cooking!
There are affiliate links in this post. I make small earnings through any purchases made through these links. Thank you for supporting Aggie's Kitchen!