Strawberry Spinach and Walnut Salad with Raspberry Balsamic Vinaigrette
This Strawberry Spinach and Walnut Salad with Raspberry Balsamic Vinaigrette is classic – and full of nutrition! One of my favorite salads ever.
Click here to pin this Strawberry Spinach Salad recipe!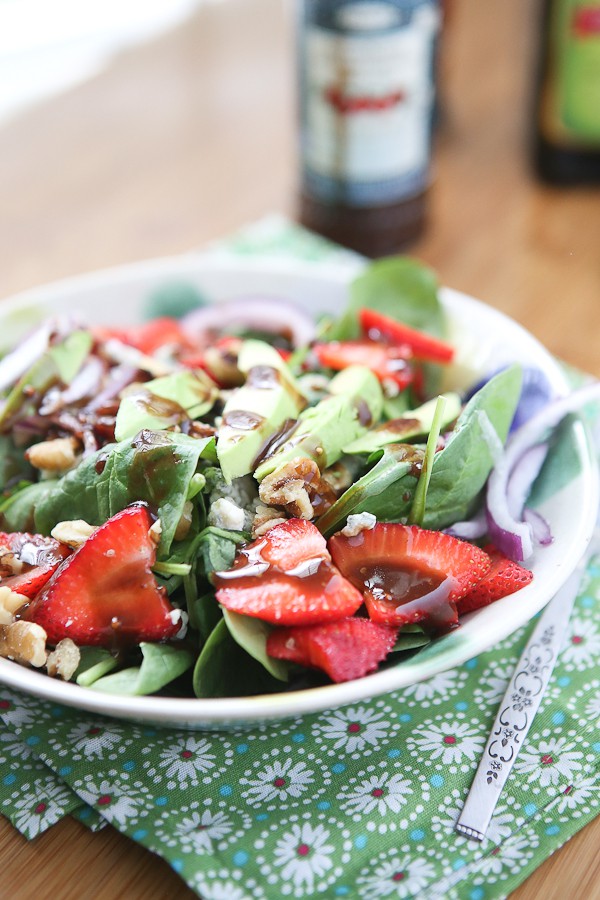 This recipe for Strawberry Spinach and Walnut Salad was originally shared in May 2011 (6 years ago!). I've updated this post with new photos for you. It's still one of my favorite salads and one I've been enjoying a lot lately.
Let me introduce you to my salad of the week. Well, let's say, salad of the season. Because it's not going anywhere for a while.
I was originally inspired to make this salad for the first time many years ago after seeing it on my friend Tina's site after she suggested it to me and I have craved it oh so often ever since.
I know salads like this Strawberry Spinach Salad have been floating around for awhile so it's not the most original recipe. But what I want you to do is look at it more from a nutritional stand point than just as a salad plate. I always seem to fall back on this salad when I'm trying to really lighten up a meal without missing out on flavor and a nutritional boost.
I felt like eating this on it's own tonight, but it would be perfect with some grilled shrimp, chicken or fish.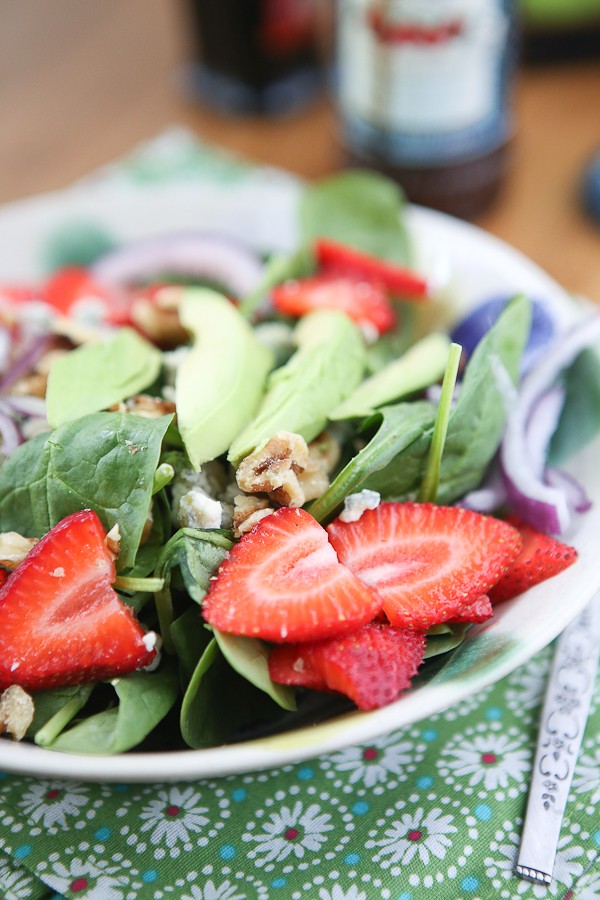 So when I say look at this plate of goodness from more of a nutritional standpoint this is what I mean. I don't always feel like eating a salad. For some reason making at a salad at home is the last thing I want to do. I love eating them out, but at home, eh, too much work maybe? Silly, I know. But when you see how good for you a plate like this is, you can't help but start to crave it. Well, at least that's how I work.
Healthy Spinach Strawberry Salad with Walnuts
Spinach (source: Livestrong.com)
low calorie
one cup contains more than daily requirements of vitamin K, vitamin A
high in manganese, folate and magnesium
excellent source of dietary fiber, calcium and protein
contains cancer fighting antioxidants
is known to promote cardiovascular health with high levels of magnesium that can lower high blood pressure levels
Strawberries (source: Livestrong.com)
rich source of vitamins such as vitamin A, B-complex, C and E
reduces inflammation in the body
has higher levels of vitamin C than oranges
powerful antioxidant
healthy dose of dietary fiber that aids in reducing bad cholesterol
Walnuts (source: BBC News)
highest level of antioxidant than any other nut
great source of protein and omega-3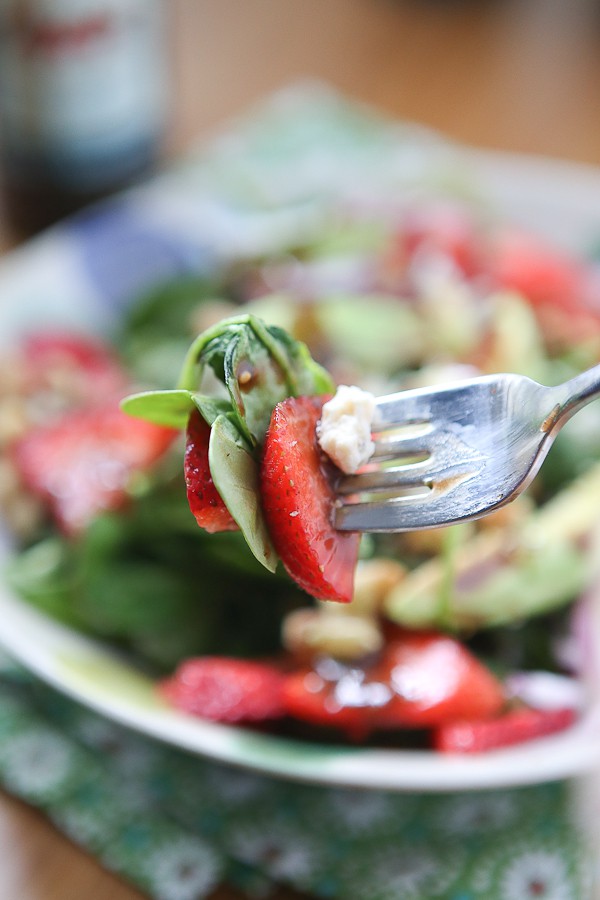 See what I mean? Good stuff.
I can't not talk about the salad dressing here. We go through a lot of jelly jars in my house thanks to our healthy obsession with PB&Js so I find myself with almost empty jars pretty often. When the jar has that tiny bit of jelly left at the bottom is the best time to pull it aside to make a salad dressing – right in the jar. I use condiment jars to make vinaigrettes often, like this Mustard and Herb Vinaigrette, and the ideas are pretty endless when you are a condiment collector like we are. So simple, so good.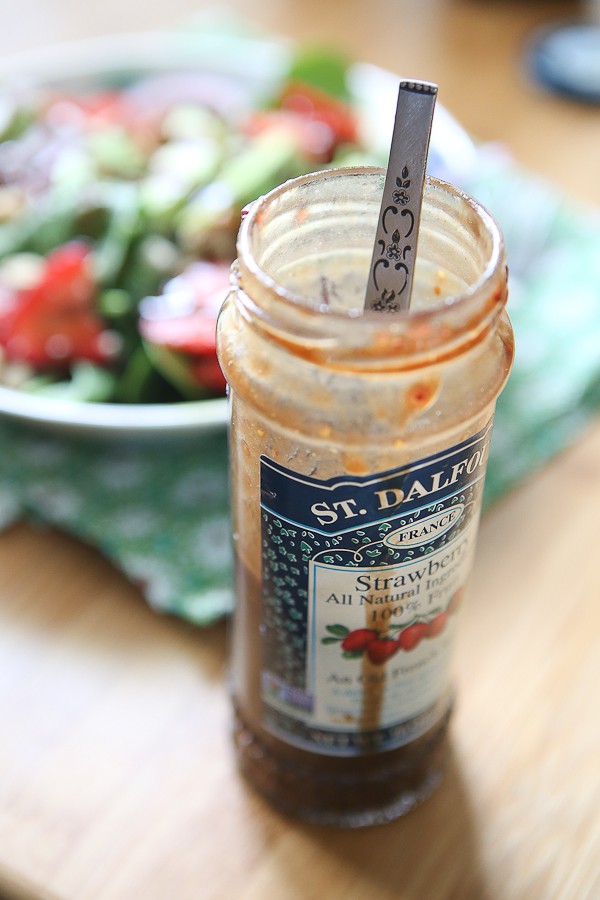 More homemade vinaigrettes to try:
Spinach Strawberry and Walnut Salad with Raspberry Balsamic Vinaigrette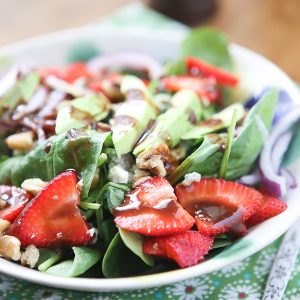 Ingredients:
For the salad:
2 cups (handfuls) of fresh spinach
1 cup sliced fresh strawberries
8 walnut halves, rough chopped
1 oz crumbled gorgonzola (about a 1/4 of plastic container)
1/4 red onion, thinly sliced
1/3 avocado, sliced (optional)
For the vinaigrette:
1/4 cup balsamic vinegar
1/4 cup olive oil
salt and pepper, to taste
1 teaspoon raspberry (or other berry) preserves
1 teaspoons stone ground mustard
Directions:
To prepare salad:
Layer each ingredient on a large salad plate. Serve with Raspberry Balsamic Vinaigrette.
To make Raspberry Balsamic Vinaigrette:
Combine ingredients in a jar or tightly sealed container. Shake vigorously until well combined.
Follow Aggie's Kitchen's board Homemade Salad Dressings on Pinterest.
Are you following me on Instagram, Twitter, Facebook and Pinterest? If you'd like to subscribe to Aggie's Kitchen and have each post delivered straight to your e-mail box, then please add your email here. Happy cooking!
There are affiliate links in this post. I make small earnings through any purchases made through these links. Thank you for supporting Aggie's Kitchen!