Clementine Vinaigrette
'Tis the season for all things citrus! Love clementines and their sweet juice, try this Clementine Vinaigrette on your next salad!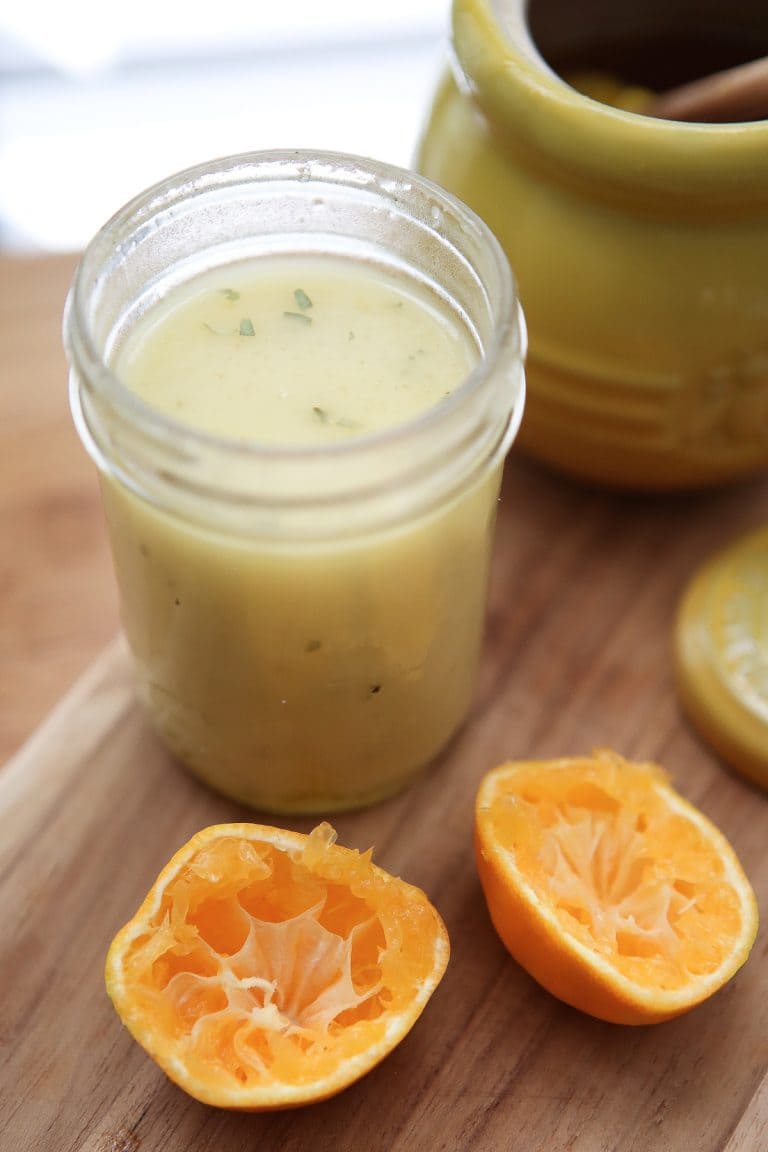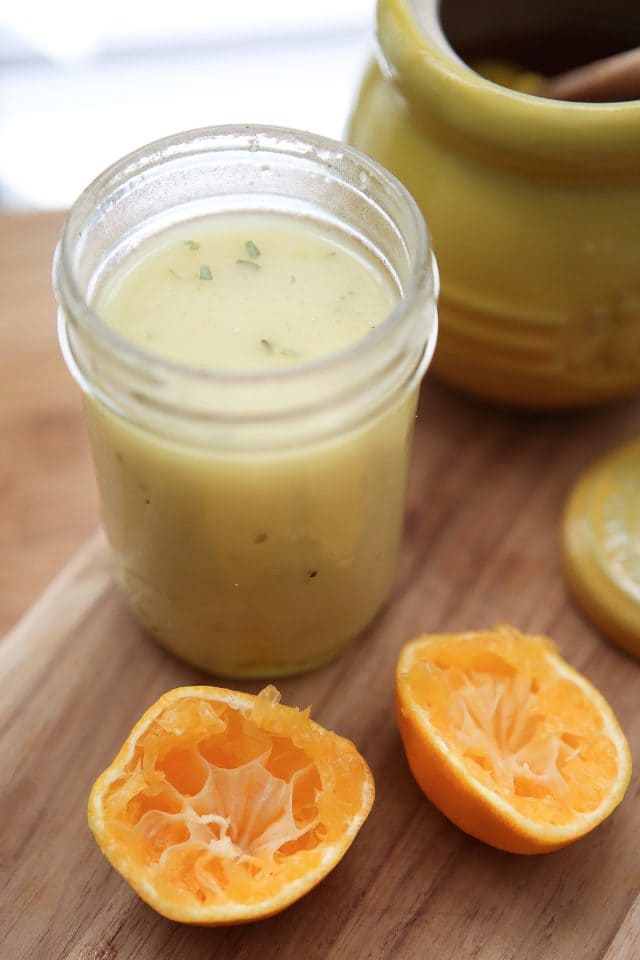 Is it me or are we kind of in a weird in between place with produce seasons? Maybe it's my grocery store, but I haven't been overly excited about what I've been seeing lately (I think this is a cue to take my own advice and get myself to my favorite produce market).
One thing I know for sure…we are headed into citrus season and I couldn't be more happy about it. I walked into my son's preschool class and his teacher had just peeled a grapefruit and the smell was intoxicating. Citrus makes me happy!
If you've never made homemade vinaigrette, you are missing out. Watch my video below and you'll see how easy it is to make!
Thankfully clementines are around all the time since they've become so popular. The price isn't always great but this is the time of year when you'll start to see some better prices on them. I pick them up often for my kids' lunch boxes, they are just the perfect size and so easy to peel – you can't beat it. Plus they taste so sweet! I love them.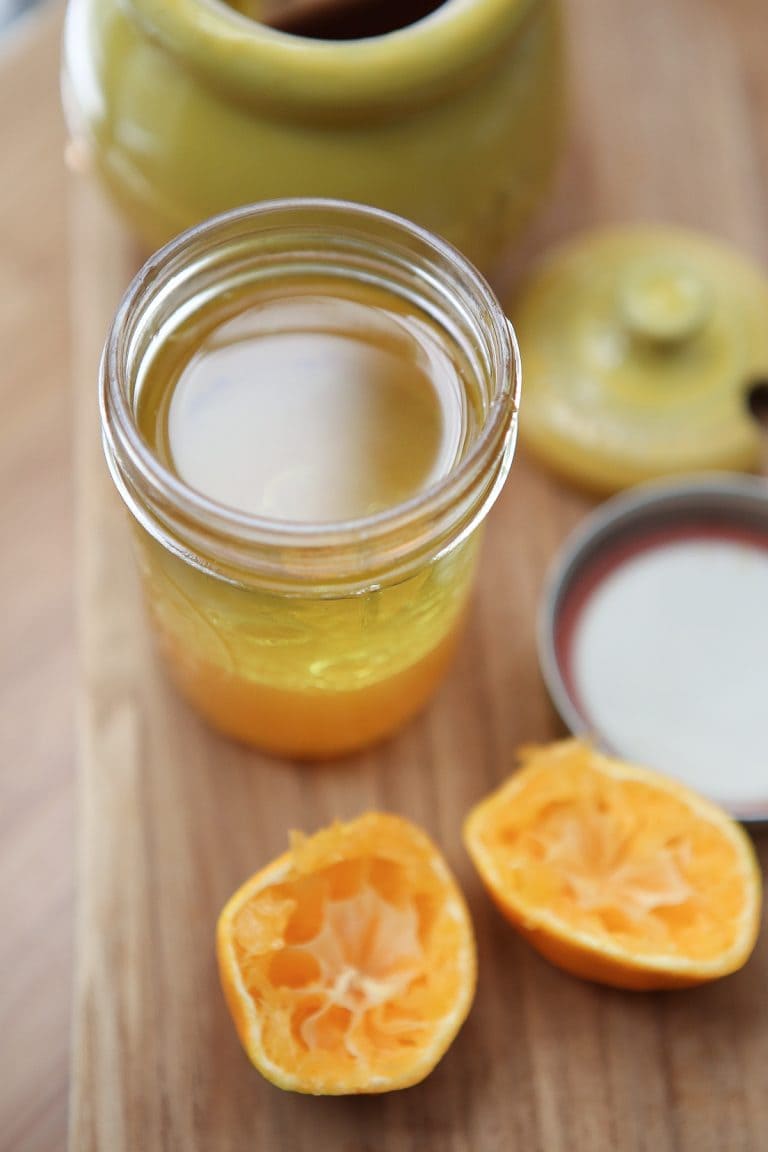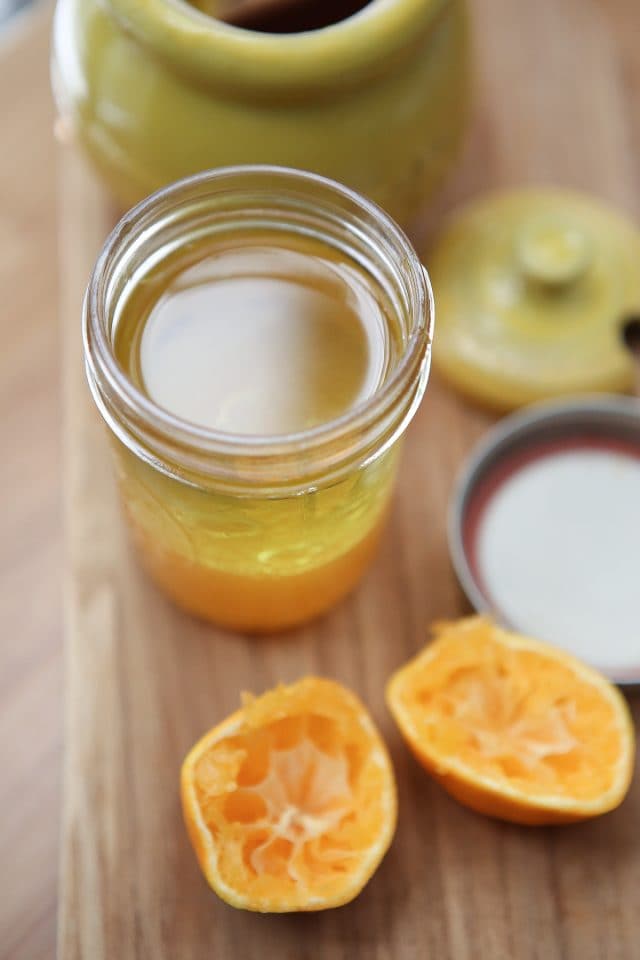 This Clementine Vinaigrette is such a light, fresh dressing for fall-inspired salads like this Apple Celery and Walnut Salad, this Autumn Spinach Salad or this Harvest Farro Salad. If it isn't already so obvious how much I love using citrus in my homemade vinaigrettes, check out my Honey, Lime and Garlic Vinaigrette and Grapefruit Vinaigrette.
By the way, I'm obsessed with this adorable honey pot I picked up last summer at a Le Creuset outlet (you can partially see it in the photos above). You can actually find it here on Amazon (affiliate link) for the same price I paid at the outlet store. It matches the tea kettle I picked up on the same trip, however the outlet had these at half price so much better deal there than Amazon. I'm telling you because I think they would make such great Christmas gifts for honey or tea lovers (like me!). 🙂
Have a great rest of your week!
Print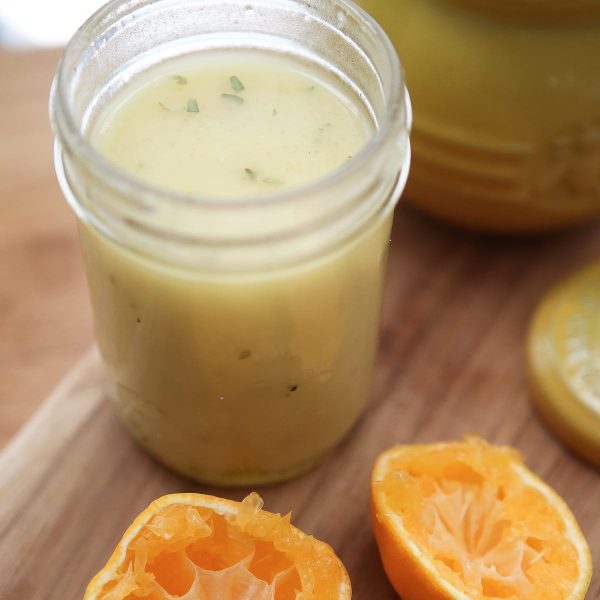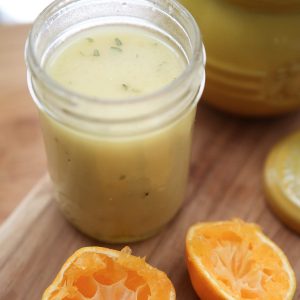 Clementine Vinaigrette
Author:
Yield: about 3/4 cup dressing 1x
Category: Salad Dressings
'Tis the season for all things citrus! Love clementines and their sweet juice, try this Clementine Vinaigrette on your next salad!
---
Ingredients
1/4 cup apple cider vinegar
1/2 cup light oil like grapeseed oil
juice from 2 clementines
1 tablespoon honey
1/4 teaspoon dried tarragon
coarse salt and fresh ground pepper, to taste
---
Instructions
Combine ingredients in a jar with a tight fitting lid. Shake vigorously or until blended well. Alternatively, you can whisk ingredients together in a bowl. Store in sealed container in fridge for up to 3 days.
Are you following me on Instagram, Twitter, Facebook and Pinterest? If you'd like to subscribe to Aggie's Kitchen and have each post delivered straight to your e-mail box, then please add your email here. Happy cooking!
There are affiliate links in this post. I make small earnings through any purchases made through these links. Thank you for supporting Aggie's Kitchen!