Honey Lime and Garlic Vinaigrette
Use this Honey Lime and Garlic Vinaigrette as a marinade for grilled chicken or seafood, or a dressing for your next salad. Fresh and delicious!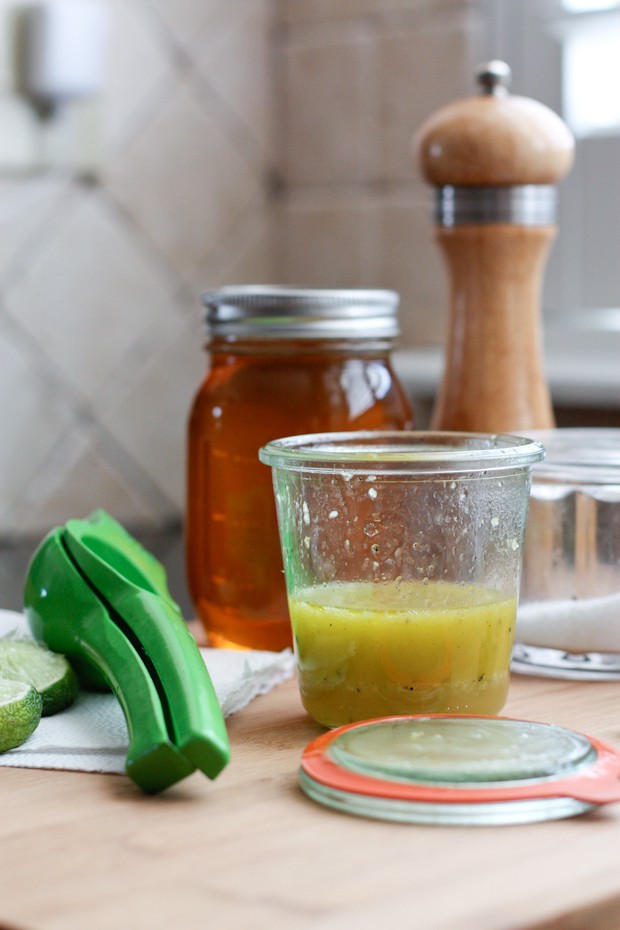 I don't know about you, but I'm ready to get back in the salad again. Although soup really is one of my g0-to favorite ways to fill up (any time of the year), salads are high up on the list as well (if you've been reading my blog for a while then you probably know that by now!).
Obviously fresh salad ingredients are important when getting back into the salad making mood. For me, the salad dressing is equally important. Although I do occasionally pick up a bottle of dressing from the store,  I find that I am more into eating salads when I make my own dressing at home. It tastes better that's for sure and once you get back into the habit of making them, they truly are simple as can be.
I love to use small jelly jars like these to make and store my vinaigrettes in.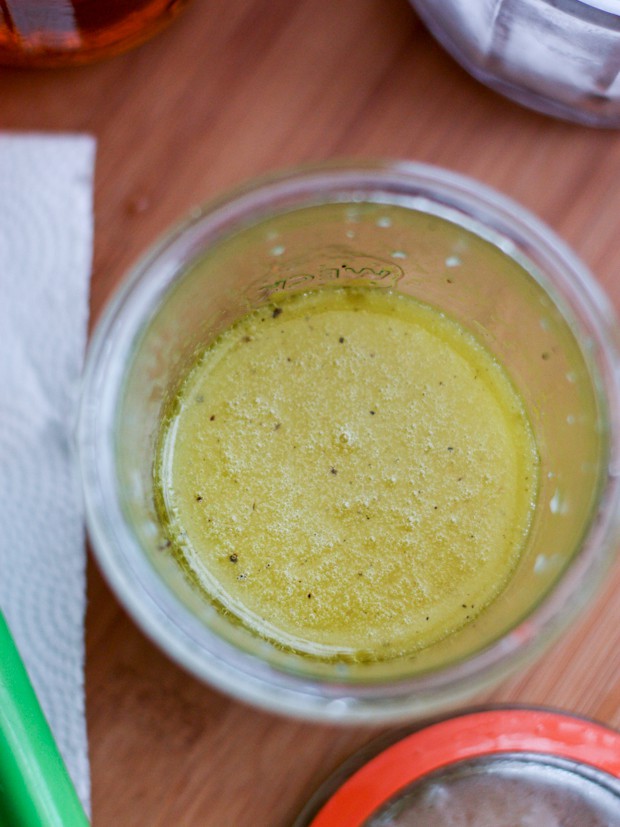 I received a box of incredible Honeybells from Harry & David a couple of weeks ago. With their boxes of fruit they always include a recipe card and with this particular box they included a recipe for a spinach salad using their oranges that was dressed with a lime vinaigrette.
This simple Honey, Lime and Garlic Vinaigrette was inspired by that recipe card – along with the fact that I had all the ingredients on hand. (no excuses, right?)
You could easily use this vinaigrette as a marinade for chicken or to drizzle over broiled fish and serve with Cilantro Lime Vegetables and Fiesta Lime Rice for a light meal.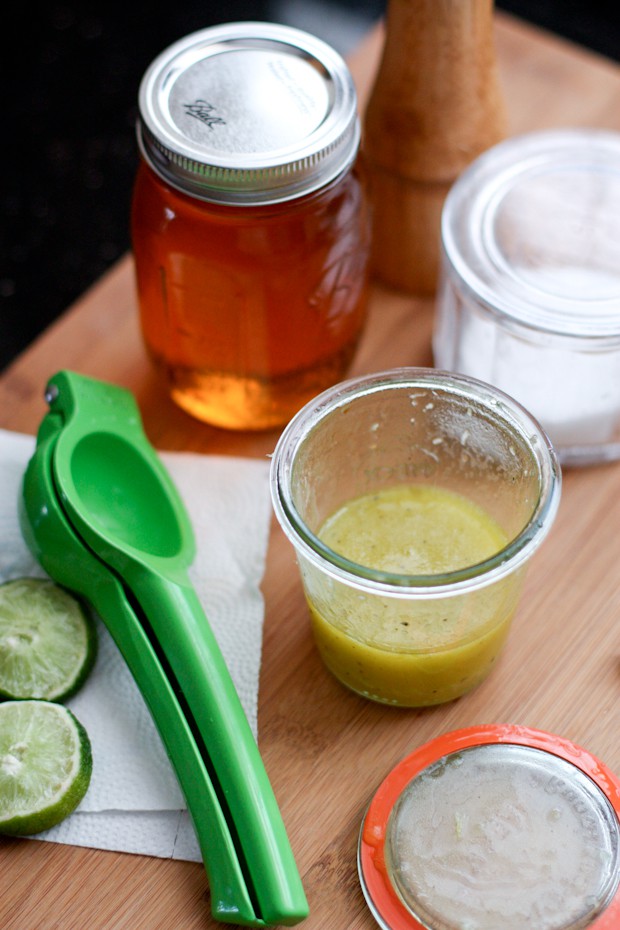 This homemade citrusy garlic vinaigrette is guaranteed to get you back into the salad making mood again, it really will. And if you are in a part of the country that is still cold and covered in snow, I promise it will brighten up any winter blues that might be starting to settle in.
While you're at it, add this Clementine Vinaigrette and Honey Balsamic Vinaigrette on your list to try.
Enjoy!
Honey, Lime and Garlic Vinaigrette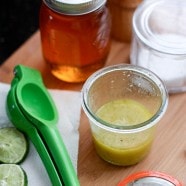 Ingredients:
1/4 cup fresh lime juice
1/4 cup olive oil
1 tablespoon honey
1 garlic clove, pressed or finely minced
pinch coarse salt and pepper
Directions:
Add all ingredients into a jar. Shake until combined.
A light citrus vinaigrette to enjoy over fresh greens. Recipe inspired and adapted from Harry & David.
(Disclosure: Although I have worked with Harry & David in the past, this post is not sponsored by them, nor was I asked to write it for them. My recipe was inspired by a recipe card included in a box of fruit that I received as a gift from them.)
Follow Aggie's Kitchen's board Homemade Salad Dressings on Pinterest.
Are you following me on Instagram, Twitter, Facebook and Pinterest? If you'd like to subscribe to Aggie's Kitchen and have each post delivered straight to your e-mail box, then please add your email here. Happy cooking!
There are affiliate links in this post. I make small earnings through any purchases made through these links. Thank you for supporting Aggie's Kitchen!
34 Responses to "Honey Lime and Garlic Vinaigrette"
Trackbacks/Pingbacks

Leave a Comment