Autumn Spinach Salad with Pecan Vinaigrette
This post is sponsored by Fisher Nuts.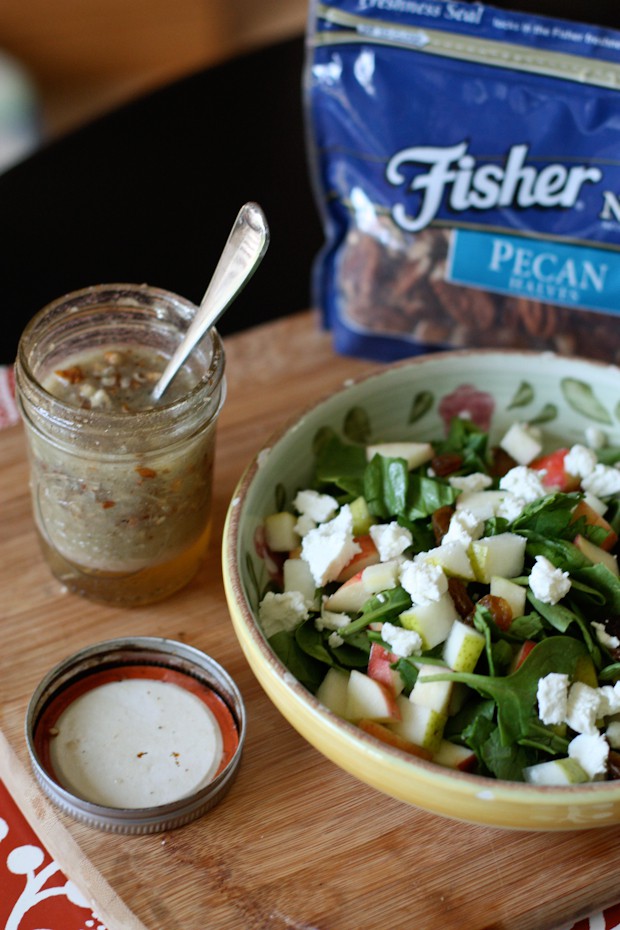 I have never been one to only eat salads in the warm weather months. Maybe that's because I live in Florida and we have warm weather almost all year long?
I'd like to believe that I would enjoy a salad here and there in the cold winters that some of you experience in the North (and/or West I guess I should say). For me, building a salad comes from whatever is in season, looks good in the produce section or whatever you are craving really. I can never say no to a crisp bowl of crunchy salad veggies with a good homemade dressing or vinaigrette.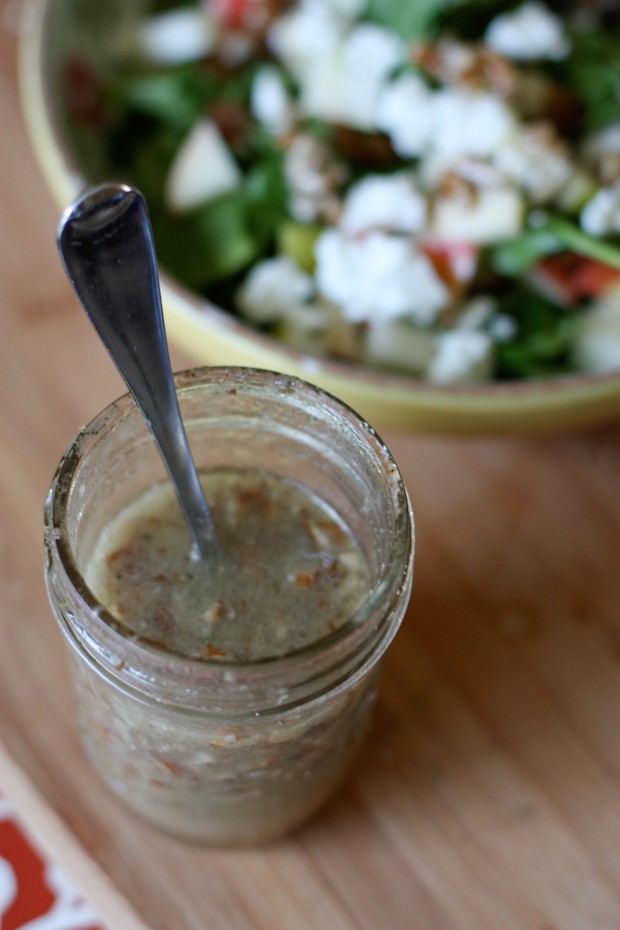 Now, though I can eat salad any day of the year, I don't necessarily always want to make a salad for myself. That's another story. Lately I have been in a salad rut, but was inspired to create this one with the newly arrived fruits of the season that I've been seeing lots of – apples and pears. What goes perfectly with a salad chock full of apples and pears? Why, pecans of course.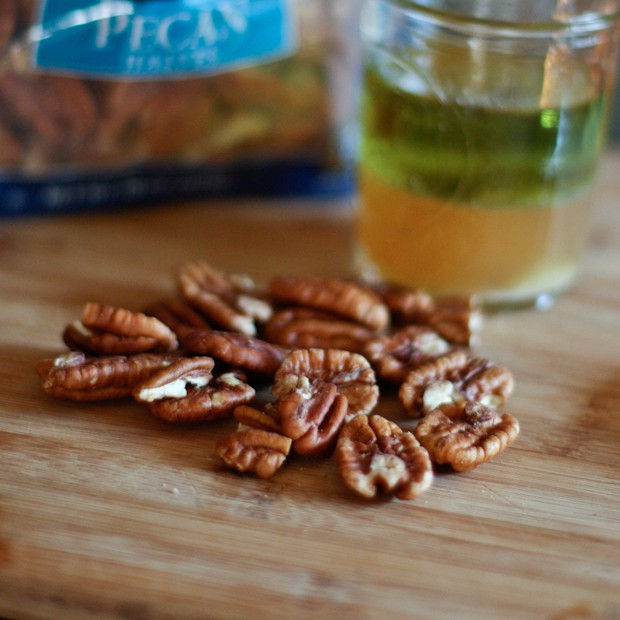 I have a hard time choosing a favorite when it comes to nuts, but I will say that pecans are definitely up there on the list. Especially when it comes to fall inspired dishes, like this salad. I created a simple pecan vinaigrette using Fisher Nut Pecan Halves and it is absolutely delicious, as you can imagine a nutty vinaigrette to be. Toasting up the pecans and adding them to the vinaigrette base while still warm infuses a little extra flavor into the mixture – so good! It was a perfect dressing for this simple seasonal salad, but honestly I can't wait to drizzle it over other fall roasted veggies like butternut squash and Brussels sprouts.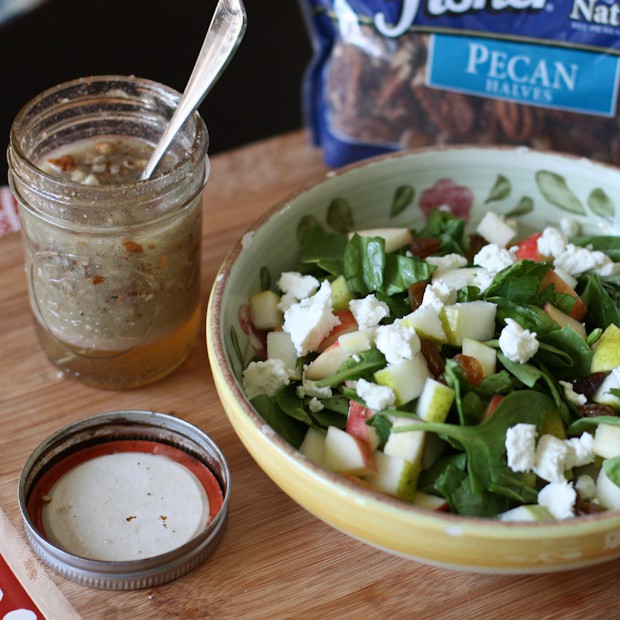 Print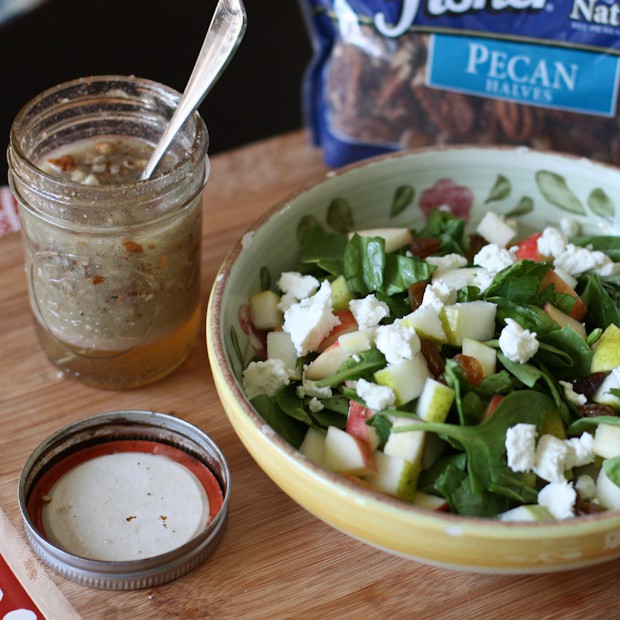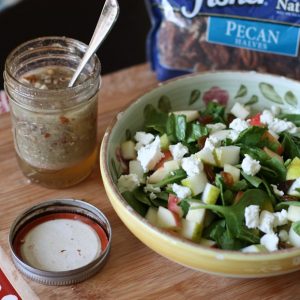 Autumn Spinach Salad with Pecan Vinaigrette
Author:
Category: Salad
Method: Stovetop
---
Ingredients
For the Vinaigrette:
1/4 cup apple cider vinegar
1/3 cup light oil (I use grapeseed oil)
2 teaspoons pure maple syrup
1/8 teaspoon onion powder
1/8 teaspoon coarse salt
good pinch fresh ground pepper
1/4 cup Fisher Pecan Halves
For salad:
fresh spinach leaves
chopped apple
chopped pear
golden raisins
crumbled goat cheese
optional additions: sliced red onion, bacon
---
Instructions
Combine all ingredients except nuts in a sealed tight jar or container and shake well. Toast nuts in a small skillet over medium heat for about 4-5 minutes. Watch carefully. When nuts are fragrant and toasted, remove from pan and place on cutting board.
Roughly chop pecans then add to vinaigrette while still warm. Serve over your favorite autumn inspired salad greens and fruits.
Follow Aggie's Kitchen's board Homemade Salad Dressings on Pinterest.
A lot of you may be like me when it comes to including nuts in your recipes – it's just a natural addition to almost anything isn't it? I've partnered up with Fisher Nuts over the next several months to create recipes for them as well as share with you their newly launched My Fresh Twist recipe contest. From now until October 22, you can submit original recipes using nuts for a chance to win a trip for 2 to New York City to meet Chef Alex Guarnaschelli. Sounds pretty awesome doesn't it??
Follow Fisher Nuts ( #ThinkFisher ) on Facebook and Pinterest, and of course check out their recipe page on their website, for more inspiration.
Disclosure:I am honored to be sharing this recipe and contest information with you on behalf of Fisher Nuts as a product ambassador. All opinions expressed are my own!
Are you following me on Instagram, Twitter, Facebook and Pinterest? If you'd like to subscribe to Aggie's Kitchen and have each post delivered straight to your e-mail box, then please add your email here. Happy cooking!
There are affiliate links in this post. I make small earnings through any purchases made through these links. Thank you for supporting Aggie's Kitchen!