Kalamata Olive and Feta Dip with Baked Lemon Pepper Pita Chips for The Lemon Bowl
A Greek yogurt based feta dip full of flavors of the Mediterranean! Perfectly paired with baked lemon pepper seasoned pita chips and fresh veggies – a healthy appetizer for your party spread!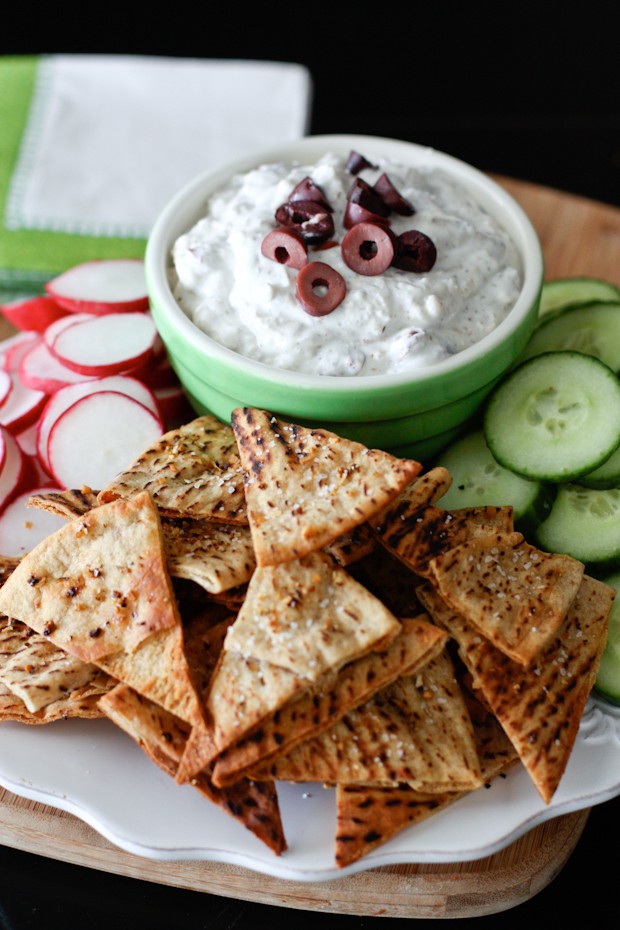 It's all about you today Liz, SURPRISE!!! I am so so excited to share with you this recipe today in honor of my dear friend Liz of The Lemon Bowl and her soon to be baby boy! A group of bloggers and I are getting together to shower Liz with lots of love, well wishes and of course food…food that is themed around Liz's all time favorite ingredient – lemon. Thanks so much to Rachel, Kristen and Sheila for hosting this for our friend!!
I connected with Liz sometime last year through our blogs and I'm so glad we did because I can honestly say she is one of my most dearest friends in my life today. We share a lot in common, including a passion for healthy living and cooking. The more I have gotten to know Liz, the more I felt like I've known her 20 years – she's one of those people that is always positive, down to earth and just great to be around. She's good people. And…the girl can cook!!! I swear every time I ask her what's she's having for dinner I basically drop my plan and end up making the same. We are definitely on the same wavelength when it comes to food.
And apparently babies, since Liz's little boy is due just a short time after my little boy. 🙂 It's been an absolute pleasure to be "preggo buddies"  the last 9 months. I'm not sure I could have stayed sane without her!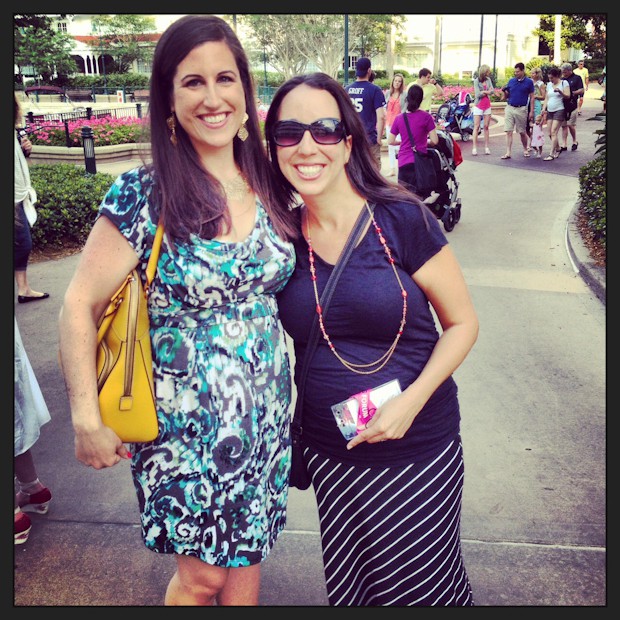 (Liz and I at Food Blog Forum at Disney earlier this year)
Knowing Liz, and her love of good, healthy food and fresh flavors of the Mediterranean, I put together a dish that I would serve her if she was actually over hanging out with me. This Kalamata Olive and Feta Dip is Greek yogurt based and includes a good pinch of a spice that Liz introduced me to called za'atar. And of course, it has some lemon.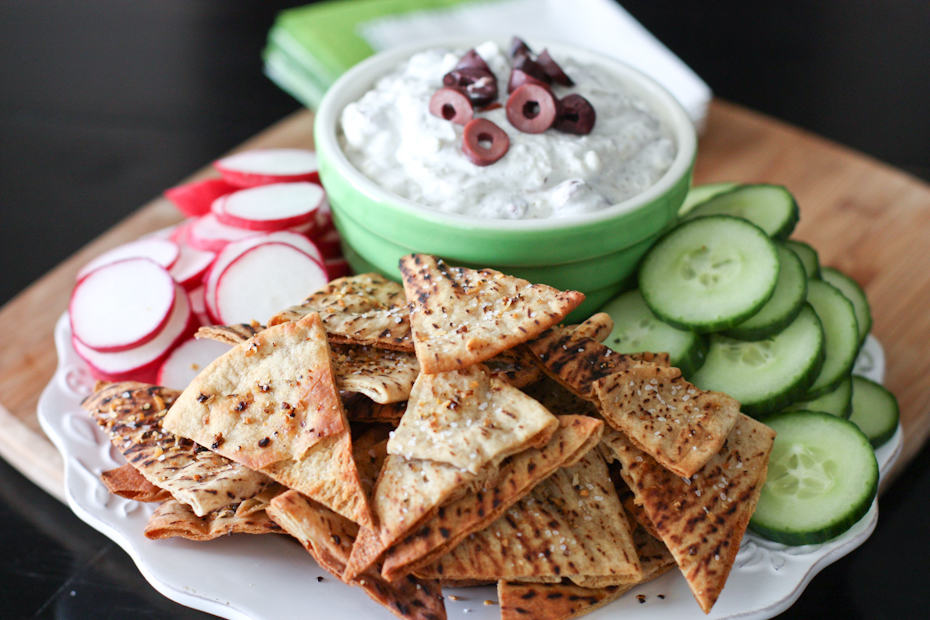 The pita chips I served it with are baked up with some olive oil and lemon pepper seasoning. I got my daughter involved in the preparation of them by having her brush olive oil over the pita triangles and sprinkling the seasoning over each piece before baking up. Brushing olive oil on ingredients has become my daughter's thing lately, I have not always been great about getting my kids involved in the kitchen so it's fun to provide my little girl with a go-to job that is helpful and I know she can handle. No dip plate is complete without fresh crunchy veggies (and I think Liz would agree) so sliced radishes and cucumbers joined the party and were the perfect accompaniment for this delicious snack.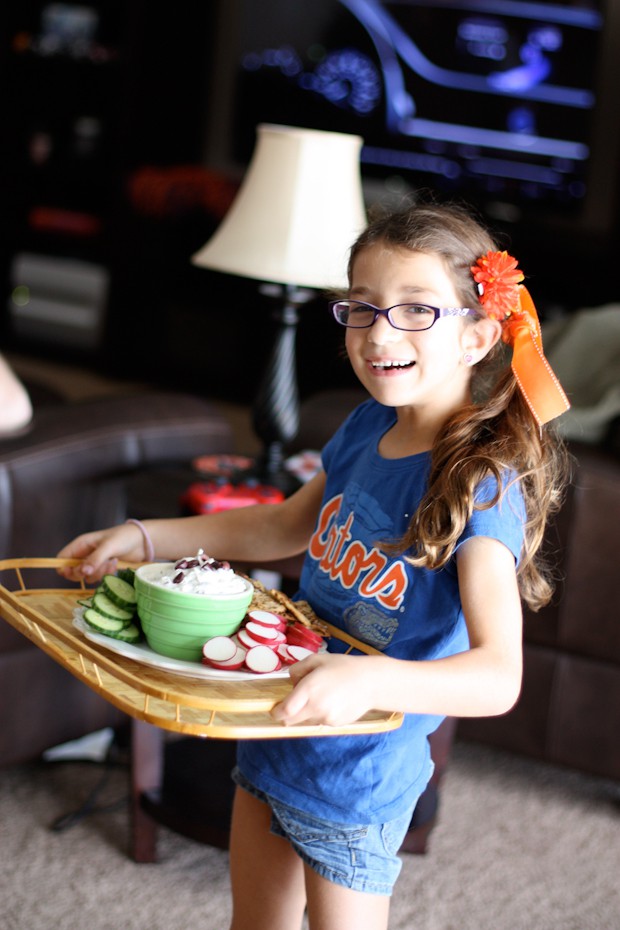 This Kalamata Olive and Feta Dip with Lemon Pepper Pita Chips made for a great munchie during one of our Saturday afternoons watching the Gators play. I can't wait to make it again!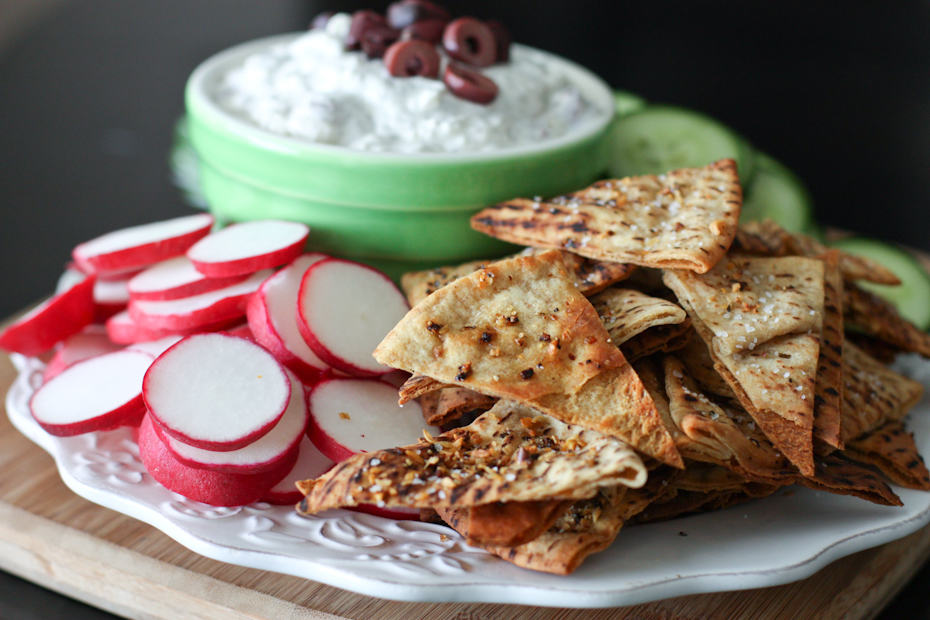 Print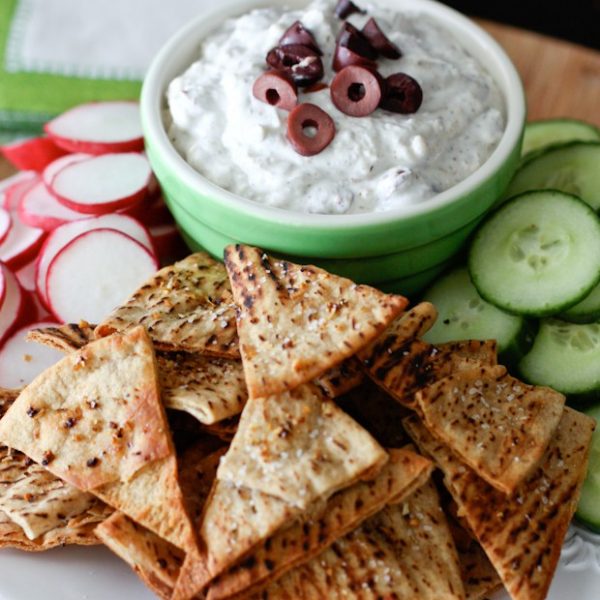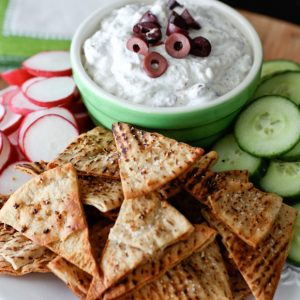 Kalamata Olive and Feta Dip with Baked Lemon Pepper Pita Chips for The Lemon Bowl
Author:
Prep Time: 10 minutes
Total Time: 10 minutes
Yield: 6 servings 1x
---
Ingredients
For the dip:
3/4 cup crumbled feta
3/4 cup plain Greek yogurt
1/4 cup mayonnaise
1 teaspoon za'atar
1 garlic clove, pressed or grated
1/4 teaspoon salt
1/2 cup kalamata olives, chopped
pinch of fresh ground pepper
zest from a lemon
juice from half of lemon


For the pita chips:

8 pita rounds, cut into triangles
olive oil, for brushing
lemon pepper seasoning (I use no salt added)
coarse salt (if using no salt added lemon pepper seasoning, omit if there is salt added)
---
Instructions
To prepare dip, place all of your ingredients into a large bowl and gently combine. Refrigerate an hour or serve immediately. Great with sliced cucumbers, radishes and pita chips.
To prepare pita chips, first preheat your oven to 350 degrees. Spread pita triangles in a single layer on two large baking sheets and lightly brush olive oil on both sides of pita triangle. Sprinkle with lemon pepper seasoning and place in oven. Bake until golden and crisp, 10 – 15 minutes.
Follow Aggie's Kitchen's board Appetizers, Snacks & Party Food! on Pinterest.
Best wishes to you and your sweet family Liz!! I can not wait to meet your little guy! xoxo
Be sure to check out the rest of this amazing lemony spread put together in honor of Liz and her baby boy!
Appetizers
Beverages
Salads
Main Dish
Desserts
Are you following me on Instagram, Twitter, Facebook and Pinterest? If you'd like to subscribe to Aggie's Kitchen and have each post delivered straight to your e-mail box, then please add your email here. Happy cooking!
There are affiliate links in this post. I make small earnings through any purchases made through these links. Thank you for supporting Aggie's Kitchen!