Red Chicken and Two-Bean Chili
Red Chicken and Two-Bean Chili – a hearty but light chicken chili simmered with spices and vegetables. Healthy comfort food! This recipe was created in partnership with Bush's Beans.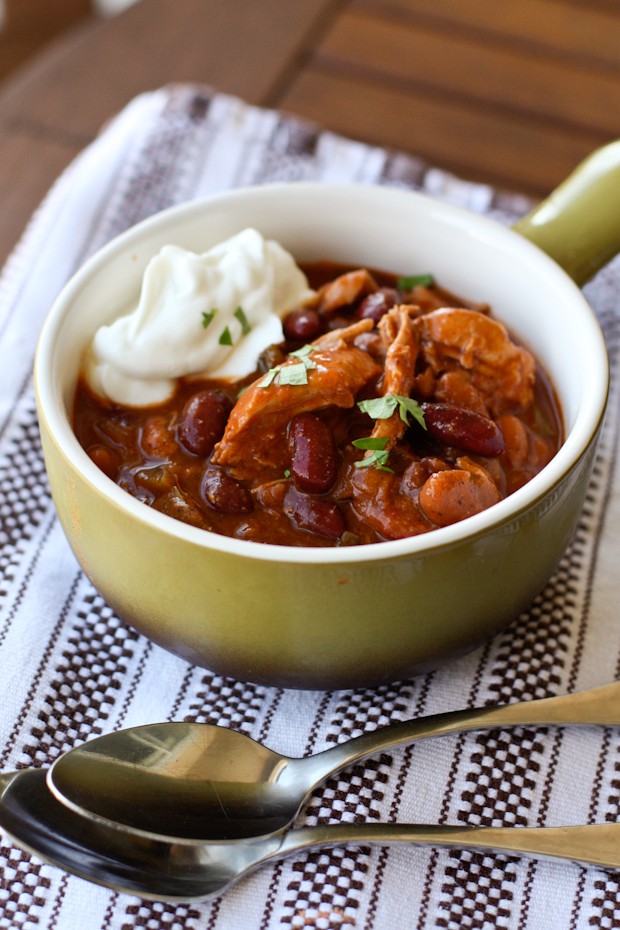 Fall and chili just go hand in hand together don't they? I crave a good chili pretty much all year long, but something about fall just screams chili, especially when the nights start to cool down a bit (it's finally starting to happen here in FL!). It's perfect to put together for nights when you have family and friends in your home with fall activities planned like pumpkin carving, watching football (or basketball) and even as a pre-trick-or-treating meal.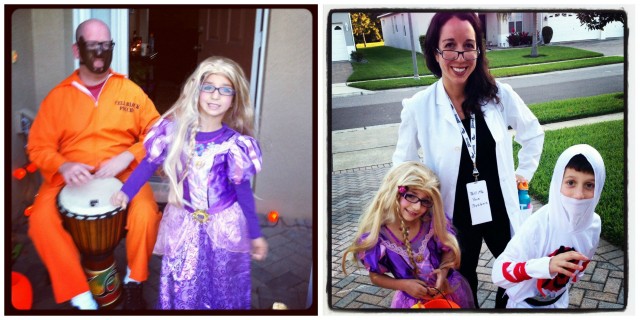 Halloween 2012
I've made this "red" version of chicken chili a few times in the last few months already, and each time I've made (and shared) it with my family it's received rave reviews. I always think of white based chili recipes when I think of adding chicken to chili, but I decided to go traditionally red this time but keeping things light and lean by adding whole chicken breasts to it while cooking, making it easy to shred up later on. My chili is usually based on the same formula – lean protein, lots of veggies and lots of beans – and of course perfectly seasoned with chili powder, garlic and cumin. Chili fixins' are also essential in my opinion – I love to have a variety of chopped cilantro, regular or green onion, Greek yogurt (or sour cream), shredded cheddar and some hot sauce for those of us seeking some extra kick.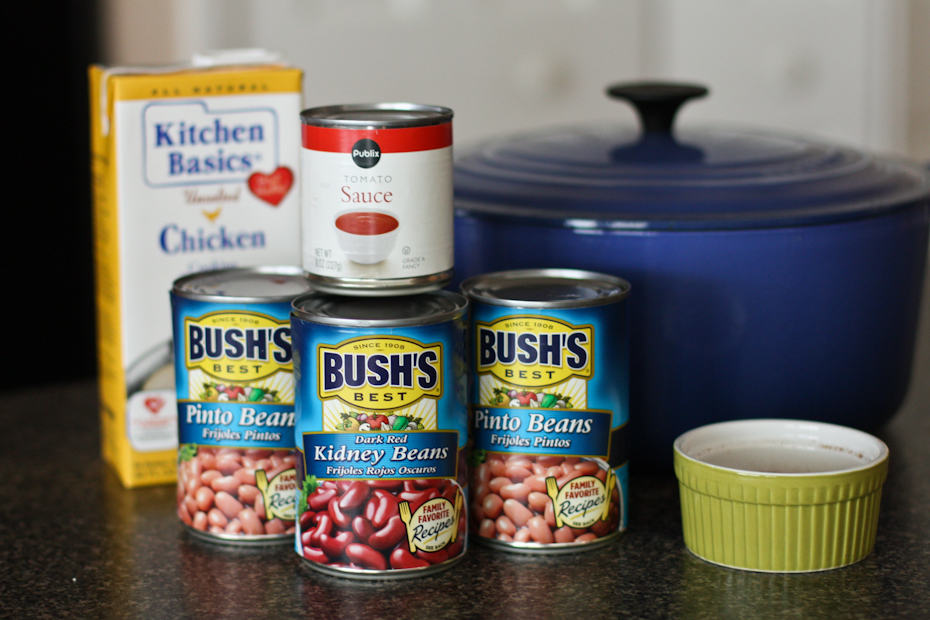 With our new little guy now here, my mom has been spending a lot of time at our house helping out with the kids and such (lifesaver, so thankful). Her next visit will be this Thursday for Halloween and I'm already planning on fixing up a nice pot of this chili for all of us to have for an easy dinner before we hit the neighborhood for trick-or-treating with the kids. My family didn't make a lot of chili (ever) growing up so when she tried this Red Chicken and Two-Bean Chili recipe last month when she was here she loved it. I'm excited to make this for her again – I know she'll enjoy it for sure. Now, if the weather will just stay cool for us this Halloween…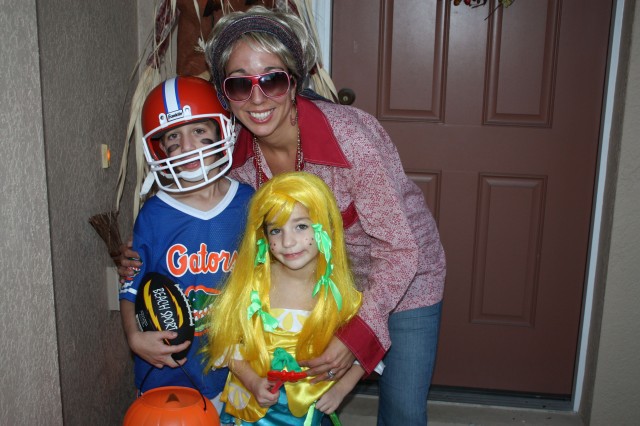 Halloween 2011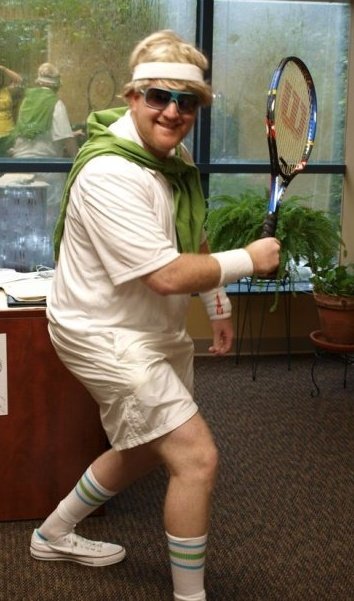 Now this guy, this guy makes my heart throb. 😉

Speaking of Halloween…do you dress up? I was never a huge Halloween person as an adult, until I had kids. Now I find myself rummaging through my closet on the day of and putting together whatever crazy get up I can find. My kids think it's funny – or maybe a little weird actually. Since my husband is the Halloween lover of the two of us, we have a nice collection of interesting wigs and costume accessories and pieces that have accumulated over the 12 years we've been together. This year might be a challenge for me…considering most of our stuff is still unorganized or packed up in boxes from our move. I should probably start digging around and thinking of something now… 😉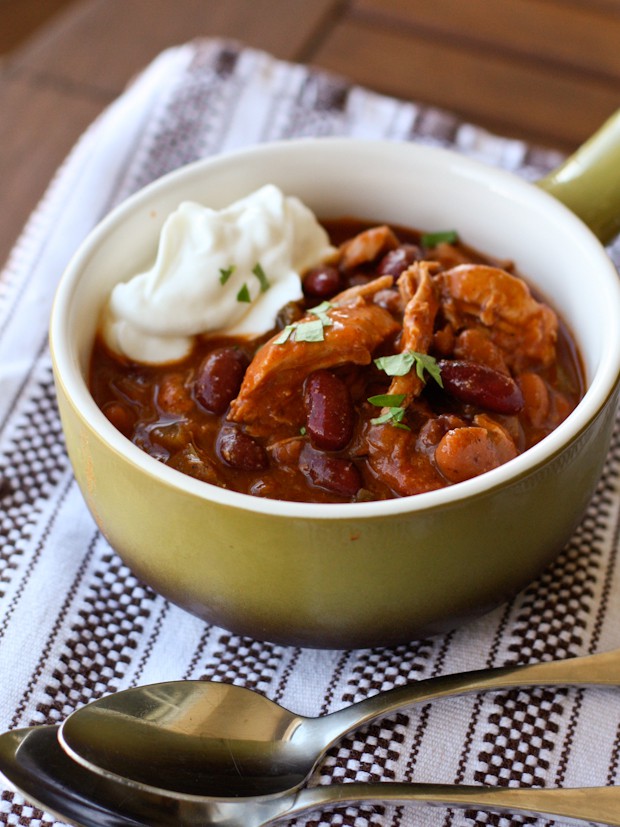 Dig in and enjoy.
Print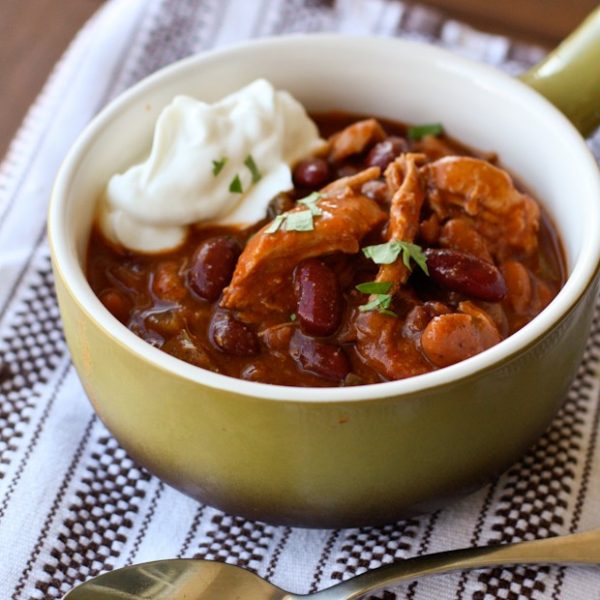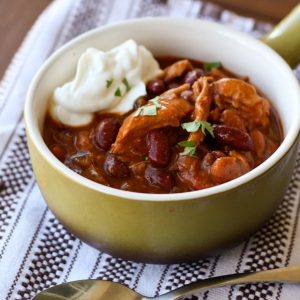 Red Chicken and Two-Bean Chili
Author:
Total Time: 1 hour 15 minutes
Yield: 6-8 servings 1x
Category: Chicken
Method: Stovetop
Red Chicken and Two-Bean Chili – a hearty but light chicken chili simmered with spices and vegetables. Healthy comfort food! This recipe was created in partnership with Bush's Beans.
---
Ingredients
2 tablespoons chili powder
1 tablespoon paprika
1 tablespoon cumin
1 teaspoon garlic powder
1 teaspoon onion powder
1/2 teaspoon salt
1 tablespoon olive oil
1 large onion, chopped
1 large red or green bell pepper, chopped
2 celery stalks, chopped
2 lbs chicken breasts
1 15 oz can diced tomatoes
1 8 oz can tomato sauce
1/4 cup of water (I use water to rinse out the leftover tomatoes in cans)
1 can Bush's Red Kidney Beans
2 cans Bush's Pinto Beans
4 cups low sodium chicken broth
---
Instructions
In a small bowl, combine chili powder, paprika, cumin, garlic, onion powder, and salt. Set aside.
Add oil to a large heavy bottomed pot over medium heat. Add onions, pepper and celery to pot and start to saute until slightly soft, about 5 minutes. Add chili seasoning to vegetables and stir. Add whole chicken breasts, diced tomatoes, beans, sauce, water and chicken broth to pot. Bring to a slow boil.
Once brought to a boil, let cook for about 20 minutes, stirring. Let chicken breasts fully cook, then carefully pull out onto a cutting board and using two forks, shred the chicken meat (or chop with knife). Add chicken back into chili and bring down to a simmer. Simmer over low-medium heat for 40 minutes uncovered until thick.
Serve chili with shredded cheese, Greek yogurt or sour cream, tortilla chips and chopped cilantro if desired.
Disclosure: I have an ongoing relationship with Bush's Beans and am being compensated for creating this recipe and post. As always, my opinions are my own.
Follow Aggie's Kitchen's board Soup, Stew and Chili Recipes on Pinterest.
Are you following me on Instagram, Twitter, Facebook and Pinterest? If you'd like to subscribe to Aggie's Kitchen and have each post delivered straight to your e-mail box, then please add your email here. Happy cooking!
There are affiliate links in this post. I make small earnings through any purchases made through these links. Thank you for supporting Aggie's Kitchen!