Zombie Mom Pasta: Whole Wheat Pasta with Italian Chicken Sausage, Broccoli and Sun Dried Tomatoes
So it's official. I'm a zombie mom. There is no other way to describe how I feel these days. Since it's been about 6 years since my daughter was an infant, I can honestly say that I forgot how it felt to not be able to carry on a conversation in public without saying stupid or forgetting something like your kids birthday, what you need at the deli counter or even what day it is. This is the state of my condition right now people. It's not pretty.
We have been in survival dinner mode in our house lately. I've been doing my best to plan ahead two or three days at a time, especially with what I have on hand since I don't have the flexibility to run out to the grocery store for last minute ingredients with a newborn easily and often just yet. Between moving and having a baby all within the same month, I can honestly say we have had our share of takeout and sandwiches lately. Enough is enough. You know it's enough when pizza used to feel like a treat, but instead has become the norm and even the kids are groaning about it. All I have to say is thank goodness for pasta. I am finding that pasta is becoming my go to dinner when I feel like I really have to make something somewhat healthy and nutritious for dinner without too much work.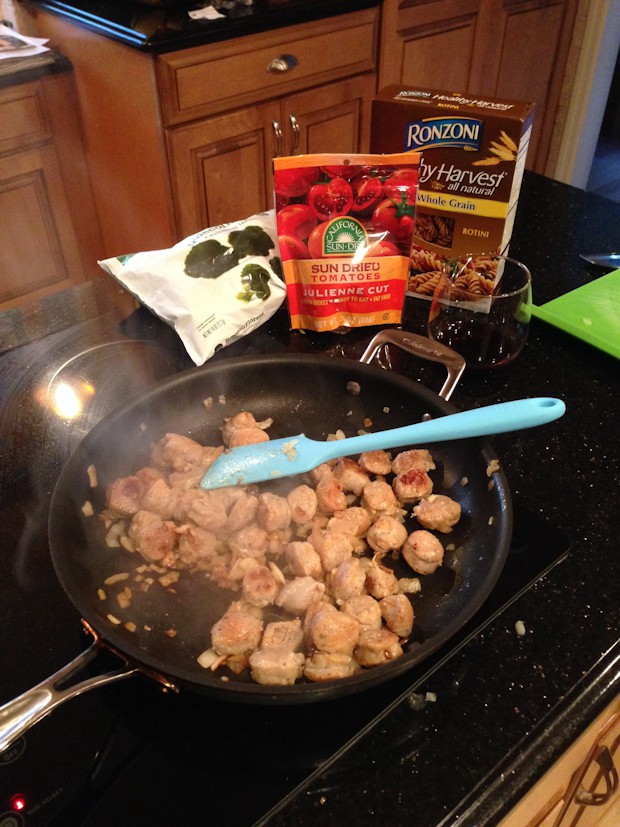 My freezer and pantry are my friends right now (thankfully I stocked up on some staples before baby arrived!) and after taking inventory of what I had I successfully put together a dinner for the fam I could feel good about the other night in record time. And bonus, there was plenty leftover for lunch (for me!) the next couple of days.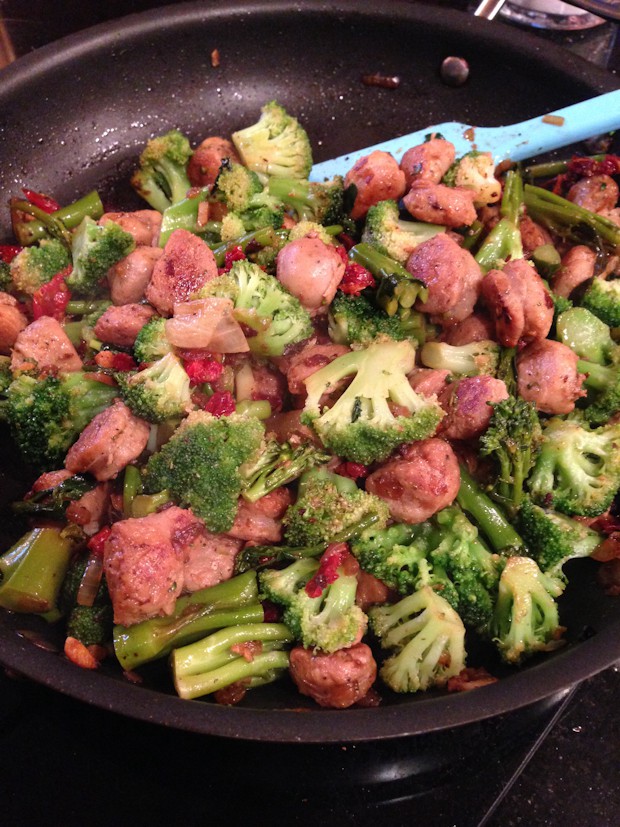 Being able to make a meal out of whatever you have on hand is something I have learned to do well over the years. I think I get it from my mom (and probably my dad and my grandparents too) because I rarely ever saw anyone in my family follow a recipe – especially when making dinner – unless they were baking something special. Food was something that was not wasted in my family, leftovers were constantly being reinvented into something for the next meal. My mom is the queen out of putting a meal on the table for lunch or dinner, whatever it may be, using up odds and ends of whatever she finds – and pasta (like this one) is one of those dishes perfect for just that.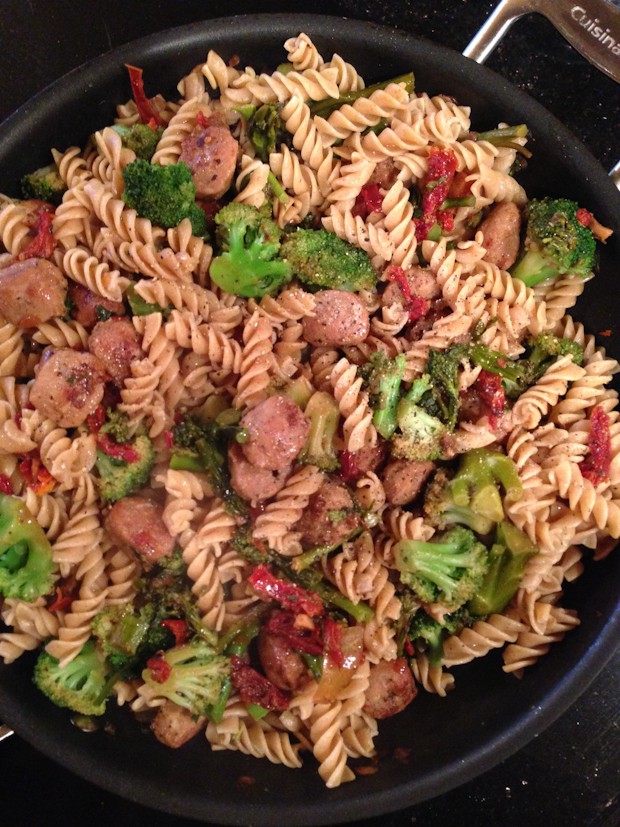 This recipe is not meant to be exact. Play with your ingredients and adjust their quantities. Use what you have, fresh or frozen. And enjoy. 🙂
Print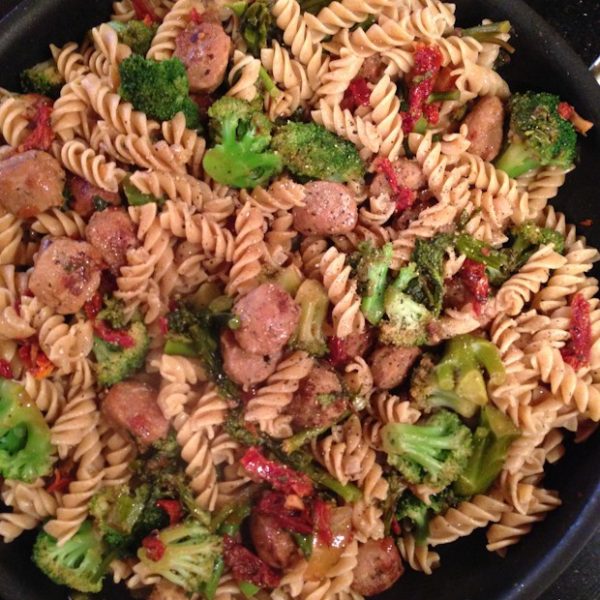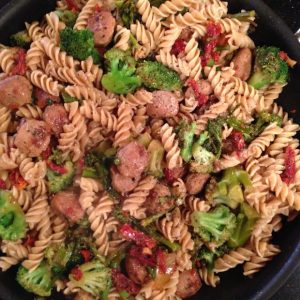 Zombie Mom Pasta: Whole Wheat Pasta with Italian Chicken Sausage, Broccoli and Sun Dried Tomatoes
Author:
Category: Chicken
Method: Stovetop
---
Ingredients
1 13 oz box whole wheat pasta (I used rotini, but use your favorite or whatever you have on hand)
1 lb fresh Italian chicken sausage (precooked smoked sausage can be used here too!), cut in 1 inch pieces
1 tablespoon olive oil
1 small onion, chopped
1/2 – 3/4 14oz package of frozen broccoli florets
1/2 – 3/4 package julienned sundried tomatoes
1/4 cup red wine (or chicken broth or even pasta water)
additional 2–3 tablespoons olive oil for drizzling before serving
pinch salt and pepper to taste
red pepper flakes (optional)
grated parmesan cheese for serving
---
Instructions
Prepare pasta according to directions.
While pasta is cooking, add 1 tablespoon olive oil in a large non stick skillet over medium heat. Add sausage and cook until browned, about 5 minutes. Add onion and cook a few minutes until softened. Add wine (or any other cooking liquid such as chicken broth or pasta water) to deglaze bottom of skillet. Add frozen broccoli and sundried tomatoes and saute until broccoli is soft and everything is warmed and cooked through.
Drain pasta (scoop out 1/3 cup of pasta water first) and add directly to skillet. Add pasta water and gently toss. Season liberally with salt and freshly ground pepper. Turn off heat. Drizzle with additional olive oil and toss until incorporated throughout. Serve with red pepper flakes (optional) and lots of grated Parmesan cheese.
---
Notes
I used fresh Italian chicken sausage that was only slightly defrosted – this made cutting it into 1 inch pieces a lot easier. Pre-cooked smoked sausages are a great substitute as well.
Follow Aggie's Kitchen's board Pasta on Pinterest.
Are you following me on Instagram, Twitter, Facebook and Pinterest? If you'd like to subscribe to Aggie's Kitchen and have each post delivered straight to your e-mail box, then please add your email here. Happy cooking!
There are affiliate links in this post. I make small earnings through any purchases made through these links. Thank you for supporting Aggie's Kitchen!