Pesto Pasta with Ground Turkey and Kale
This healthy Pesto Pasta with Ground Turkey and Kale is a super easy weeknight meal that will get your kids eating kale! You can never have enough healthy ground turkey pasta recipes so add this one to your list to make!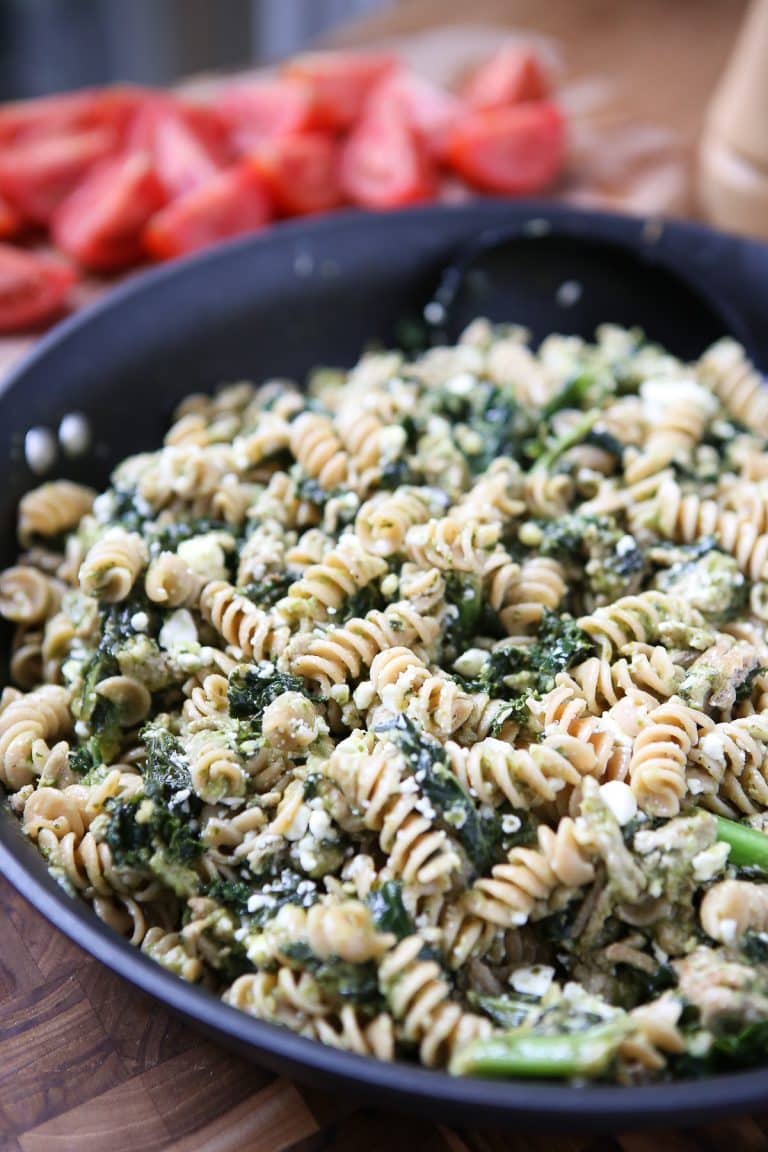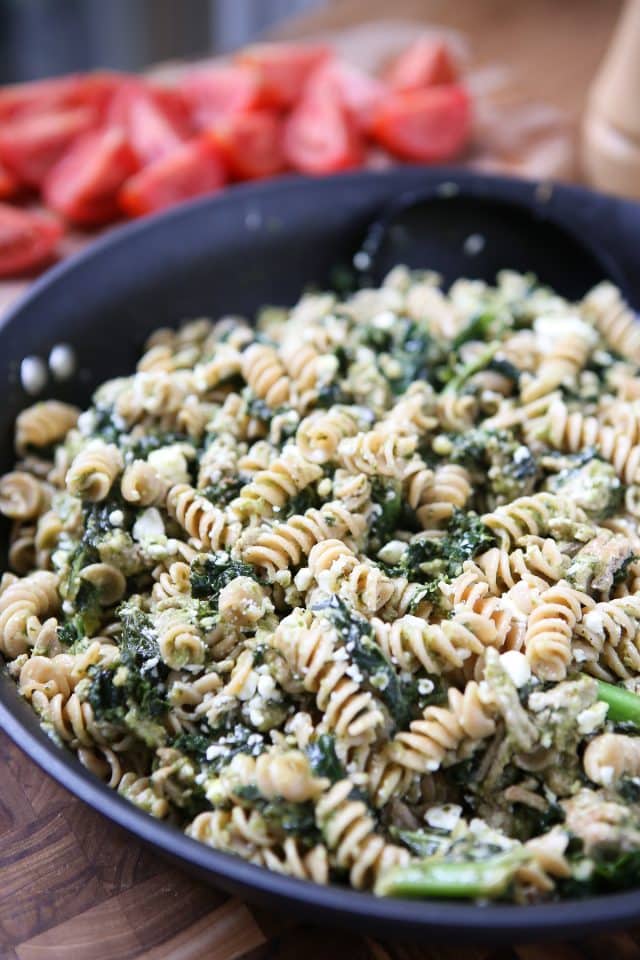 I love connecting with other moms in the same "season" as me. With having 2 kids ages 12 and 9 along with a toddler age 3, I sometimes feel like I'm straddling in between two different worlds off motherhood. If you have kids in the older elementary school/middle school age that are active in sports and other activities, then you probably understand what I mean when I say weeknights have become quite the juggling act between homework, dinnertime and practices. I absolutely love that my kids are involved in sports and I honestly wouldn't have it any other way.
I find that most moms sitting at their kids' practices usually have dinner on their mind and it always comes up in conversation. We are all trying to figure out how to get everyone fed in the easiest, healthiest way possible and get to where we need to go. That is the reality we are in and I have a feeling this season will fly by, just like the others have (until I have to do it all over again with the little guy!).
Getting a quick, healthy dinner on the table
One of my go-to dinners lately has been a pasta toss of some kind, specifically this healthy ground turkey pasta recipe. When I have pesto on hand (you all know about my favorite short-cut pesto from Costco by now) my kids love having pesto pasta for dinner. As much as it kills me to admit, they don't always love red sauce (don't ask, I don't understand either). I can't keep up with the phases of what everyone likes so when I find something that everyone likes I stick with it for as long as possible.
This pasta is one of those dishes everyone likes, and I've been making it a lot lately. I love serving it with cherry tomatoes and Greek olives on the side. It's easy to adjust to your family's liking too – if they don't want kale, sub spinach!
If you love pesto like my family does, find more healthy recipes with pesto here.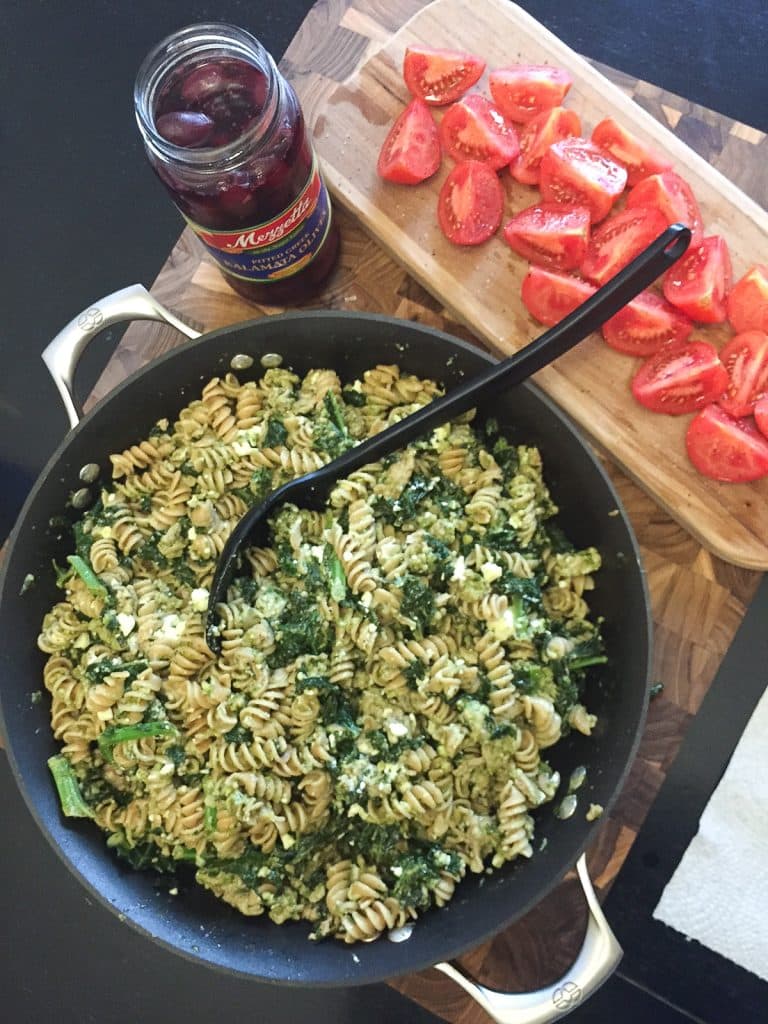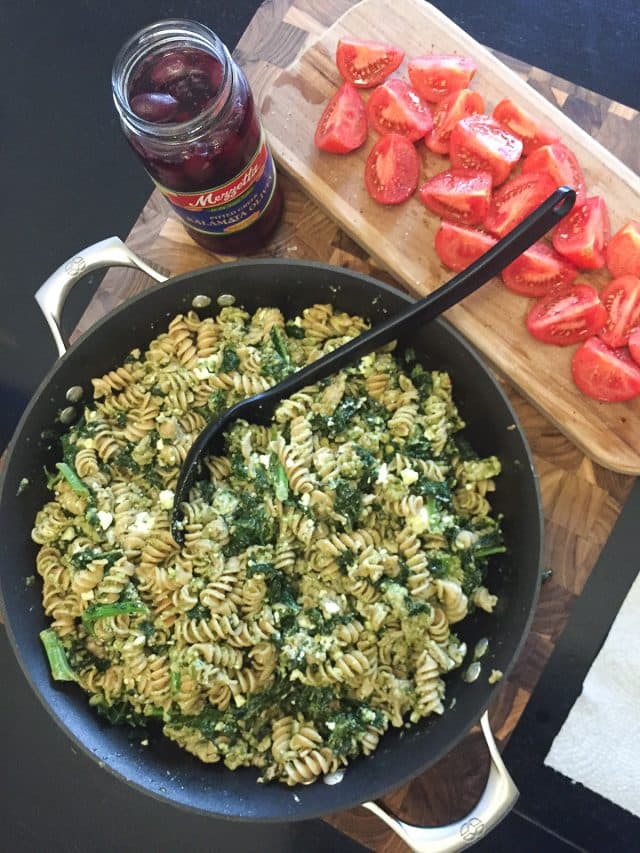 If you are trying to introduce more kale into your family's diet, try this Pesto Pasta with Turkey and Kale. The kale blends into the pasta and pesto so nicely, and of course the feta makes it extra delicious. I love trying new skillet pasta meals like this one on my family and this Skillet Sausage Pasta and this Chicken Parmesan Pasta Skillet are on my to-make list!
Hope you are having a great week!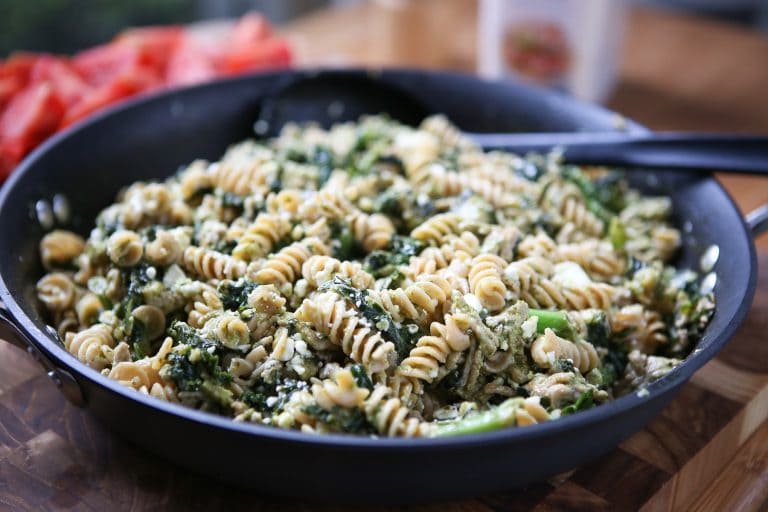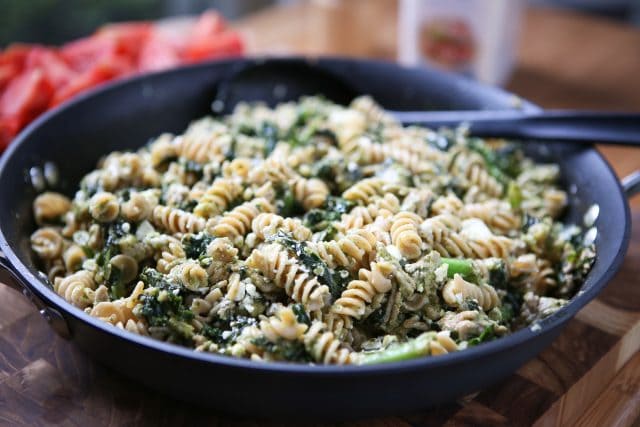 Print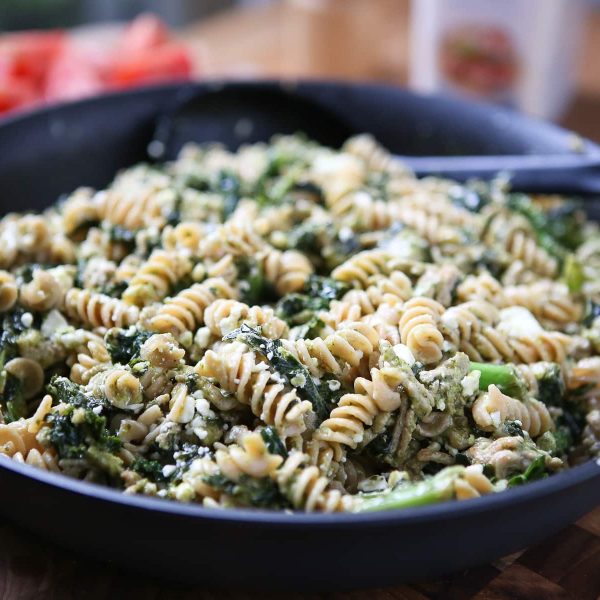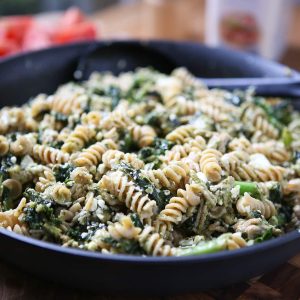 Pesto Pasta with Ground Turkey and Kale
Author:
Prep Time: 10 minutes
Cook Time: 20 minutes
Total Time: 30 minutes
Yield: 4 servings 1x
Category: Pasta
Method: Skillet
Cuisine: Italian
This healthy Pesto Pasta with Ground Turkey and Kale is a super easy 30 minute meal that will get your family eating their greens.
---
Ingredients
1/2 lb whole wheat rotini pasta (you can use whatever shape you have)
1 lb ground turkey
1 teaspoon garlic powder
big pinch coarse salt and fresh ground pepper
2 large handfuls kale, chopped into small pieces
3/4 – 1 cup prepared pesto
1/2 cup crumbled feta (use more if you like)
---
Instructions
Cook pasta according to directions.
While pasta is cooking, brown turkey in a large nonstick skillet over medium heat. Season turkey with garlic powder, salt and pepper. Add chopped kale and continue to cook for 5-7 minutes, until soft. Add 1/4 cup pasta water to turkey and kale mixture. Season with a little salt and pepper. Turn off heat when kale is soft.
When pasta is ready, use a large slotted spoon to transfer cooked pasta to turkey and kale mixture in skillet (or drain pasta in sink and add drained pasta). Add pesto to pasta, turkey and kale and toss until combined. Add feta and gently toss. Serve with tomato wedges and kalamata olives.
---
Keywords: pasta, pesto, ground turkey
Are you following me on Instagram, Twitter, Facebook and Pinterest? If you'd like to subscribe to Aggie's Kitchen and have each post delivered straight to your e-mail box, then please add your email here. Happy cooking!
There are affiliate links in this post. I make small earnings through any purchases made through these links. Thank you for supporting Aggie's Kitchen!