Easy Weekly Salad Prep
My weekly salad prep routine is quite simple – enjoy fresh salad all week!
If you are looking to purchase a salad spinner, the OXO Soft Works is the one I use.
If you've been reading my blog a while, or follow me on any social media platform, or are my real life friend…then you probably already know that I'm obsessed with salads. I really love a good salad (and I really really appreciate a good salad at a restaurant too – those can be tricky to find!). I'm probably not alone when I say this, but I don't always love making salads at home. Especially lately it seems (pregnancy + salad = eh).
But pregnant or not, I've gotten into salad ruts plenty of times – and I always know how to get myself out of one.


Whenever I find myself in any kind of cooking rut, I feel the need to break out of my normal grocery shopping routine. I take myself to a store I don't always visit (like Fresh Market or other gourmet grocery shops) and just find new stuff to try. When I'm in a salad rut though, I take myself straight to my favorite little produce market and immediately get inspired.
There is a family owned local market by me that's basically set up like an indoor farmer's market – but it's open daily (minus Sundays). It's run by very nice and hard working people, and I never know what I'm going to walk out with when I go there. They have the biggest variety of fresh fruit and vegetables I've ever seen, and great prices. It's the kind of place where you can smell how good the tomatoes taste, and where you can find a little leftover grit from the earth on the zucchini – no waxy coating stuff here.
I seriously love this place.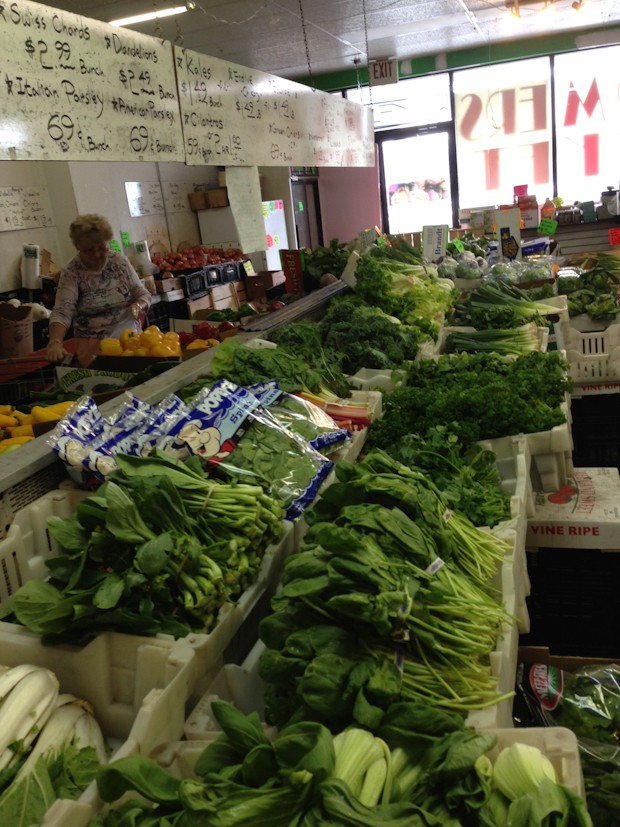 (check out all this gorgeous green!)
They have a huge selection of fresh greens which immediately get me in a salad making mood. The last time I was there, I came home with a head of red leaf lettuce, a head of green leaf lettuce and a small head of radicchio (picked this one up for fun). When I got home, I immediately went to work cutting up my lettuces and putting them in my salad spinner (affiliate link – I have used the large OXO SoftWorks salad spinner for over 10 years!).
(Immediately + salad spinner = salad prep success)
Do salad spinners keep salad fresh?
Yes, salad spinners absolutely help keep salad fresh. The way the salad spinners work is that through the spinning of the greens, almost all the moisture is pulled away from the lettuce leaves. The moisture you can remove from the salad greens the longer it will stay fresh.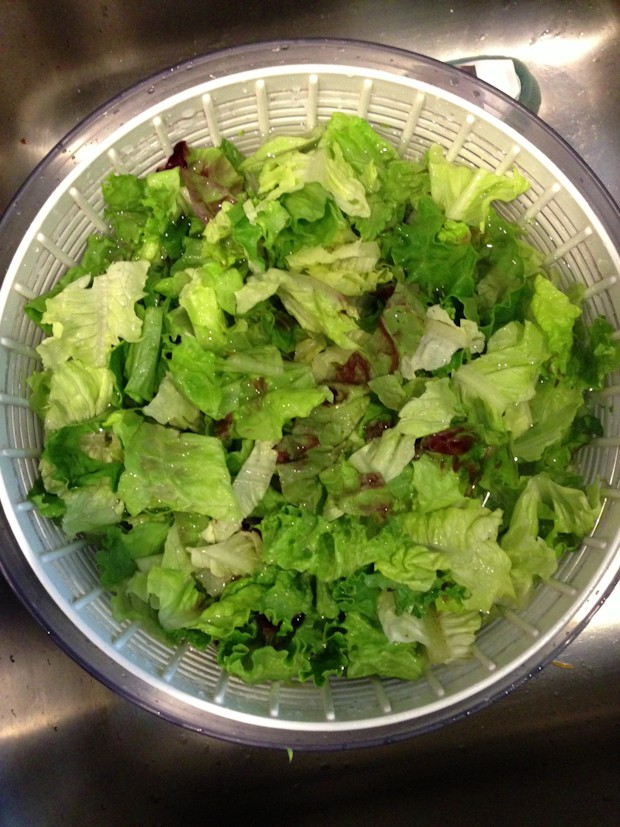 When you are using your salad spinner, try not to over stuff it with your greens – makes it harder to get fully dried when spinning. I like to put the greens into the basket, then into the plastic bowl and place into the sink to fill with cold water. I let it sit for a minute or two then lift and drain out the water completely from the basket before I spin. Spin your small batches a few times to get it really dry.
Whenever I'm asked "is a salad spinner worth it" I always say yes. It's been worth it for me, I've owned the same salad spinner for over a decade and use it a few times a month. It works well with drying garden herbs as well.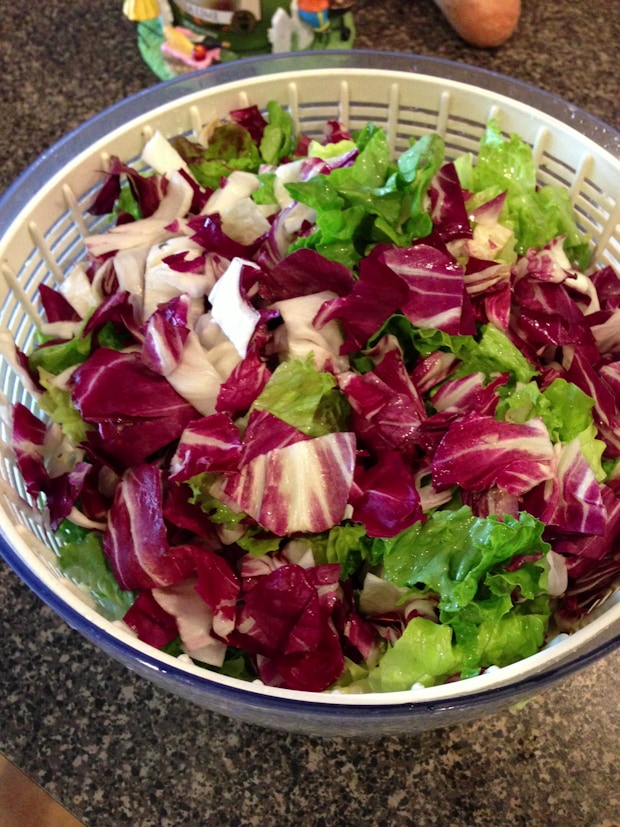 (this was a tad overstuffed – put less in for dryer greens)
How do you keep salad fresh for a week?
To store my salad so that it stays fresh the longest – and is easy to grab – I use large Ziplock bags. I usually fill about two large bags full, then adding a folded paper towel to each bag to absorb any leftover moisture from the greens (it's good to change out the paper towel every couple of days if you see that it's very moist).
To seal the bag up so that it stays freshest, I make sure to squeeze out every little bit of of air I can before closing the bag up completely (do this after opening every time – it will become a habit). This is important and will keep your salad greens very fresh!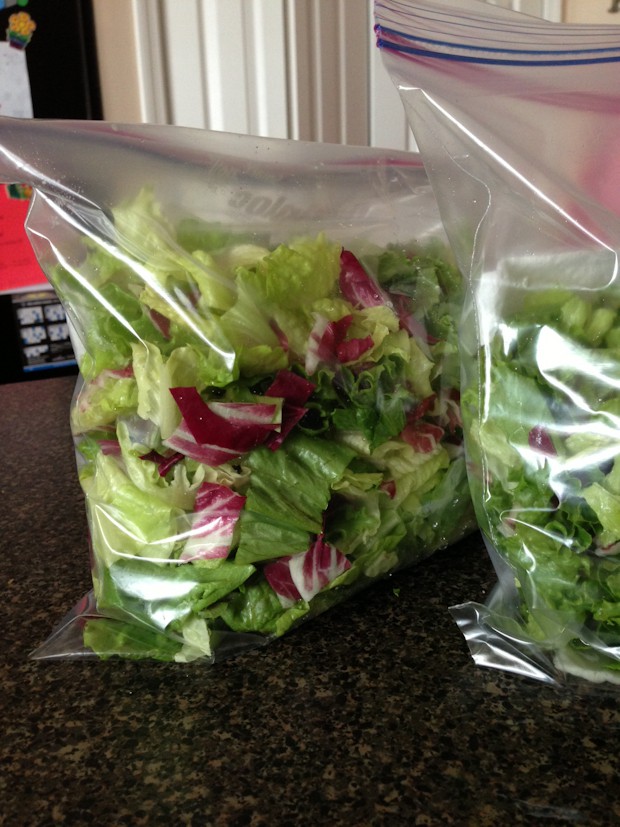 This cost me $5 and a little time to make. I'm not knocking any of the bagged salad mixes out there, but this really is more appealing and tastes just so much better in my opinion. From here you just grab a handful of freshly cut greens and makes something like this salad with radishes and avocado. Throw on whatever your favorite salad fixins are at that moment. Lately I've been enjoying radishes, baby carrots, hard boiled egg, avocado and some sort of seed or nut. And of course, your favorite dressing. Earlier this week I even threw some leftover barbecue chicken on my salad and that was seriously so good.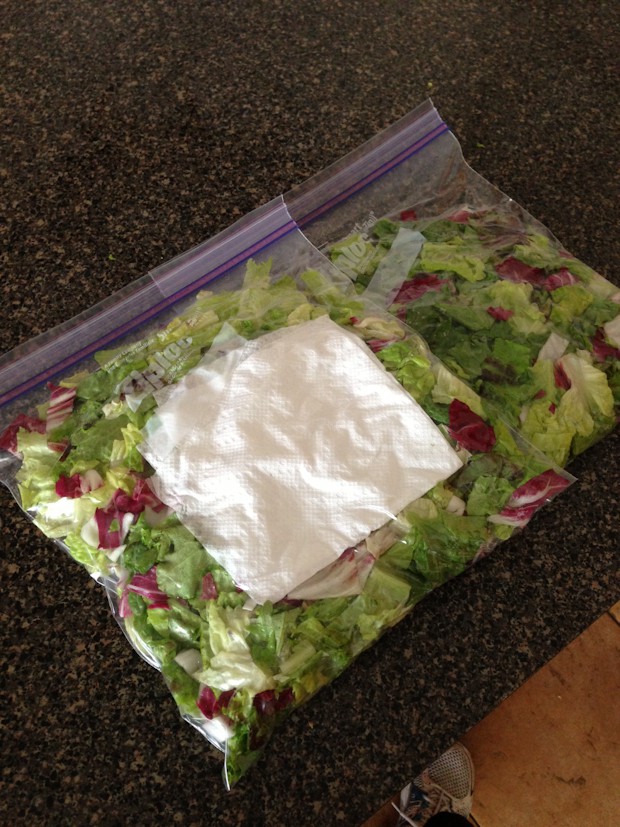 This weekly salad prep works for me. I find myself eating way more salad when I take a little time to do this for myself and my family. With a couple of bags like this in your fridge, you can easily even add a small green salad to your dinner every night, dressed simply with a little oil and vinegar, lemon or whatever dressing your heart desires.
Now that my daughter has started to embrace the salad I'm really trying to make an effort to serve a small side salad with our dinners to make it familiar and a habit (and to hopefully start appealing to my non-salad-eating son).
Let me know if you do something similar to this weekly salad prep already or have any other healthy prep ahead tips! I'd love to hear from you.

Salad Recipes To Try:
Apple, Celery and Walnut Salad
More Healthy Habits like this weekly salad prep from Aggie's Kitchen: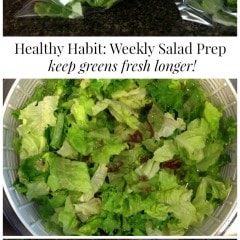 Are you following me on Instagram, Twitter, Facebook and Pinterest? If you'd like to subscribe to Aggie's Kitchen and have each post delivered straight to your e-mail box, then please add your email here. Happy cooking!
There are affiliate links in this post. I make small earnings through any purchases made through these links. Thank you for supporting Aggie's Kitchen!