Herbed Wild Rice Salad with Toasted Pine Nuts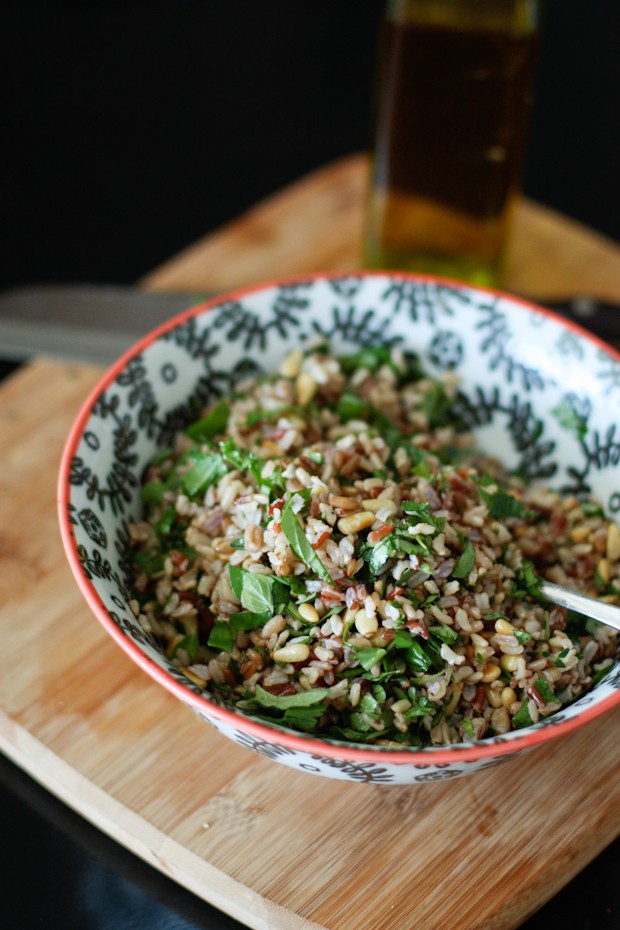 I really can't believe we are in the month of May already. The kids have started their countdown until summer vacation starts, and to be honest so have I. It's always bittersweet ending another school year and watching your kids grow up right before your eyes – but I truly look forward to not having to set an alarm clock or pack lunches or being on any kind of schedule for a couple of months. Lazy days ahead!!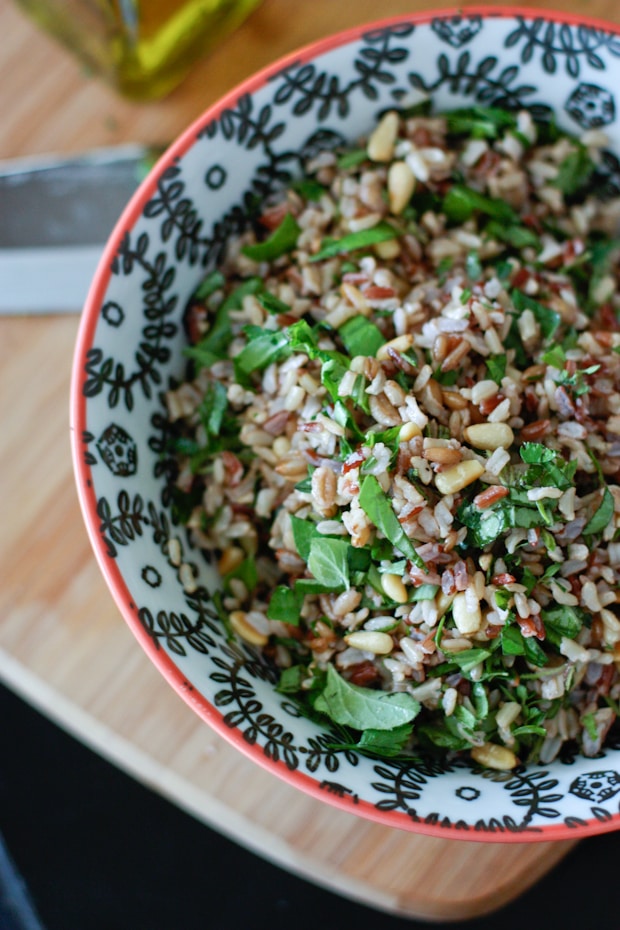 Warm weather dinners, the kind where most of your food is cooked out on the grill or prepped ahead of time and served chilled, are my favorite. I love the early evenings of summer where the kids are jumping into the pool while I'm getting the grill ready for dinner. We had one of those nights recently, though it was a school night it felt like a carefree summer night. The kids were getting into the pool to swim for the first time this season, and although the water was still a little chilly, they hung in there for a good hour or so going back and forth to the hot tub to warm up every now and then. Seeing them outside having so much fun instantly put me into that summer mood…the one where if I wasn't pregnant I would have poured myself a glass of chilled white wine or made myself a Captain & (diet) Coke with extra lime and sat in the lounger to watch them play. I settled for a glass of ice water instead. 😉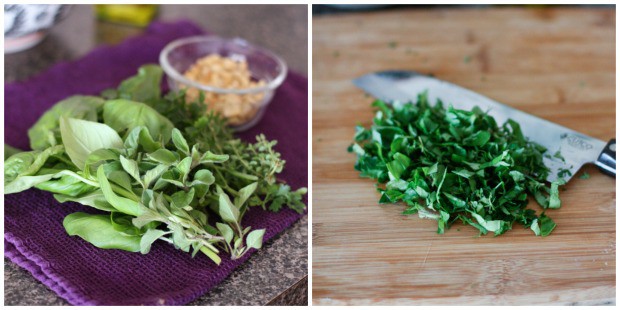 Grilled chicken (like this Italian Herb Grilled Chicken) and veggies always come into play when that summer mood hits and it just happened to be on the menu that night. That and this unbelievably fresh and delicious Herbed Wild Rice Salad. I actually prepped it earlier in the day while the kids were still at school using leftover rice from the night before's dinner (glad I made a double batch!) and fresh herbs from my little garden. I swear, I could not stop eating this stuff. It's dressed very simply with a good drizzle of olive oil and a sprinkle of coarse salt and pepper. But the toasted pine nuts paired with the fresh herbs put this leftover rice over the top.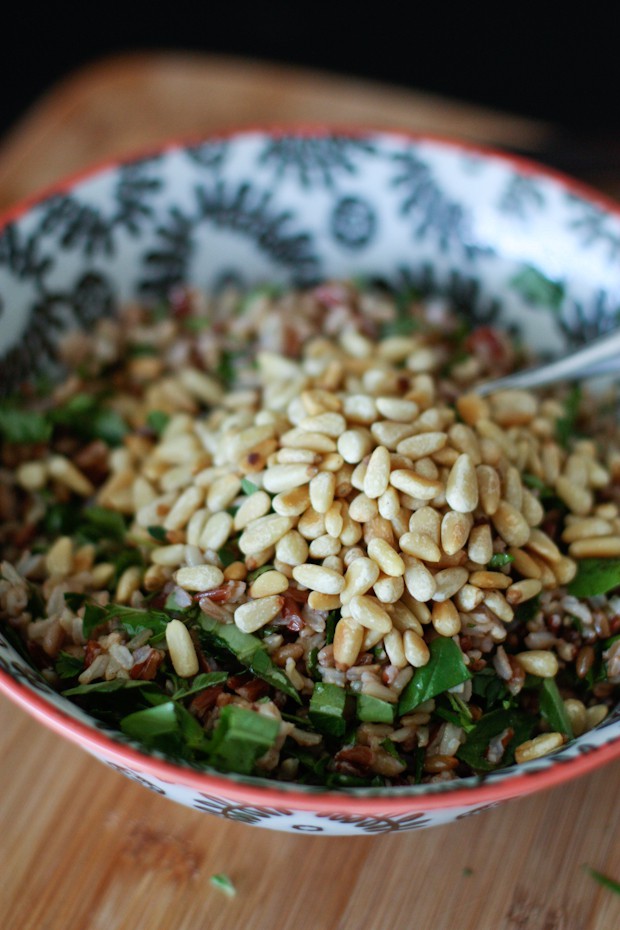 I see this simple rice salad becoming a staple this summer. I love that you can make it ahead, and change it up based on what you're serving or what you have (this one I made a few years ago might give you some ideas!). And it's the absolute perfect side dish to bring to your summer potlucks and barbecues.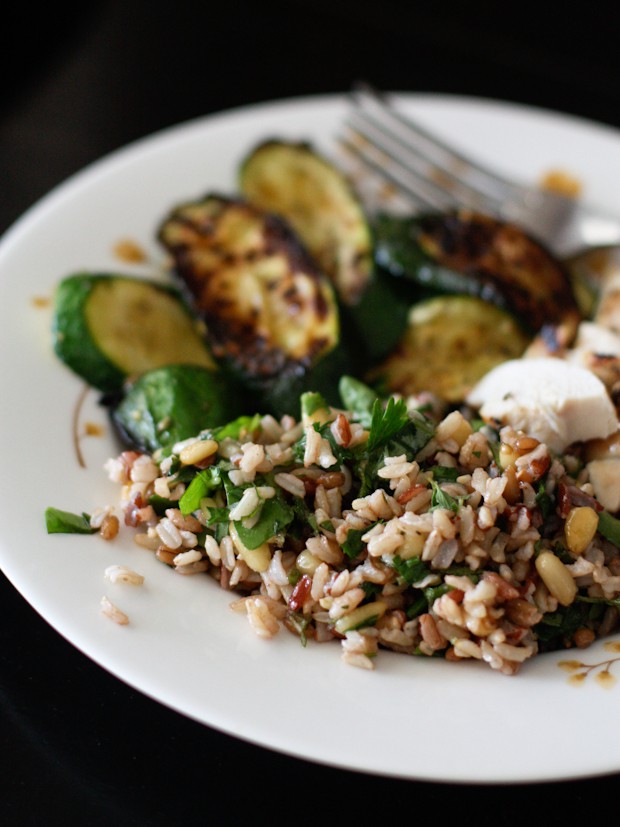 Herbed Wild Rice Salad with Toasted Pine Nuts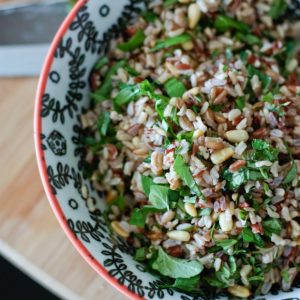 Ingredients:
2 cups cooked wild rice, chilled
big bunch of herbs (I used a combo of basil, Italian parsley, thyme, oregano and tarragon), chopped
small jar of pine nuts (1 3/4 oz), lightly toasted (about 1/4 cup)
olive oil
coarse salt and fresh ground pepper
Directions:
Combine rice, herbs and pine nuts in a large bowl. Drizzle olive oil in and gently toss. Add a pinch of salt and pepper and taste. Adjust to your liking. Serve slightly chilled or at room temperature.
More tasty warm weather dinners:
Barefoot Contessa's Pasta with Sundried Tomatoes
Grilled Chicken Summer Salad with Mango
Grilled Veggie Naan Pizza with Pesto
Blackened Fish Taco Salad with Cilantro Lime Vinaigrette
And a couple family pics taken this past weekend. My son, Sammy, celebrated is First Holy Communion – we were so proud of him. What a great day! My kids are totally growing up.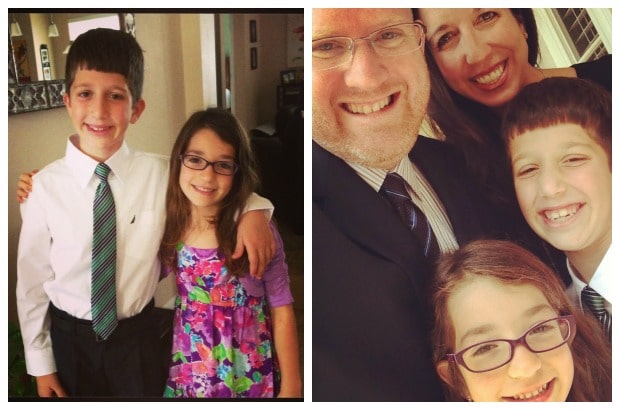 Are you following me on Instagram, Twitter, Facebook and Pinterest? If you'd like to subscribe to Aggie's Kitchen and have each post delivered straight to your e-mail box, then please add your email here. Happy cooking!
There are affiliate links in this post. I make small earnings through any purchases made through these links. Thank you for supporting Aggie's Kitchen!