Healthy Food Trend: Cauliflower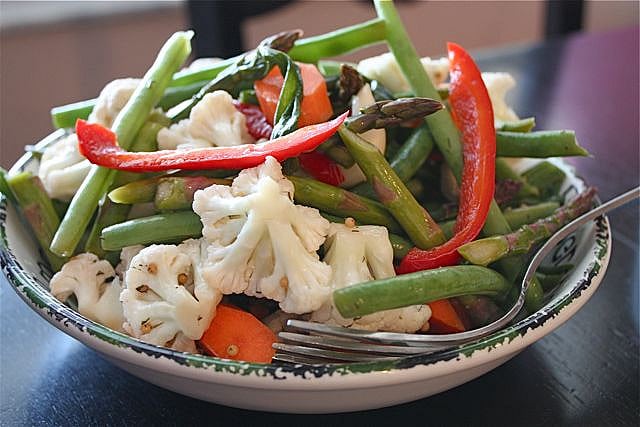 (pictured: Spring Giardiniera)
Is it me or is cauliflower popping up EVERYWHERE right now? Just this past few weeks, I think I've seen a new cauliflower recipe of some sort every other day. Cauliflower is one of those veggies that I think throws people for a loop, meaning, they buy it with intentions of trying something new and delicious but usually settle for something typical like raw in a salad or veggie plate, steamed, or how I like to cook it, roasted. I think Brenda nailed it when she listed it as an up and coming food trend this year during last month's Land O'Lakes Kitchen Conversations. And based on the comments from the giveaway post, many of you are on board with that trend too!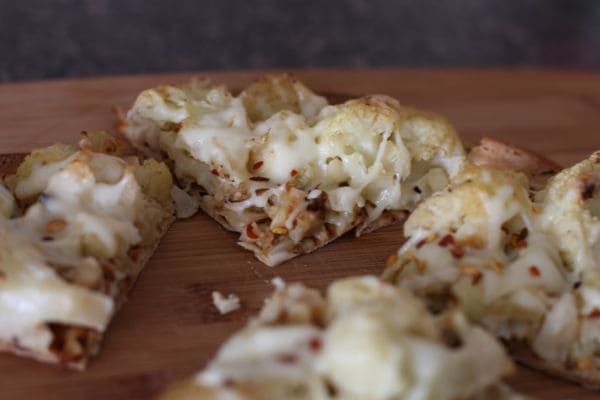 (pictured: Roasted Garlic and Cauliflower Flatbread Pizza)
Roasted cauliflower is actually one of my kids' favorite vegetables, believe it or not. I'm not really sure how that happened because I don't make it all the time, but when I do my kids are happy. I usually roast it with olive oil, salt and pepper and even a little Parmesan cheese (red pepper flakes on mine!). Sometimes I throw it in pasta. I've mentioned before that one of my most craved and favorite pizza at a local pizza place is their Cauliflower Pizza and to satisfy that craving (more often and more economically), I had to come up with my own at home.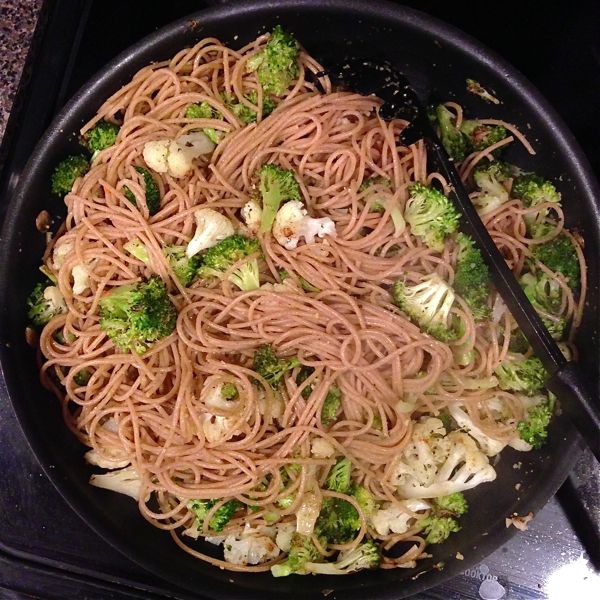 (pictured: Whole Wheat Spaghetti with Broccoli and Cauliflower)
Not only is cauliflower incredibly versatile, it's really really good for you. It's high in vitamin C (almost as much as some citrus fruit!), folate, and dietary fiber. It's also falls into the cancer fighting veggie family, the cruifers aka the cabbage family. (Source: Wikipedia). I think it's safe to say that adding cauliflower to the weekly veggie rotation will benefit you and your entire family.
I'm excited about all the recipes for cauliflower I'm seeing, I wanted to share with you a few that have caught my eye and sound like a delicious new way to try cauliflower. I like when I see a vegetable becoming a "food trend". I'm thinking cauliflower is this year's Brussels sprout, what do you think? What's your favorite way to cook up cauliflower?
I'm incredibly hungry after compiling this list and I have a feeling you will be too. 🙂
Curried Cauliflower with Israeli Couscous and Grains | A Farmgirl's Dabbles
Creamy Cauliflower Sauce | Pinch Of Yum
Mashed Sweet Potatoes and Cauliflower | Reluctant Entertainer
Garlic Beef, Broccoli and Cauliflower Stir Fry | The Little Kitchen
Cauliflower Steaks with Ginger-Soy Sauce | Two Peas and Their Pod
Grated Cauliflower Salad with Peppers, Carrots and Capers | Cookin' Canuck
Slow Cooker Aloo Gobi (Indian Spiced Cauliflower and Potatoes) | The Perfect Pantry
Buffalo Roasted Cauliflower | Closet Cooking
Crispy Roasted Cauliflower with Tahini Dressing | A Spicy Perspective
Roasted Cauliflower Satay with Spicy Peanut Dipping Sauce | Closet Cooking
Bloomin' Indian Spiced Cauliflower | Everyday Maven
Creamy Mac and Cheese with Cauliflower | The Lemon Bowl
Broccoli and Cauliflower Quinoa Salad with Avocado and Goat Cheese | Eats Well With Others
Cauliflower Ceviche | Bake Your Day
Cauliflower Crust Hawaiian Pizza | Recipe Girl
Chicken and Cauliflower Fried "Rice" | Deliciously Organic
Cheesy Smashed Smashed Cauliflower | Green Lite Bites
Twice Baked Cauliflower | Kalyn's Kitchen
Are you following me on Instagram, Twitter, Facebook and Pinterest? If you'd like to subscribe to Aggie's Kitchen and have each post delivered straight to your e-mail box, then please add your email here. Happy cooking!
There are affiliate links in this post. I make small earnings through any purchases made through these links. Thank you for supporting Aggie's Kitchen!