Roasted Red Peppers with Pesto and Goat Cheese
A simple, yet impressive, side dish or appetizer – roasted red peppers with pesto and goat cheese are full of flavor and a delicious addition to any meal.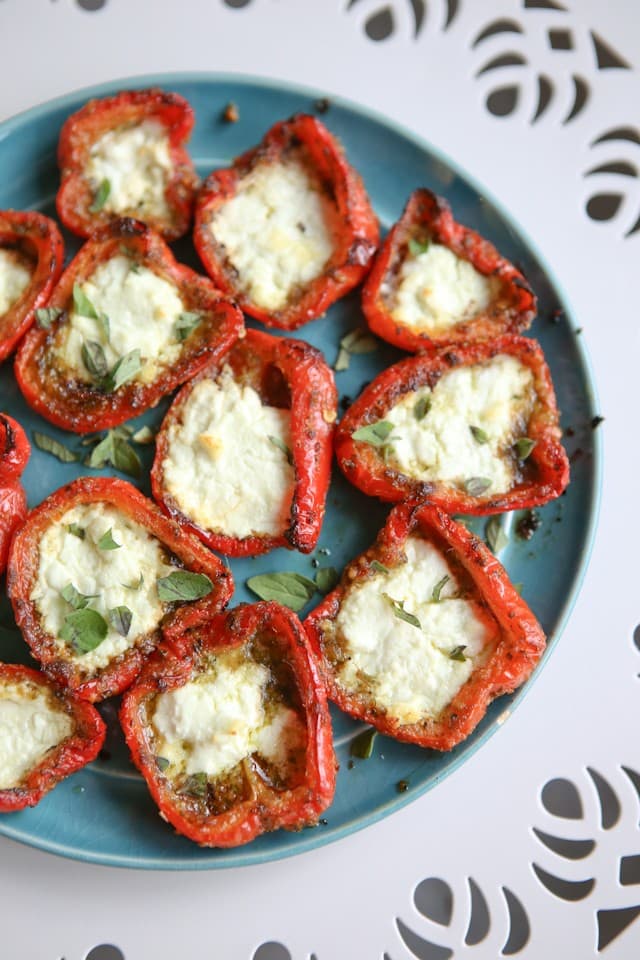 You know I've been to Costco when you start to see recipes with pesto and goat cheese popping up frequently on the blog. I can't help it. There are a few staples from Costco that I can't be without and their pesto and goat cheese are two of them.
I have to admit, since trying the pesto from Costco I really haven't made any at home – it's that good (for store bought!) and you just can't beat the convenience or price.
These Roasted Red Peppers with Pesto and Goat Cheese were inspired by my neighbor who made them last month and brought some over for me to try. He actually cooked his on the grill and wow, they were amazing. I could not wait to make them for myself. I wanted to try them on the grill, but honestly this past week here in Florida has been so brutally hot and muggy that the thought of standing over a grill "testing" a recipe just didn't appeal to me. Roasting them up in my oven worked just as well, and I got to enjoy the a/c while doing it.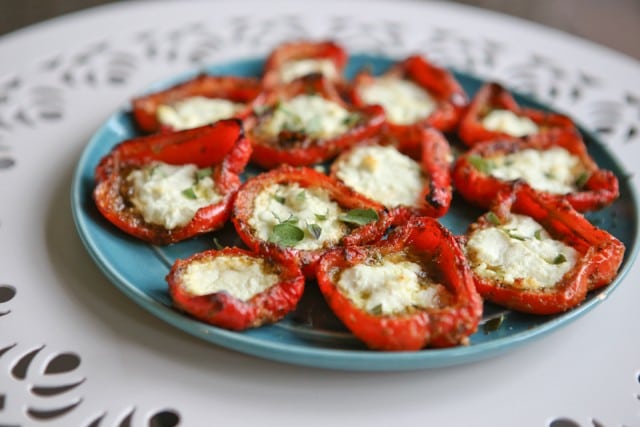 I picked up these adorable baby bell peppers at my grocery store. I've seen the very small mini bell peppers for a couple of years now, but I don't recall seeing these baby bells before (picture them sized in between traditional bell peppers and the mini sweet ones). I'm a big fan! They are the perfect size – not too large, not too small.
These dressed up roasted red peppers were served this past weekend for our July 4th barbecue. We got together with our neighbors (the same neighbors that inspired this recipe!) and grilled up some burgers and brats and served it all alongside these peppers as well as some great dishes like a simple cucumber tomato salad (with red wine vinegar) and this potato salad.
Everything was so good and I'm stuffed just thinking about it all over again. 😉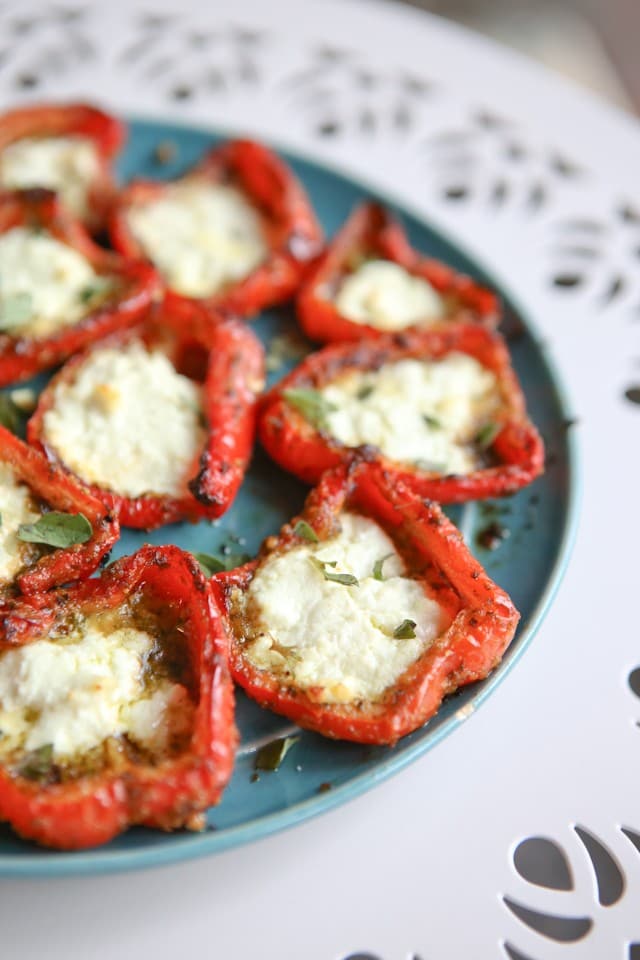 Hope you all have a great week!
Roasted Red Peppers with Pesto and Goat Cheese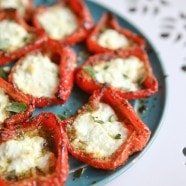 Ingredients:
8 baby red bell peppers
2 heaping tablespoons prepared pesto (I love using Kirklands from Costco)
1 tablespoon olive oil
2 tablespoons balsamic vinegar
3 ounces goat cheese
fresh oregano (optional)
Directions:
Preheat oven to 4oo degrees.
Slice mini bell peppers in half and remove stem and seeds. Place in a large bowl (or large ziplock bag) and toss with pesto, olive oil and balsamic vinegar until peppers are completely covered.
Line up peppers on a baking sheet and place into oven. Bake for 15 minutes.
Take peppers out and carefully add crumbled goat cheese to insides of pepper halves.
Place back into oven and bake for another 3-5 minutes or until goat cheese is melted.
Optional: sprinkle chopped fresh oregano over peppers before serving.
Recipe inspired by my neighbor Chris!
More recipes using bell peppers:
Grilled Italian Chicken Sausage and Pepper Pitas
Roasted Mushroom and Pepper Wrap
Pizza Quinoa Stuffed Peppers | Rachel Cooks
Mango and Red Pepper Orzo | Love and Lemons
Pepper Chicken with Cashews Stir Fry | The Little Kitchen
Find some more veggie-licious inspiration on my Veggie Love Board on Pinterest!
Follow Aggie's Kitchen's board Veggie Love on Pinterest.
Are you following me on Instagram, Twitter, Facebook and Pinterest? If you'd like to subscribe to Aggie's Kitchen and have each post delivered straight to your e-mail box, then please add your email here. Happy cooking!
There are affiliate links in this post. I make small earnings through any purchases made through these links. Thank you for supporting Aggie's Kitchen!
23 Responses to "Roasted Red Peppers with Pesto and Goat Cheese"
Leave a Comment