Watermelon Feta Salad with Basil
Fresh Watermelon Feta Salad with Basil is a refreshing side dish for any summer menu. Pair it up with grilled flank steak or burgers or your favorite grill fish or seafood.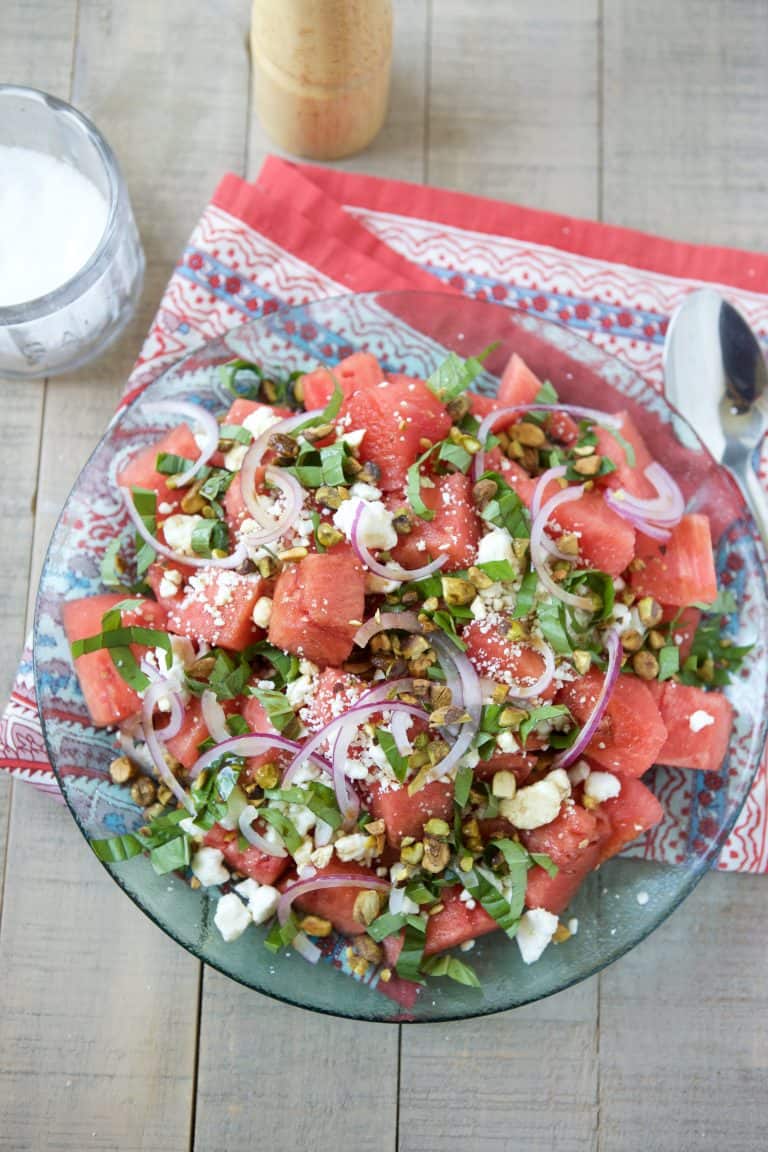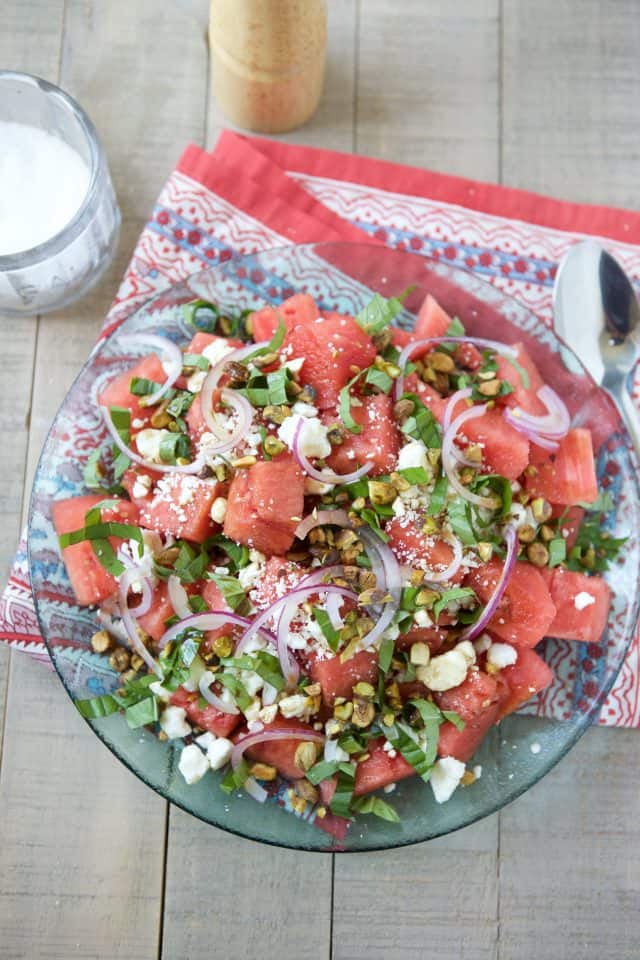 I don't know about you, but I tend to consider watermelon a complete food group in the summer. It's my absolute favorite and for good reason too. There is nothing like snacking on cold, refreshing watermelon on a hot summer day, period.
I remember the summers I was pregnant with both of my boys and how much watermelon I ate, it could possibly have been record breaking.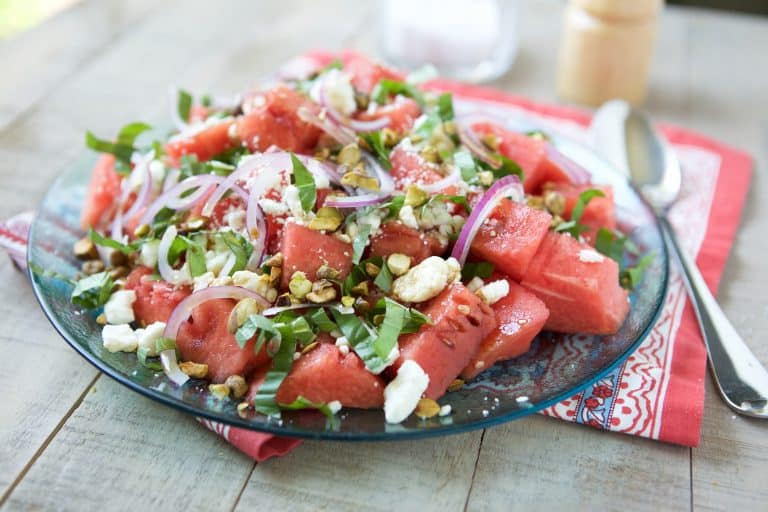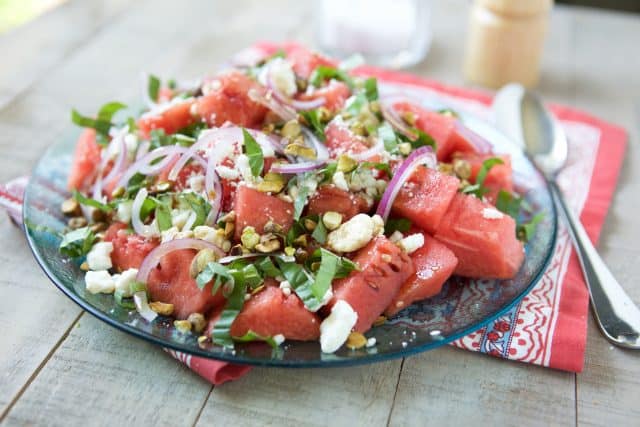 How to pick a watermelon
Buying whole watermelon can be a bit stressful sometimes because let's face it, we've all picked up some bad watermelon at one time or another. Lucky for me, so far this summer our watermelon has been on the good side, and since I'm getting it at a local produce market it has been reasonably priced too. Nothing worse than cutting into a dry, cracked watermelon that you paid way more than you wanted to.
When you are picking a watermelon to bring home, always pick it up and hold it first – your watermelon should feel heavy. Pick up a few and compare.
Also, knock on your watermelon a few times – you want to hear a nice, hollow sound. Hollow is ripe, dull sound is unripe.
If you are unsure, ask! I always ask whoever is working in the produce department or market to help me pick out melons.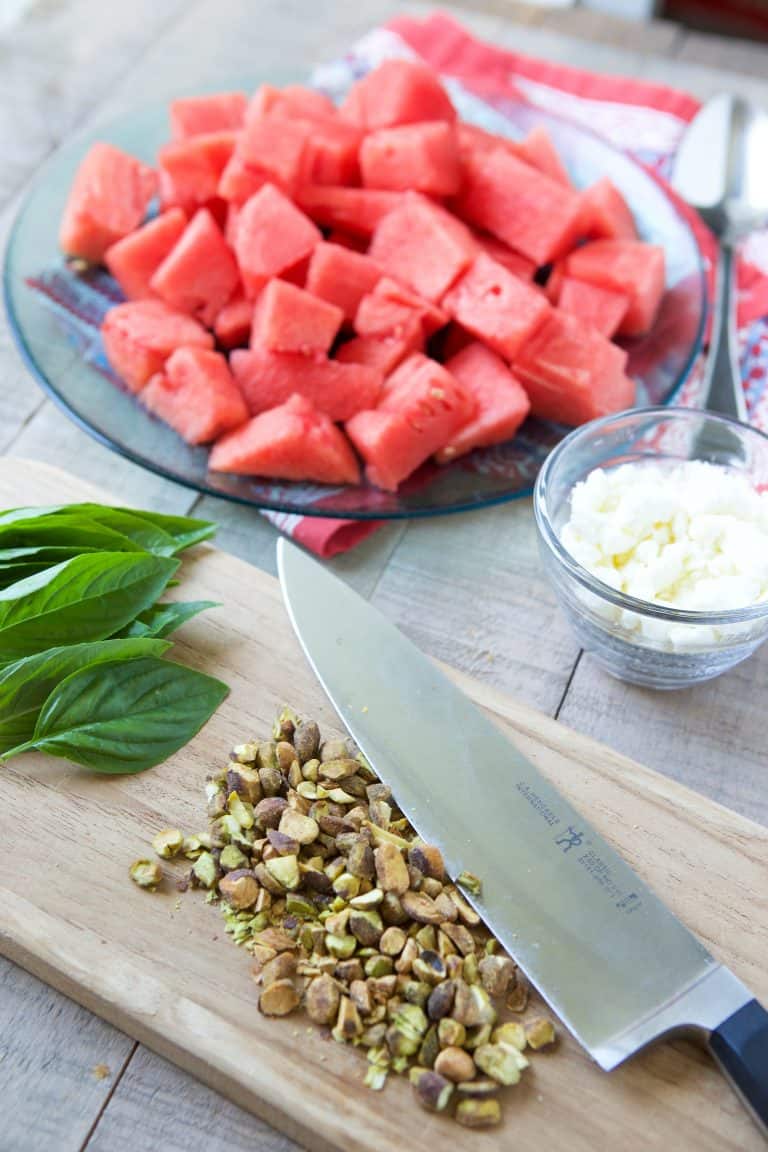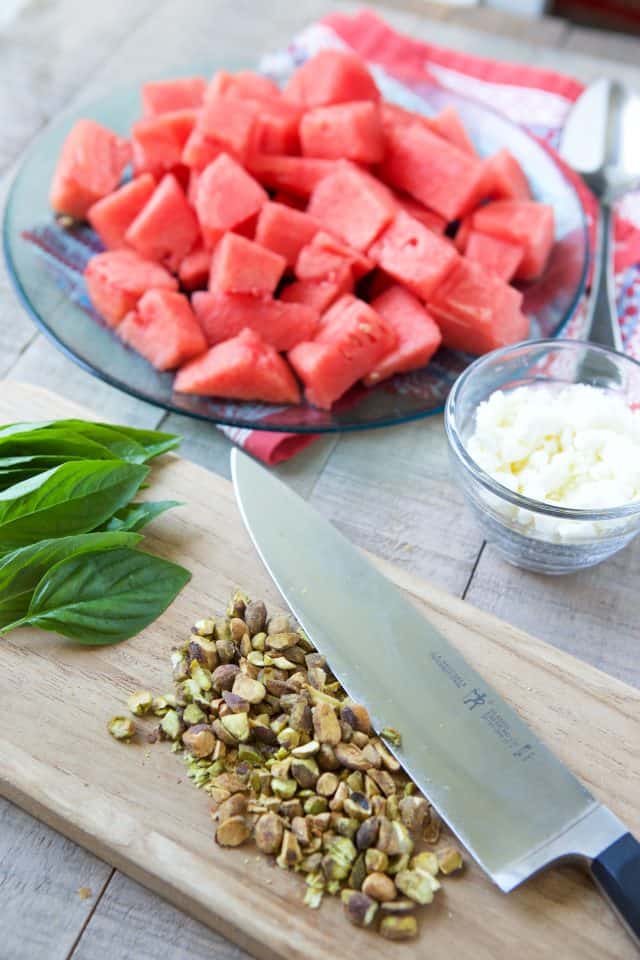 Salt on watermelon, Yes or No?
You've probably seen the question floating around Facebook asking if you like salt on your watermelon? Well, your answer to that question will probably determine whether you would try a savory watermelon salad like this Watermelon Feta Salad with Basil recipe I'm sharing today. I personally love salt on my watermelon, not every time, and after trying watermelon in a salad a few years ago I was hooked. If you haven't tried salt on watermelon or watermelon in a salad, please give it a try before you decide against it. You may be surprised!
For this easy watermelon feta salad, you just need a few ingredients:
watermelon chunks
feta
basil
thin sliced red onion
pistachios
balsamic vinegar
coarse salt and pepper
This salad is simple. Simple is honestly all I can handle during the summer. You probably have most of the ingredients in your kitchen already. You can build on this salad and include all the "extras" which I'm referring to red onion and pistachio, or keep it extra simple with just watermelon, basil and feta as the main ingredients dressed in a little balsamic vinegar. The choice is yours.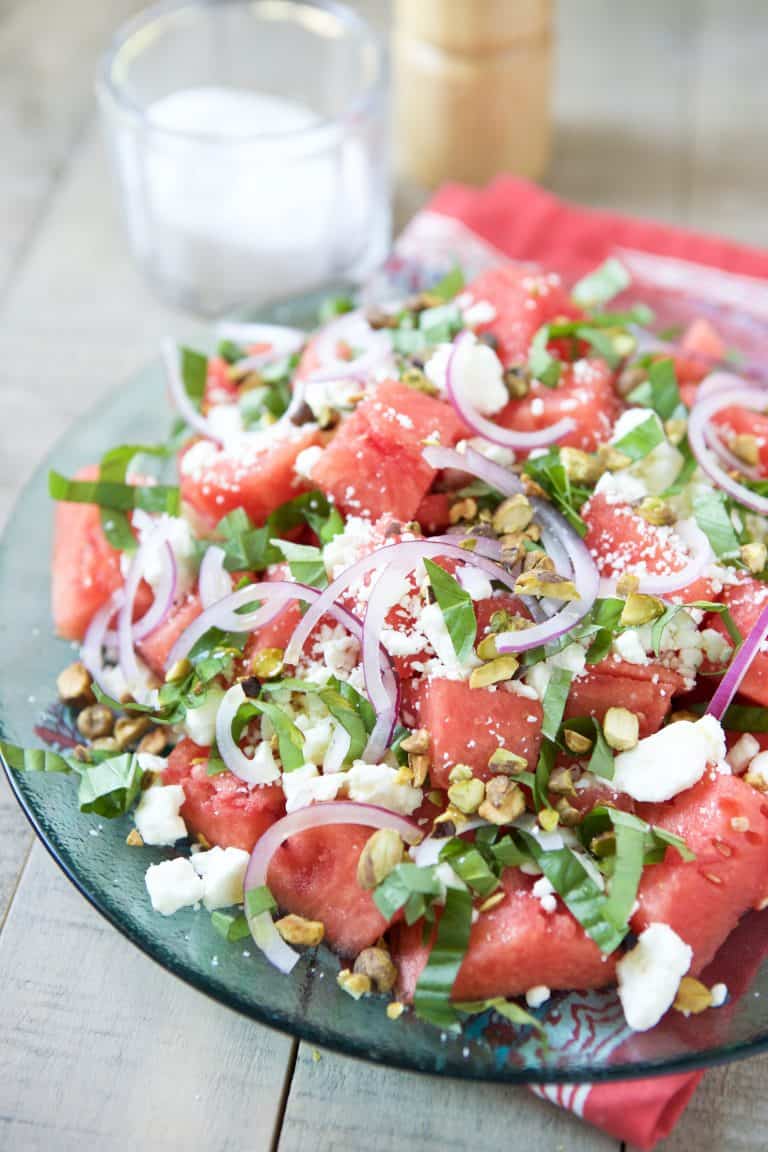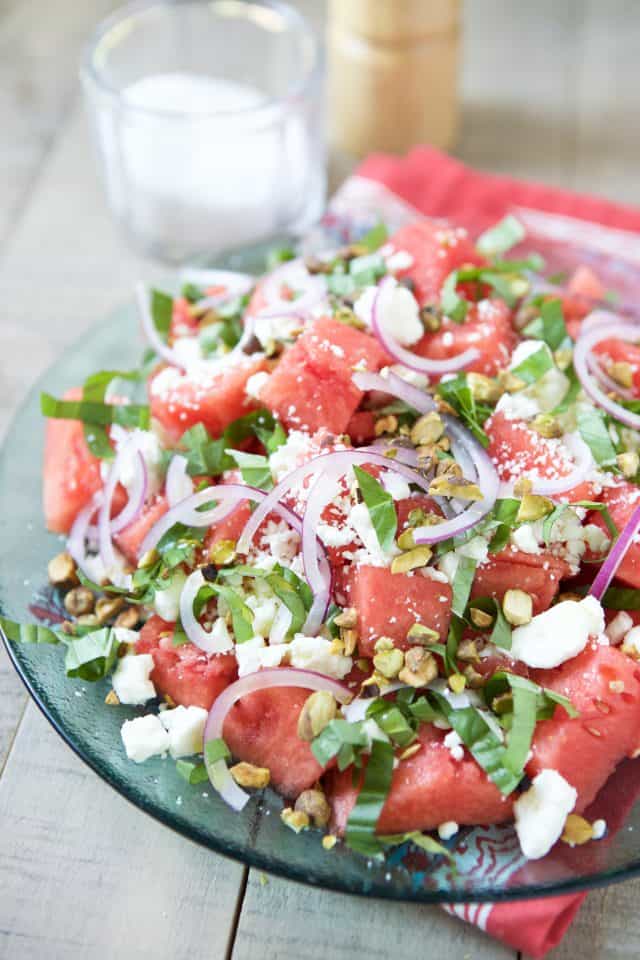 #FRESHSUMMER 2019 PROJECT:
My friend Lora and I have teamed up this summer to share our love of summer produce with you – we came up with a theme for each month of our #FreshSummer recipes. July's seasonal produce pick is watermelon! Lora is sharing a recipe for Asian Watermelon Salad right now that looks so refreshing and flavorful and unique – I think it would be a tasty side dish for this Grilled Flank Steak with Brown Sugar Rub.
If you missed it, for the month of June we chose to share something we both made with cucumbers. Be sure to check out my Cucumber Avocado Salad and Lora's Sweet Summer Corn and Cucumber Salad. Please join Lora and I all summer long with new or your tried and true favorite cucumber or watermelon recipes. If you make a cucumber or watermelon recipe, tag us on Instagram with #FreshSummer. Follow us @aggieskitchen and @savoringitaly to see our stories and what we are dishing up! We will be back in August with something else that's super fresh for your summer kitchen!
If you make this watermelon salad recipe or any of my summer side dish recipes please be sure to tag me on Instagram @aggieskitchen #aggieskitchen and #freshsummer!
Print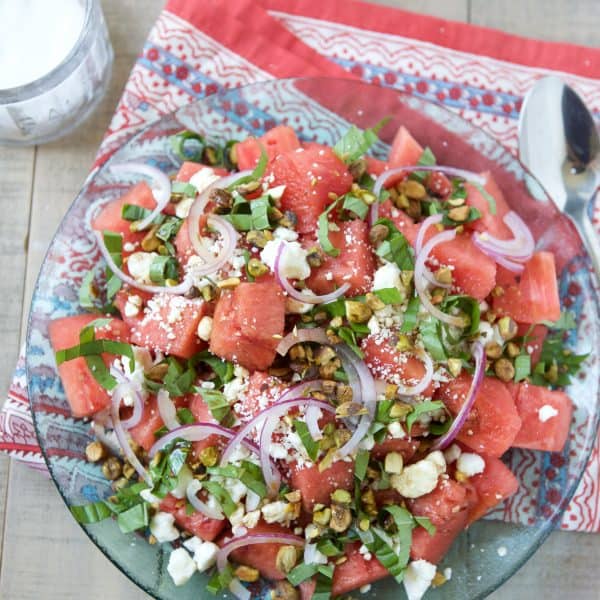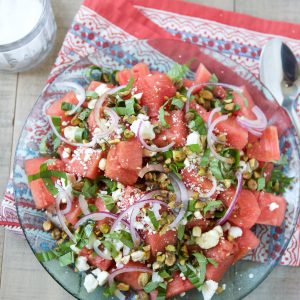 Watermelon Feta Salad with Basil
---
Ingredients
6 cups cubed watermelon, chilled
1/2 cup crumbled feta
10–12 leaves fresh basil, julienned
very thin sliced red onion, just a few slices (optional)
3 tablespoons pistachios, roughly chopped (optional)
3 tablespoons balsamic vinegar
coarse salt and fresh ground pepper
---
Instructions
Layer watermelon, feta and basil on a large dish. Top with thin sliced onion and pistachios.
Drizzle balsamic vinegar over salad and sprinkle with coarse salt and pepper.
Serve chilled.
Are you following me on Instagram, Twitter, Facebook and Pinterest? If you'd like to subscribe to Aggie's Kitchen and have each post delivered straight to your e-mail box, then please add your email here. Happy cooking!
There are affiliate links in this post. I make small earnings through any purchases made through these links. Thank you for supporting Aggie's Kitchen!