Grilled Flank Steak with Brown Sugar Rub
Grilled Flank Steak seasoned with a flavorful blend of brown sugar, chili powder, smoked paprika & cinnamon – fire up your grill for this one this weekend!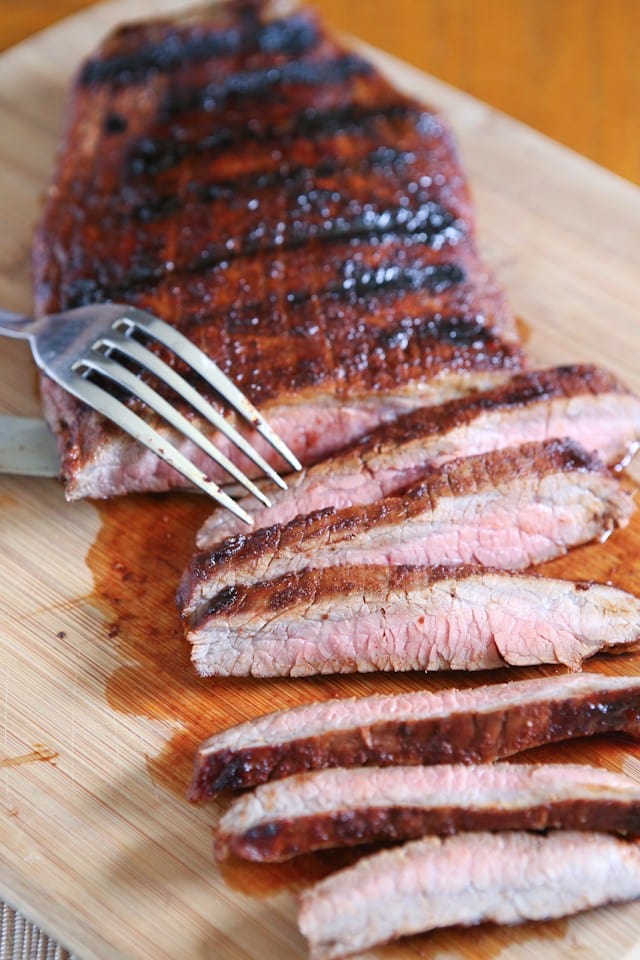 It's a happy day for my husband when he finds out I came home with a steak from the grocery store. For whatever reason, we (I) don't eat a lot of red meat, I think it may stem from my family not eating a lot of it in general when I was growing up. I have nothing against it, I just don't have a natural desire to cook or eat it regularly…but the other day I did get a craving for a nicely grilled flank steak.
Flank steak is probably my favorite cut of steak, it's lean and absolutely delicious grilled, like this Grilled Flank Steak with Brown Sugar rub I'm sharing today. Any other flank steak fans out there?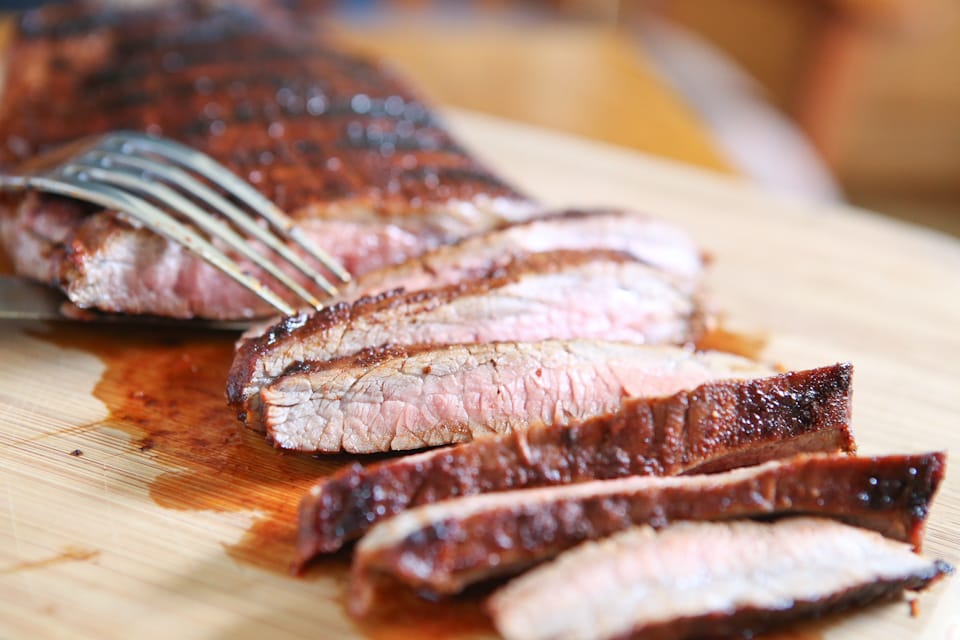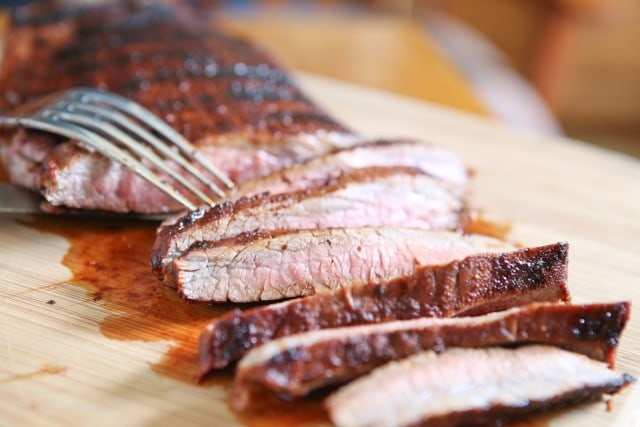 Summer has officially kicked off in our household (yay!!) – school ended earlier this week and I have to say, I am so happy to breathe easy again. This last month of school has been ridiculously busy with projects, book reports and school functions…as it is every year. I forget what May is like until I'm a week in and then I'm like…Ohhhhh myyyyy, where is summer????
Well, summer is here for us, and we are all smiles in these parts. I'm a little extra smiley this week because not only did school end, but a big house project I had been planning ended too. When we moved into our new house a year and a half ago I had a list of a million things I wanted to do, reality is you need a lot of money and time to get all those things done so I'm pacing myself. 🙂
My big spring/summer project was to get my outdoor space cleaned up and functional. We had pavers added to a couple of areas off our driveway and pool area and turned the space into a beautiful outdoor seating area and place to grill. I have always loved using my grill and considered it an extension of my kitchen. With my new outdoor space, my grill is back in business and I'm about to turn into a grilling machine – this is my favorite time of year to use the grill, not only because of the weather (it's actually NOT ideal grilling weather in Florida ha ha), but because of all the amazing produce in season. Grilled veggies are the best!
Here's a peek at one of my new happy spaces…our new grilling area and my herb container garden (right off our kitchen and family room):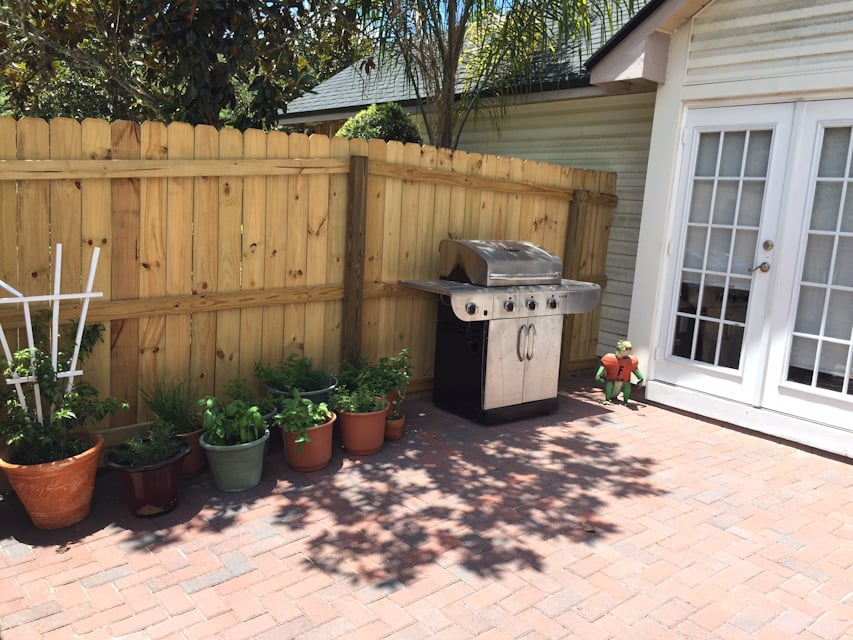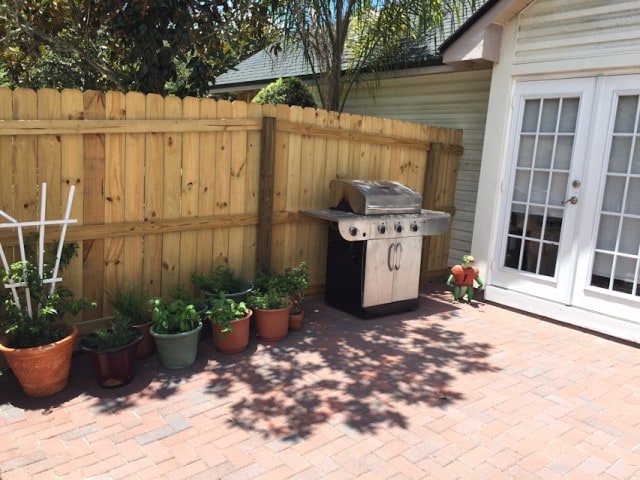 So, back to our steak. I love creating spice rubs for whatever I'm grilling. For our flank steak I combined a little brown sugar with a few of my favorite spices – smoked paprika, ancho chili powder and cinnamon. I was inspired by my friend Liz to throw in the cinnamon, always uses it so well in her recipes so I am trying to be more open to adding it in to more of my cooking. The steak rub was amazing! Very flavorful and my entire family loved it. I kept saying there was a secret ingredient (cinnamon) and my husband guessed it, he won an extra serving for getting it right. 😉
Recipes Using Smoked Paprika
Roasted Acorn Squash with Smoked Paprika
Greek Yogurt Egg Salad with Smoked Paprika
Roasted Red Potatoes with Smoked Paprika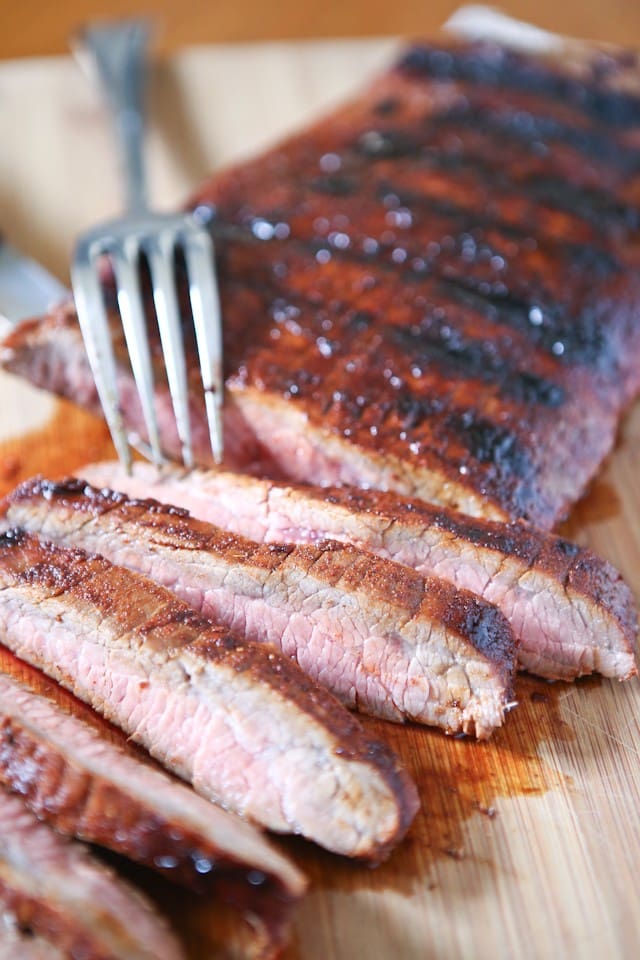 We loved this steak sliced up on this Steak Salad with Grilled Peaches and Red Onion– so good! This steak would be delicious served with Caprese Rice Salad , or Herbed Wild Rice Salad with Pine Nuts for a great summer meal.
Happy weekend everyone!!
Print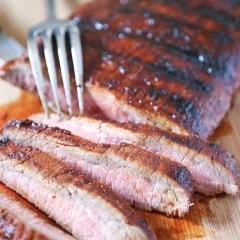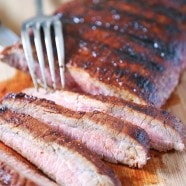 Grilled Flank Steak with Brown Sugar Rub
Author:
Yield: 6-8 servings 1x
Category: Beef
Method: Grill
---
Ingredients
2 lb flank steak
2 tablespoons brown sugar
1 teaspoon smoked paprika
1 teaspoon ancho chili powder
1/2 teaspoon cinnamon
big pinch coarse salt and fresh ground pepper
---
Instructions
In a small bowl, combine brown sugar, paprika, chili powder, cinnamon, salt and pepper.
Place flank steak on a large baking sheet or dish and generously rub spice mixture onto both sides of steak. Let sit for 5-10 minutes.
While steak is sitting, preheat your grill to medium heat.
When grill is ready, place steak on rack and close lid. Grill for 7-8 minutes then flip. Close lid and continue to grill for another 7-8 minutes. Take steak off grill and let rest for at least 5 minutes before slicing. Best way to slice is at against the grain at an angle.
---
Notes
Use this chart to help you with grilling times. Cook time really depends on preference and thickness of cut. Slicing against the grain is very important for getting tender cuts of meat, read this article on how to slice meat against the grain if you need some help.
Keywords: flank steak, beef, grill
Like beef? Try these easy healthy beef recipes:
London Broil with Mustard, Balsamic Vinegar and Garlic Marinade
Beef and Spinach Stuffed Peppers
Check out my Grillin' and Chillin' Board on Pinterest:
Are you following me on Instagram, Twitter, Facebook and Pinterest? If you'd like to subscribe to Aggie's Kitchen and have each post delivered straight to your e-mail box, then please add your email here. Happy cooking!
There are affiliate links in this post. I make small earnings through any purchases made through these links. Thank you for supporting Aggie's Kitchen!