Steak Spinach Salad with Grilled Peaches and Red Onion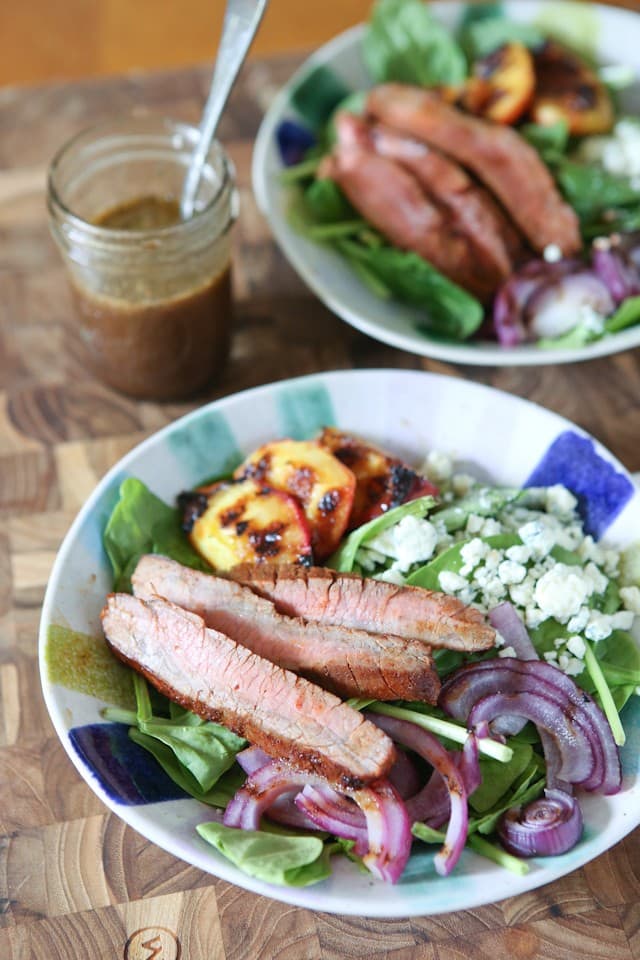 The best part of grilling up a nice flank steak, like this Grilled Flank Steak with Brown Sugar Rub I grilled up a couple of weeks ago, is the leftovers. Throw a few thin slices on a salad like this Steak Spinach Salad with Grilled Peaches and Red Onion and you won't hear anyone complain about leftovers for dinner, that's for sure. You can use leftovers from this London Broil marinade recipe I love to make too.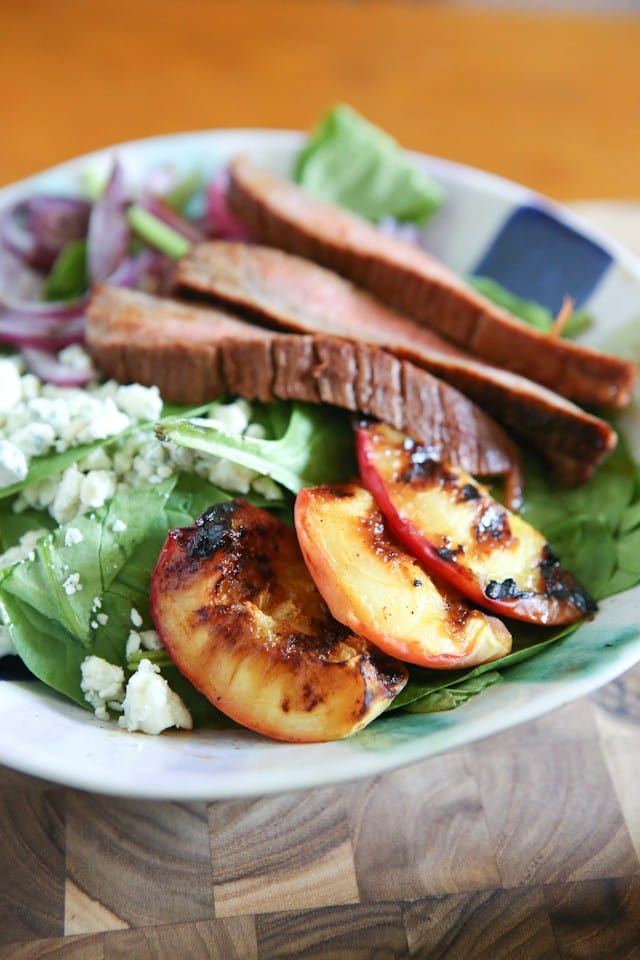 The grilled peaches and onions on this salad really are special. I love adding peaches to salads, but this time I decided to throw them on the grill first to enhance their flavor. Not only were the peaches amazing grilled, but the red onion really sweetened up and would convert any red onion hater over to the liker side. Grilled fruit and veggies are amazing I tell you. If you don't feel like turning on your grill just to grill a few slices of fruit and veggies, then use your grill pan if you have one – it will still turn out delicious!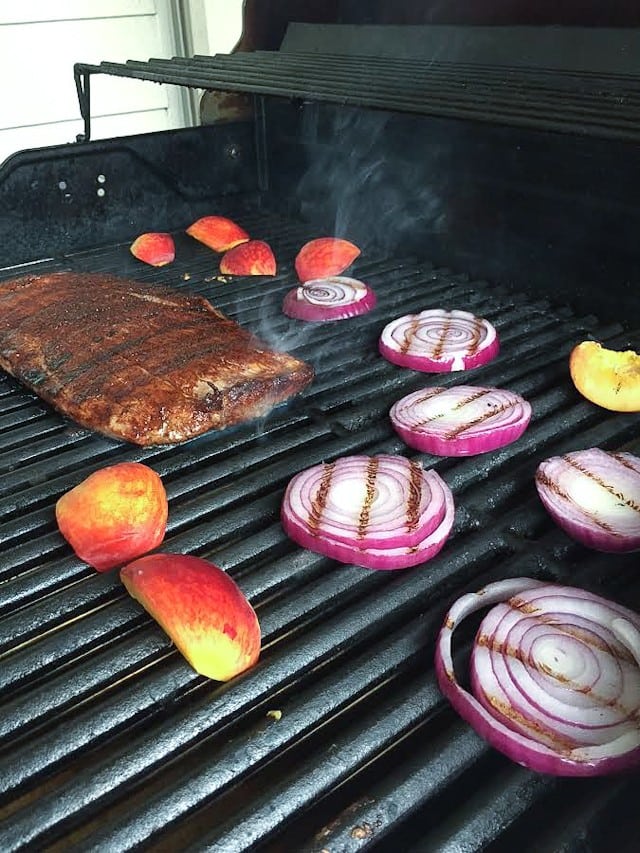 I had plenty of steak, peaches and onions leftover to be able to make a couple days worth of salads for my husband and I. It was a great option for dinner, especially during the summer when we are craving something lighter. Lately I'm really trying to think ahead with leftovers and have a plan. Ironically, I find there's not a lot of time to cook during the summer so if I can grill something up on a day I have extra time and stretch it for a couple of meals then I'm set.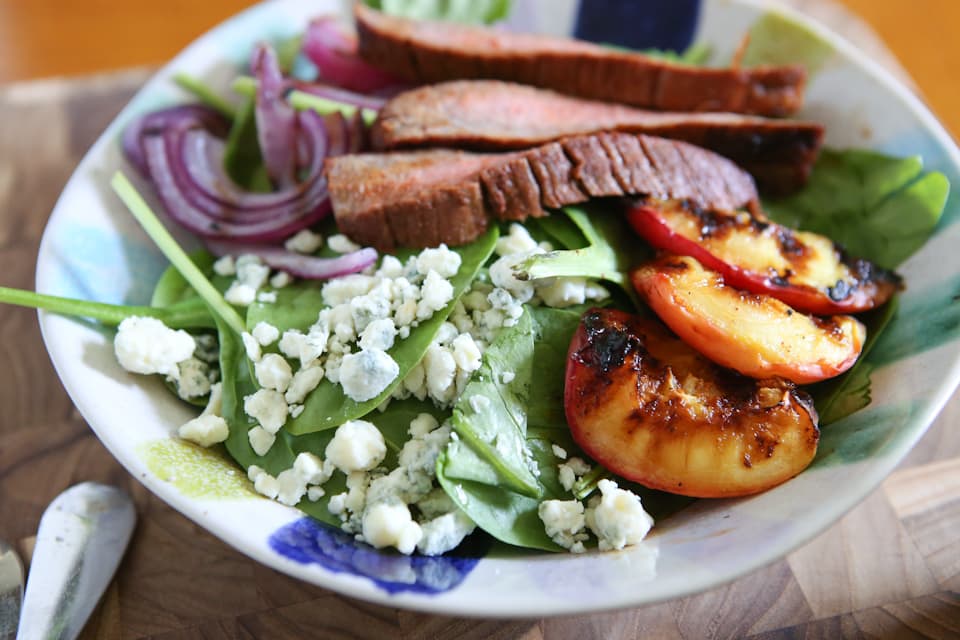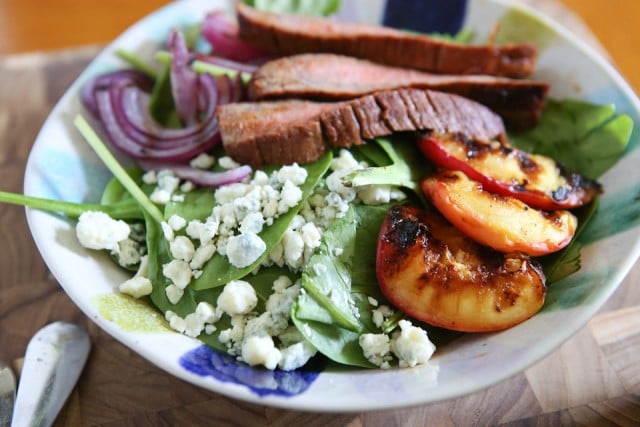 Steak Spinach Salad with Grilled Peaches and Red Onion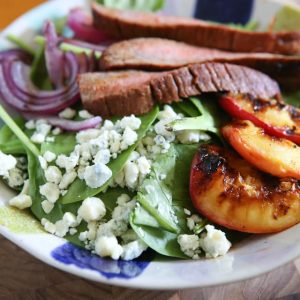 Ingredients:
For the salad:
6 thin slices grilled flank steak (see this recipe for Grilled Flank Steak with Brown Sugar Rub)
4 cups fresh spinach
2 peaches, quartered and grilled
1/2 red onion, sliced thick and grilled
gorgonzola crumbles
Directions:
Arrange your salad ingredients on two large plates.
To grill your peaches and onions, brush lightly with cooking oil and grill over medium heat. Grill covered on first side for just a couple of minutes until they start to have grill lines. Gently flip over and grill for an additional 2-3 minutes. You can also easily use a grill pan as well.
Drizzle a couple of tablespoons of vinaigrette over your salad and enjoy!
More mouthwatering steak salads:
Grilled Asian Steak Salad | Bev Cooks
Leftover Steak Salad with Spinach, Radishes and Gorgonzola Vinaigrette | Kalyn's Kitchen
Grilled Flank Steak Salad with Chimichurri Vinaigrette | Cookin' Canuck
Tuscan Steak Salad | Dine and Dish
Follow Aggie's Kitchen's board Salads on Pinterest.
Are you following me on Instagram, Twitter, Facebook and Pinterest? If you'd like to subscribe to Aggie's Kitchen and have each post delivered straight to your e-mail box, then please add your email here. Happy cooking!
There are affiliate links in this post. I make small earnings through any purchases made through these links. Thank you for supporting Aggie's Kitchen!