Skillet Balsamic Chicken with Sweet Peppers and Zucchini
A quick skillet meal perfect for busy summer nights, this Balsamic Chicken with Sweet Peppers and Zucchini is bursting with delicious healthy flavor.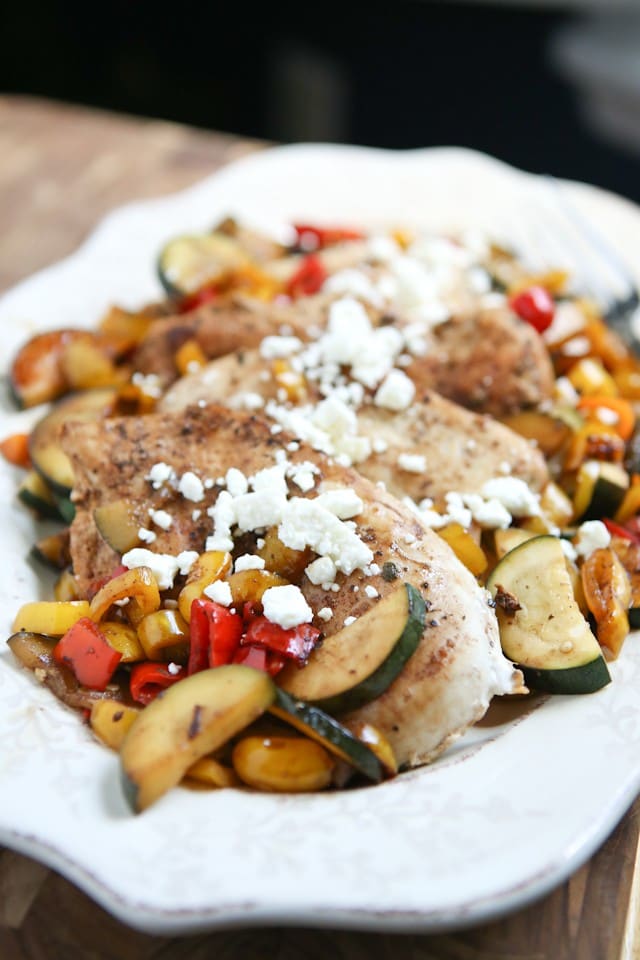 We all know school nights are busy and can be a challenge at dinner times. But sometimes I feel the same during the summer! After being out all day playing and running around, the last thing I want to do some evenings is make dinner. But we need to eat, so unless I grill up something quick, a fast skillet dinner like this Balsamic Chicken with Sweet Peppers and Zucchini is something I would likely throw together.
This chicken dinner is as easy as it gets, and is so healthy and tasty, perfect for warm weather! I don't regularly purchase thin sliced chicken cutlets but when I see them on sale I try to snag some for meals just like this. They cook up so quick and are perfect to saute in a skillet with veggies and sauce.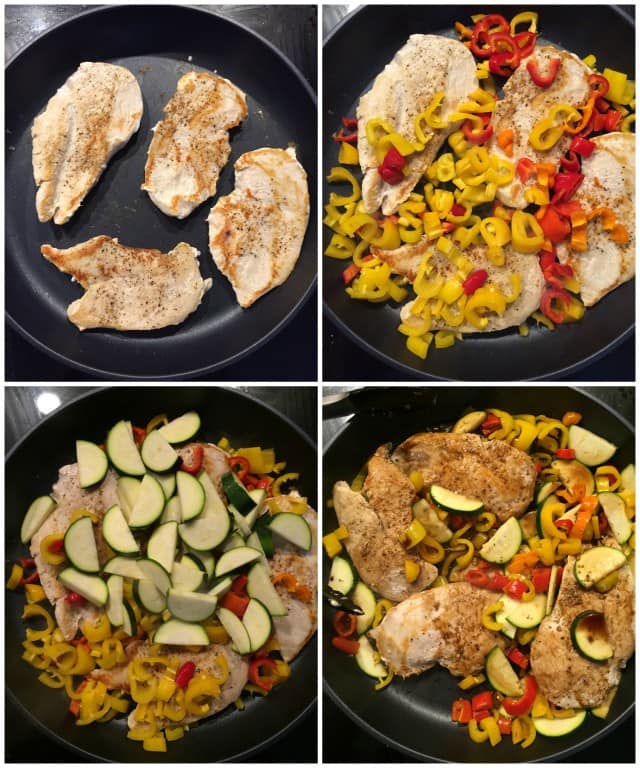 Watch how easy this chicken dish is to make in my VIDEO:
Our markets are bursting with zucchini and peppers right now so I am picking up a big bunch weekly. My kids are not normally fans of peppers (they won't touch them!) but for some reason they didn't say a thing about them when they ate this for dinner. Either it was because they were mini and sliced into rings or they were so hungry they didn't even notice. I did not say one word. Feeding really hungry kids after swimming and running around having fun all day definitely has it's hidden perks. 😉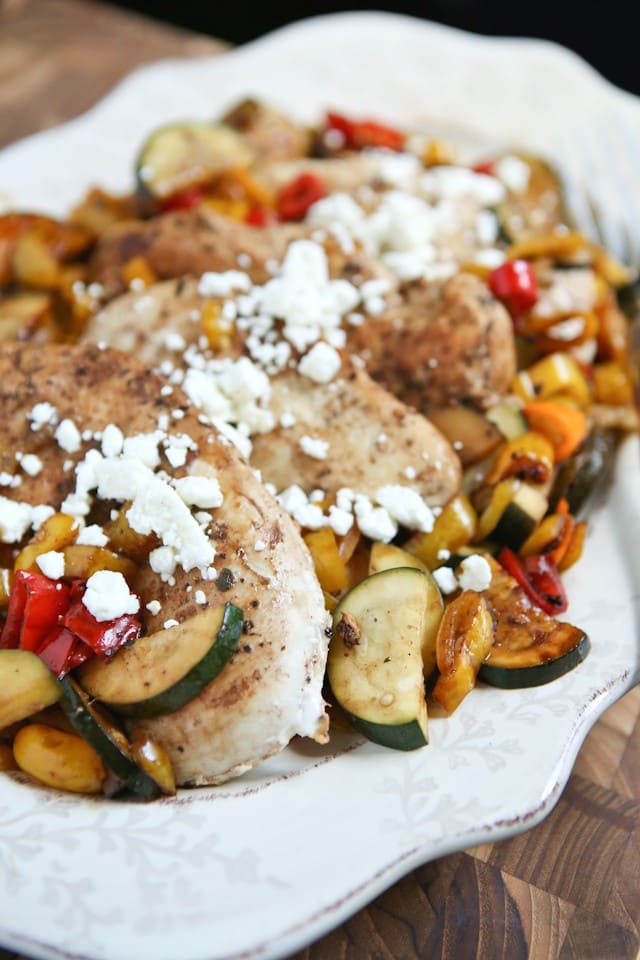 Balsamic Chicken with Sweet Peppers and Zucchini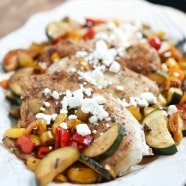 Ingredients:
1 1/2 lbs thin sliced chicken cutlets
coarse salt and fresh ground pepper
1 teaspoon olive oil
8 - 10 small sweet peppers, sliced into rounds
1 zucchini, halved longways then sliced into half moons
1 teaspoon dried oregano
1/4 cup balsamic vinegar
1/2 cup crumbled feta
Directions:
Heat 1 tablespoon of olive oil in a large nonstick skillet over medium heat. Place your chicken cutlets spread out on a plate and pat dry with a paper towel (this helps get a good sear on the chicken). Sprinkle both sides of chicken with salt and pepper.
Place chicken into skillet. Cook on first side for about 4-5 minutes or until you can see it browning. Carefully flip your chicken over. Let cook for 3-4 minutes longer. At this time add your sliced zucchini, peppers and dried oregano to pan. Let veggies saute around in the space the chicken is cooking in.
Gently toss the vegetables around in pan, then add 1/4 cup balsamic vinegar over chicken. Let simmer on low for a few minutes longer until vegetables are cooked through. Top each chicken cutlet with crumbled feta and serve with vegetables.
More one-pot skillet chicken dishes:
Lemon Pepper Chicken with Artichokes, Mushrooms and Asparagus
One-Pot Paprika Chicken Thighs | Reluctant Entertainer
One-Pan Chicken with Creamy Sun-Dried Tomato Pesto Sauce |Foodiecrush
One-Pot Cumin & Smoked Paprika Chicken with Potatoes | Cookin' Canuck
Are you following me on Instagram, Twitter, Facebook and Pinterest? If you'd like to subscribe to Aggie's Kitchen and have each post delivered straight to your e-mail box, then please add your email here. Happy cooking!
There are affiliate links in this post. I make small earnings through any purchases made through these links. Thank you for supporting Aggie's Kitchen!
13 Responses to "Skillet Balsamic Chicken with Sweet Peppers and Zucchini"
Leave a Comment