Chopped Tomato and Spinach Salad
When you are trying to get back in the salad, keep it simple with this Chopped Tomato and Spinach Salad. A few ingredients and a light oil and vinegar dressing is all you need to feel good about eating salad again.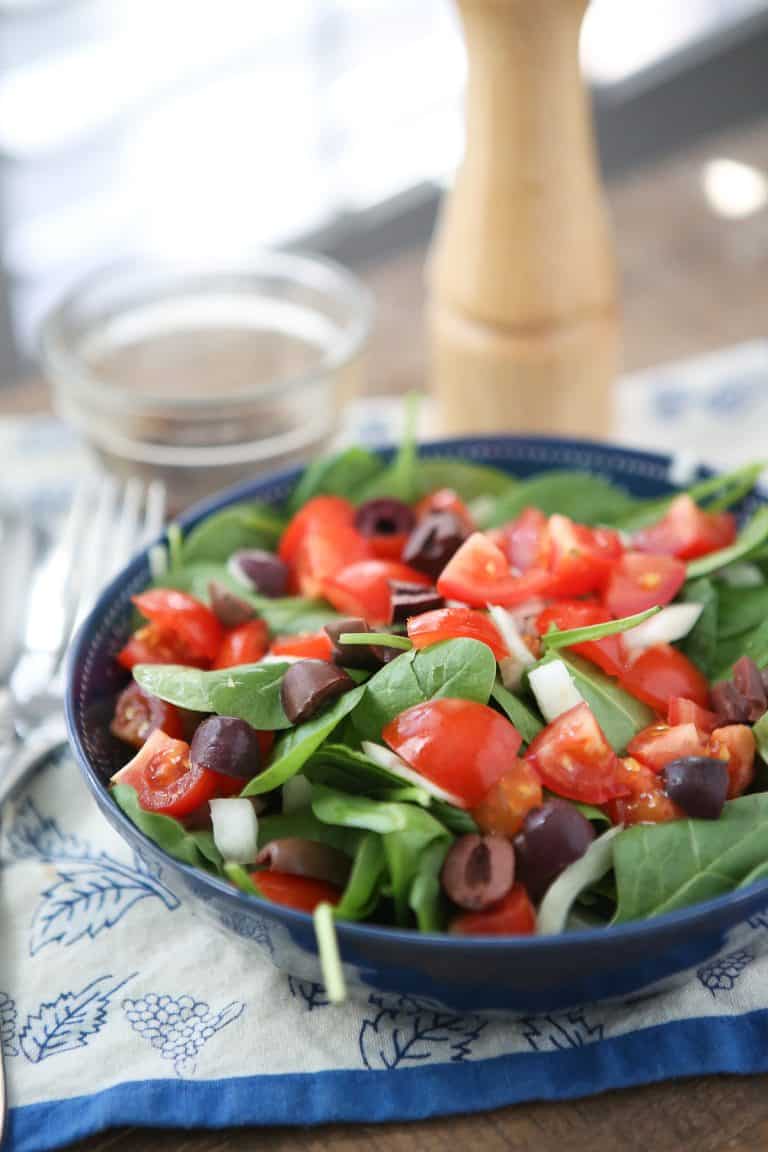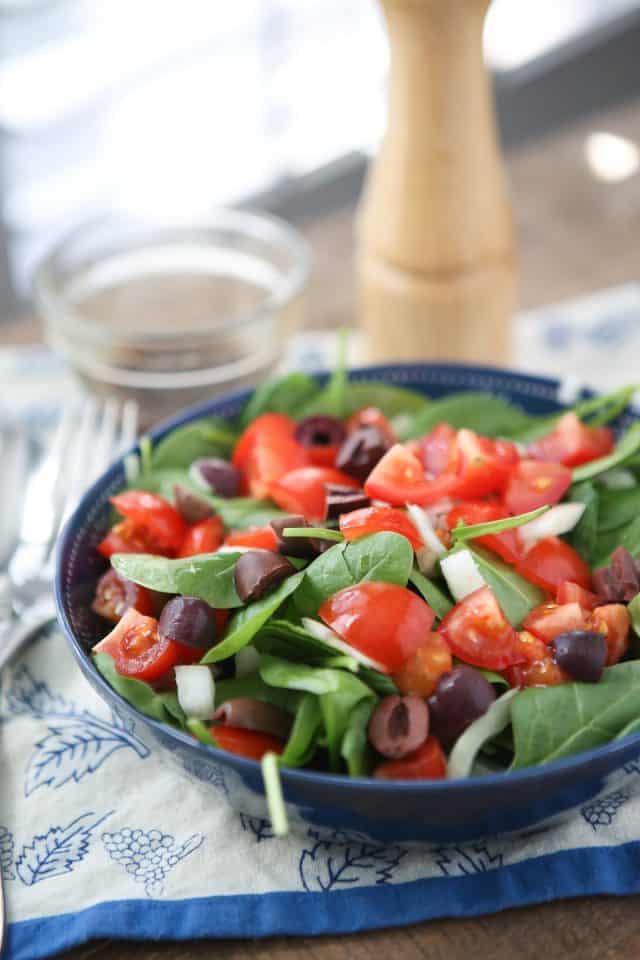 January is almost over, is everyone ready to get back in the salad again?? Is it just me, or is January a tough month? I love the whole fresh start business but it always takes me a few weeks to get my feet grounded again after the holiday season. Maybe it's just me? Doesn't keep me from trying though. I have been hitting the gym as much as I can and trying to get into a routine of cooking more vs eating out…but salads are usually tough for me this month. And you know, I love salads.
One thing I did last week that made a HUGE difference was prep my salad greens on Monday. If you've missed this post in the past, I have added a video for my salad prep process that I swear by. I bought a package of romaine hearts, cut them up, washed them in the salad spinner (I love this one from OXO <—affiliate link) and bagged them up. I have done this countless times in the past but I really noticed the difference in this simple act of of meal prep last week because I ended up eating salad for lunch 4 DAYS IN A ROW. I went from no salad to 4 days of salad, and the main reason was because I had easy to reach salad ingredients to pull from to make myself a quick salad. In addition to my prepped salad greens I had a bag of matchstick carrots, olives, chopped celery, rotisserie chicken or tuna that I added every day. Kept it simple and easy and I'm going to try to do something similar this week.
Now, back to this Chopped Tomato and Spinach Salad. One thing that stumps me with salads when I'm missing them is what kind of salad to make. It's like my mind shuts down and I have to dig deep and get back to basics. I love spinach salads and they are super easy to throw together with pre-washed packaged salad greens, it really doesn't get much easier to have that part done already. For this salad I added to the spinach my favorites – tomatoes, onion, kalamata olives. That's it, easy peasy.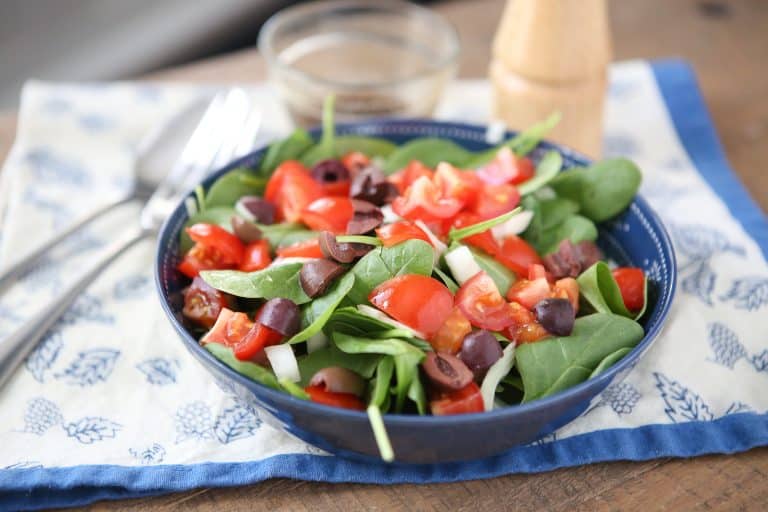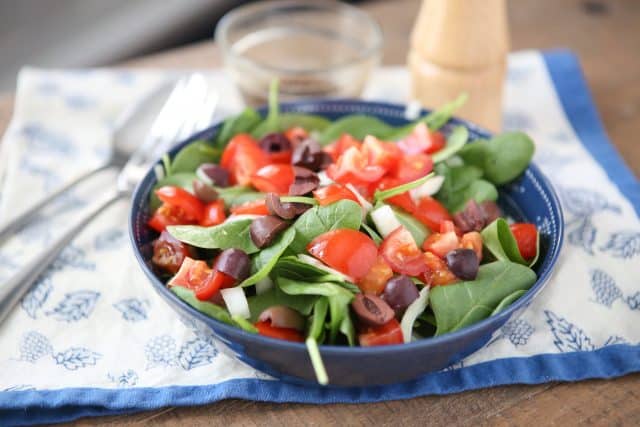 For a salad like this I like to just dress it in simple oil and vinegar. I mixed a couple teaspoons of balsamic vinegar and a couple teaspoons of olive oil in a small jelly jar with some salt and pepper and shook it up. I don't typically measure my oil and vinegar but try to keep it at equal parts although if you don't like it too vinegary you can add a little bit more oil to balance it out. Drizzle this over your salad for two and trust me, it's all you need for a light refreshing salad you will feel good about eating.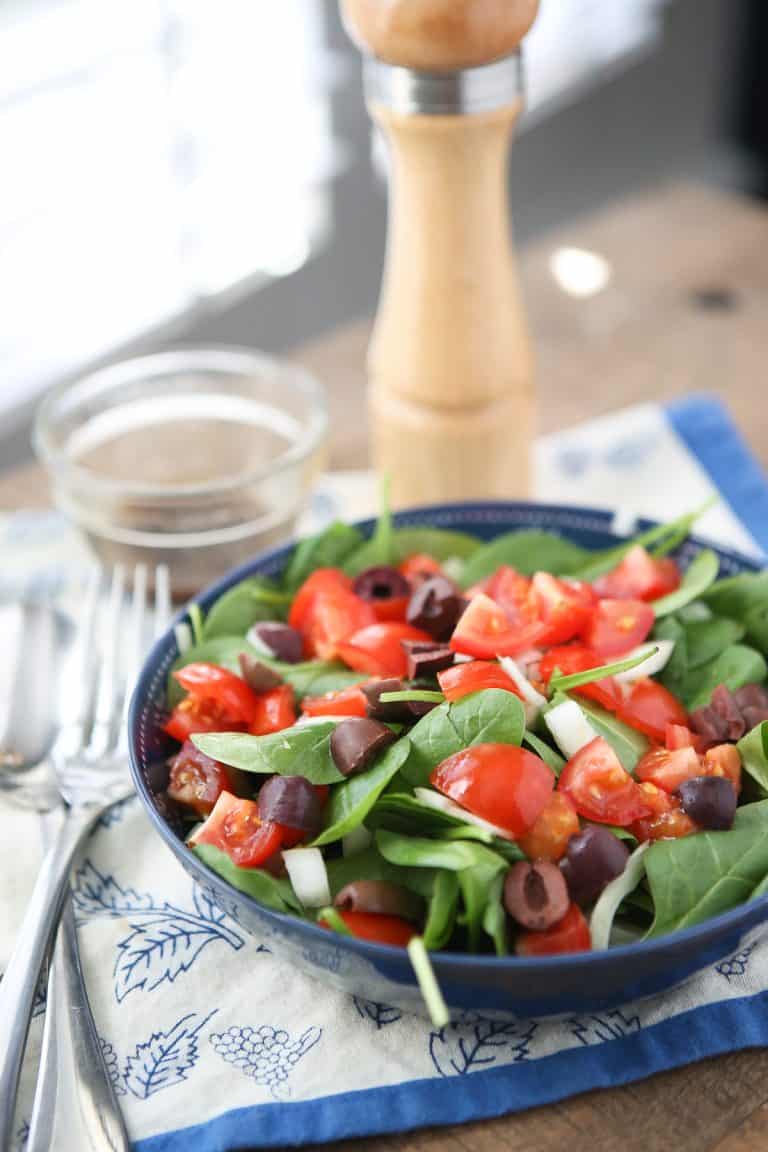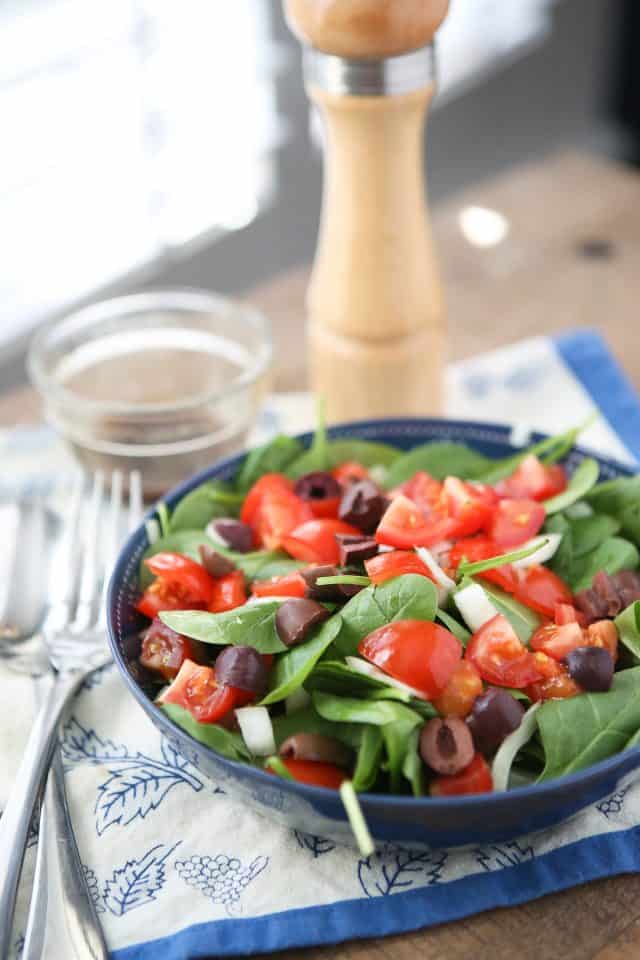 I realize a salad like this Chopped Tomato and Spinach Salad is beyond simple and a little basic to post as a recipe…but in talking to friends and personal experience, it's not just recipes we are all in need of but IDEAS. I personally am always looking for new ideas, especially when it comes to something like salads and getting more veggies into my day.
If you are on Facebook and are interested in sharing recipes and ideas for healthy living with others, please join my group here!
Some simple salads to add to help you get back in the salad:
Spinach Strawberry and Walnut Salad with Raspberry Vinaigrette
Orange Avocado and Kale Quinoa Salad
Have a great week!
Chopped Tomato and Spinach Salad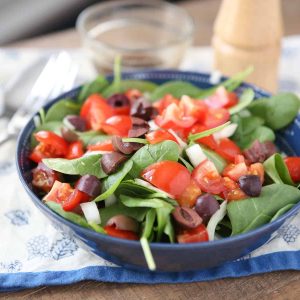 Ingredients:
4-5 plum tomatoes, chopped
1 medium onion, chopped
handful of kalamata olives, chopped
2-3 cups of fresh baby spinach leaves
2 tablespoons balsamic vinegar
2 tablespoons olive oil
salt and pepper to taste
Directions:
Combine salad ingredients in a large bowl. Add balsamic vinegar and oil to a small bowl or jelly jar with lid and season with salt and pepper. Drizzle desired amount over salad.
Additional preparation directions:
Combine tomatoes, onion, and olives in a bowl. Season with salt and pepper and add 2 tablespoons of balsamic vinegar. Toss to combine. Serve tomato mixture over a bed of fresh spinach, gently toss to spread dressing. Drizzle a small amount of olive oil if you prefer.
This recipe made 2 large dinner salads or 3-4 smaller salads.
Are you following me on Instagram, Twitter, Facebook and Pinterest? If you'd like to subscribe to Aggie's Kitchen and have each post delivered straight to your e-mail box, then please add your email here. Happy cooking!
There are affiliate links in this post. I make small earnings through any purchases made through these links. Thank you for supporting Aggie's Kitchen!