Spinach, Tomato and Lentil Soup
I don't know about you, but I love having a nice hearty soup waiting for me in the fridge. I find myself making large pots of soups on Sundays (that I like to call "detox soups") which in turn carry me through the week with leftovers for lunches and maybe one easy dinner.  I love soups just like this, full of good protein and vegetables, basically everything you need for a good quick meal in a bowl.
This soup is great for those of you who are trying to incorporate more meatless meals into your daily diet.  It's very filling and satisfying and you can even give it a little more umpf of protein by adding broken pieces whole wheat spaghetti or pasta to it (whole wheat pastas are awesome for extra protein too). I love to serve it with a slight drizzle of extra virgin olive oil and some freshly grated parmesan cheese.
So delicious.
This recipe makes a lot of soup. So plan on freezing some of it. As a matter of fact, I just defrosted some for dinner tonight. Yay for me!
Spinach, Tomato and Lentil Soup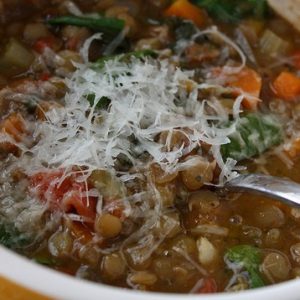 Ingredients:
1lb dried lentils
2 tablespoons extra virgin olive oil
3 carrots, diced
2-3 celery stalks, diced
1 large onion, diced
3-4 cloves garlic, minced
1 red bell pepper, diced
2 cans diced Italian tomatoes, with liquid
2 TB vegetable or chicken bouillion (I like the Better than Bouillon brand, if you don't have bouillon, just use a vegetable or chicken broth in place of all or some water for flavor)
1 1/2 teaspoons dried oregano
1 1/2 teaspoons dried thyme
8 cups water
1 1/2 teaspoons dried parsley
salt and pepper, to taste
3/4 bag fresh spinach
fresh grated Parmesan and extra virgin olive oil, for serving
Directions:
In a large pot, heat olive oil and add vegetables, garlic, bouillon, spices and a good pinch of salt and pepper. Saute vegetables in oil for about 7-10 minutes until soft and fragrant. Add diced tomatoes, water (or broth), and lentils to vegetable mixture.
Bring soup to a slow boil for a few minutes, then back down to a simmer. Simmer, uncovered, for about 20-25 minutes, until soup starts to thicken. Taste for seasoning as its cooking, add more water if it gets too thick.
In the last 5 minutes of cooking, add fresh spinach leaves to soup and gently stir to combine.
****************************************************************************************
Like Soup? Then Come join Soup-a-Palooza at TidyMom and Dine & Dish sponsored by Bush's Beans, Hip Hostess, Pillsbury and Westminster Crackers! There are prizes!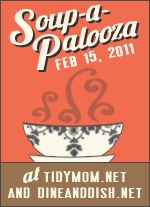 If you are in the mood for soup, here are a few of my favorites, enjoy!
White Bean and Spinach Soup
Italian Vegetable Beef Soup
Ellie Krieger's White Chili
Ina's Mexican Chicken Soup
Minestrone with Crisped Polenta Rounds
Are you following me on Instagram, Twitter, Facebook and Pinterest? If you'd like to subscribe to Aggie's Kitchen and have each post delivered straight to your e-mail box, then please add your email here. Happy cooking!
There are affiliate links in this post. I make small earnings through any purchases made through these links. Thank you for supporting Aggie's Kitchen!