Slow Cooker Italian Sausage and Kale Soup with Sweet Potatoes
This Slow Cooker Italian Sausage and Kale Soup with Sweet Potatoes is hearty yet perfect for a light fall dinner. Paleo friendly and low carb.
Click here to Pin this slow cooker soup recipe!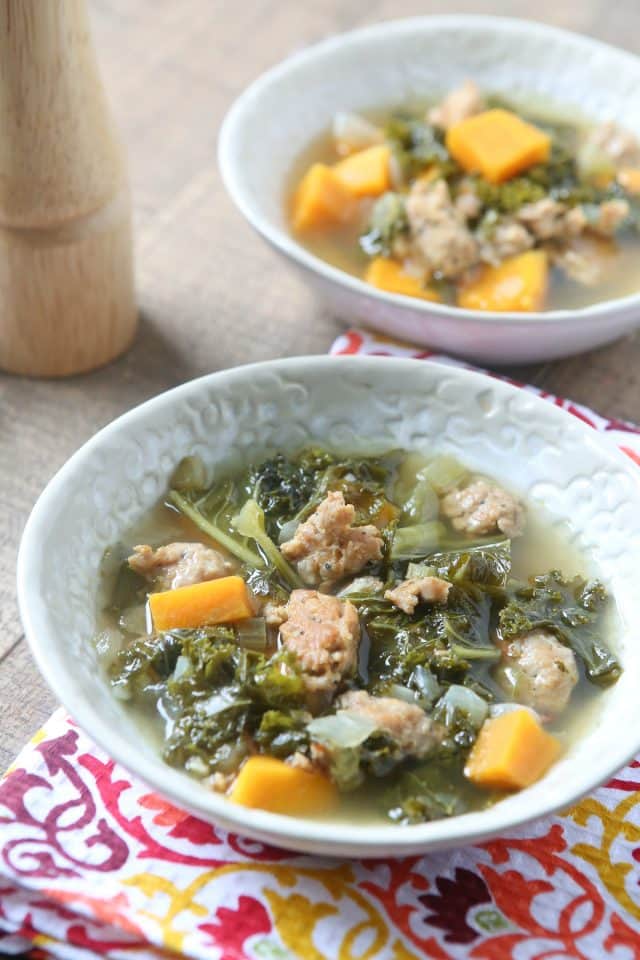 It never fails, the first couple weeks after school start and the sickness begins. Last week and weekend we had 2 streps and 1 virus hit us and we were literally at the doctor 3 different days with 3 different kids. It all started in preschool, which sounds about right and thankfully did not end with the parents although my allergies have been going a little haywire lately and my sinuses are acting up. Soup is always my go-to when I feel like this and although my 2 boys don't typically partake in it, my daughter and husband do and I felt extra good about them eating a bowl of this Italian Sausage and Kale Soup with Sweet Potatoes from my friend Natalie's new cookbook, The Big Book of Paleo Slow Cooking. Nothing but good stuff in this soup.
I made the soup on Sunday for part of dinner (see my weekly meal plan from this week here) while everyone ate grilled chicken parmesan sandwiches. I needed a light dinner, and I knew leftovers would be perfect for lunch this week. My daughter who was under the weather a few days longer than the rest, had some soup for dinner a couple times as well and I think it hit the spot. At least I know it did for me!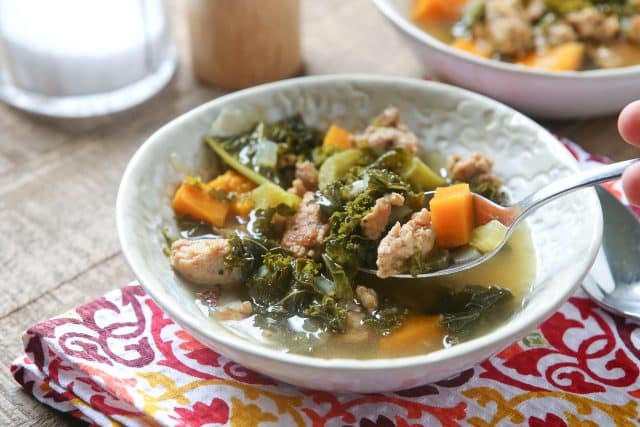 I am getting back in the habit of making soup once a week again now that we are shifting into fall. I love soup all year 'round but fall just screams soup doesn't it? It makes for super easy lunches and dinners to heat up too, and healthy. Some of my favorite soups to make weekly are this Beef and Tomato Vegetable Soup and Slow Cooker Split Pea Soup. This Italian Sausage and Kale soup was perfect and so easy to make, especially in the slow cooker. It's filled with leaner Italian chicken sausage, kale and sweet potatoes. Very simple ingredients and exactly what your body needs whether or not you are under the weather. It's hearty too, which is always a good thing.
My friend Natalie of Perry's Plate just released her first cookbook and I couldn't be more excited for her! It's pretty obvious I don't follow a paleo diet but that did not keep me from finding recipe after recipe that I would make from this book. There are 200 slow cooker recipes in this book, all whole-food based and without gluten and dairy. If gluten and dairy isn't a problem for you like it isn't for my family, then the recipes are easily adaptable for simple substitutions and additions (i.e. I don't regularly cook with ghee which is an ingredient often used with the paleo diet so I don't have it on hand – I used my preferred oil I have in my pantry instead).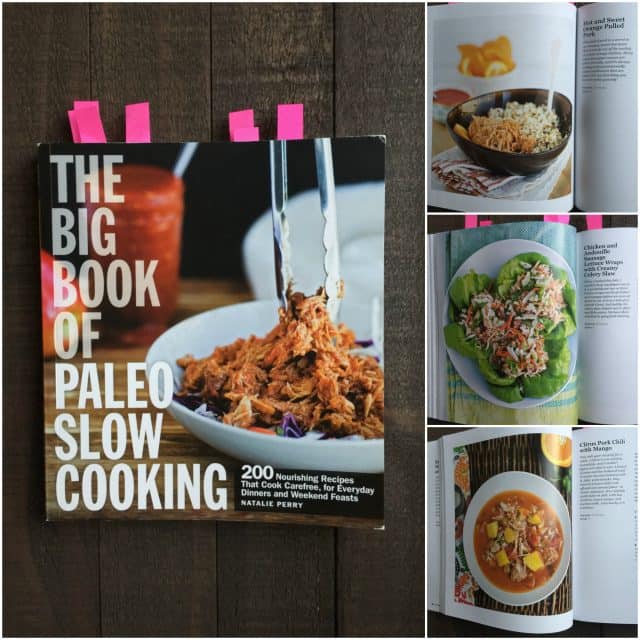 My copy of The Big Book of Paleo Slow Cooking is already filled with several sticky tabs marking recipes I can't wait to try.
Recipes on deck are:
Chipotle Beef and Avocado Soup
Citrus Pork Chili with Mango
Chicken Tikka Masala with Cauliflower
BBQ Bacon Bison Meatballs
Italian Balsamic BBQ Meatloaf
Sweet Jalapeno-Pineapple Pulled Pork
Doesn't everything sound so good??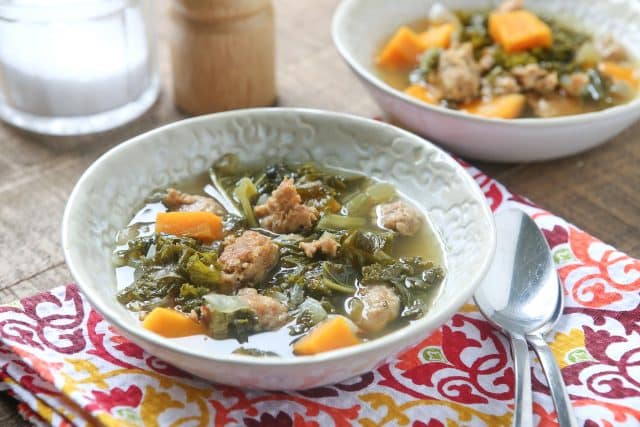 Hope you are all feeling good and having a great week!
Slow Cooker Italian Sausage and Kale Soup with Sweet Potatoes
Yield: serves 6
Prep Time: 15 minutes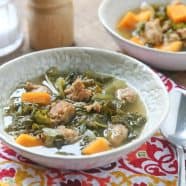 Ingredients:
2 tablespoons ghee or bacon drippings
1 lb bulk uncooked sweet Italian chicken sausage
1 medium onion, diced
4 cloves garlic, minced
1 large sweet potato, peeled and cut into 1-inch pieces
1/2 large bunch kale, leaves removed from stems and cut into bite-sized pieces
1 1/2 quarts chicken stock
2 tablespoons red wine vinegar
pinch of crushed red pepper flakes
Directions:
Heat the ghee in a large skillet over medium-high heat. Add the chicken sausage to the pan and break it up into small bits as it cooks.
When the most of the sausage is cooked, add the onion to the pan. Cook for 3 to 4 minutes, until the onion begins to soften and become translucent. Add the garlic to the pan and cook for another minute or so. Transfer the sausage mixture to a 4-quart slow cooker.
Add the sweet potato cubes, kale, chicken stock, vinegar and red pepper flakes.
Cover and cook on low for 6 to 7 hours (or 3 to 4 hours on high).
Taste and add more salt or vinegar if necessary before serving.
How I adapted it - I used olive oil instead of ghee because I don't typically have ghee on hand. I also used a 4 cup container of chicken broth adding 2 cups of water to get 1 1/2 quarts of liquid for the soup.
Are you following me on Instagram, Twitter, Facebook and Pinterest? If you'd like to subscribe to Aggie's Kitchen and have each post delivered straight to your e-mail box, then please add your email here. Happy cooking!
There are affiliate links in this post. I make small earnings through any purchases made through these links. Thank you for supporting Aggie's Kitchen!
5 Responses to "Slow Cooker Italian Sausage and Kale Soup with Sweet Potatoes"
Leave a Comment