Slow Cooker Split Pea Soup
This vegetarian Slow Cooker Split Pea Soup is hearty and so good for you! A bowl of it will surely hit the spot on any fall or winter day!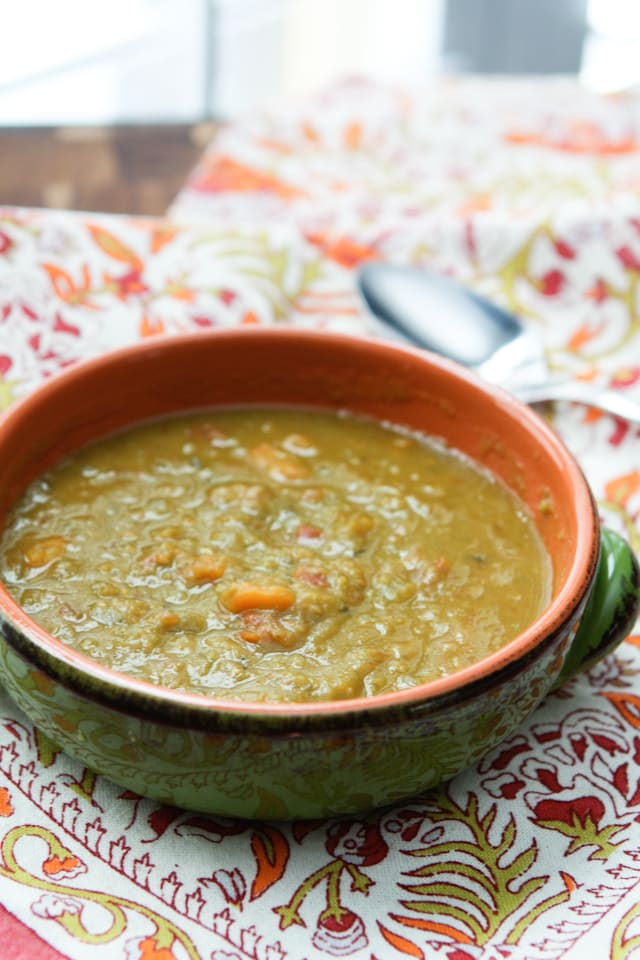 I hope you don't mind another recipe from the archives…I'm looking for soups to make this week and this one has always been a favorite of mine. I posted it two years ago and thought you might enjoy it right now with the cooler temps approaching.
My family is currently in a busy season and I feel since all the Hurricane Irma madness I haven't been able to catch up with my routine of cooking and sharing with you here. I've been cooking, but mostly quick throw together meals I don't have to think too hard about.
I originally posted this Slow Cooker Split Pea Soup recipe in January of 2015.
Oh split pea soup…it's definitely not the prettiest in the category of soups but as far as nutrition goes, it ranks up pretty high in my book. It's full of fiber, some protein and lots of other vitamins from the peas itself along with all the other veggies added in – and I think it tastes delicious. Anyone else love split pea soup like I do??
I love having soup in the fridge to heat up for quick lunches or for light dinners on busy nights. I really try to make a pot (or crockpot) of soup once a week, and when I don't I definitely miss it.
Vegetarian Slow Cooker Split Pea Soup
This Split Pea Soup recipe for your crockpot is vegetarian based and made with vegetable broth, though it could also be made with chicken broth and a bit of ham, if that's what you prefer. I love it just like this, full of garlic, carrots, celery and some tomatoes. The tomatoes are not a traditional ingredient for split pea soup but I've always added them.
A nice bowl of this vegetarian split pea soup for lunch or dinner definitely fills you up (in a good way!) and is really perfect for this time of year when most of us are trying to get back on track post-holiday. I don't know about you, but my clothes are feeling a bit snug this week and I am really making an effort to chug water, eat a ton of fruits and veggies and not mindlessly pick on snacks and sweets that I got into the habit of picking on all throughout the holiday.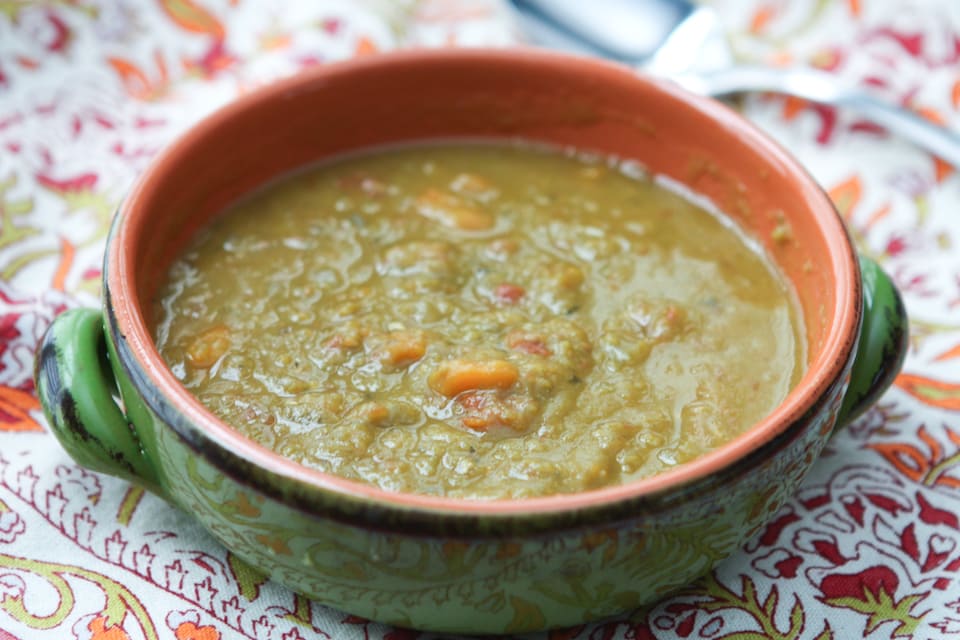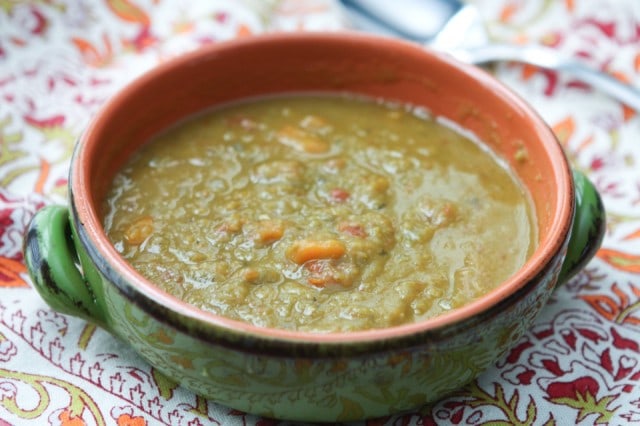 Hope your week is going great! Make yourself some soup!
Healthy Soup Recipes
Soup is one of my go to meals when I'm trying to trim some pounds or just generally feel healthier. Some soups I tend to make often are Slow Cooker Italian Sausage and Kale Soup with Sweet Potatoes, Italian Vegetable Beef Soup, Italian Tomato and Lentil Soup and Healthy Chicken Tortilla Soup.
I dying to try this Slow Cooker Thai Chicken Soup from Foodiecrush and this Slow Cooker Lemon Rosemary Lentil Soup from Melanie Makes!
Print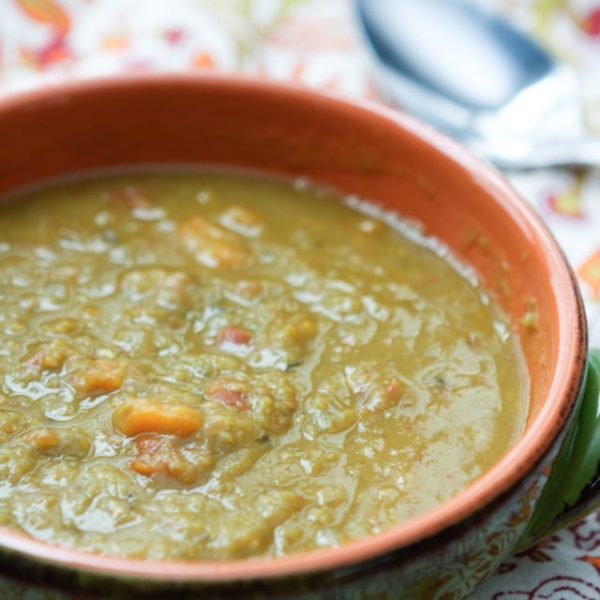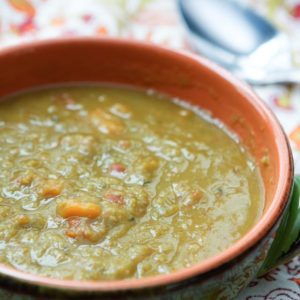 Slow Cooker Split Pea Soup
Author:
Prep Time: 10 minutes
Cook Time: 5 hours
Total Time: 5 hours 10 minutes
Category: Soup
Method: Slow Cooker
This Slow Cooker Split Pea Soup is hearty and so good for you! A bowl of it will surely hit the spot on any fall or winter day!
---
Ingredients
1 lb (16 oz) dried split peas, sorted and rinsed
3 carrots, chopped
2 celery stalks with leaves, chopped
1 medium onion, chopped
4 garlic cloves, minced
1 cup chopped grape tomatoes
1 bay leaf
1 teaspoon dried parsley
1 teaspoon dried oregano
big pinch kosher salt and fresh ground pepper
4 cups chicken or vegetable broth
2 cups water
---
Instructions
Add your ingredients to the slow cooker, starting with the split peas on the bottom.
Cook on High for 4-5 hours or Low 8-10 hours. Stir well to combine ingredients before serving. Taste for salt and pepper, adjust to your liking.
---
Notes
Soups like this split pea soup tend to thicken up in the refrigerator so be sure to add a little water to your soup before reheating in the microwave or the stovetop.
I used grape tomatoes because they are what I had on hand but plum tomatoes or even a can of diced tomatoes would make a great substitute.
You'll need a slow cooker to make this recipe as written, but it can easily be adapted to stove-top.
Keywords: slow cooker split pea soup, slow cooker soup, crock pot soup, split pea soup, vegetarian soup
Check out other amazing slow cooker recipes on Pinterest :
Are you following me on Instagram, Twitter, Facebook and Pinterest? If you'd like to subscribe to Aggie's Kitchen and have each post delivered straight to your e-mail box, then please add your email here. Happy cooking!
There are affiliate links in this post. I make small earnings through any purchases made through these links. Thank you for supporting Aggie's Kitchen!