Italian Vegetable Beef Soup
Break out the vegetables for this light and savory Italian Vegetable Beef Soup recipe. It's loaded with great vegetables like zucchini, squash and carrots. Healthy (and easy) comfort food!
Click here to PIN this Italian Vegetable Beef Soup recipe!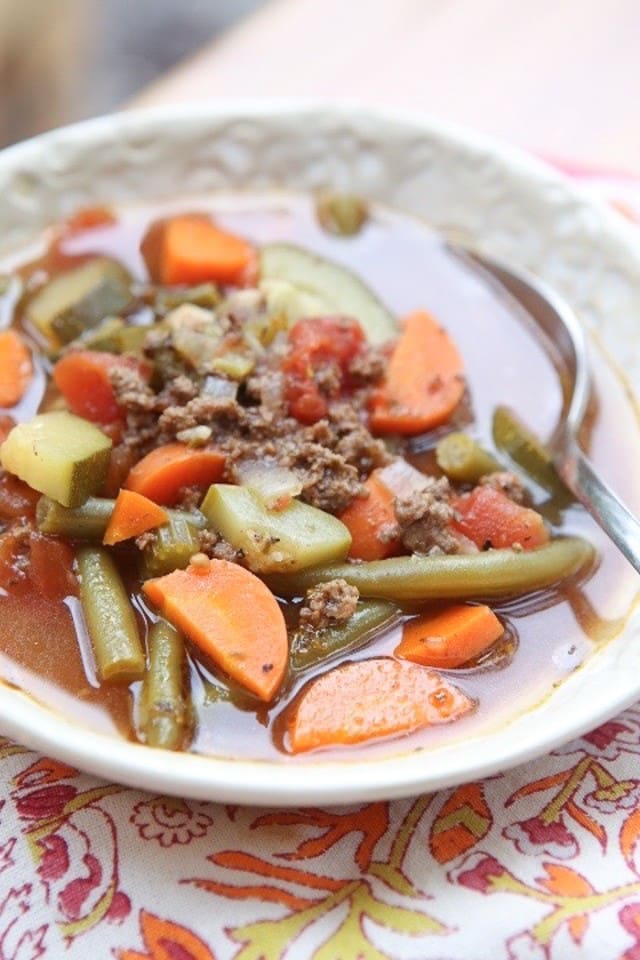 This post was last published in November, 2015. It is still one of my favorite soups that can be made with lean ground beef and all the veggies in your fridge (specifically zucchini, green beans and carrots). Although we are still experiencing 90+ degree weather in Florida, I crave this soup all the time. It's perfect for light lunches and dinners – it's nice to make ahead so that you have something to quickly reheat when you are short on time.
. . . . . .
Are you all turkey'ed out or what? I know I am. I had a few good leftover turkey recipes swirling in my head over the weekend (my daughter wanted me to make a turkey pasta salad, mmm), but honestly, I just didn't get around to any creative leftover creations. We had a lot of turkey paninis and just straight up Thanksgiving plate reruns. It's all good.
Moving on from turkey…I'm bringing up this Italian Vegetable Beef recipe from the archives. I originally posted this recipe back in December of 2009. Crazy how long ago that was! I remember I made this soup to take to my daughter's preschool teacher who had just had surgery. When she got back to school, she told me her and her daughters loved the soup so much and wanted more. Yea, a compliment like that pretty much always makes my day. 🙂 Since then, I have made this soup quite a few times. It's a great change from my typical chicken based soups, the lean beef (or bison) makes it a little extra hearty but still easy on the calories.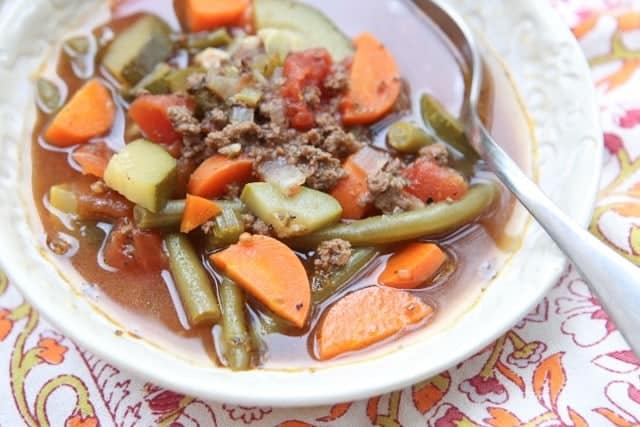 I'm sure most of you will agree that a bowl of good homemade soup is total comfort.  Soup has a way of warming up the body while nourishing it with so many health benefits at the same time.  I'm more of a broth base soup person, so I'm not really referring to the heavier creamy soups…not that those are bad, but they just don't make me feel the same as a soup filled with lots of herbs and vegetables in broth.
Whenever I find that I have lots of vegetables in the veggie drawer that need to be used up, I usually make soup.  This particular day I had a nice variety of veggies….zucchini, squash, carrots and green beans.  Add some dried herbs, lean ground beef and chicken broth and you've got Italian Vegetable Beef Soup.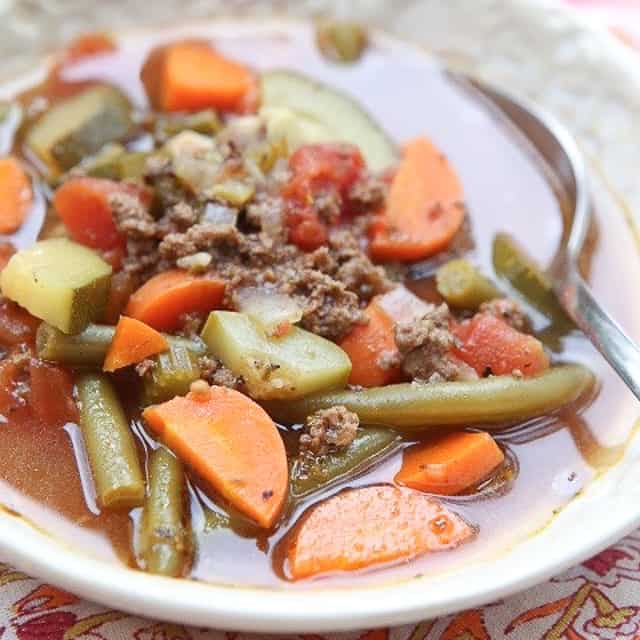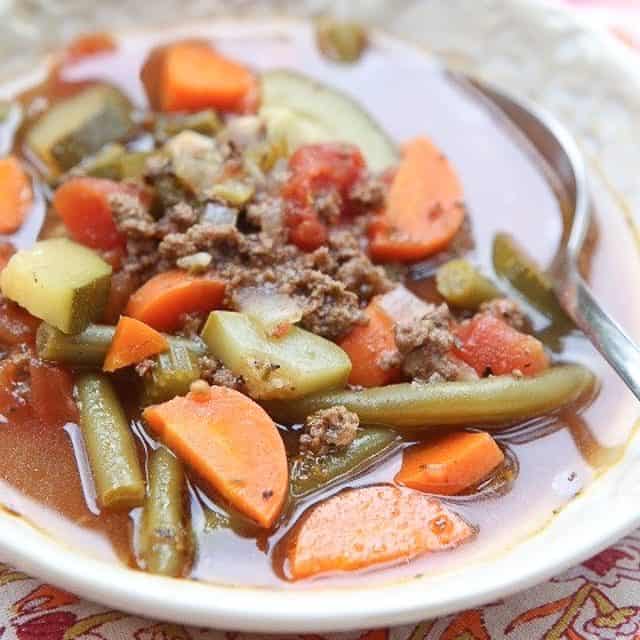 Print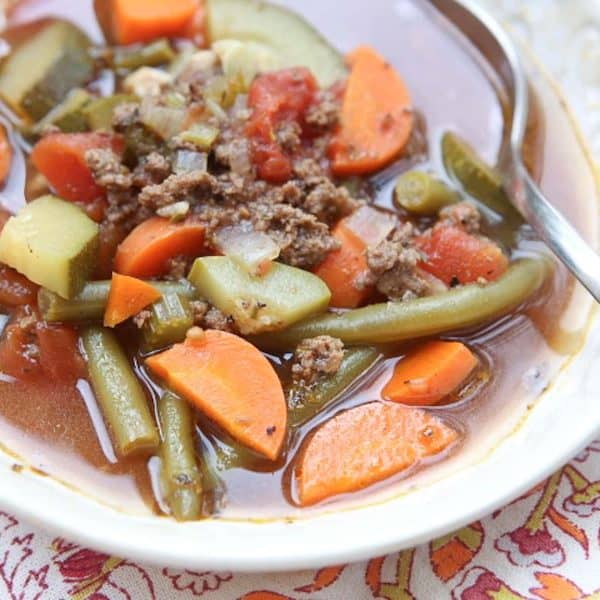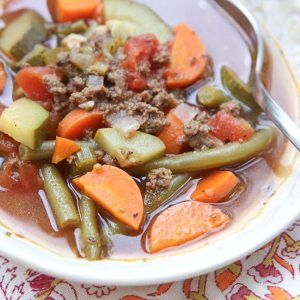 Italian Vegetable Beef Soup
Author:
Prep Time: 10 minutes
Cook Time: 30 minutes
Total Time: 40 minutes
Yield: 6 servings 1x
Category: Soup
Method: Stovetop
Cuisine: Italian
Break out the vegetables for this light and savory Italian Vegetable Beef Soup recipe. It's loaded with great vegetables like zucchini, squash and carrots. Healthy (and easy) comfort food!
---
Ingredients
2 tb olive oil
2 zucchinis, quarter chopped
2 squash, quarter chopped
2–3 carrots, chopped
1 large onion, chopped
2 garlic cloves, minced
1–2 cups green beans, cut in 1 inch pieces
1 tsp dried basil
1 tsp dried oregano
1 tsp dried thyme
good pinch of salt and pepper
1 32oz can of Italian diced tomatoes, with juices
6 cups chicken broth
1 – 1.25  lb lean ground beef or bison, cooked and crumbled
Parmesan cheese, optional
---
Instructions
In large stock pot, heat 2 tb olive oil and add zucchini, squash, carrots, garlic and onions. Cook for about 8 minutes until starting to soften. Add seasonings, tomatoes and chicken broth to pot. Bring to a boil, then reduce to simmer. Add green beans and cooked ground beef. Simmer soup for about 20 minutes. Taste for salt and pepper. Serve with Parmesan cheese and cooked pasta if you like.
---
Notes
Note:  amounts of vegetables can be varied.  Use what you have on hand.
Love soup?
Soup is one of my go to meals when I'm trying to trim some pounds or just generally feel healthier. Some soups I tend to make often are  Slow Cooker Italian Sausage and Kale Soup with Sweet Potatoes, Slow Cooker Split Pea Soup, and Healthy Chicken Tortilla Soup. I'm ready to try this Beef Taco Quinoa Soup and Fall Vegetable Quinoa Soup!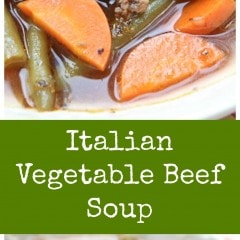 Follow Aggie's Kitchen's board Soup, Stew and Chili Recipes on Pinterest.
Are you following me on Instagram, Twitter, Facebook and Pinterest? If you'd like to subscribe to Aggie's Kitchen and have each post delivered straight to your e-mail box, then please add your email here. Happy cooking!
There are affiliate links in this post. I make small earnings through any purchases made through these links. Thank you for supporting Aggie's Kitchen!