Cheesy Corn Stuffed Jalapeños
These Cheesy Corn Stuffed Jalapenos makes a great party snack, especially during football season. A reader favorite!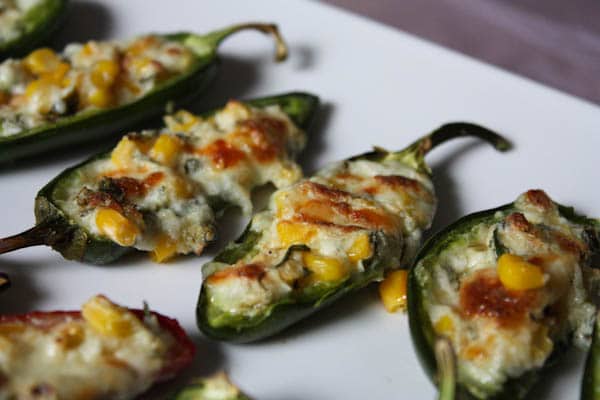 This recipe for Cheesy Corn Stuffed Jalapenos was originally posted on July 5, 2011. Since then, I can't tell you how many times I've made this recipe for get-togethers. My friend Heidi always serves them as an appetizer for parties at her house and just told me she likes to bring them to friends' houses as well – that's a true compliment and testament to how good they are!
I wanted to share this recipe with you again since it's been so long, and since football season is right around the corner and you'll be looking for appetizer recipes to make for game days. Check out the instructional video on how to make these simple stuffed jalapenos below.
Enjoy!
Originally posted July 5, 2011…
I am swimming in jalapeños right now. I'm only half kidding. Every time I go out in the backyard I come back in with a nice bowl of little hot green peppers from the garden. I've made salsa, I've put them on pizza, in enchiladas and in guacamole. And now I've made these cheesy corn stuffed jalapeños.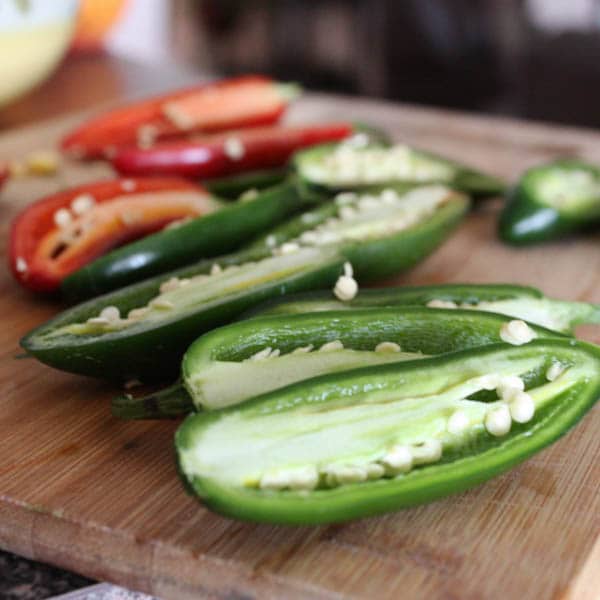 These were pretty straight forward to put together. You clean your jalapeños first by slicing them in half longways and scraping out the seeds and membranes (I used a grapefruit spoon and it was so easy). If you haven't cleaned jalapeños before, then you have to know…the insides can get pretty hot so if you've got kitchen gloves, wear them. Or just be extra careful not to rub any part of your face or body afterwards. (It's not the best technique, but I've used ziplock bags over my hands before.)
Put together your cheese mixture and carefully stuff each pepper half with a tablespoon or so of the filling. Bake in the oven for about 20 minutes and you've got yourself a nice appetizer for your next get together.
Watch how easy these stuffed jalapenos are to make:
These would be perfect to serve during football season, even better if you are hosting a Super Bowl party!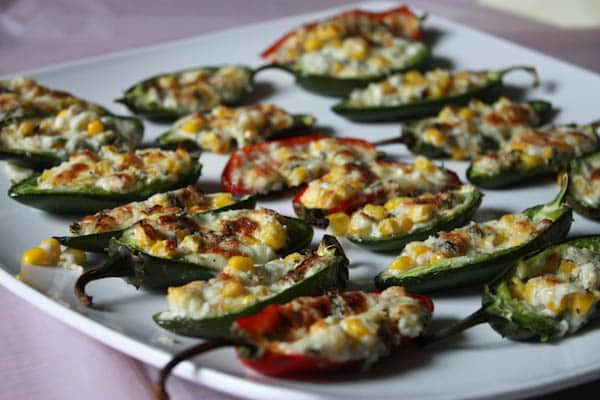 Cheesy Corn Stuffed Jalapenos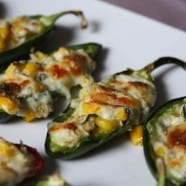 Ingredients:
8 jalapenos, sliced in half longways
4 ounces cream cheese, softened
4 oz monterey jack or cheddar cheese, shredded
1/4 teaspoon cumin
1 garlic clove, minced or pressed through garlic press
1 ear corn, kernels cut off (or about 1/2 cup defrosted or cooked corn)
2 tablespoons chopped cilantro
good pinch salt and fresh ground pepper
Directions:
Take each jalapeno half and carefully clean out all the seeds and membranes using a spoon or paring knife. The insides of some jalapenos can be very hot so use caution, consider wearing gloves.
Preheat oven to 375 degrees. Line a cookie sheet with tin foil.
In a bowl combine cream cheese, shredded cheese, cumin, garlic, corn, cilantro, salt and pepper. Taste for seasoning.
Sprinkle a little salt over each jalapeno half. Using a tablespoon, stuff each jalapeno half with cheese mixture and place on cookie sheet. Be careful not to overstuff. Bake in 375 degree oven for about 20 minutes until cheese is bubbly. Switch oven to broiler setting and broil for a few minutes till tops are slightly browned.
More appetizers for game day snacking:
Chipotle Ranch Greek Yogurt Dip
Buffalo Hummus Chicken Salad Rollups
Mini Pepper Nachos | All Day I Dream Of Food
Southern Caviar Dip | Reluctant Entertainer
Are you following me on Instagram, Twitter, Facebook and Pinterest? If you'd like to subscribe to Aggie's Kitchen and have each post delivered straight to your e-mail box, then please add your email here. Happy cooking!
There are affiliate links in this post. I make small earnings through any purchases made through these links. Thank you for supporting Aggie's Kitchen!
54 Responses to "Cheesy Corn Stuffed Jalapeños"
Trackbacks/Pingbacks

Leave a Comment