Buffalo Hummus Chicken Salad Roll Ups
Lightened up party food! These Buffalo Hummus Chicken Salad Roll Ups are the perfect recipe to add to your next casual entertaining menu. Great for lunches too!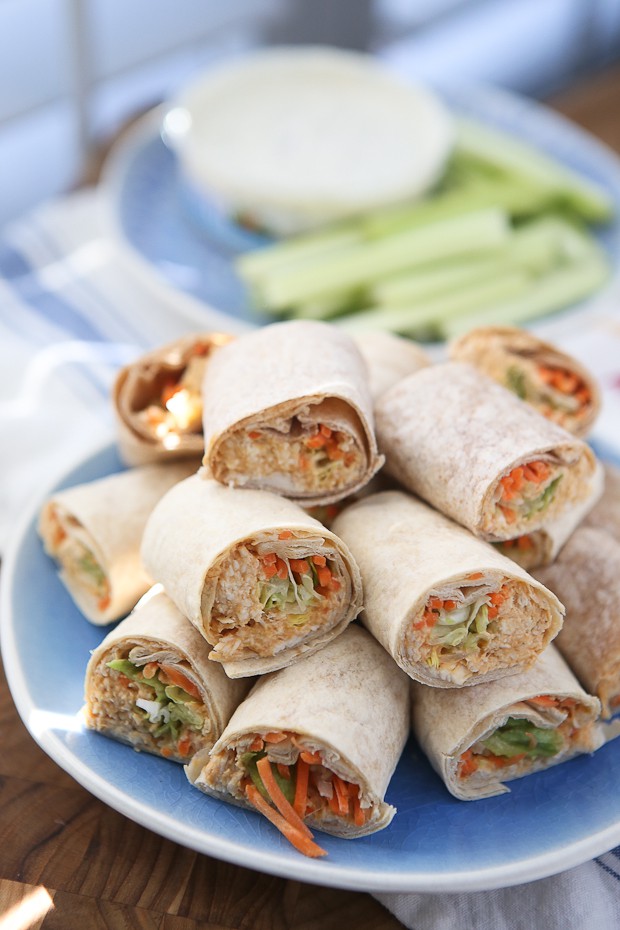 This post is sponsored by Sabra.
I don't know about you, but I am always happy when I spot lighter fare at parties or get togethers. Especially in January. Or February. Or let's just say all of the time. It's hard to pass up pizza and cheesy dips, but if I could fill my plate up with as many veggies and bite sized sandwiches like these Buffalo Hummus Chicken Salad Roll Ups then I'm a happy girl.
I've always had a thing for roll ups, like the ones you find at Costco? They are so good! Not only are they fun to eat (substantial finger food), but they are so easy to make. You can fill them up with pretty much anything and add some fresh veggies and you are good to go. I filled these tasty little roll ups with some of my favorite flavors – buffalo sauce, hummus, and chicken salad. I love chicken salad and discovered the amazing hummus for mayo swap a few years ago, if you haven't tried it you really must.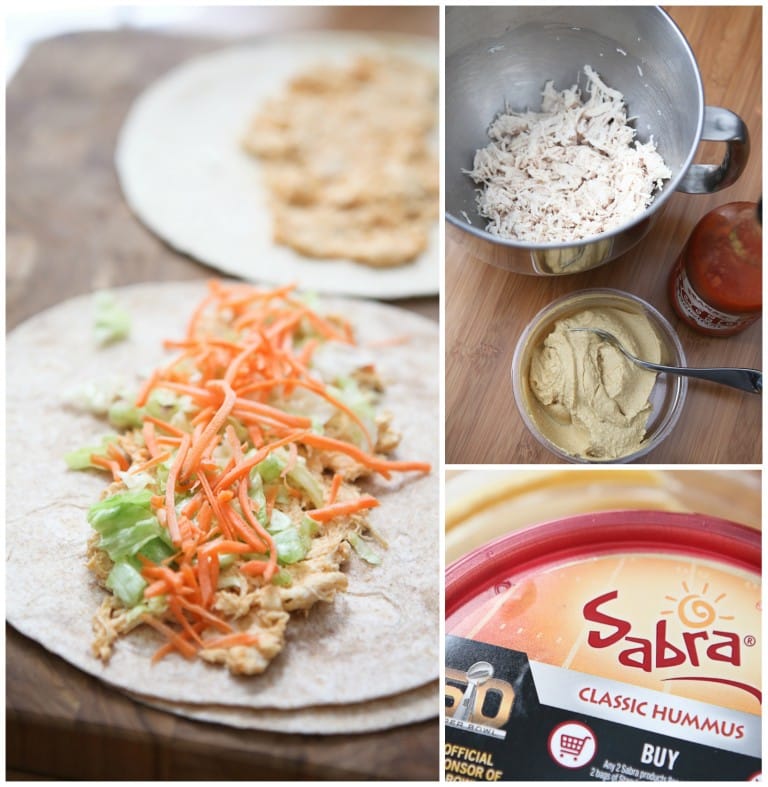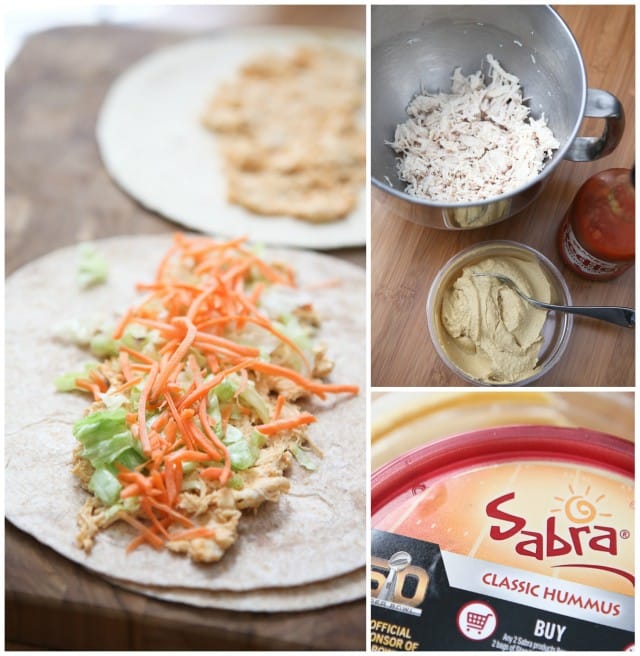 The chicken salad came together simply by combining cooked and shredded chicken breast with a container of Sabra's Classic Hummus, Frank's Red Hot Sauce and blue cheese (or gorgonzola) crumbles. It would be really good on it's own even as a dip with veggies and pita chips, but I rolled them up in a variety of whole wheat and plain wraps and cut them into smaller pieces for serving. These Buffalo Hummus Chicken Salad Roll Ups are obviously great for parties and get togethers (um, football food!) but my daughter really enjoyed these in her lunchbox!
A plate of celery sticks and Sabra's Farmer's Ranch Greek Yogurt Dip for dipping rounded it all out. Good stuff!!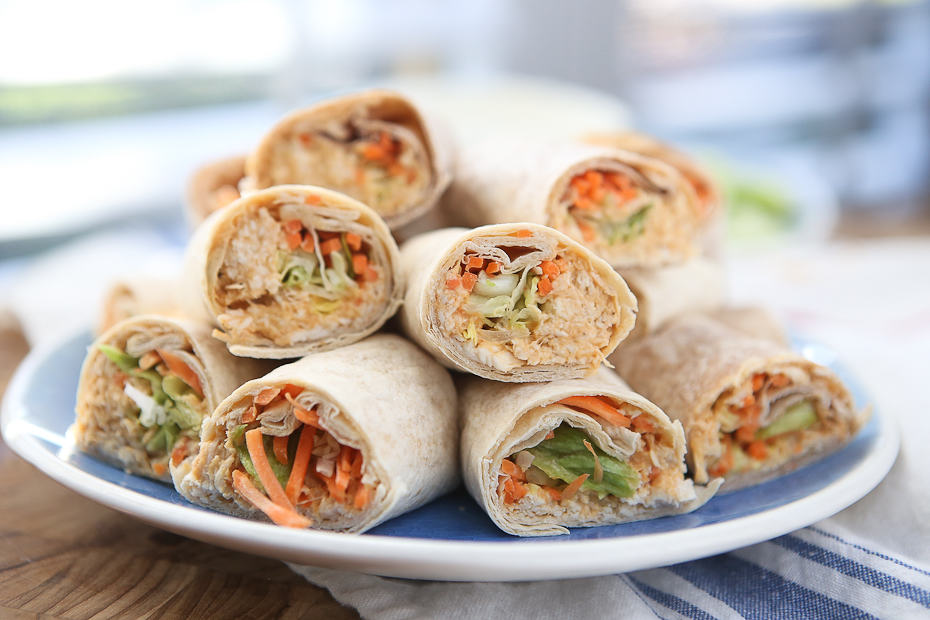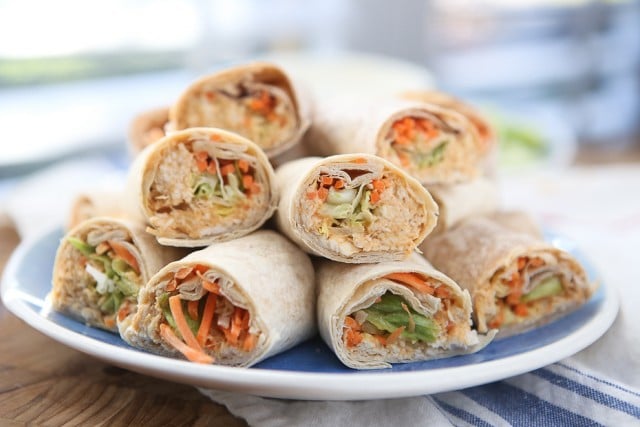 Print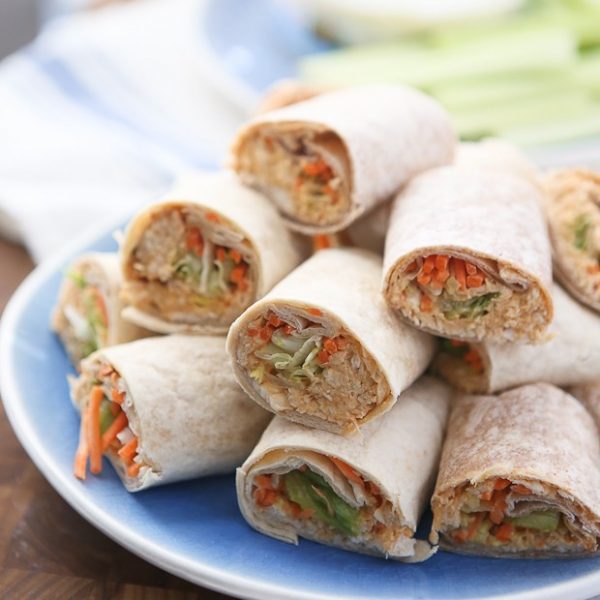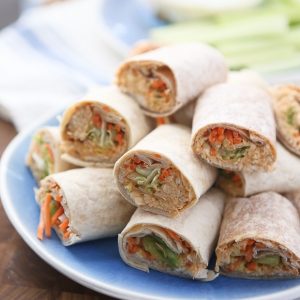 Buffalo Hummus Chicken Salad Roll Ups
Author:
Total Time: 45 minutes
Yield: 6 wraps, cut into 4 roll ups each 1x
Category: Chicken
Lightened up party food! These Buffalo Hummus Chicken Salad Roll Ups are the perfect recipe to add to your next casual entertaining menu. Great for lunches too!
---
Ingredients
1.25 – 1.5 lbs chicken breast
1 10 oz container Sabra Classic Hummus
3 – 4 tablespoons Franks Red Hot Sauce (use more or less, to taste)
pinch coarse salt and fresh ground pepper, to taste
2 oz crumbled blue cheese or gorgonzola (optional)
2 cups shredded iceberg lettuce
2 cups matchstick carrots
6 wraps (white or whole wheat, or both)
---
Instructions
Cook chicken by placing chicken breasts in a single layer in a pot, covering with water (about an inch over). Bring water to a boil, reduce heat and let simmer (covered) for about 8-9 minutes. Turn off heat and let sit, continuing to cook for about 2 minutes. Take chicken out of water and let cool on a cutting board.
Once chicken is completely cooled, you can start to prepare your chicken salad. Chop chicken into small pieces and shred by hand or place large cut pieces of chicken into a large mixer and using a paddle, mix until chicken is shredded.
Add hummus to bowl along with 3 -4 tablespoons of Franks Original Red Hot sauce and stir until completely combined. Stir in blue cheese crumbles if using. Taste for seasoning and add salt and pepper (or more hot sauce) to adjust.
Lay your wrap on flat surface (I use a large cutting board) and spread about 2 heaping tablespoons of chicken salad mixture across center of wrap making sure you reach both ends. Add shredded lettuce and carrots over chicken salad, then tightly roll wrap. Using a serrated knife, cut wrap into 4 even slices.
Arrange on a plate and serve with celery sticks and your favorite veggie dip or ranch dressing (I served these with Sabra Greek Yogurt Veggie Dip and loved it!).
Need some new light and easy dinner ideas? Check out these 20 Healthy Recipes Using Shredded Chicken!
Disclosure: I am honored to be working with Sabra as one of their Tastemakers. As always, all of my opinions are my own. Thank you for supporting the brands that support Aggie's Kitchen!
Are you following me on Instagram, Twitter, Facebook and Pinterest? If you'd like to subscribe to Aggie's Kitchen and have each post delivered straight to your e-mail box, then please add your email here. Happy cooking!
There are affiliate links in this post. I make small earnings through any purchases made through these links. Thank you for supporting Aggie's Kitchen!