Healthy Chicken Tortilla Soup
This healthy Chicken Tortilla Soup is exactly what you need to get your eating back on track. It's hearty and full of protein and veggies, perfect for winter!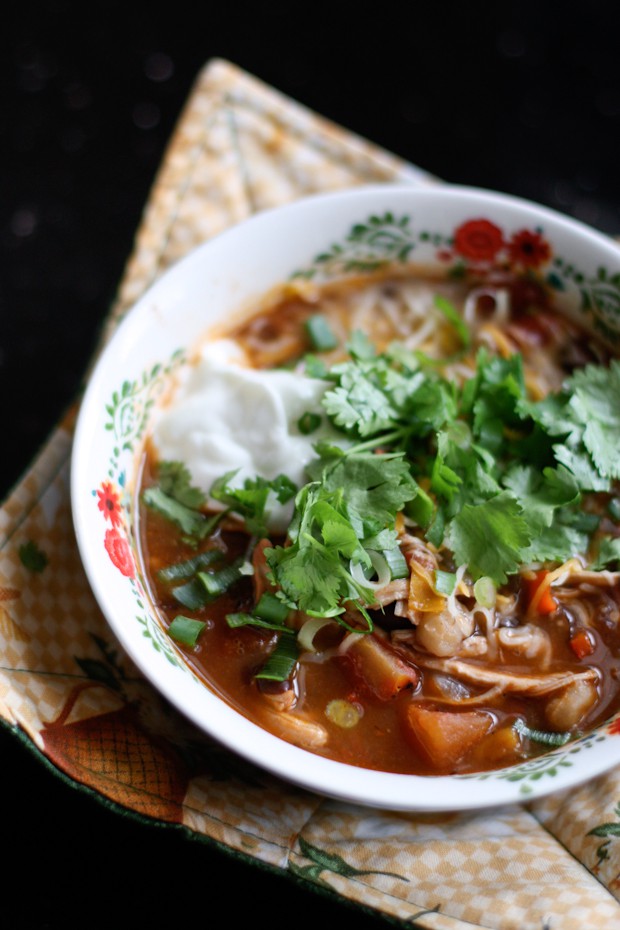 When Micah was about 5 weeks old, I had a bit of a sleep-deprived induced meltdown. There was a lot of crying going on (mostly him, but also a little from me) and not a lot of sleeping happening (mostly me). Up until then I had honestly forgotten about the being "so tired your brain hurts" feeling that comes with having a new baby. I know that feeling oh so well now.
A good friend of mine was lucky enough to witness my meltdown when she was dropping off my kids from school for me one afternoon. It was one of those days where Micah wasn't sleeping for more than a few minutes at a time unless he was being held, I still hadn't showered and dinner was definitely going to be take-out. Add on the fact that we were getting up every couple of hours during the night for several days, I was so exhausted. The thought of my kids getting home from school with lots of energy and homework kinda sent my head spinning. Needless to say, when my friend dropped them off all she had to ask was "how are you doing" for the waterworks to happen.
Sigh. I'm so glad I'm getting a little more sleep now.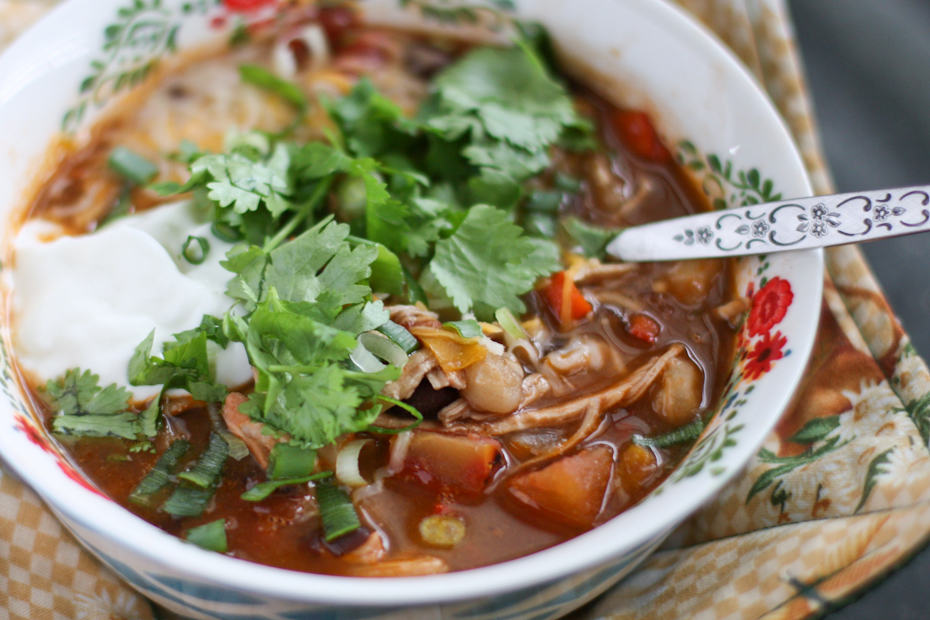 My dear friend came to my rescue that week. She picked up my kids from school the rest of the week, took them out to dinner one night, and brought us dinner another night. As humbling as it was for me to break down like that, I'm so grateful my friend was there for me when I needed the help the most.
So what does this healthy Chicken Tortilla Soup have to do with any of this? This soup is what my friend Heidi brought us for dinner. You would have thought we hadn't eaten in daaaays with how excited, thankful and hungry we were when she walked through our door with her pot of soup and all the fixings to go with it. This isn't her exact recipe, I am still waiting for her to pass it along to me, but I believe it's close – it tastes just as delicious and hits the spot every time I make it. It is especially comforting after a long day or when I only have enough time to heat up a quick bowl of soup for lunch. I truly love a soup that makes you feel good after eating it, and this is definitely one of those soups. Enjoy!
Print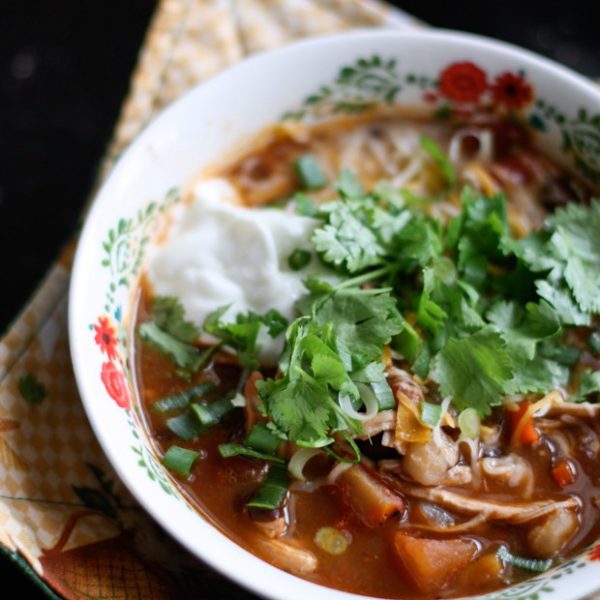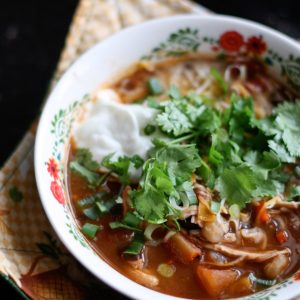 Healthy Chicken Tortilla Soup
Author:
Category: Chicken
Method: Stovetop
This healthy Chicken Tortilla Soup is exactly what you need to get your eating back on track. It's hearty and full of protein and veggies, perfect for winter!
---
Ingredients
2 tablespoons olive oil
1 large onion, diced
2 garlic cloves, minced
1 large bell pepper, diced (I used about 5 mini red, yellow and orange sweet peppers)
1 jalapeno, diced (take out seeds for less heat!)
2 lbs chicken breasts (I used 3 large chicken breasts)
2 15 oz cans fire roasted diced tomatoes
2 15 oz cans black beans, drained (I use Bush's Black Beans)
1 15 oz can hominy, drained
1 cup frozen corn
1 carton chicken broth (4 cups)
1 can of water (I like to use the tomato cans to get all the leftover flavor)
1 tablespoon cumin
1 tablespoon oregano
salt and pepper to taste
Toppings:
shredded cheese
plain Greek yogurt or sour cream
chopped green onion
fresh cilantro
diced avocado
tortilla chips
rice
---
Instructions
In a large soup pot, heat 2 tablespoons olive oil over medium-high heat and add onions, garlic and peppers. Season with a pinch of salt and pepper. Saute for a couple of minutes until the veggies start to soften.
Add whole chicken breasts, tomatoes, beans, hominy, corn, chicken broth, water and spices to your pot and bring to a low boil. Reduce to low heat and let simmer for about 30 minutes until chicken breasts are cooked through (test by splitting with two forks).
Once chicken is cooked through, carefully pull chicken breasts out onto a large plate or cutting board. Using two forks, shred the chicken into small pieces and place back into the soup (you can also do this in the pot, that's what I do).
Cook soup for another 15 minutes. Taste for salt and pepper and adjust.
Serve with the toppings of your choice!
Follow Aggie's Kitchen's board Soup, Stew and Chili Recipes on Pinterest.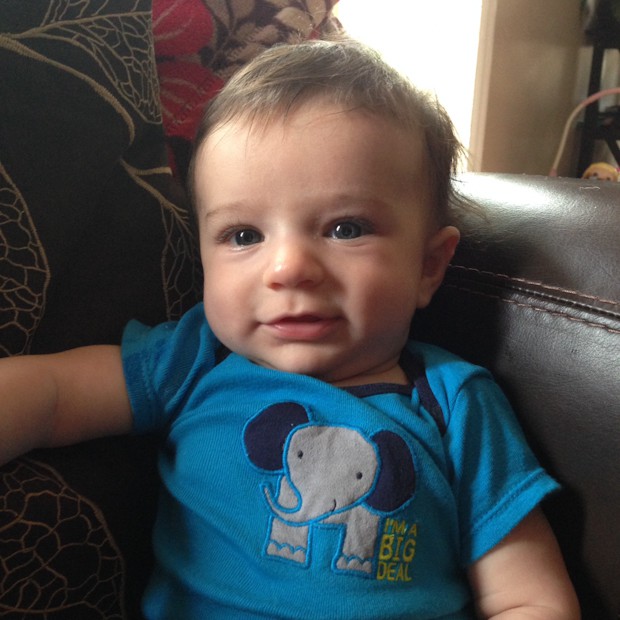 Looks who's almost 4 months old! Growing up waaaay too fast!
Are you following me on Instagram, Twitter, Facebook and Pinterest? If you'd like to subscribe to Aggie's Kitchen and have each post delivered straight to your e-mail box, then please add your email here. Happy cooking!
There are affiliate links in this post. I make small earnings through any purchases made through these links. Thank you for supporting Aggie's Kitchen!