Whole Wheat Orzo with Spinach, Chickpea and Lemon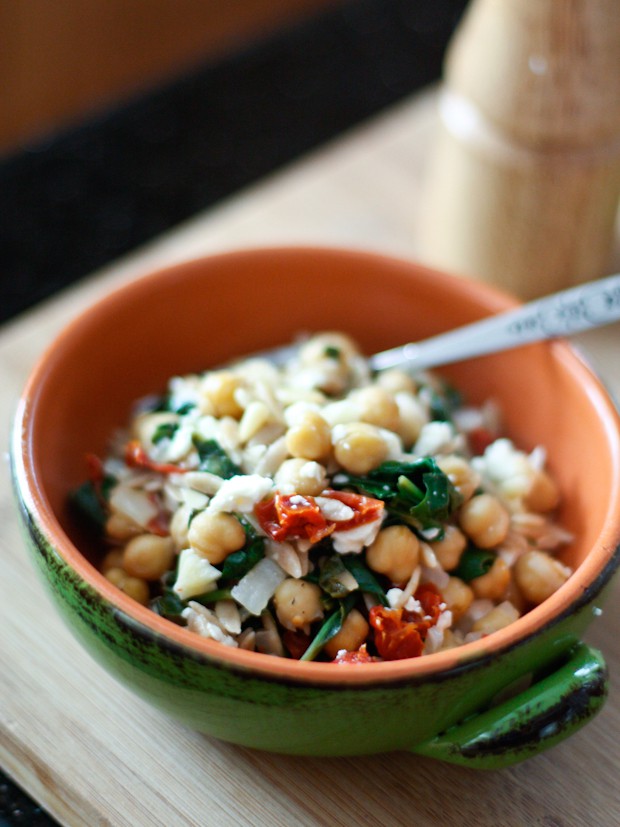 This recipe for Whole Wheat Orzo with Spinach, Chickpea and Lemon is sponsored by Bush's Beans.
I know a lot of moms try to stock up their freezers right before they have a baby to prepare for those first few weeks of having a newborn. I didn't. Moving to a new house 3 weeks before Micah was born kind of kept me busy that last month so I really didn't have the opportunity to make it happen (though, to be honest, I didn't stock up my freezer before my other babies either…but this time my intentions were really there, I promise!). Thankfully my mom and my grandfather came to the rescue and helped me out by making a ton of meatballs and chicken cutlets to store in my freezer for quickie weeknight meals. My kids could happily eat meatballs several times a week and those chicken cutlets come in extremely handy (great in a salad at lunchtime or as quickie chicken parm for dinner).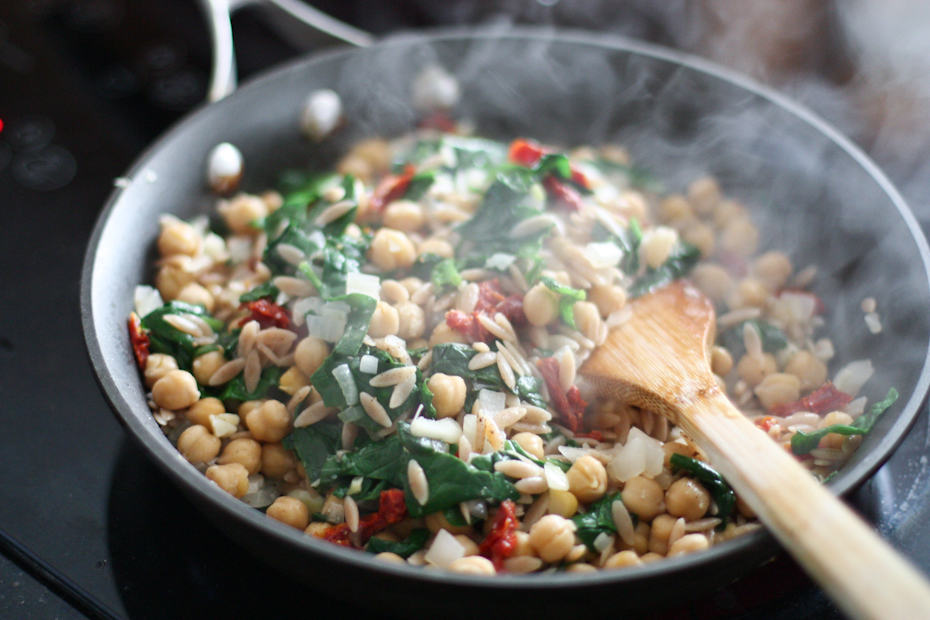 Another way we have been enjoying those chicken cutlets for dinner is simply reheated with a squeeze of lemon (truly one of my favorite ways!). When that's the plan all I need to really worry about at dinnertime is putting together a simple side dish that I know everyone will like. This recipe for Skillet Whole Wheat Orzo with Spinach, Chickpeas and Lemon from Bush's Beans is my latest simple side dish and I will say it was truly enjoyed by everyone!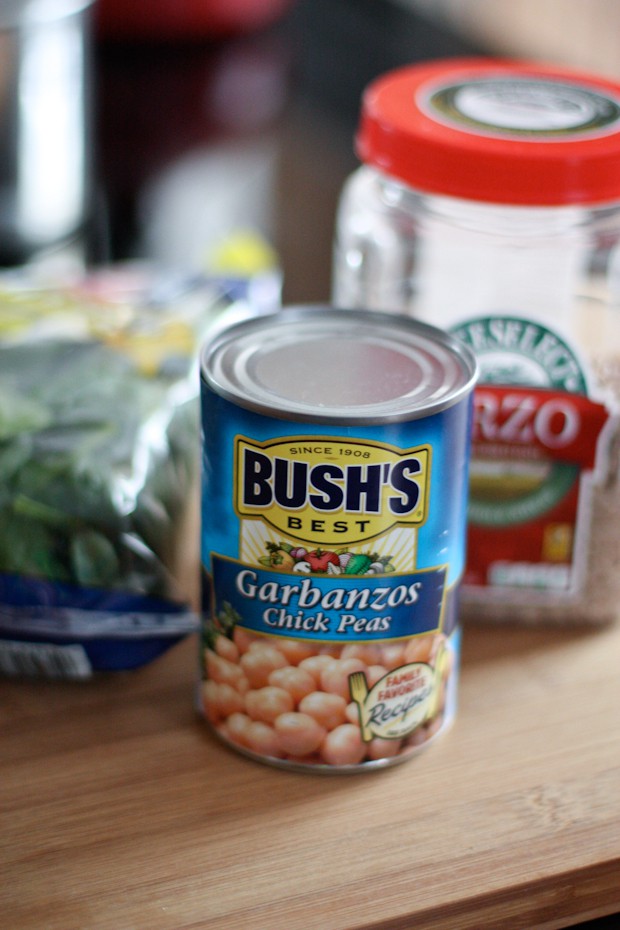 I love love love easy side dishes like this one. I made the orzo ahead of time to cut out a little time at dinner prep, and with a few kitchen staples like garbanzo beans, fresh spinach (I always have bags of spinach in the fridge, but you could always use frozen), lemon and feta this dish came together incredibly easy on a busy weeknight. I served it alongside my grandpa's chicken cutlets, but it would be really great with shrimp, fish or grilled chicken too.
PS…both of my kids finally like chickpeas. You have no idea how happy that makes me. (!!!)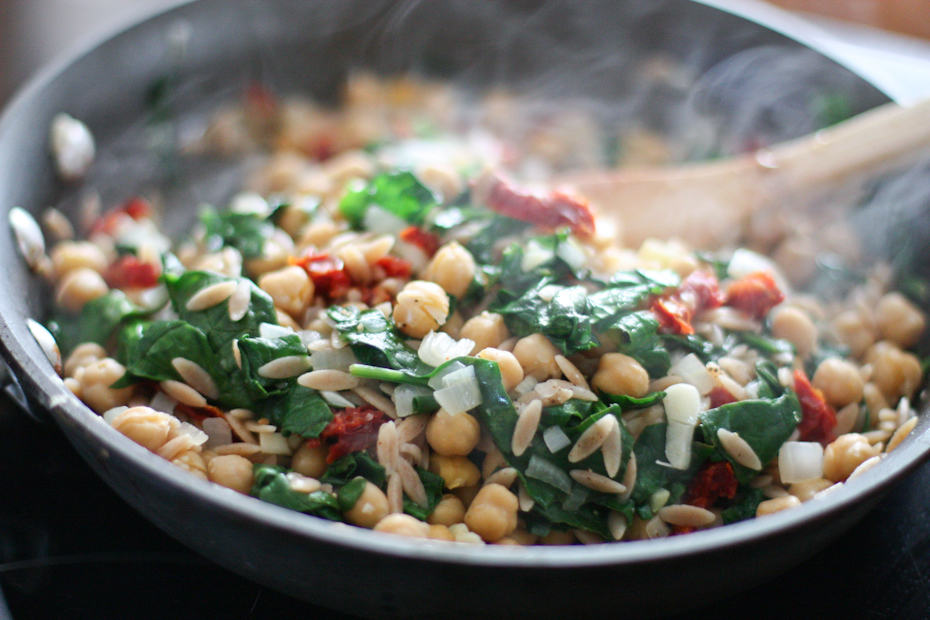 Whole Wheat Orzo with Spinach, Chickpea and Lemon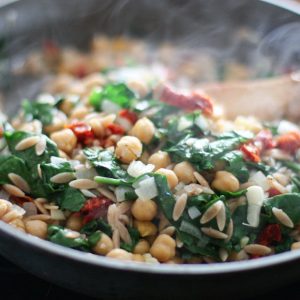 Ingredients:
2 tablespoons olive oil
1 small red onion, chopped (I used a sweet yellow onion)
3 cloves garlic, chopped
1 (16 oz) can BUSH'S Reduced Sodium Garbanzo Beans, drained (if reduced sodium variety is not available in your area, use regular BUSH's Garbanzo Beans)
1/2 cup cooked orzo
1 lemon, juiced
2 cups fresh spinach, chopped (or 12 oz frozen chopped spinach thawed and squeezed dry)
salt and pepper to taste
1/2 cup crumbled feta cheese
Directions:
Heat oil in a 10 inch skillet over medium heat. Add your onion and garlic and cook until translucent and fragrant.
Add garbanzo beans (chickpeas), orzo, lemon juice and spinach. Season to taste with salt and pepper. Saute for 4-5 minutes.
Top with feta and serve.
Notes: For added nutrition I used whole wheat orzo. I also added a 1/4 cup of sundried tomatoes and a couple of tablespoons of toasted pine nuts for extra color and flavor.
Follow Aggie's Kitchen's board Healthy Recipes on Pinterest.
Are you following me on Instagram, Twitter, Facebook and Pinterest? If you'd like to subscribe to Aggie's Kitchen and have each post delivered straight to your e-mail box, then please add your email here. Happy cooking!
There are affiliate links in this post. I make small earnings through any purchases made through these links. Thank you for supporting Aggie's Kitchen!