Spinach and Arugula Citrus Salad with Fennel and Avocado
Brighten up your lunch or dinner with this Spinach and Arugula Citrus Salad with Fennel and Avocado – filled with healthy, seasonal ingredients you'll love!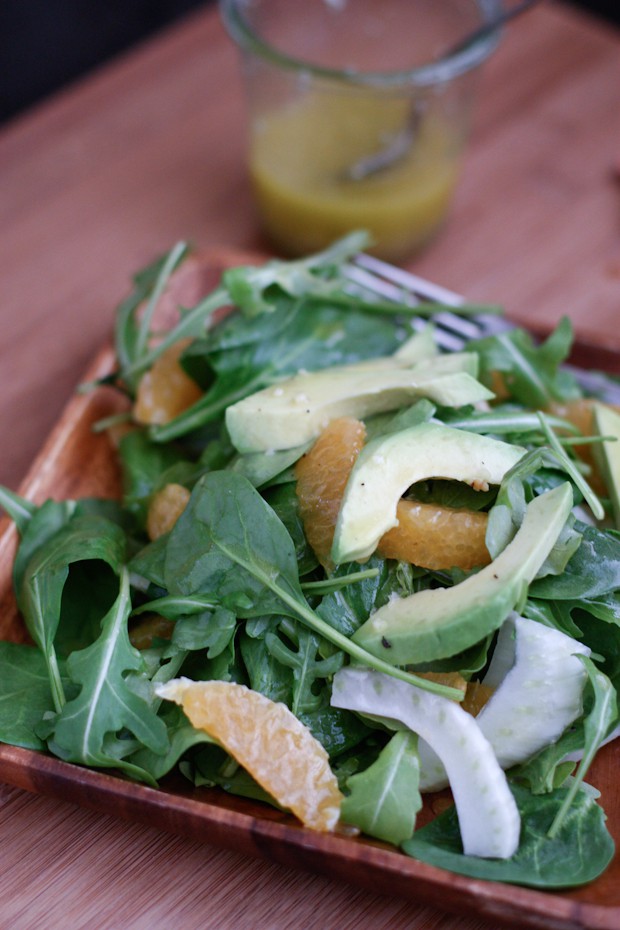 You know that Honey, Lime and Garlic Vinaigrette recipe I shared with you all yesterday? Well this is the salad that I've been enjoying it on all week. This Spinach and Arugula Citrus Salad came together literally as a mish-mosh of two salad combinations I have been craving – actually three – spinach and orange, fennel and orange, and fennel and arugula. Since I am totally indecisive and have major ADD these days I ended up throwing it all together to use up my ingredients before they withered away. Avocado was invited to the party at the last minute and boy am I glad.
I have been in a major salad (food/cooking/eating?) rut lately. I can't blame it on the weather (Florida + Winter = a little bit awesome, but don't worry paybacks are in fall!), but I can blame it on laziness and feeling a little uninspired from food/cooking/eating in general. I am making a huge effort to get out of this rut because honestly, I'm just plain sick of it. I miss cooking, feeling excited about cooking and eating a variety of foods (no offense to crock pot chicken and Greek salad but I am so over you).
I want to eat exciting food!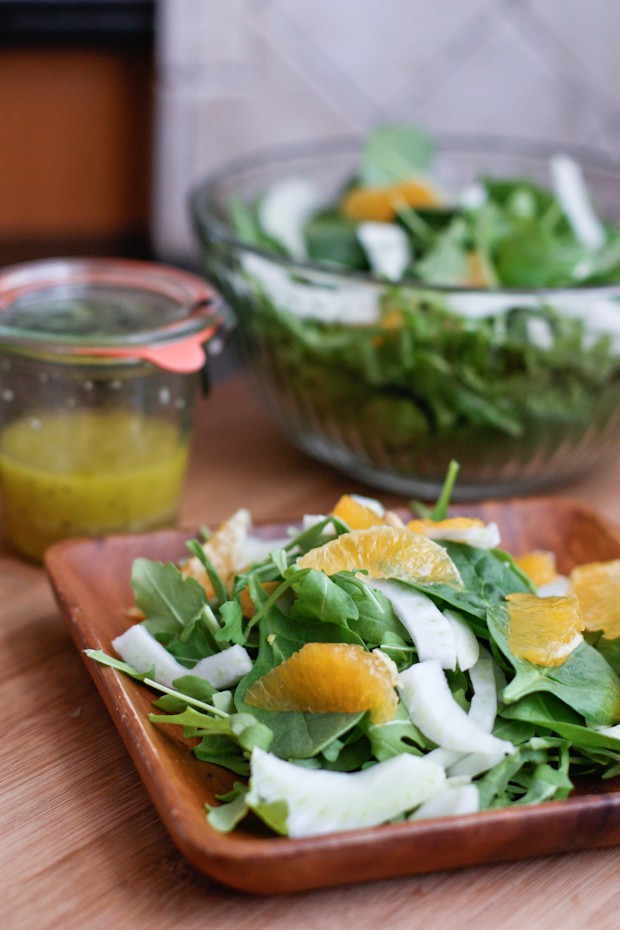 (after I took this pic I decided that this salad needed avocado…yes, it totally did)
This Spinach and Arugula Citrus Salad got me a little bit excited. I hope it does the same for you.
Have a great weekend!
Spinach and Arugula Citrus Salad with Fennel and Avocado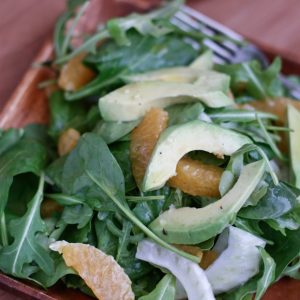 Ingredients:
handful fresh spinach
handful arugula
1/4 fennel bulb, sliced thin
1 orange, segmented
1/4 - 1/2 avocado, sliced (I use half an avocado)
drizzle of Honey, Lime and Garlic Vinaigrette
Directions:
Add spinach, arugula, fennel and orange segments to a large salad bowl, gently toss.
Top with avocado slices and drizzle dressing over salad.
Season with salt and fresh ground pepper to taste.
More exciting recipes using seasonal ingredients to try:
Blackened Salmon with Citrus Salsa
Avocado Potato Salad | Foodness Gracious
Fennel Walnut Chicken Salad | All Day I Dream Of Food
Pasta with Fennel, Kale and Lemon | A Beautiful Plate
Follow Aggie's Kitchen's board Salads on Pinterest.
Are you following me on Instagram, Twitter, Facebook and Pinterest? If you'd like to subscribe to Aggie's Kitchen and have each post delivered straight to your e-mail box, then please add your email here. Happy cooking!
There are affiliate links in this post. I make small earnings through any purchases made through these links. Thank you for supporting Aggie's Kitchen!