Chicken Sausage, Kale and Mushroom Soup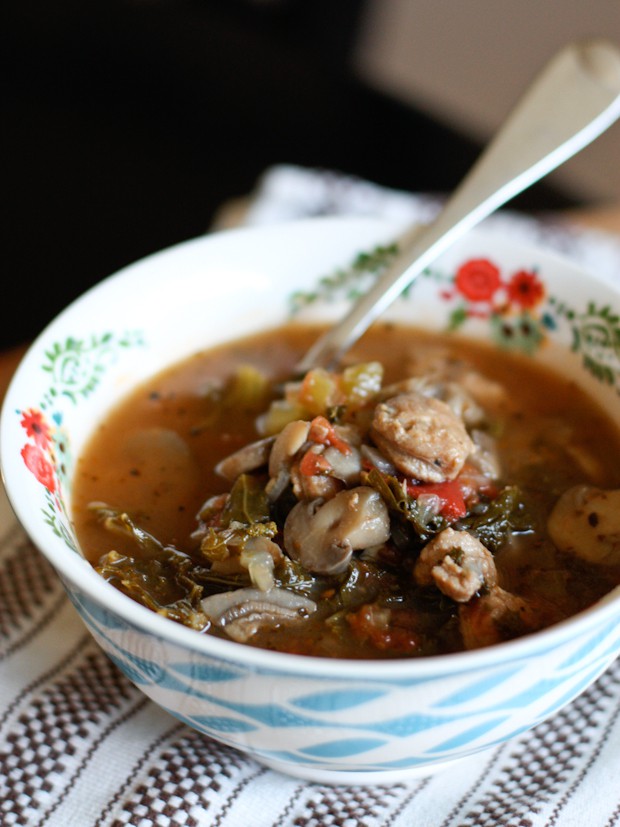 My favorite soup bowl is back. This time it's filled with a hearty Chicken Sausage, Mushroom and Kale Soup. It's an incredibly healthy soup for you that I know you will love.
When I make soup at home, it's usually for selfish reasons. I usually make a big pot when I'm feeling under the weather, my body feels like it needs a detox, or I just need something quick and easy to heat up for lunches throughout the week – I love making soup on Sundays just for that reason alone, a huge bonus to have soup ready for weekday lunches. Yes, I'll admit that my soups are usually for me and if someone else eats it or likes it then Bonus!! Not that my husband or kids don't like soup (my daughter actually has become a soup lover, my son is on the verge of turning) – it's that maybe my soups tend to be a little too healthy and too "veggie" for them. My husband will be the first to ask what kind of meat is in the soup. So lately I've been trying to really incorporate some type of lean protein (other than beans!) like chicken or ground turkey. For this soup I decided fresh chicken sausage would be perfect. And it was!
Both my daughter and my husband loved this soup for dinner. Since I added the sausage to it, it technically qualified as a dinner and I was happy to only have a few bowls to wash because of it. My son isn't a huge fan of mushrooms so I didn't push this one on him, but I have a feeling one day he'll be on board.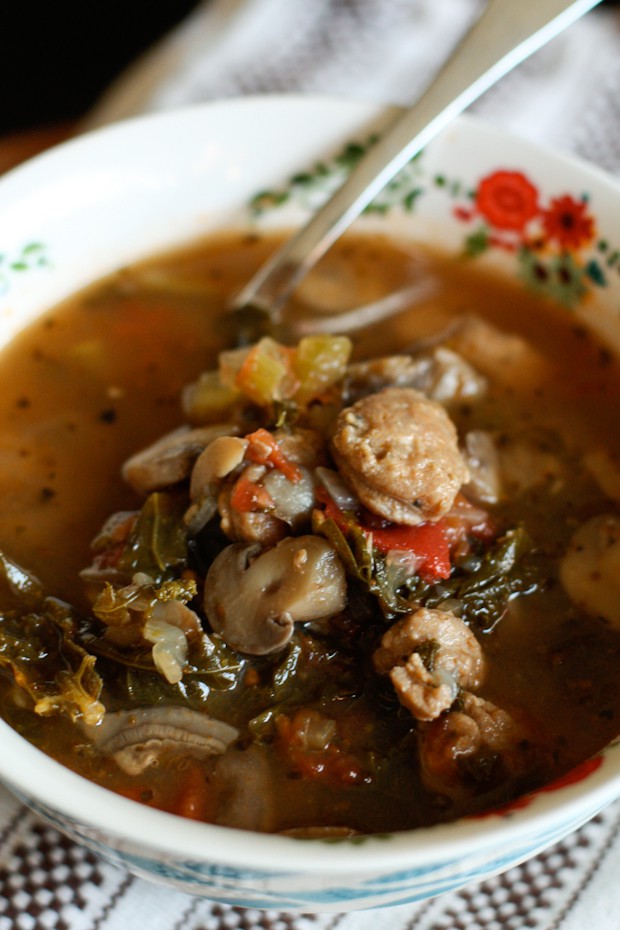 This soup recipe is chock full of goodness…the mushrooms, kale and chicken sausage make it hearty but the light veggie soup base still keeps it light and really good for you. It's something to feel good about eating that's for sure, and we need that especially now since spring (and spring clothing) is just around the corner. Enjoy!
Chicken Sausage, Kale and Mushroom Soup
Yield: about 6-8 servings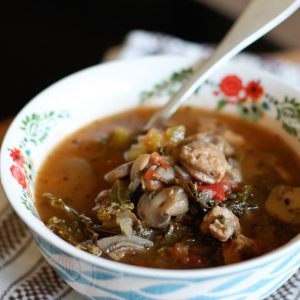 Ingredients:
1 tablespoon olive oil
1 onion, chopped
2 garlic cloves, minced
1 celery rib, chopped
1 - 1.25 lb fresh Italian chicken sausage, cut in 1" pieces
12 oz sliced fresh mushrooms
2 -3 handfuls of chopped kale
4 cups low sodium chicken broth
1 14.5 can diced Italian tomatoes
3 cans of water (I use can from tomatoes)
1 1/2 tablespoons dried Italian herb blend
salt and pepper to taste
Directions:
Heat oil over medium high heat in a large soup pot. Add sausage to pot and cook until browned. Add onions, celery and garlic to pot and cook for about 5 minutes until vegetables are softened. Add mushrooms, a pinch of salt and pepper and cook for another 5 minutes. Add broth, kale, tomatoes, water and Italian herb blend and bring to a slow boil.
Cook over medium heat for 20 - 30 minutes until kale is completely cooked through. Taste for salt and pepper and adjust.
Serve with grated Parmesan cheese and crusty bread for a light meal.
Follow Aggie's Kitchen's board Soup, Stew and Chili Recipes on Pinterest.
Are you following me on Instagram, Twitter, Facebook and Pinterest? If you'd like to subscribe to Aggie's Kitchen and have each post delivered straight to your e-mail box, then please add your email here. Happy cooking!
There are affiliate links in this post. I make small earnings through any purchases made through these links. Thank you for supporting Aggie's Kitchen!