Honey Roasted Parsnips and Carrots Recipe
Looking for new parsnip recipes? Try these Honey Roasted Parsnips and Carrots – a great way to cook up seasonal fall root vegetables.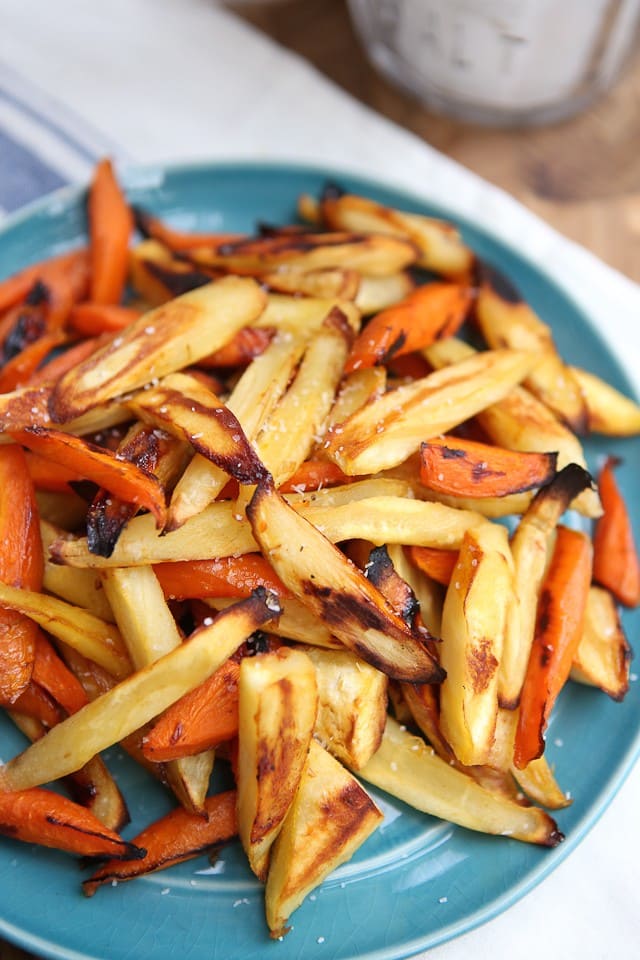 I originally posted this recipe in October of 2015. I have been craving roasted veggies so much lately and was eying parsnips at the store yesterday so I remembered how much we loved them prepared this way.
It's my favorite time of the year – fall! So much to love about fall, but for me I really do love the shift in what we are eating. Summer food is fresh and fun, but fall brings in so many warm flavors to experiment with – wouldn't you agree?
I'm really trying to change things up at home lately and introduce some new foods to my family. Carrots are obviously not new, but parsnips are! I've made them for myself before and loved their unique taste, and I couldn't wait to try them again and try some new parsnip recipes on them.
To help my family (specifically my kids) be more open to trying a new veggie, I thought it would be helpful to pair them up with a vegetable they are very familiar with and already love – carrots. We eat roasted carrots almost weekly so it was nice to change it up just slightly with these Honey Roasted Parsnips and Carrots recipe.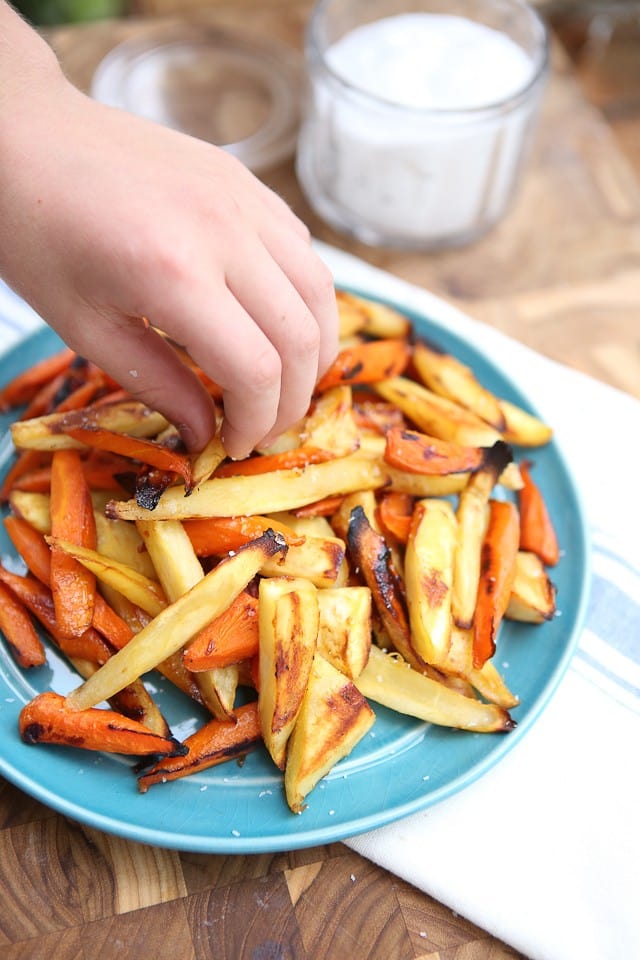 I sliced up the carrots and parsnips into "sticks" so they were more like a finger food. You can do this easily by cutting any long vegetable at an angle, then cutting again longways. As soon as they came out of the oven my kids gravitated toward them, first saying how good they smelled, then asking to try them. I could not keep them from eating them right off the baking sheet!
That's always a good sign.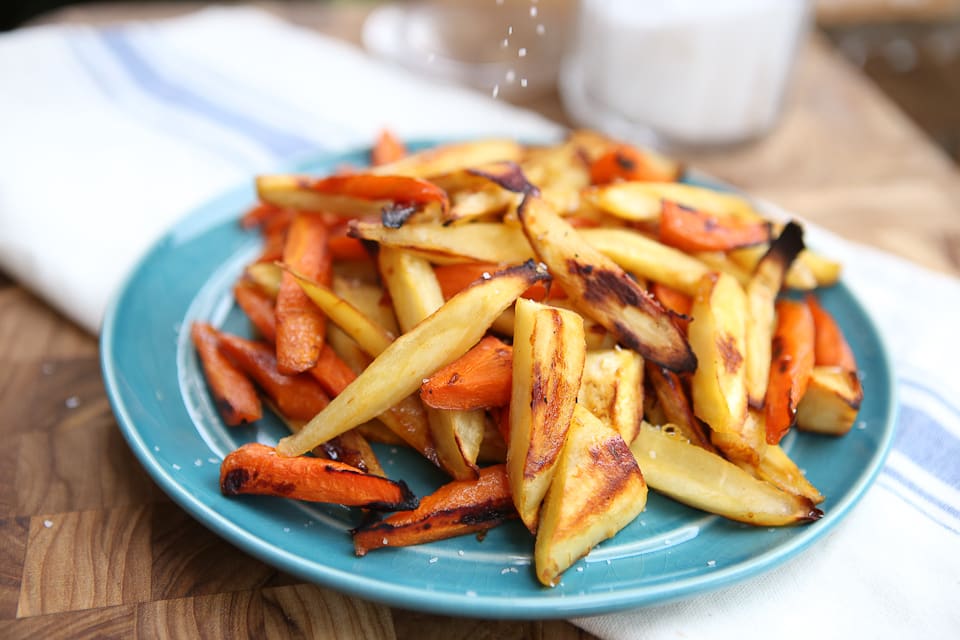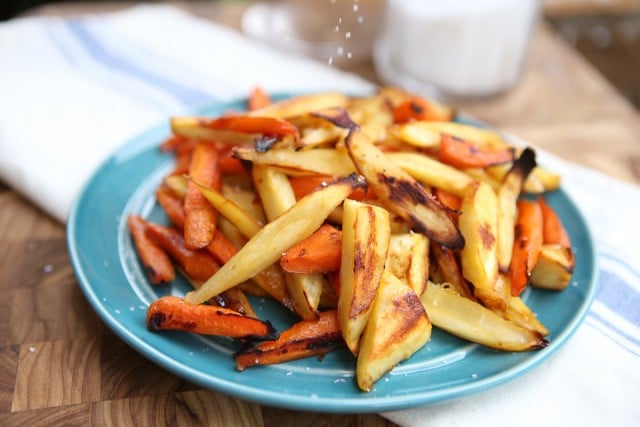 Don't forget to sprinkle them with plenty of kosher or sea salt. It's all good, trust me!
If you have any favorite roasted parsnip recipes, please share them with me, I would love to try more.
These roasted parsnips and carrots would be absolutely delicious served with Mini Honey Mustard Meatloaves or Cajun Baked Salmon Cakes. If you are craving more fall veggies check out these Maple Balsamic Roasted Vegetables, Fall Panzanella, or this Farmhouse Shepherd's Pie with Fall Vegetables.
For those that don't know, I contribute monthly to Produce For Kids blog. I love this organization! This Honey Roasted Parsnips and Carrots recipe was inspired while writing my latest article for them, a roundup of Roasted Root Vegetables for Fall – check it out for more ideas and links to recipes for autumn root veggies.
Print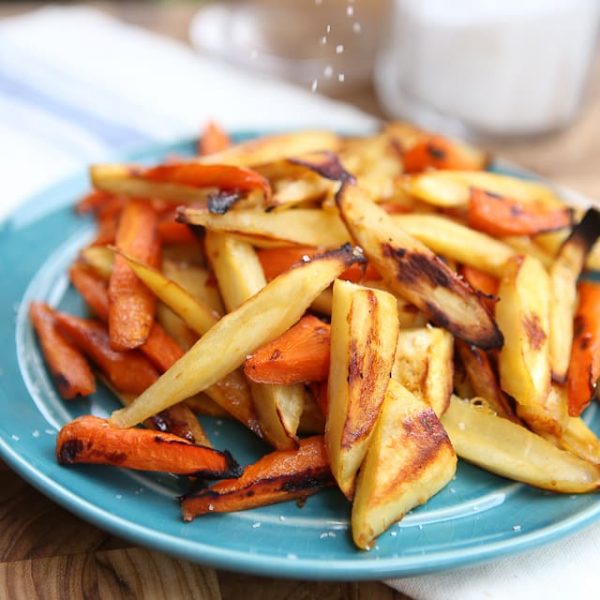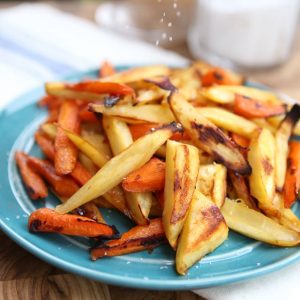 Honey Roasted Parsnips and Carrots
---
Ingredients
4 parsnips, peeled, cut diagonally then into strips
4 carrots, peeled, cut diagonally then into strips
2 tablespoons grapeseed oil
2 tablespoons honey
coarse salt and fresh ground pepper
---
Instructions
Preheat oven to 450 degrees. Combine oil and honey at the bottom of a large bowl. Add carrots and parsnips to bowl and gently toss until all your vegetables are coated in oil and honey mixture.
Place vegetables onto a large baking sheet. Sprinkle liberally with coarse salt and fresh ground pepper.
Bake for 15 minutes. Take baking sheet out and using a spatula carefully flip over carrots and parsnips. Bake for another 5-7 minutes until veggies are nicely and evenly browned. Season to taste with additional coarse salt and pepper.
Are you following me on Instagram, Twitter, Facebook and Pinterest? If you'd like to subscribe to Aggie's Kitchen and have each post delivered straight to your e-mail box, then please add your email here. Happy cooking!
There are affiliate links in this post. I make small earnings through any purchases made through these links. Thank you for supporting Aggie's Kitchen!