Beef and Tomato Vegetable Soup
This hearty Beef and Tomato Vegetable Soup is packed with flavor, veggies and protein. Everything you crave all in one healthy bowl!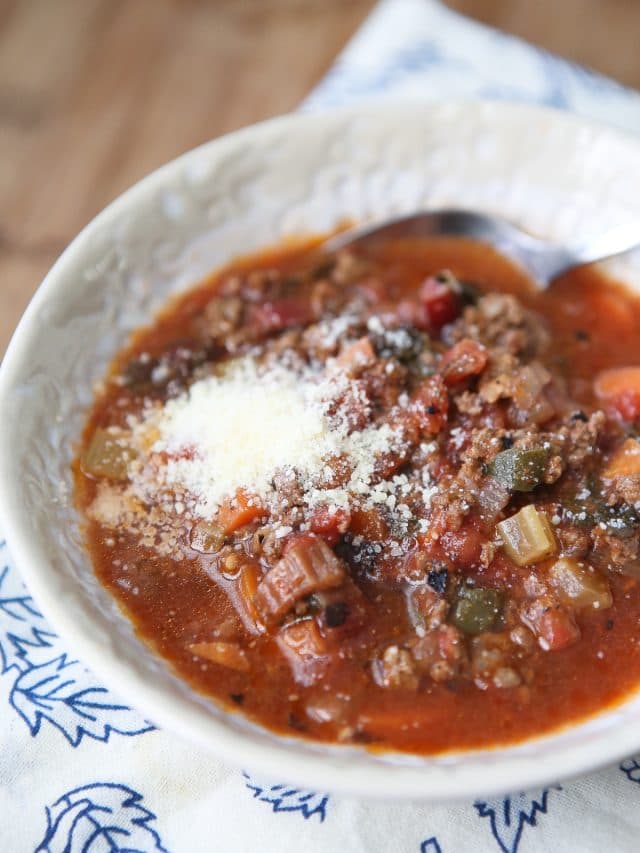 My sister in law sent me a pin of this recipe that she made and loved recently and I couldn't get it out of my mind, it looked like my kind of soup. Of course, I don't usually have the ingredients I need to make recipes when I'm ready to make them – let's just say that I'm a natural and determined improviser when I'm hungry or in the mood to cook. This Beef and Tomato Vegetable Soup is the perfect example of using whatever ingredients you have on hand to make something delicious and good for you too.
I have been swooning over all the pretty Swiss chard I've been seeing in the grocery store and decided to add it to this soup. Swiss chard reminds me of my grandpa, he introduced it to me from his garden – he grew a ton of it every summer. I love how versatile it is, I tend to treat it like I do spinach by adding it to soups like this or simply sauteing it as a side dish. I wanted to keep this soup low on the carbs so I didn't add any grains – adding the sliced Swiss chard helped bulk it up so that I wasn't missing any pasta or rice. Feel free to add some cooked orzo or small pasta to it if you prefer.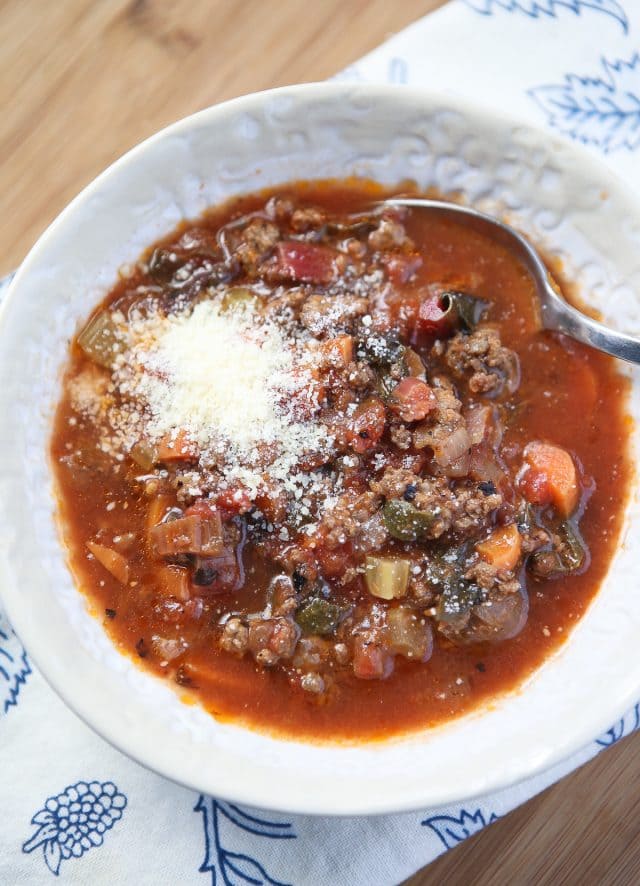 This soup is chock full of veggies as well as flavor and protein. I know the weather is warm pretty much everywhere now and soup isn't a food that's probably on your mind, but I'm a soup person all year round. It's just so easy to make and have as leftovers for quick, healthy lunches and dinners.
Soup is one of my go to meals when I'm trying to trim some pounds or just generally feel healthier. Some soups I tend to make often are  Slow Cooker Italian Sausage and Kale Soup with Sweet Potatoes, Slow Cooker Split Pea Soup, and Healthy Chicken Tortilla Soup. I'm ready to try this Super Healthy Cabbage Soup and Lemon Chicken Orzo Soup!
Share some of your favorite healthy soups with me in the comments!
Beef and Tomato Vegetable Soup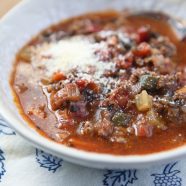 Ingredients:
1 tablespoon olive oil
1 large onion, diced small
2 celery stalks, diced small
2 carrots, diced small
1 - 1.25 lb lean ground beef
coarse salt and fresh ground pepper (pinch of each)
2 15 oz cans fire roasted tomatoes
3/4 cup water (swirl around tomato cans to pick up leftover bits)
4 cups low sodium chicken or beef broth
1 bunch Swiss chard, cut into thin strips
Directions:
In a large soup pot, heat oil over medium heat. Add onions, celery and carrots and cook for 3-5 minutes until soft and fragrant. Add lean ground beef and crumble using a wooden spoon. Season with salt and pepper and continue to cook until beef is completely browned.
Add 2 cans fire roasted tomatoes, water and chicken broth. Bring to a boil, then back down to a simmer. Let simmer for about 15 minutes. Add Swiss chard to soup and cook for an additional 5 minutes. Taste for salt and pepper and adjust. Serve with Parmesan cheese.
Find more comforting and delicious recipes on my
Soup, Stew and Chili Recipes Pinterest board
:
Follow Aggie's Kitchen's board Soup, Stew and Chili Recipes on Pinterest.
Are you following me on Instagram, Twitter, Facebook and Pinterest? If you'd like to subscribe to Aggie's Kitchen and have each post delivered straight to your e-mail box, then please add your email here. Happy cooking!
There are affiliate links in this post. I make small earnings through any purchases made through these links. Thank you for supporting Aggie's Kitchen!
5 Responses to "Beef and Tomato Vegetable Soup"
Leave a Comment