Mediterranean Lentil Salad
This Mediterranean Lentil Salad is a light but protein packed cold lentil salad full of Mediterranean flavors and crunchy veggies. A great vegetarian meal!
Click here to pin this Mediterranean Lentil Salad recipe!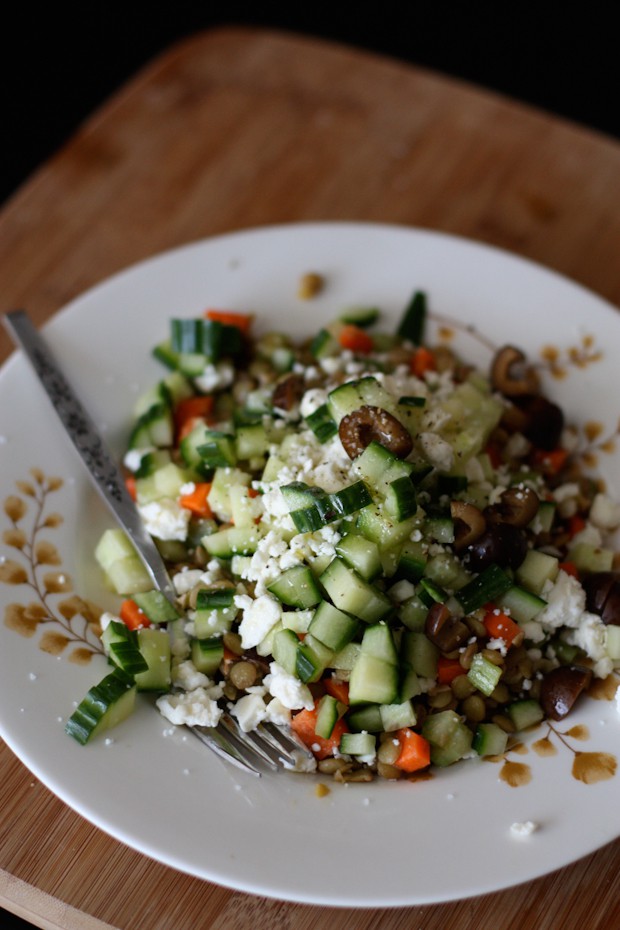 There are certain foods I find myself slightly obsessed with. Any type of food that can be described as mediterranean can easily fall into that category. There's just something about the simplicity of the food from that part of the world, the flavors that come together with just a few fresh ingredients – well let's say, that food makes me happy. This simple lentil salad most definitely falls into that category.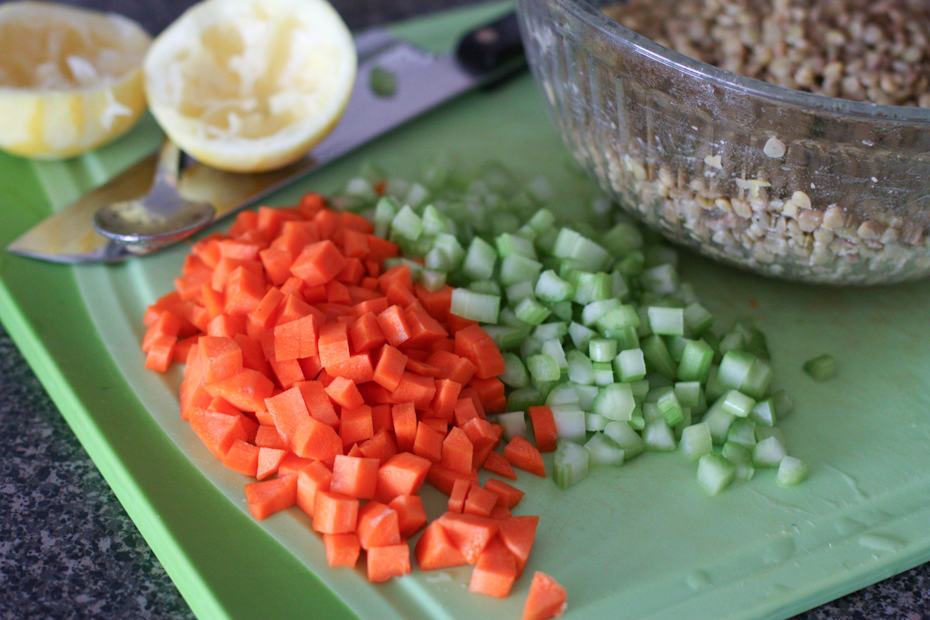 Unless I'm cooking it at home, I don't get a mediterranean fix that often as far as restaurants are concerned. I just haven't found a ton of restaurants in my area (other than a couple favorite Greek restaurants) that serve good hummus, pitas and falafels locally. Maybe I need to look harder. One place I tend to eat at often enough (to get that fix) is at a place in our mall's food court – of all places, yes I know.
They are that place that serves gyros, lavash wraps, hummus, all kinds of fresh tomato and cucumber salads and my favorite falafel. I'm sure most malls have a place like this, but what I love about this one is that it's run by the same owners, a married couple and sometimes their son, for over 10 years (well at least that's how long I've been going there).
Last time I was there, I ordered a falafel pita and had to choose 2 sides to go with it. I usually go for the tomato & cucumber salad and hummus, but this time I spotted something I hadn't seen before  – a simple lentil salad.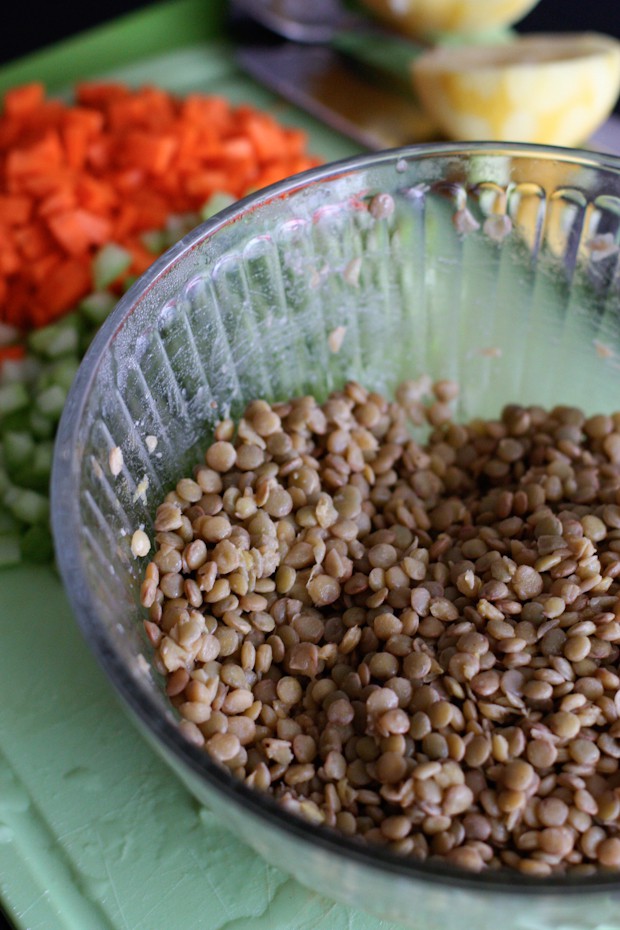 I've been pretty much thinking of this simple Mediterranean lentil salad ever since, and with a little consultation from my friend Liz over the phone, I decided it was time to make my own simple lentil salad at home. It's a wonder I haven't made this before, I absolutely love lentils but for some reason have stuck with only cooking them up in soups like this Spinach, Tomato and Lentil Soup as well as my family's traditional Lentil Soup, for as long as I can remember. This is about to change.
This salad hits the spot and is so so good for you. With warmer weather coming up, I can guarantee it will be a staple in my fridge for quick lunches or for when I need a protein packed snack.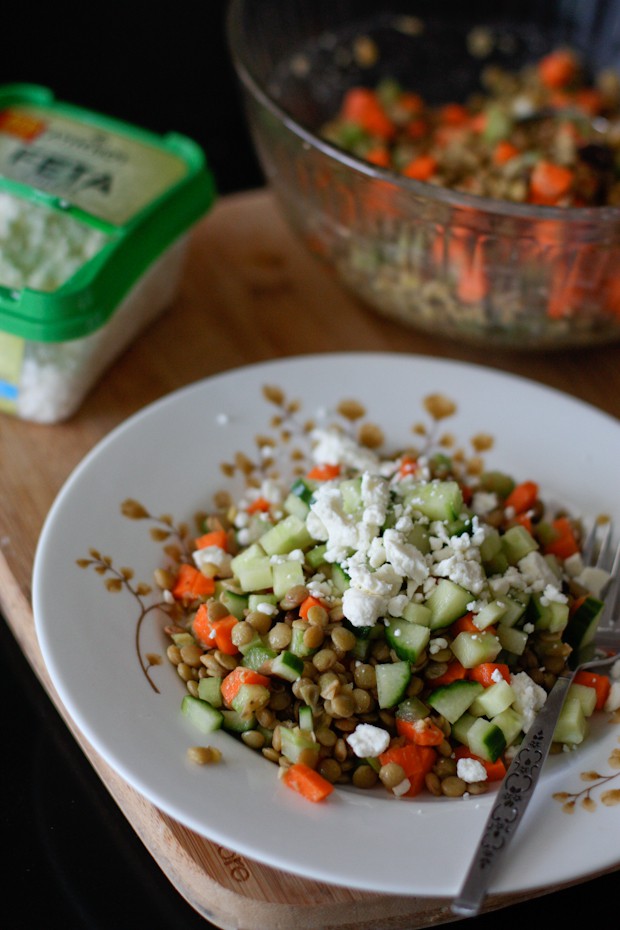 If you crave flavors of the Mediterranean like I do, you may enjoy this Mediterranean Panzanella and Mediterranean Chickpea Salad too.
Mediterranean Lentil Salad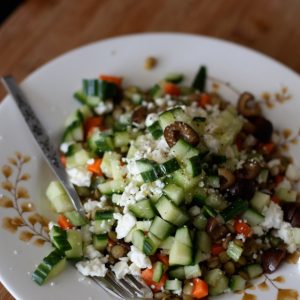 Ingredients:
1 cup dried lentils
1 large lemon, zested and juiced
2-3 tablespoons extra virgin olive oil
splash red wine vinegar
big pinch of coarse salt and fresh ground pepper
2 carrots, small diced
2 celery, small diced
handful of chopped kalamata olives
1/2 seedless cucumber, small diced
4 oz crumbled feta
Directions:
Cook lentils according to directions. I added them into a pot and covered with 3 cups of water and cooked for 10 minutes. I turned off heat and let sit for a few minutes to finish cooking and absorb a little more water.
Drain lentils well and place in a large glass mixing bowl. Add zest of lemon, juice, olive oil, salt and pepper to lentils and stir. Taste for seasoning and set aside to cool. (You can also put into the refrigerator at this time to finish prepping later. Make sure to add lemon, oil and seasoning before letting cool completely, the lentils will absorb the flavor best while still warm.)
Add your diced vegetables (carrots, celery and olives) to your bowl of lentils and combine. If serving immediately add cucumber and feta cheese. If not serving immediately you may want to add those right before serving. Taste for salt and pepper and enjoy!
Are you following me on Instagram, Twitter, Facebook and Pinterest? If you'd like to subscribe to Aggie's Kitchen and have each post delivered straight to your e-mail box, then please add your email here. Happy cooking!
There are affiliate links in this post. I make small earnings through any purchases made through these links. Thank you for supporting Aggie's Kitchen!