Lemony Artichoke Hummus
A great healthy snack or appetizer – grab your pita chips or veggies for this Lemony Artichoke Hummus dip.
Click here to Pin this recipe!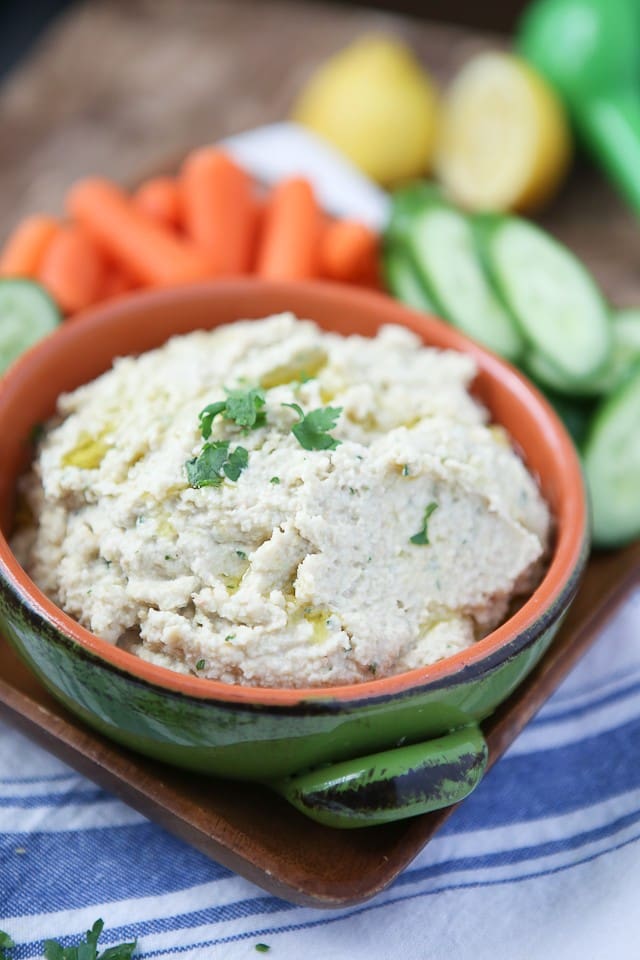 Happy New Year!! I can't tell you how excited I am about a new year starting, it's really one of my favorite times of the year (I feel the same about back-to-school season). I'm all about fresh starts, reflection and growth. This upcoming year is going to be full of changes for me personally, one major change is that I'm going back to school! Yep, I turn 40 and start my first class toward a degree in nutrition and dietetics in just a little over a week. I am over the top excited and terrified at the same time. I've spent a good part of 2015 talking to a life coach and researching schools and programs….I've had a tug to pursue this career for years and now is the time to finally move forward. I've learned that sometimes you have to be patient with yourself and just trust in timing. (Thanks Merrill.)
So, with the New Year I think it's obvious a lot of us are in the mood for lighter food and getting back on track. I try really hard to balance things out over the holidays (I got to the gym 5 days this past week and THANK GOODNESS I did…), but let's face it, it's hard when there are random cookies, pizza nights or snacks everywhere you turn. I'm craving routine and I know it's coming and with that better food choices will be a heck of a lot easier to make.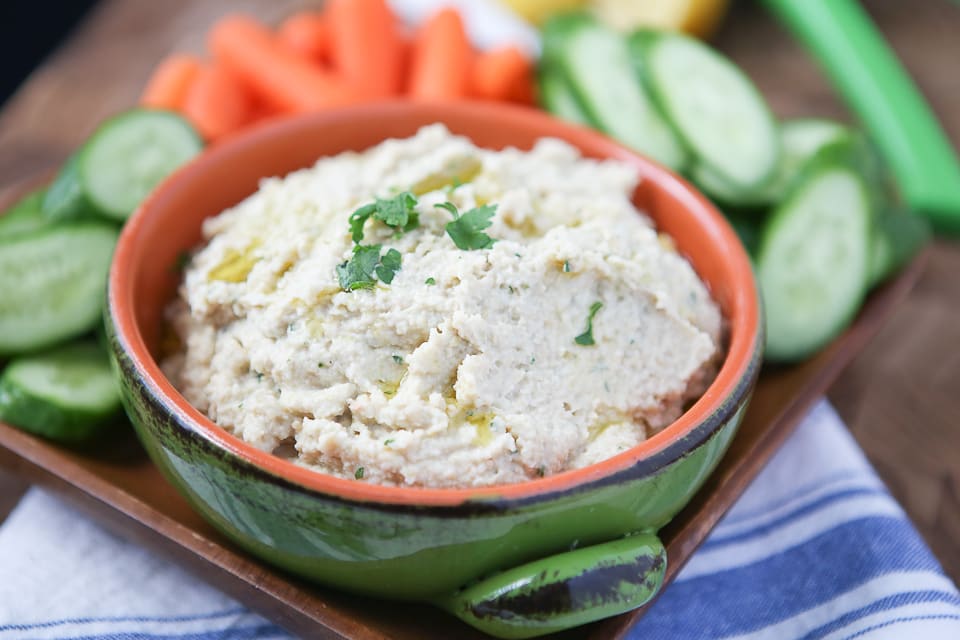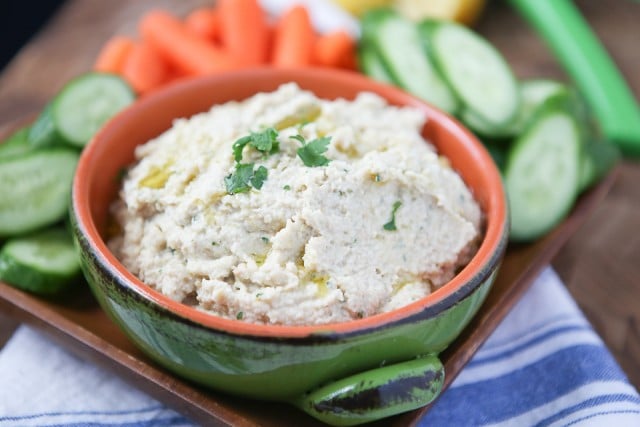 One thing I've been struggling with lately is getting in my veggies. I know, hard to believe that this salad loving girl is not eating her veggies. Ugh. I don't feel good about it and nothing has been appealing. I stocked my fridge up with raw veggies ready for dipping the other day and this Lemony Artichoke Hummus is the perfect place to dip those veggies. I've made this homemade hummus for years and I love it because it's so light and full of flavor from the added artichokes. This would be a great dip to serve for any football viewing parties you are still having, or to just have in the fridge ready to scoop out onto a plate of sliced cucumbers, baby carrots and celery. Trust me, you will feel good about getting involved with your veggies again and this Lemony Artichoke Hummus will be a huge help if you are struggling like I am!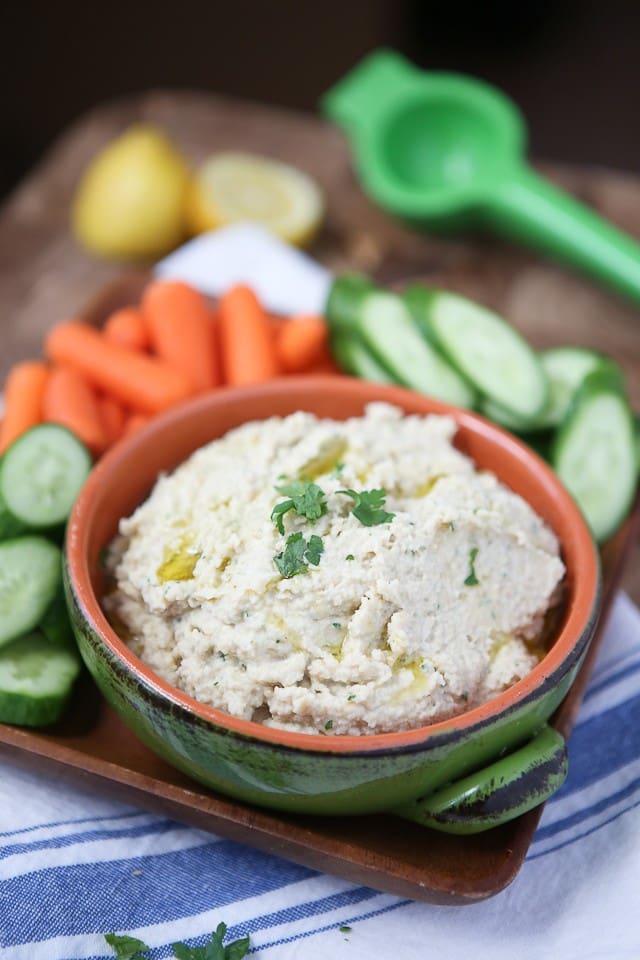 Lemony Artichoke Hummus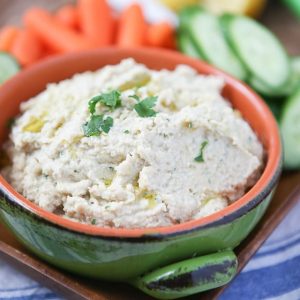 Ingredients:
2 cans Bush's garbanzo beans, drained (reserve 1/4 cup of liquid)
10 oz frozen artichoke hearts, defrosted (or 1 can artichoke hearts, drained)
3 heaping tablespoons tahini
zest of 1 lemon
juice of 3 lemons
1/4 fresh parsley leaves
1/4 - 1/3 cup olive oil
coarse salt and fresh ground pepper
additional juice from lemon and olive oil for serving
Directions:
Place beans, artichokes, tahini, lemon zest and lemon juice into the bowl of a large food processor. Pulse several times until chunky. Add parsley and pulse a few more times. While pulsing continuously, stream in olive oil until smooth or until hummus reaches desired consistency. Season well with salt and pepper, taste and adjust. Serve with additional lemon and olive oil.
Help yourself (and your veggies) to some of these healthy dips:
Cucumber and Feta Greek Yogurt Dip
Kalamata Olive and Feta Greek Yogurt Dip
Greek Yogurt and Cottage Cheese Dip with Dill | Kalyn's Kitchen
Spinach and Kale Greek Yogurt Dip | How Sweet Eats
Be sure to check out my Appetizers, Snacks and Party board on Pinterest for more healthy snacking ideas!
Follow Aggie's Kitchen's board Appetizers, Snacks & Party Food! on Pinterest.
Are you following me on Instagram, Twitter, Facebook and Pinterest? If you'd like to subscribe to Aggie's Kitchen and have each post delivered straight to your e-mail box, then please add your email here. Happy cooking!
There are affiliate links in this post. I make small earnings through any purchases made through these links. Thank you for supporting Aggie's Kitchen!