Roasted Vegetable Whole Wheat Pasta Salad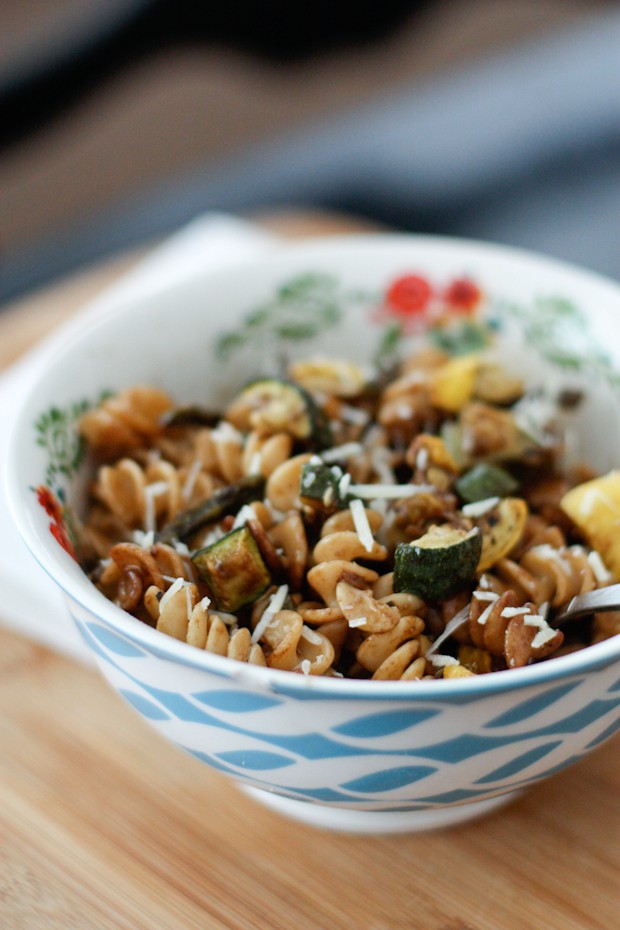 I experienced a bit of a meal plan fail this week (nothing new, really). I had good intentions going into the week, stocking up the fridge with fresh fruits and veggies for lunches and dinners like I normally do, with a loose plan. But as the week went on, nothing I had planned sounded good anymore or fit into our evening schedule. As I saw this all unfolding, I had to regroup – and make something out of the packed veggie drawer that was easy and easy to eat within our schedule.
It doesn't get easier than pasta salad in my opinion.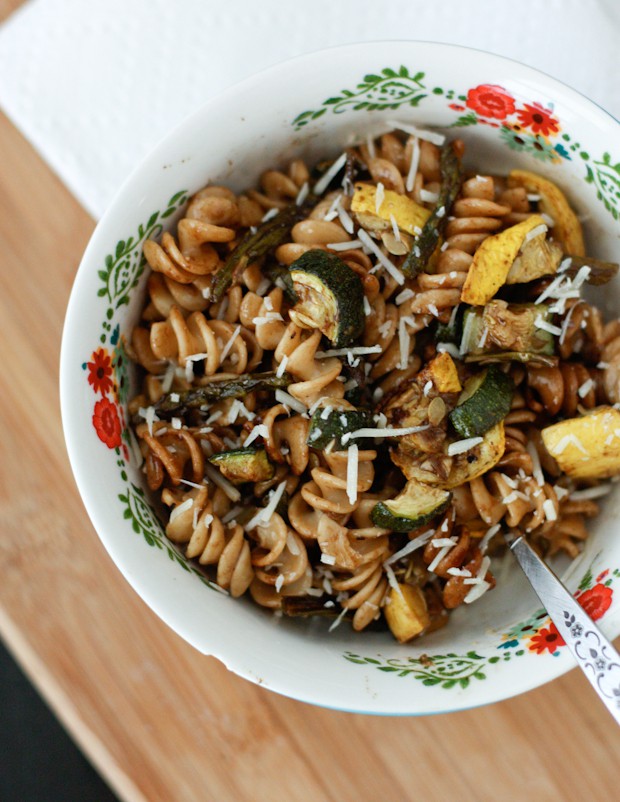 It took a little prep, yes – but I spent a few minutes yesterday afternoon chopping up the three packages of asparagus, zucchini and squash that I was afraid would go to waste if I didn't do something about immediately. I tossed them in a little olive oil, salt and pepper and filled two baking trays to roast up. I didn't fuss over any special vinaigrette – though I did start to brainstorm for another time – instead just simply using balsamic vinegar and olive oil and a sprinkle of Parmesan cheese to dress the pasta and veggies once everything cooled down. Oh my goodness, this turned out so delicious.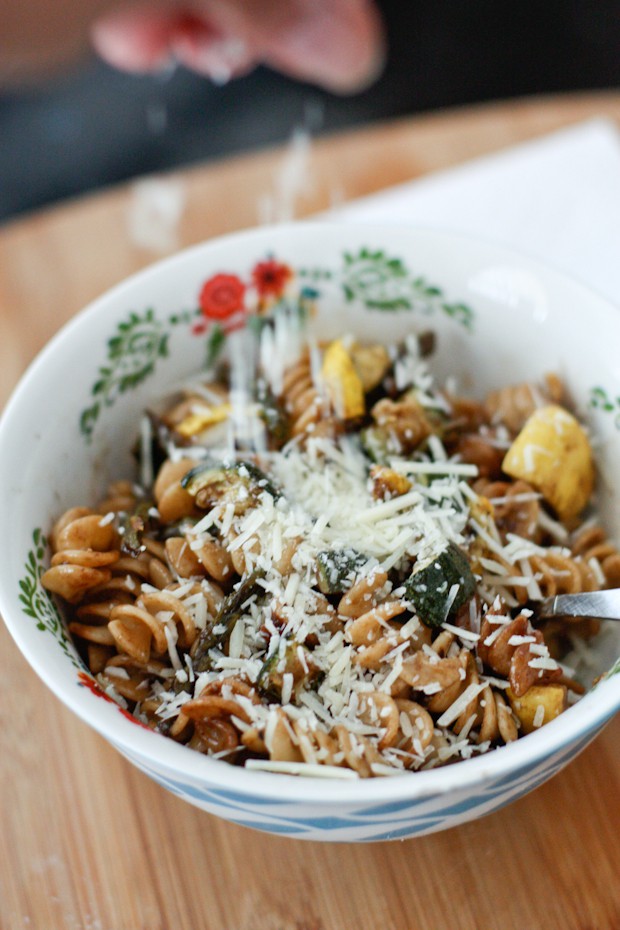 My daughter and I are the pasta salad lovers in the family so we will probably get through this batch in just a couple of days. I've already eaten it for lunch twice, and it went into her lunchbox today  as well. It makes a pretty tasty after school snack if you ask her (and me). Since I tend to meal plan fail often enough (or overbuy in the produce department) I can see a pasta salad like this happening again very soon (how good would it be with roasted eggplant and red bell peppers next time??).
Enjoy!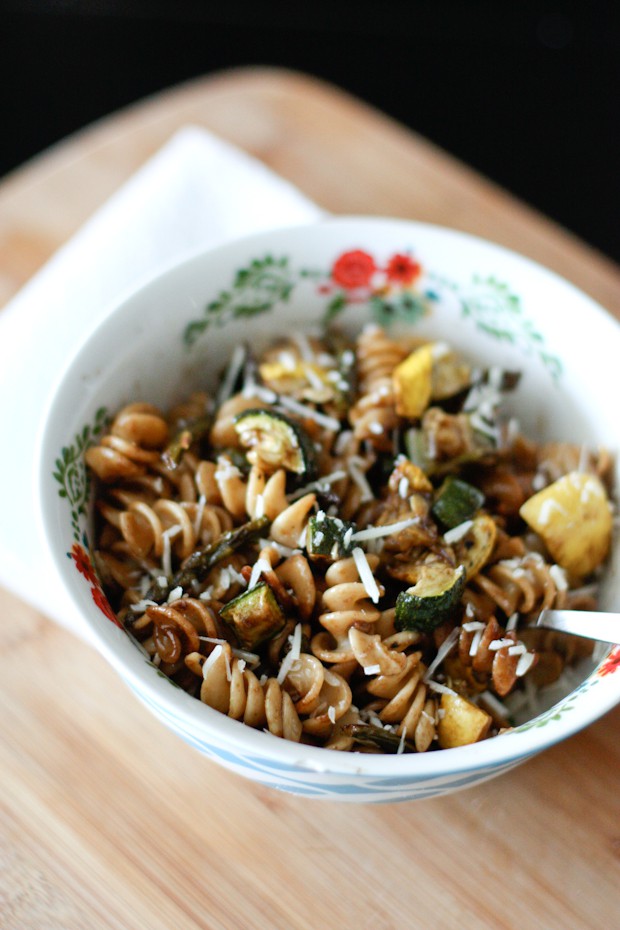 Roasted Vegetable Whole Wheat Pasta Salad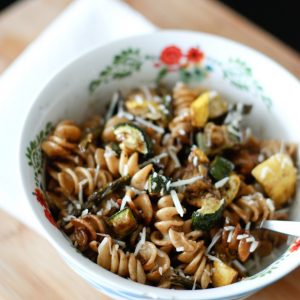 Ingredients:
1 13 oz box of whole wheat pasta (rotini, penne or shells is my favorite)
3 zucchini, chopped in large even pieces
4-5 squash, chopped in large even pieces
a bunch of asparagus, trimmed and cut to large even pieces
1-2 tablespoons of olive oil for roasting
pinch salt and pepper
balsamic vinegar and olive oil for dressing (splash and drizzle, to taste)
Directions:
Prepare pasta according to directions. Don't overcook. Drain, set aside in large bowl.
Preheat oven to 425 degrees.
Place chopped vegetables onto baking sheet (you may need more than one depending on how many vegetables, you don't want to overcrowd baking sheet). Drizzle with 1-2 tablespoons olive oil and toss till all the vegetables are coated evenly. Sprinkle with salt and pepper and place in oven. Bake for 20 minutes. At 20 minutes, give vegetables a gentle toss and cook for another 5 minutes.
Let vegetables cool down to room temperature. Add to cooked pasta in a large bowl and dress with a few splashes of balsamic vinegar and a drizzle or two of olive oil. With a large spoon gently combine, adding a pinch of salt and pepper to taste.
Sprinkle grated or shredded Parmesan cheese as serving.
Whole wheat pasta is packed with protein and fiber and makes this such a satisfying and nutritious snack or meal. If whole wheat pasta isn't your thing, feel free to swap it for regular pasta!
More pasta salad love:
Pasta Salad Caprese with Roasted Garlic and Balsamic Dressing
Creamy Tuna Pasta Salad with Greek Yogurt
Pasta Salad with Balsamic Basil Vinaigrette
Southwestern Pasta Salad with Creamy Avocado Dressing from Two Peas and Their Pod
Tabbouleh Pasta Salad from The Lemon Bowl
Follow Aggie's Kitchen's board Aggie's Kitchen Recipes on Pinterest.
Are you following me on Instagram, Twitter, Facebook and Pinterest? If you'd like to subscribe to Aggie's Kitchen and have each post delivered straight to your e-mail box, then please add your email here. Happy cooking!
There are affiliate links in this post. I make small earnings through any purchases made through these links. Thank you for supporting Aggie's Kitchen!