Garden Tour: Spring 2013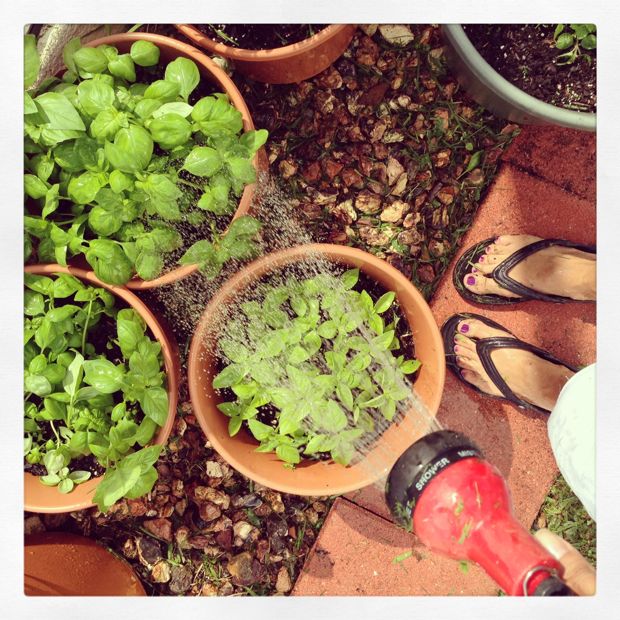 I'm keeping things simple in the garden this year. I'm sticking to what has been working for me well the last few years, and that's herbs and tomatoes in containers. I find them so much easier to maintain as far as weeds and watering go, my kids really help in the watering department so it's fun for them too. I added a few new herbs to the collection this year, ones I always find myself in need of and I added two more pots of tomatoes.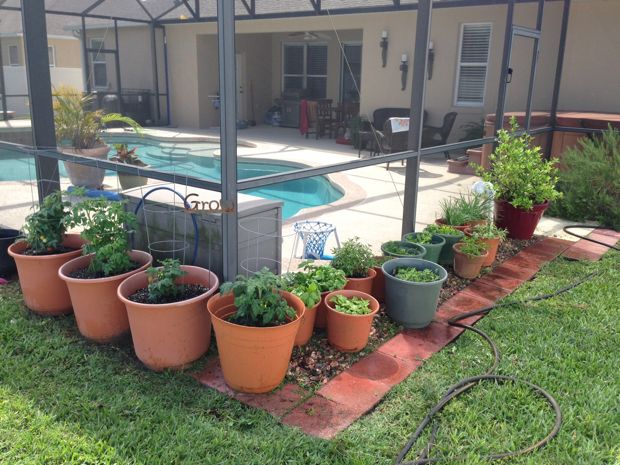 We cooked with our first "harvest" just last night…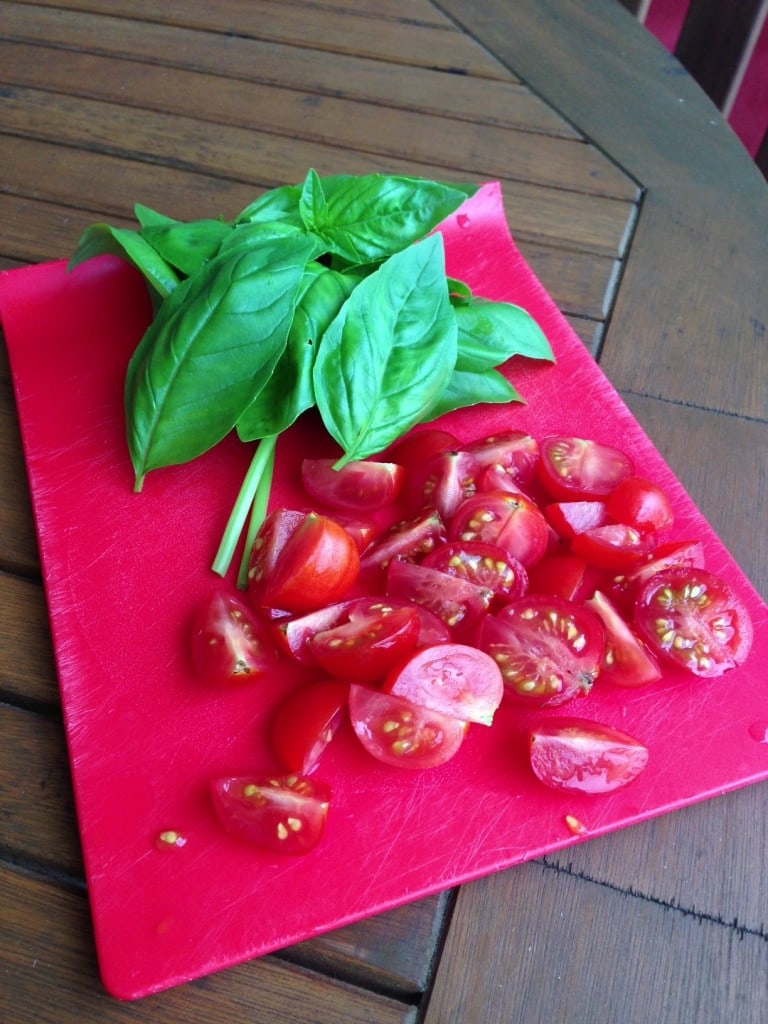 Take a look at what else is growing out back this year: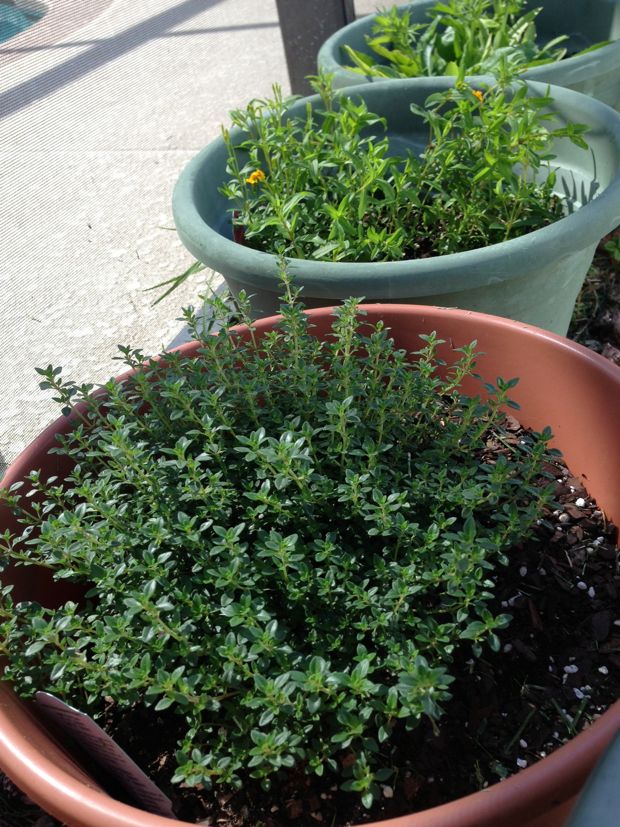 Thyme and Mexican Tarragon (new this year!)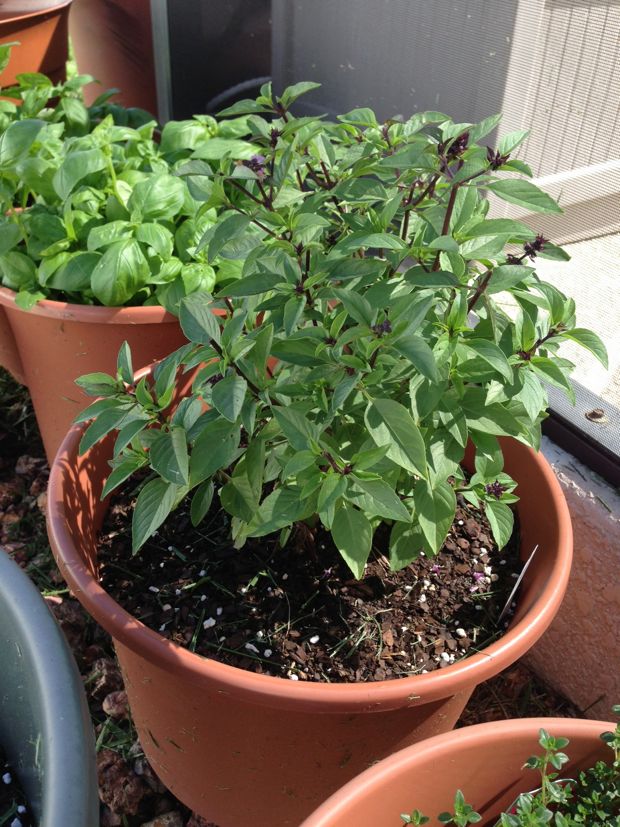 Thai Basil (new this year too!)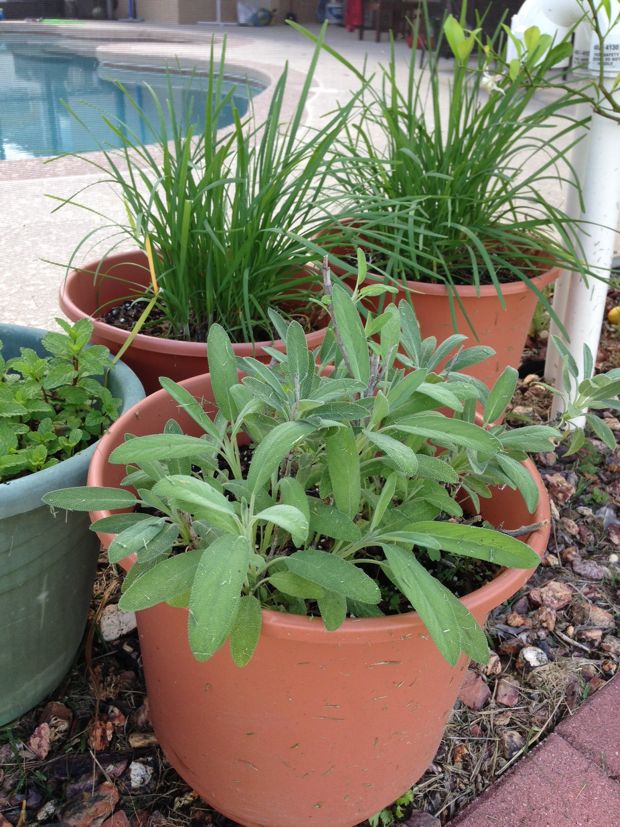 Sage and Chives – these guys are so easy to keep up year after year – I've had these plants for at least 4 years. My son loves tasting fresh chives every time he's out here.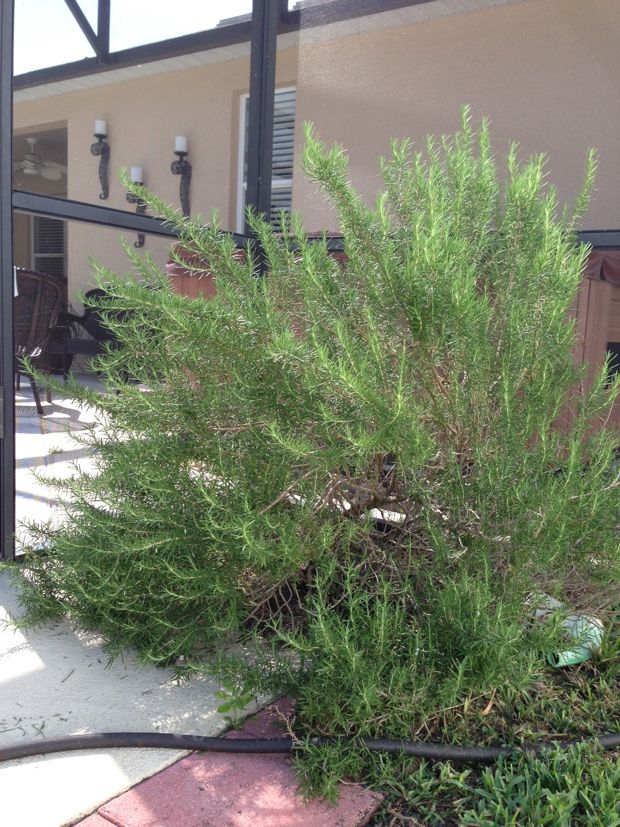 Rosemary – I grow this in the ground as a shrub – it's become more of a beast, needs a little trimming. Smells amazing if you brush up against it as you walk by. Another herb that has been with me for years, very easy to keep up with.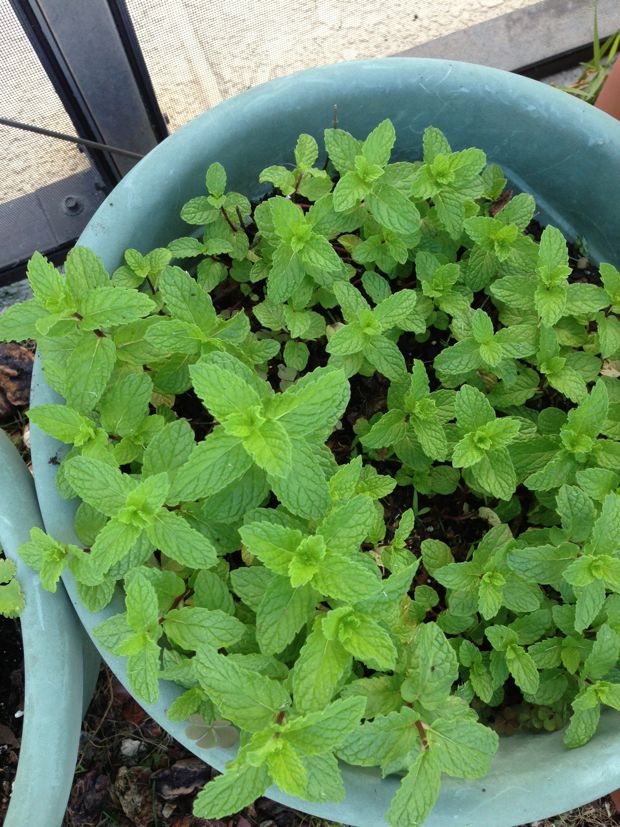 Mint – from my grandpa, it's been with me forever. It always brings back childhood memories of living in NY where we had hedges and hedges of fresh mint growing along our walkway. My sister and friends and I would be constantly tasting it, like my kids do now. It goes to sleep every winter and before you know it you start to see green pop up in the dirt come spring, super low maintenance herb. Mojitos for me again come Fall! 🙂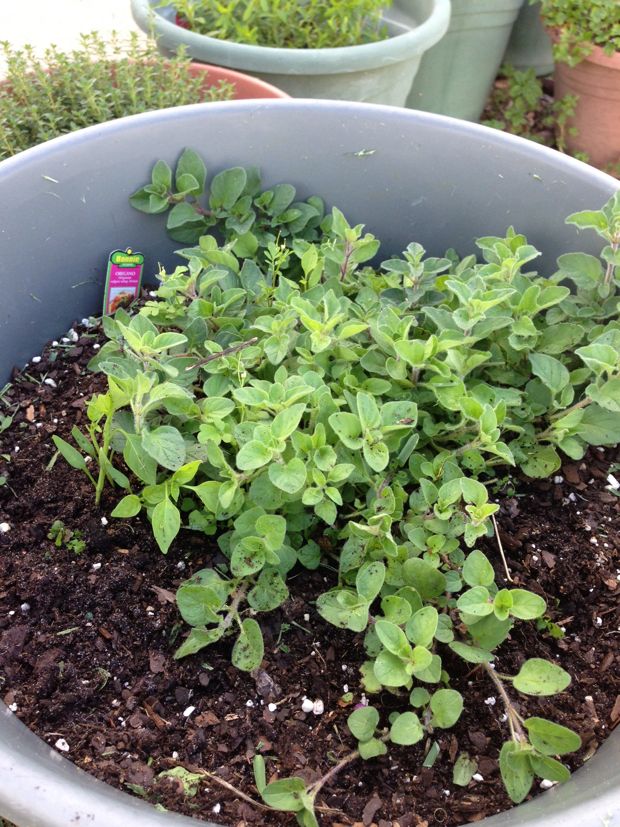 Fresh Oregano – mild, but so flavorful. It goes wonderfully in tomato salads but my favorite is to add it along with olive oil to roasted red peppers.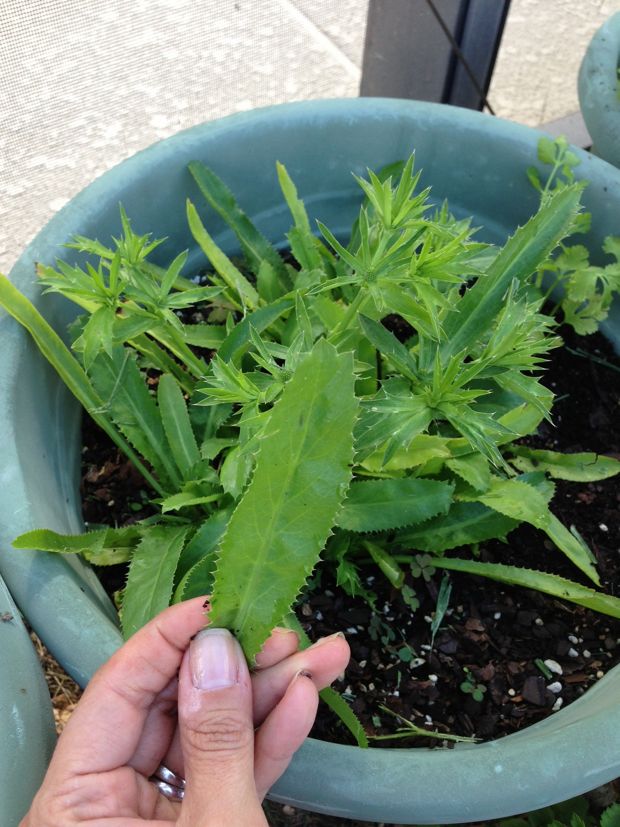 Culantro – another old favorite of mine that I've had for almost 6 years! I gave up growing regular cilantro last year, it never lasts long for me and I'd rather use it's more potent cousin culantro – shown here. Very easy to maintain, will continue to reproduce as you pinch off the spiky flowery looking parts. You can also pinch those off and use them as cuttings to start new plants. That's how this one started after a neighbor gave me some from their plants, it was the first time I'd ever seen this herb. Use it as you would cilantro, just need less of it and I chop it up finer.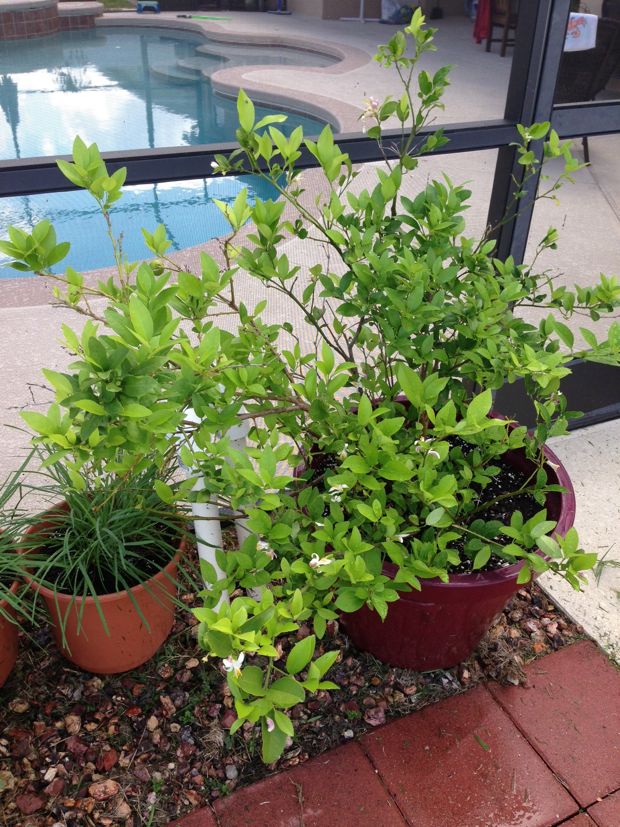 Key Lime and Meyer Lemon Tree – I picked this little tree up at a Farmer's Market about 4 years ago specifically for a big pot just like this. They told me it could take a few years to see some fruit. My grandpa would rather see this little tree in the ground, but I like it in a pot. This year I grew my first key limes on it! Very exciting 🙂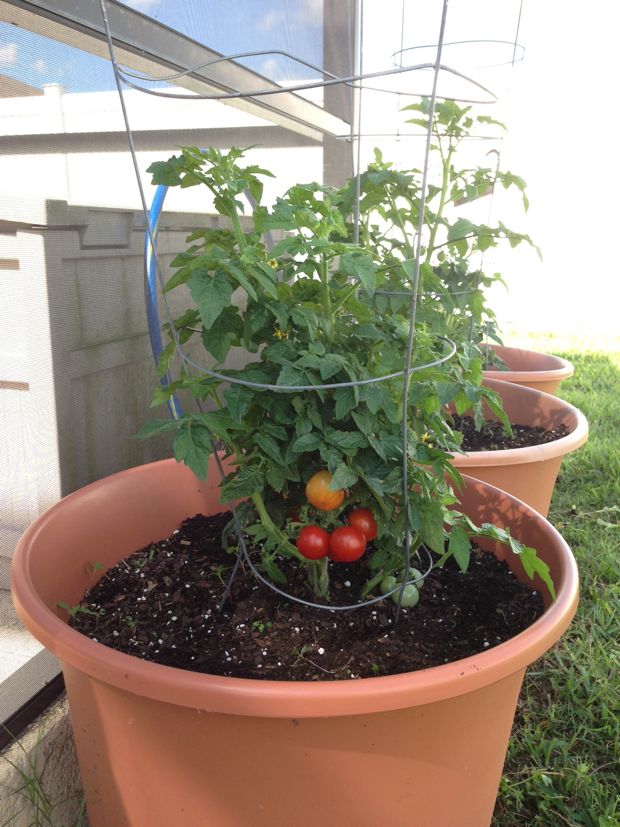 One of four tomato plants – this one is a cherry tomato plant. I have 2 cherry tomato plants and 2 patio tomato plants this year. (on a side note: my grandpa has over tomato 60 plants in ground this year, he cut back from the past where he's had over 100. I want to be him when I'm 81 years old!!!)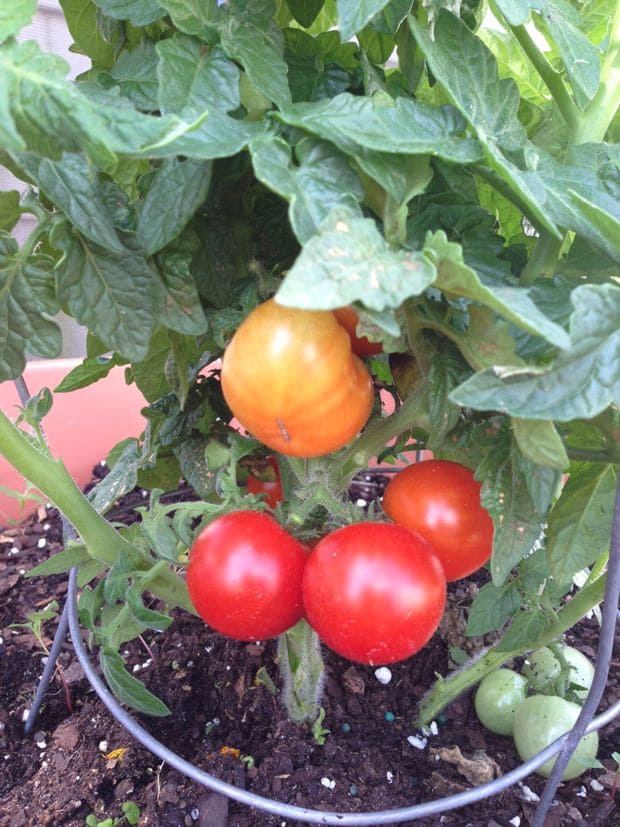 More tomatoes!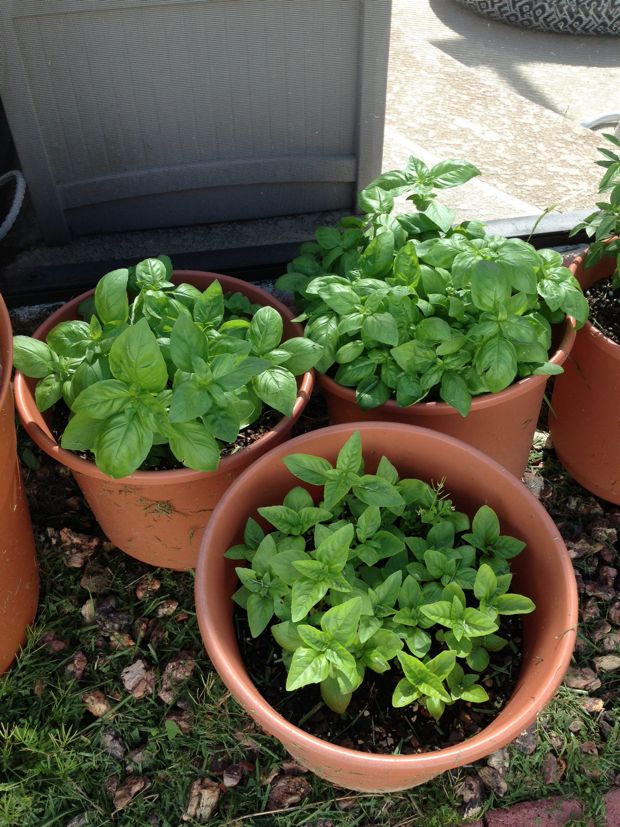 And how can I forget….Basil. Started from seed (always works best for me). The more you use, the more it grows!
I was a little sad to not have a full garden going this year, but I know realistically that I just wouldn't be able to keep up with it in the heat while pregnant (learned that during my first pregnancy almost 9 years ago! 🙂 ). The herbs are truly my favorite part of gardening, they bring me so much inspiration and flavor in cooking, especially this time of year. I'm really excited about this year's container garden.
Are you growing anything this year? Share! And share how you love to cook with any of the herbs in my garden…I would love to hear ideas!
Check out past garden posts from the blog here.
Are you following me on Instagram, Twitter, Facebook and Pinterest? If you'd like to subscribe to Aggie's Kitchen and have each post delivered straight to your e-mail box, then please add your email here. Happy cooking!
There are affiliate links in this post. I make small earnings through any purchases made through these links. Thank you for supporting Aggie's Kitchen!