Slow Cooker Lentil and Quinoa Chili
This Slow Cooker Lentil and Quinoa Chili is hearty, healthy and full of nutrients your body needs. It's vegetarian but even meat eaters will enjoy a bowl!

Can also be made in the Instant Pot too!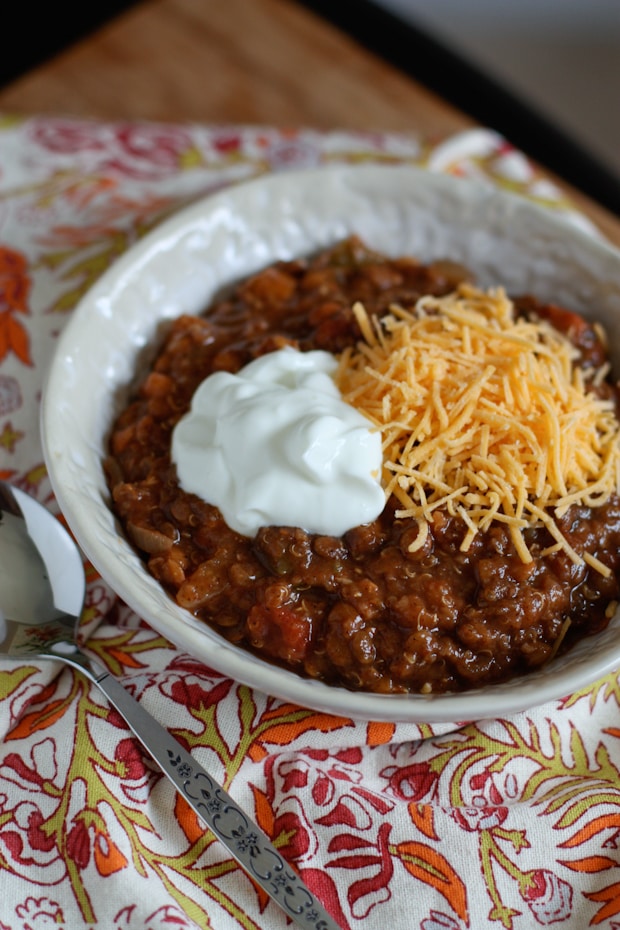 I'm not sure how it happened, but Tuesday is my little guy's First Birthday. How in the world is that possible? It sounds so cliche, but it feels like just the other day that he was all teeny tiny, snoozing throughout most of the day, snuggling in my arms or in his rock 'n play, by my side.
Now he's a wiggly, giggly, fast moving little baby who is super curious and literally always on the go. He's in such a fun phase, just learning so much and soaking everything around him in.
He loves being outdoors and going for walks with me in his stroller…we like to call it our "zen time" and it's one of my (our) favorite parts of the day. Balls have become his favorite toy, he knows exactly what they are if you ask him and he'll throw them your way too.
He loves dogs too and smiles real big and points when he sees one. He's currently a super fast crawler who is starting to stand a little on his own. He likes to take steps while holding onto my fingers, we are taking quite a few laps around the house that way these days.
Mama is on a mission to tire this guy out any way she can!
We are seriously having so much fun together.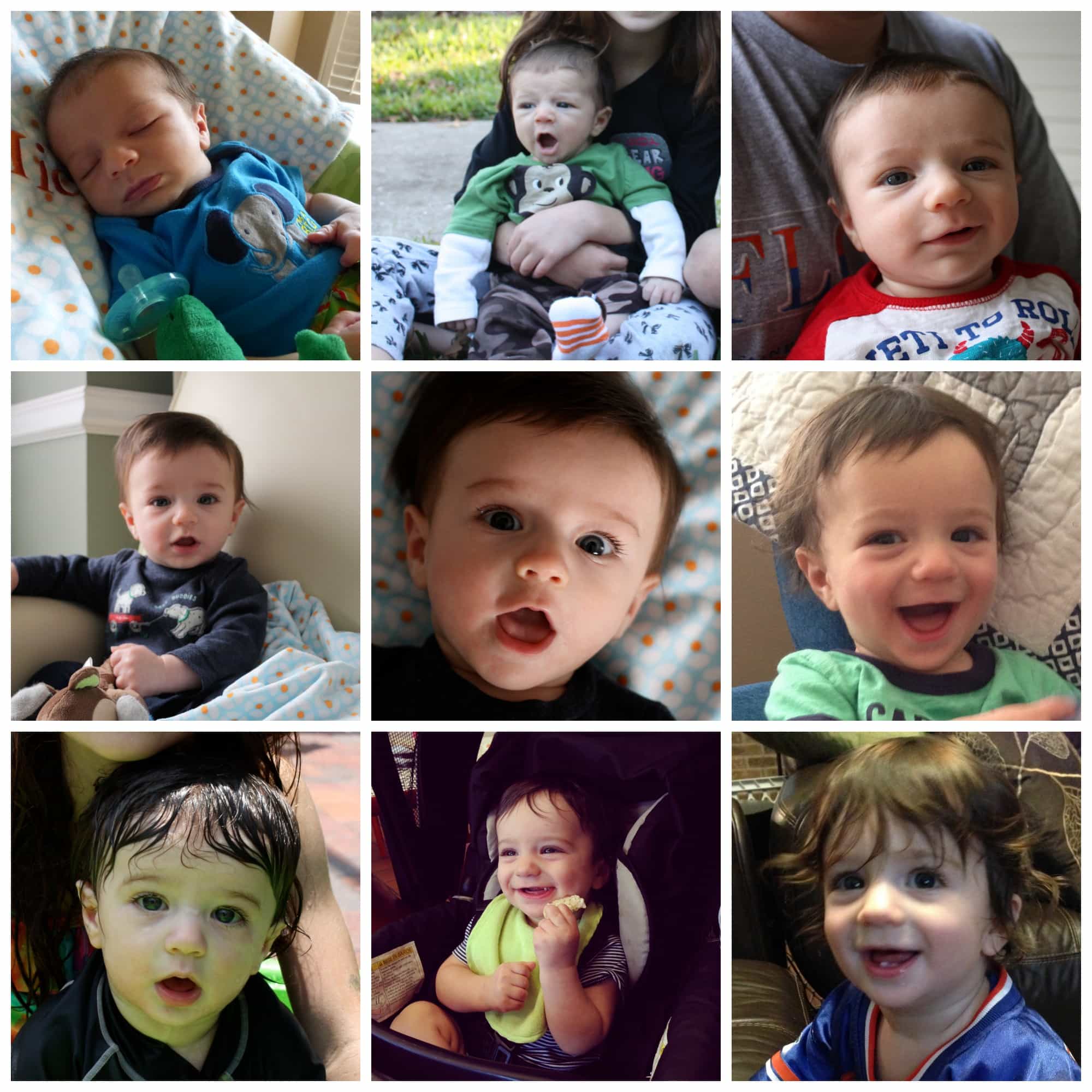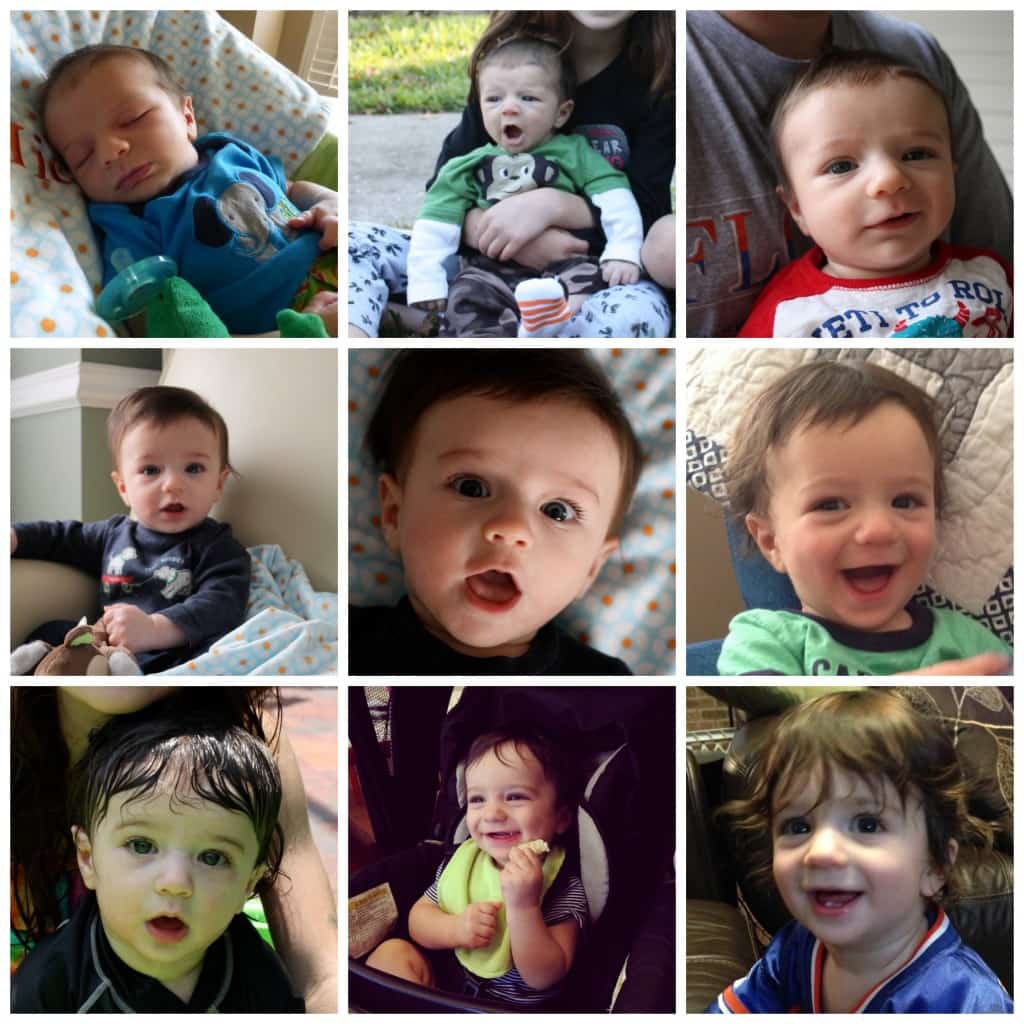 His sweet face and big personality has brought us all so much joy – he truly completes our little family. We are excited to celebrate him and his big birthday all week!!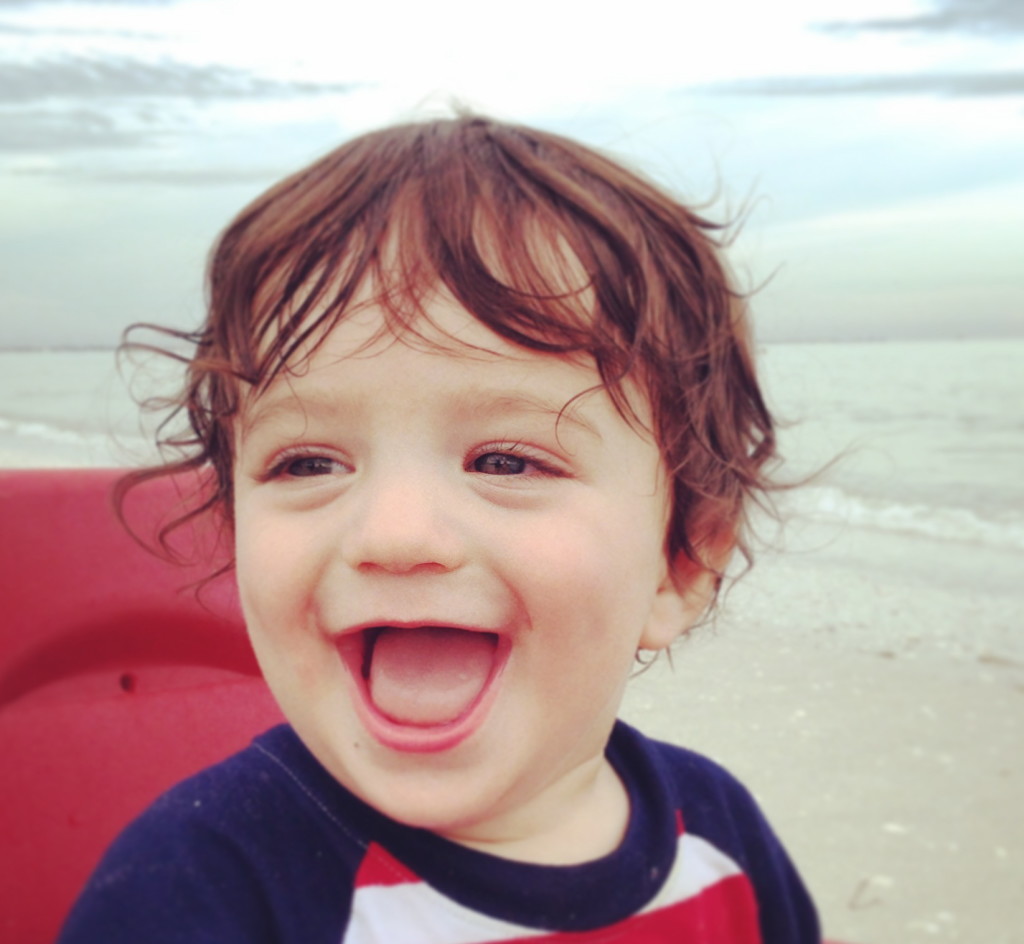 I guess I should stop rambling about my baby, and tell you more about this chili. This vegetarian Slow Cooker Lentil and Quinoa Chili was my answer to the start of a busy week after an indulgent weekend. It was the Monday after my brother's wedding weekend, we were all feeling a little sluggish after all the food and festivities and I felt we all needed to have a few clean meals right off the bat. Since I hadn't spent time grocery shopping after being away for the weekend, I used pantry staples (lentils, quinoa, tomatoes, onions, garlic, spices) and some peppers that just happen to be waiting for a recipe in the fridge. Everything went in my slow cooker and that was that.
Voila…a good for you, stick to your ribs, vegetarian chili. My meat eatin' husband enjoyed this chili, a couple of times during the week actually. My kids ate it too (1 in the bunch wasn't very excited about it), including my baby boy who is in a "loving everything mama makes" phase.
This Slow Cooker Lentil and Quinoa Chili is full of good vegetarian protein from the lentils and pinto beans, and of course a bowl of it was filled with plenty of nutrients. I always top my chili with plain Greek yogurt and some cheese to make it even more delicious. Leftovers are great over sweet or baked potatoes too!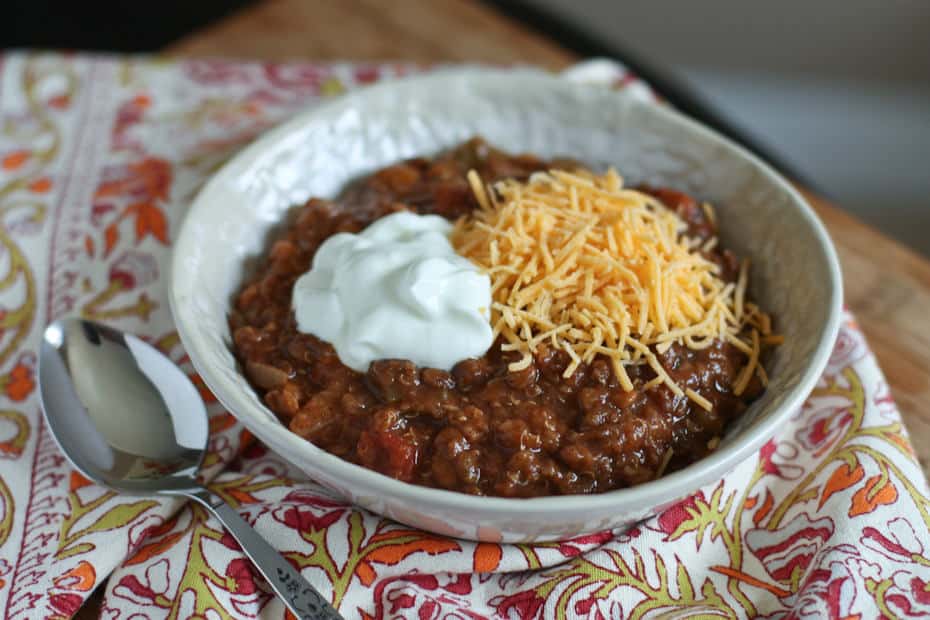 Hope you have a great Monday! Enjoy the week!
Print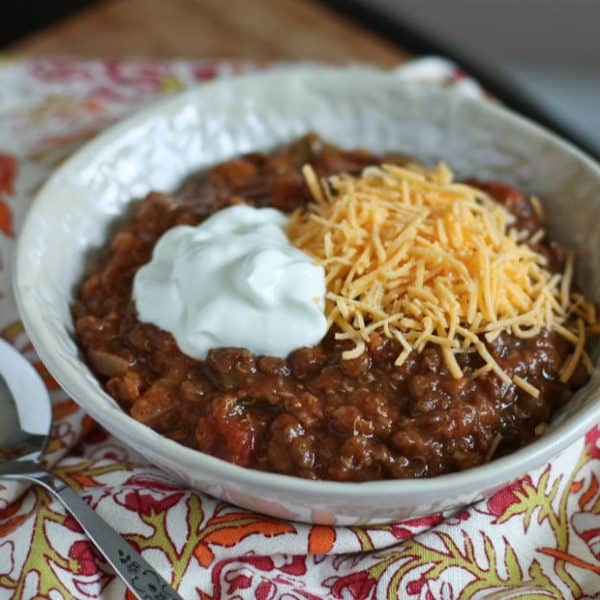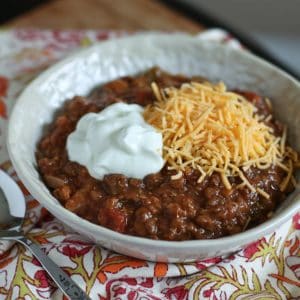 Slow Cooker Lentil and Quinoa Chili
Author:
Prep Time: 10 minutes
Cook Time: 4 hours
Total Time: 4 hours 10 minutes
Yield: 8 servings 1x
Category: Soup
Method: Slow Cooker
Cuisine: Vegetarian
---
Ingredients
1 onion, chopped
3 garlic cloves, minced
1 celery stalk, chopped
2 bell peppers, chopped
1 15 oz can diced tomatoes
4 cups vegetable broth
1 can water (I use the can of diced tomatoes to grab all the leftover flavor)
1 cup dried lentils
1 15 oz can Bush's Pinto Beans
2 tablespoons chili powder
2 teaspoons cumin
1 tablespoon oregano
1/2 cup uncooked quinoa
1/4 teaspoon kosher salt
---
Instructions
Place all ingredients into slow cooker. Cook on low heat for 8 hours or high heat for 4 hours.
Serve chili with your favorite fixings:  shredded cheese, plain Greek yogurt or sour cream, avocado, green onion, cilantro
---
More vegetarian chili recipes:
Slow Cooker 3 Bean Pumpkin Chili
Vegetarian Chili with Cilantro Lime Cashew Sour Cream
Smoky Black Bean and Corn Chili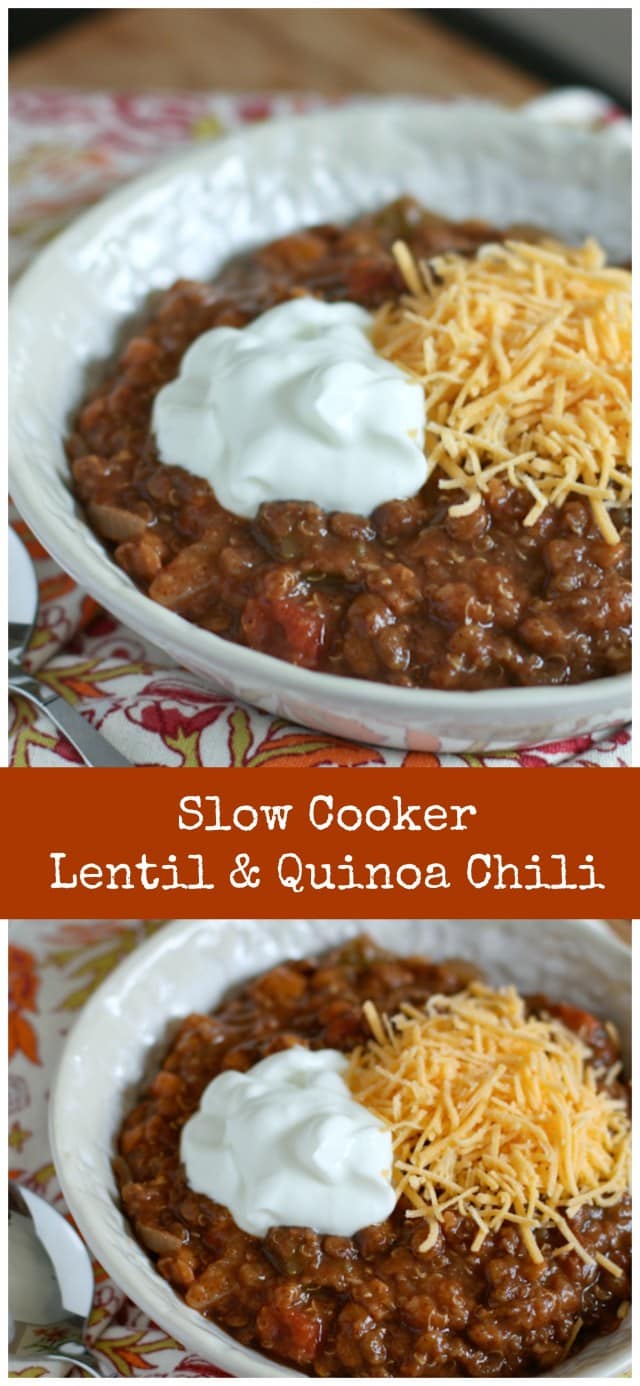 For more slow cooker recipes follow along on Pinterest. Follow Aggie's Kitchen's board Slow Cooker Goodness on Pinterest.
Are you following me on Instagram, Twitter, Facebook and Pinterest? If you'd like to subscribe to Aggie's Kitchen and have each post delivered straight to your e-mail box, then please add your email here. Happy cooking!
There are affiliate links in this post. I make small earnings through any purchases made through these links. Thank you for supporting Aggie's Kitchen!