Chili Rubbed Fish with Quinoa, Black Bean and Corn Salad
This Chili Rubbed Fish is one of my go-to recipes when I am craving a light fish dinner and don't have a lot of time to fuss about dinner.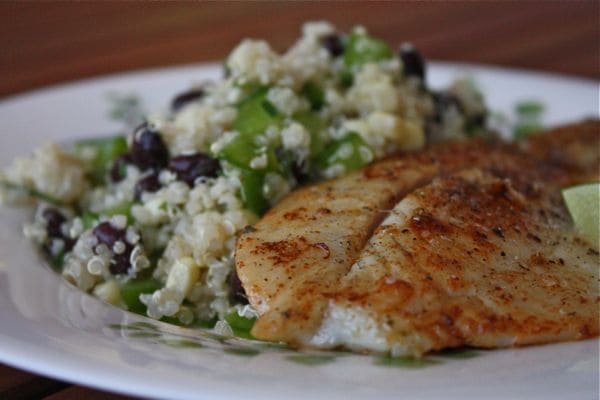 I first made this meal back in May when I guest posted for Jenna, and since then it has become a staple in our home. We eat fish pretty often, my kids absolutely love it, so that makes things easy. They didn't always, but the best advice I got as a young mom was to just keep trying, keep exposing them to food you want them to eat, and it's so true…kids will eventually start trying everything on their plate.
Now the quinoa salad, my kids were not a fan of. That's okay…they'll eat quinoa a little more plain, this quinoa was a little too lively for them if you know what I mean.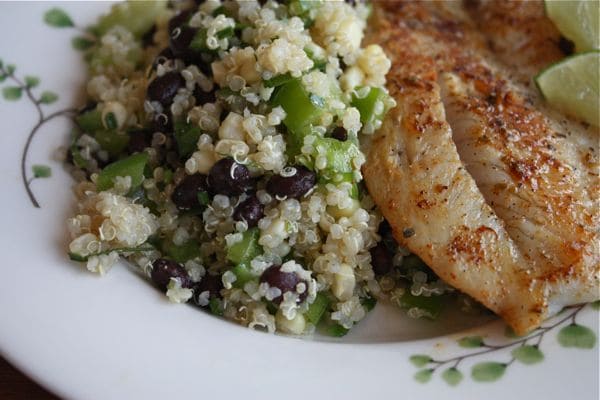 I ended up keeping the leftover quinoa salad in the fridge and it became my lunch for a few days. And a good lunch. Even better doused with some green Tabasco sauce. Oh man…it was so so good.
If you need to lighten things up a bit, or if you need a break from soup and other fall comfort foods, this is the meal for you. Yep, it will pretty much rock your world. Lime and cilantro always make me happy.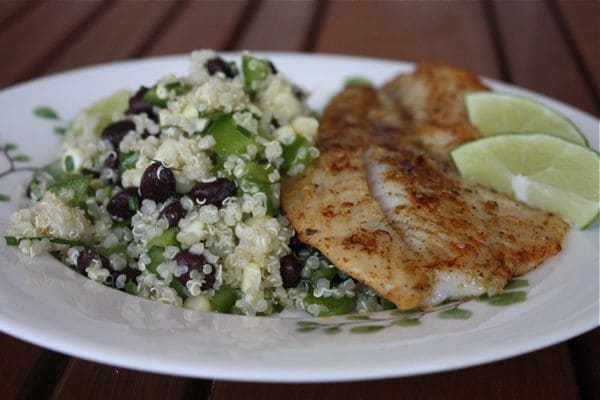 Have a great weekend! I'm nervously and reluctantly running my second half marathon Saturday morning and will happily be celebrating that night with some much needed pizza and wine!  Cheers!
Chili Rubbed Fish with Quinoa, Black Bean and Corn Salad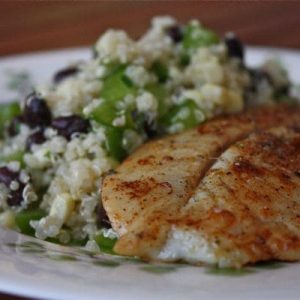 Ingredients:
1 – 1 ½ lbs flaky white fish (I used frozen barramundi, but tilapia, red snapper, or cod will work well)
1 ½ tsp chili powder
1 ½ tsp oregano
½ tsp cumin
4 tablespoons olive oil
salt and pepper
lime
Directions:
Combine chili powder, oregano, cumin, olive oil, salt and pepper in bowl. Pat dry each fish fillet and gently brush marinade on both sides.
Heat a nonstick skillet over medium high heat. Gently lay fish into skillet and let cook for about 4-5 minutes or until bottom of fish is white. Carefully flip over fish and continue to cook for another 3-4 minutes or until fish is translucent and flaky. Cooking time depends on thickness of fish so keep an eye on it and test for doneness.
Before taking fish out of pan, squeeze fresh lime juice over fillets. Serve with Quinoa, Black Bean and Corn salad.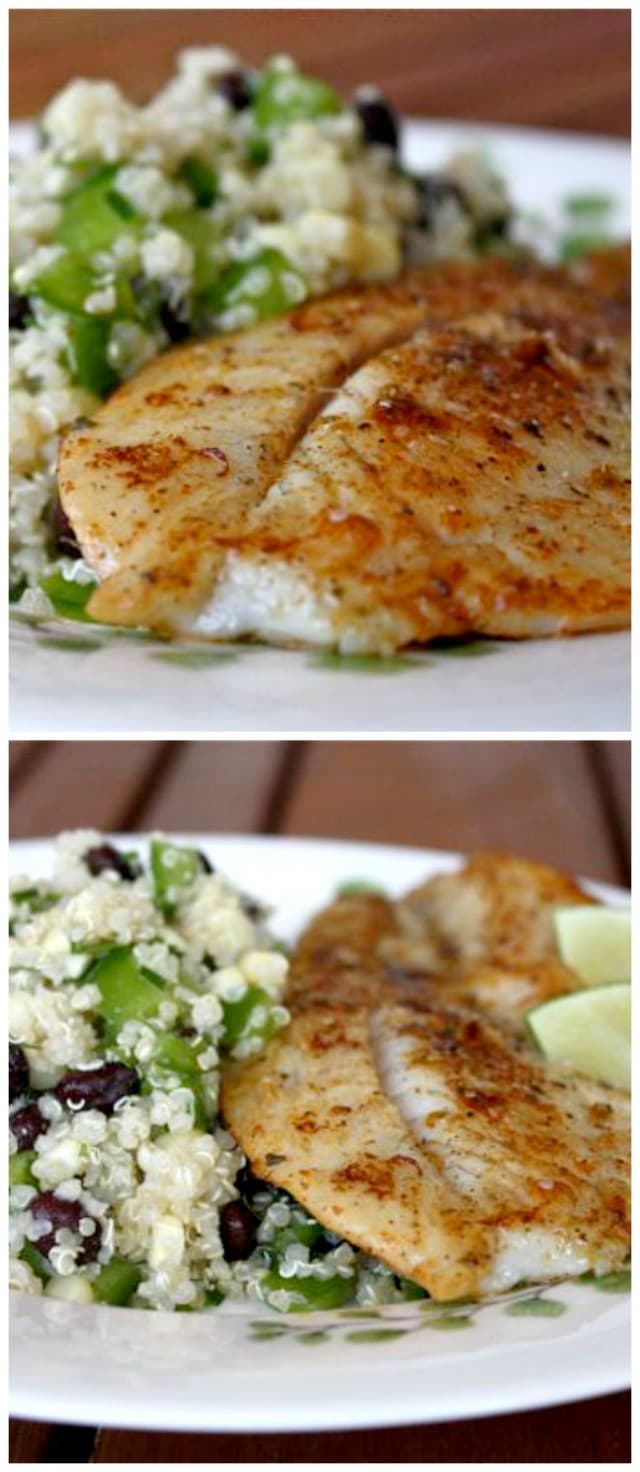 Are you following me on Instagram, Twitter, Facebook and Pinterest? If you'd like to subscribe to Aggie's Kitchen and have each post delivered straight to your e-mail box, then please add your email here. Happy cooking!
There are affiliate links in this post. I make small earnings through any purchases made through these links. Thank you for supporting Aggie's Kitchen!