Slow Cooker 3-Bean Pumpkin Chili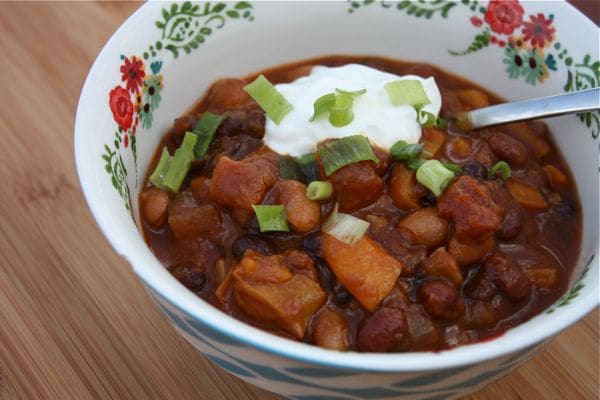 (yep…I chipped my favorite bowl. Boo.)
I don't know about you but I think I'm finally feeling normal again after eating like a little piggie last week over the holiday. It's hard to resist what's in front of you when you love food right? My problem isn't always the 'choices' that I make…it's how much of the choice (good or bad!) that I eat! Portion control has never been a strength of mine.
So this past Sunday, I declared this week to be 'clean eating week'. When I talk about clean eating, I'm not talking about any type of diet per se…I'm talking about how I like to eat, which is as whole, natural and nutritious as possible. Basically, lots of fruits and veggies, whole grains, beans, water, and fish (or other lean proteins). It's pretty straight forward really if you think about it, and nothing you haven't heard before. After a few days of filling yourself up on the good stuff (and watching your portions of course), your body should be happy again. And yes, I'm resisting my coveted nightly glass of red wine this week…sigh.
I made this chili in my slow cooker a couple of weeks ago and thankfully froze a few portions in tupperware. Soup and chili can be such saviors when you're really trying to watch what you eat. It's a cinch to put together and you can pretty much cram as many veggies as you can tolerate in one batch. I loved this chili made with pumpkin, it was different and what made it even better for me was the dollop of Greek yogurt (or sour cream) at the end. It gave it the perfect creamy texture and flavor. My husband wasn't such a fan of this chili, he couldn't get over the pumpkin factor…and he also insisted on skipping the essential dollop of cream at the end…oh well, more for me in the freezer!
Hope you are having a great week!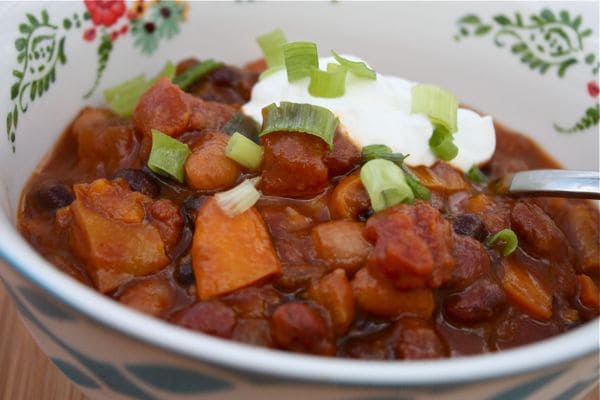 Slow Cooker 3-Bean Pumpkin Chili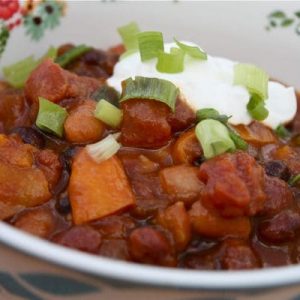 Ingredients:
3 garlic cloves, minced
2 teaspoons olive oil
1 large onion, chopped
1 – 2 sweet yellow or orange pepper, chopped
3 cups broth (vegetable or chicken)
3 cans beans of your choice (I used mayocoba, red and pinto beans, would be great with black beans), rinsed and drained
1 can pure pumpkin
1 can diced tomatoes, undrained
2 teaspoons chipotle chili powder
1 teaspoon cumin
1 teaspoon smoked paprika
2 teaspoons oregano
good pinch salt and pepper
Greek yogurt or sour cream, for serving
Directions:
Add garlic and olive oil to slow cooker and turn on high while you are chopping your vegetables. Add all ingredients to slow cooker and stir to combine. Place lid on tightly and cook for 4-5 hours or until heated through.
Taste for salt and pepper before serving.
Serve chili with a dollop of Greek yogurt or sour cream for a creamy finish…highly recommend it!
Follow Aggie's Kitchen's board Slow Cooker Goodness on Pinterest.
Are you following me on Instagram, Twitter, Facebook and Pinterest? If you'd like to subscribe to Aggie's Kitchen and have each post delivered straight to your e-mail box, then please add your email here. Happy cooking!
There are affiliate links in this post. I make small earnings through any purchases made through these links. Thank you for supporting Aggie's Kitchen!