Hot and Cheesy Black-Eyed Pea Dip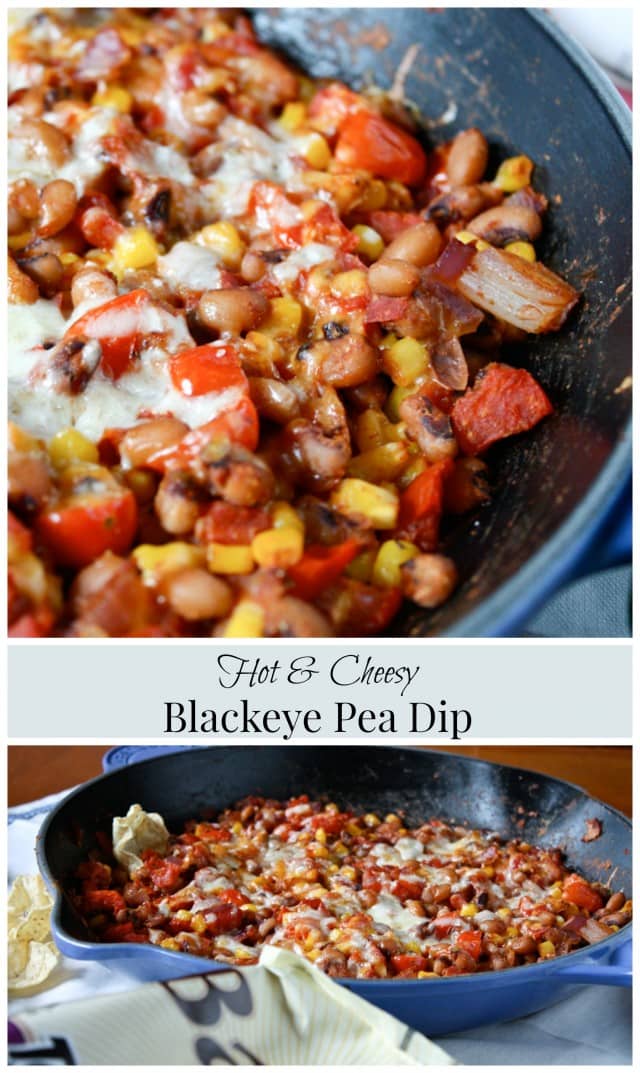 Saturday nights in our household usually work like this.
Everyone: We're hungry. What's for dinner?
Me: I don't know.
Silence.
This is where I have to make that decision of whether or not we call out for pizza (which we probably had the night before, we love our Friday night pizza) or pull out some magic in the kitchen. Our Saturday nights during the last few months have usually been in front of the television watching college football…(we won't talk about our sad Gator season, thank you very much)…so Saturday night food feels like it needs to be 'snacky' if you know what I mean.
My kids aren't at the point of eating this black-eyed pea dip yet, so don't be all impressed. They would get a toasted cheese pita or tortilla in this situation. Saturday nights are about survival people. And a good dip with a couple of good beers too.
I came across a hot bean dip recipe from one of my favorite healthy food blogs not long ago, and wanted to make it pretty much immediately. The problem was, I didn't have the can of black beans the recipe called for. My bean stash was actually very low that day (which is not normal for me!), but I did have a lonely can of black-eyed peas in the pantry. Because beans are so versatile, I knew it would be delicious in a hot dip like this one. And I was right. We gobbled this dip right up while watching football…and served with baked tortilla chips made it that much more guilt free.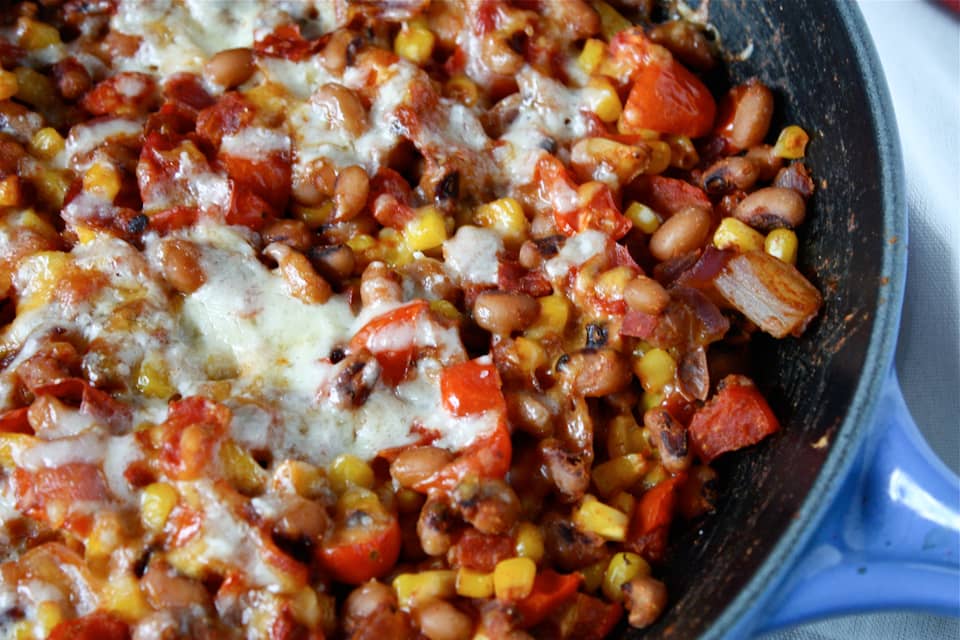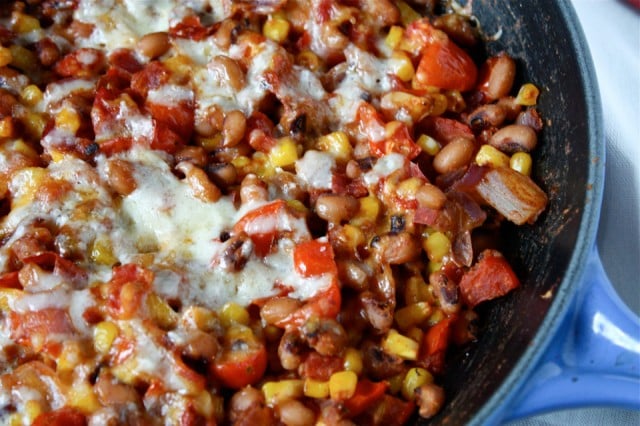 Hot and Cheesy Blackeye Pea Dip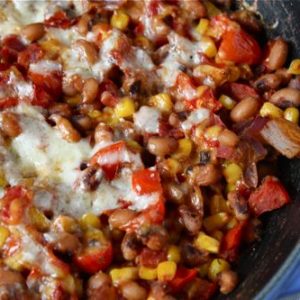 Ingredients:
1 tablespoon olive oil
3 garlic cloves, minced
1 large red onion, chopped
1 large tomato, chopped
1/2 cup frozen corn kernels, defrosted
1 teaspoon dried oregano
1 teaspoon ground cumin
1/2 teaspoon smoked paprika
1/2 teaspoon chili powder
1 15 oz can Bush's blackeye peas, rinsed and drained
big pinch salt and fresh ground pepper to taste
3/4 cup monterey jack cheese, shredded
Directions:
Preheat oven to 375 degrees.
In a large oven-safe skillet* (see note below), heat oil and add garlic and onion. Saute for a couple minutes until soft and fragrant. Add corn, tomatoes, oregano, cumin, smoked paprika and chili powder into skillet and cook for 2-3 minutes until tomatoes are slightly softened. Add blackeye peas and gently combine with other ingredients in pan. Add salt and pepper to taste.
Top with shredded monterey jack cheese and place in heated oven. Bake until cheese is melted and bubbly, about 10-15 minutes.
Serve hot with baked tortilla chips.
*If you do not have an oven-safe skillet or prefer not to use this method, saute all ingredients (except cheese) in a skillet first, then transfer to a baking dish, top with cheese and bake.
Are you following me on Instagram, Twitter, Facebook and Pinterest? If you'd like to subscribe to Aggie's Kitchen and have each post delivered straight to your e-mail box, then please add your email here. Happy cooking!
There are affiliate links in this post. I make small earnings through any purchases made through these links. Thank you for supporting Aggie's Kitchen!