Adventures in NYC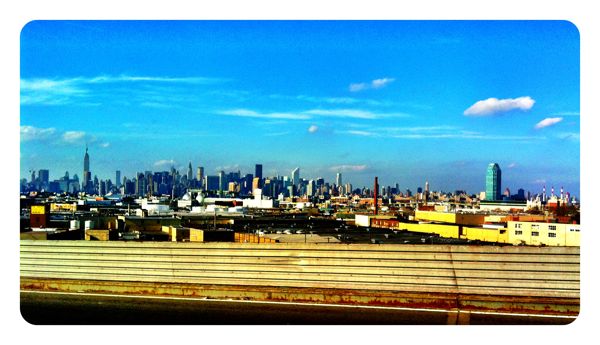 I was in NYC this weekend. I haven't been to NY since I was 18 years old, which is just crazy to me. I grew up in Mount Vernon (NY) and moved to Florida when I was 10 so the minute our cab hit the road and I started seeing the old brick buildings, the big bare oak trees that lined the streets, the bridges and the grafitti I instantly became nostalgic for my childhood. I did not expect to be hit with that feeling at all…it's been years!! But everything seemed so familiar…the vibe, the scenery, nothing seemed to have changed. I wasn't even near the part of town I grew up in, but it was there, the unmistakable NY state of mind I guess they call it.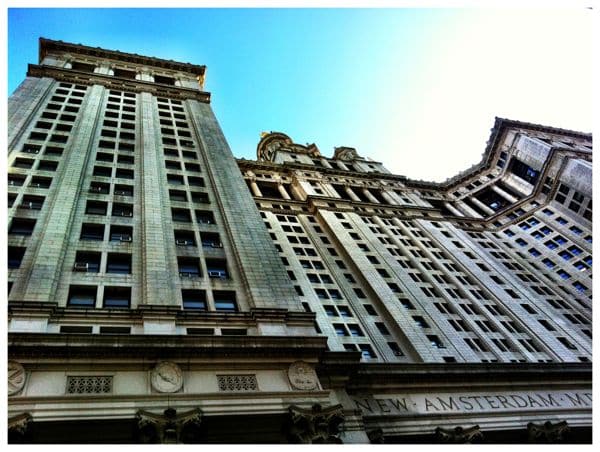 Let me tell you, NY and FL could not be any more different. I didn't realize how slow and laid back I was until this weekend. I missed my flip flops and I missed grass. And one of the first things I noticed when I got back into town last night was the moon…I could see the moon. I don't know if it was the tall buildings or being afraid of stopping in the street to actually look up at the sky, but I don't recall seeing the moon at all this weekend. Living in the city is so different… it's exciting, I love the culture, the food, and being able to walk and walk and walk instead of driving. But let's face it, there's no place like home. And the Sunshine State is my home.
We were in NY for my husband's company holiday party (they are based up there). We traveled with his team which just happen to be a group of our closest friends. We ate, drank and laughed our hearts out (picture a group of 20 clueless people trying to figure out the subway, oof!). We had some serious grown up fun, people. And gosh…can I just tell you, the food…the food rocked my world.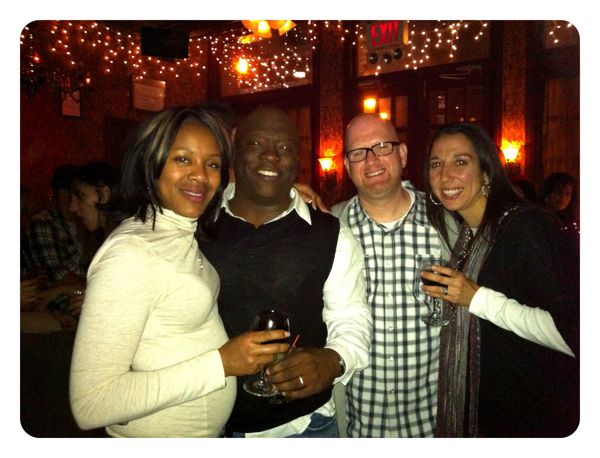 I think I was in city shock the first two days I was there, because I honestly forgot to take pictures of any food. It wasn't until the last meal that I finally pulled out the camera (on my phone) and snapped away. It happened to be my favorite meal too, so it worked out pretty good.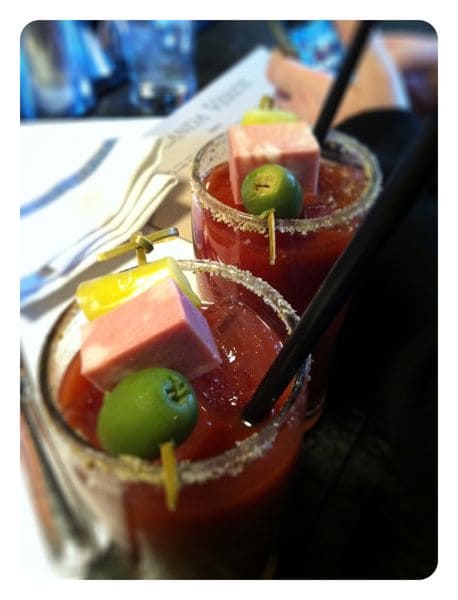 Gail recommended I try this place in TriBeca near where we were staying…for brunch. So Sunday morning, we walked a few blocks coffee in hand to Laconda Verde. It was busy but we found a couple spots at the bar. We ordered Bloodies and the ricotta plate that reviews (and Gail) raved about.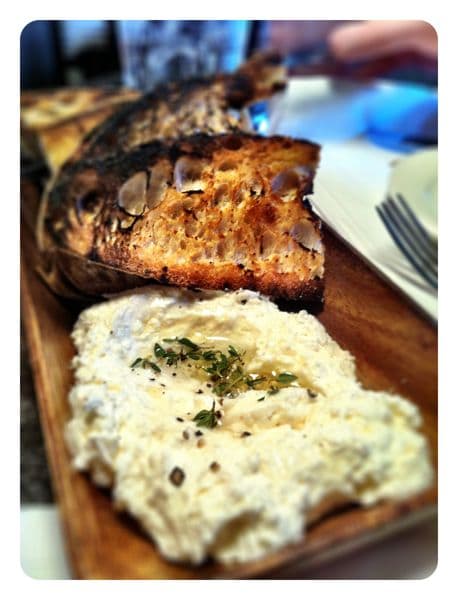 Straight from the menu… Sheep's Milk Ricotta with truffle honey and burnt orange toast.
Goodness gracious…I will dream about this until I can have it again.
My husband enjoyed a lamb sausage sandwich with peperonata, broccoli rabe and ricotta on some of the softest, freshest bread I've ever tasted.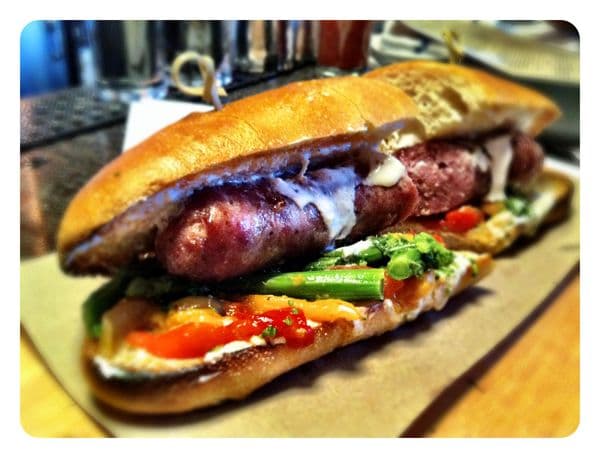 I went with a baked eggs dish…eggs baked with corona beans, tuscan kale and mozzarella. This was to die for and I am determined to recreate it here at home one day soon. I used some of that leftover crusty bread from the ricotta dish to scoop up the runny egg and friends. Oh my heaven…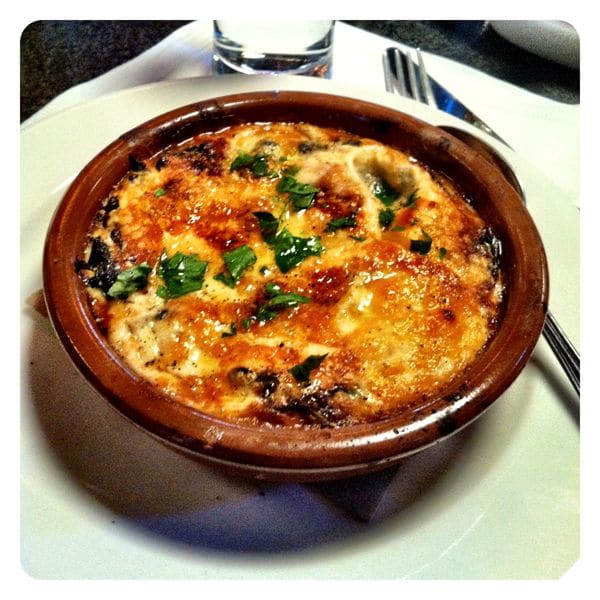 I swear, I am hungry all over again looking at these pictures.
We ate at a few other places, all great.
Brunch at Market Table – Larry and I both had the crispy skate sandwich that was out of this world. I loved the menu and atmosphere. Casual, homy and lots of windows, tucked away on a side street.
Dinner at Dos Caminos – fish tacos, awesome salsas and guac and a seasonal sangria that I really really enjoyed. Great bar downstairs with comfy couches and music for a few more drinks if you are so inclined.
Saturday night dinner at Trattoria Cinque – Two people in our group described this place as 'sexy'. Large group dinner here, very comfy and accommodating, great atmosphere and bar area for before dinner drinks. The pear, gorgonzola and truffle oil pizza was amazing as well as the homemade pappardele with oxtail.
We also ate at what we called a 'disco diner' late Friday night…best egg sandwich and fries ever and I kid you not…there was a dj in the dining room. We flagged down and literally hopped into a stretch hummer limo right after that meal for a ride home…since no cabs would stop for us and apparently that's just how we roll.
I told you, we had fun. (we even woke up to random SantaCon outside our hotel and all over the city Saturday…too bad we weren't prepared for it…cracking me up)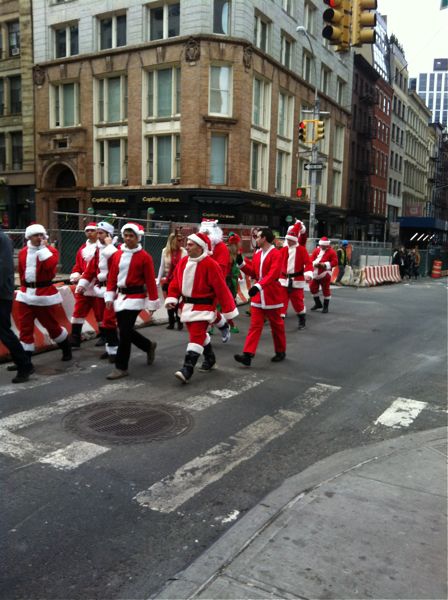 I know it sounds like all we did was eat and party, but I swear, we took in some sights and even a show…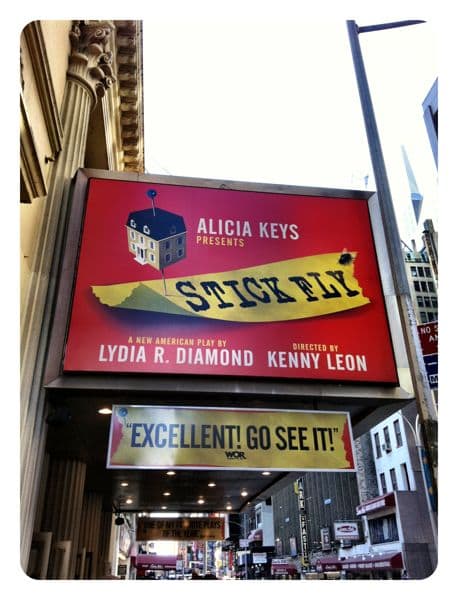 Great show!!! Even met with the actors after the show for some autographs, pictures and happy holiday exchanges…
Dule Hill (formerly of West Wing and on a show called Psych I think)…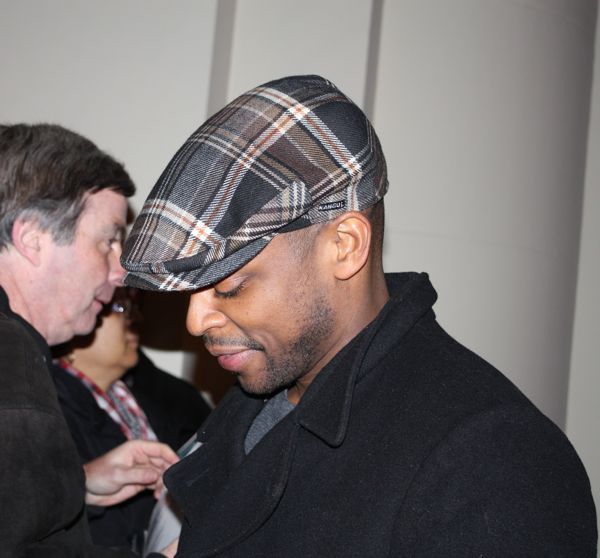 Mekhi Pfifer…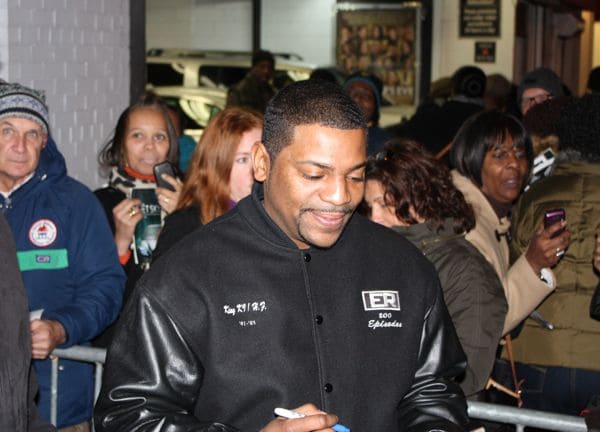 and this guy…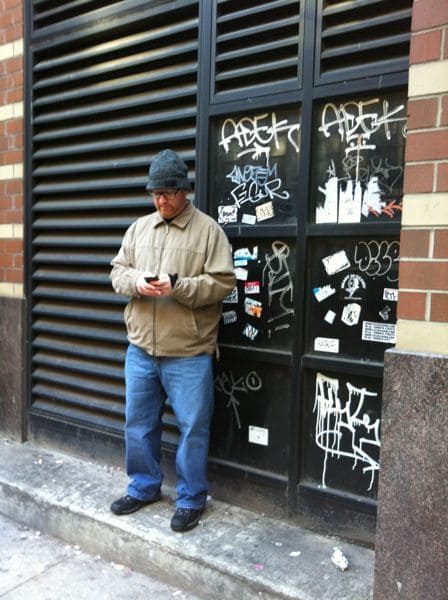 oh wait…that's my husband. 🙂
So glad to be back home and in my kitchen. Time to start working off the effects of the weekend…and get ready for holiday cooking and baking!
Are you following me on Instagram, Twitter, Facebook and Pinterest? If you'd like to subscribe to Aggie's Kitchen and have each post delivered straight to your e-mail box, then please add your email here. Happy cooking!
There are affiliate links in this post. I make small earnings through any purchases made through these links. Thank you for supporting Aggie's Kitchen!