Italian Tuna and White Bean Farro Salad
Whole grain salads like this Italian Tuna and White Bean Farro Salad are hearty, healthy and delicious – makes a great light lunch or dinner!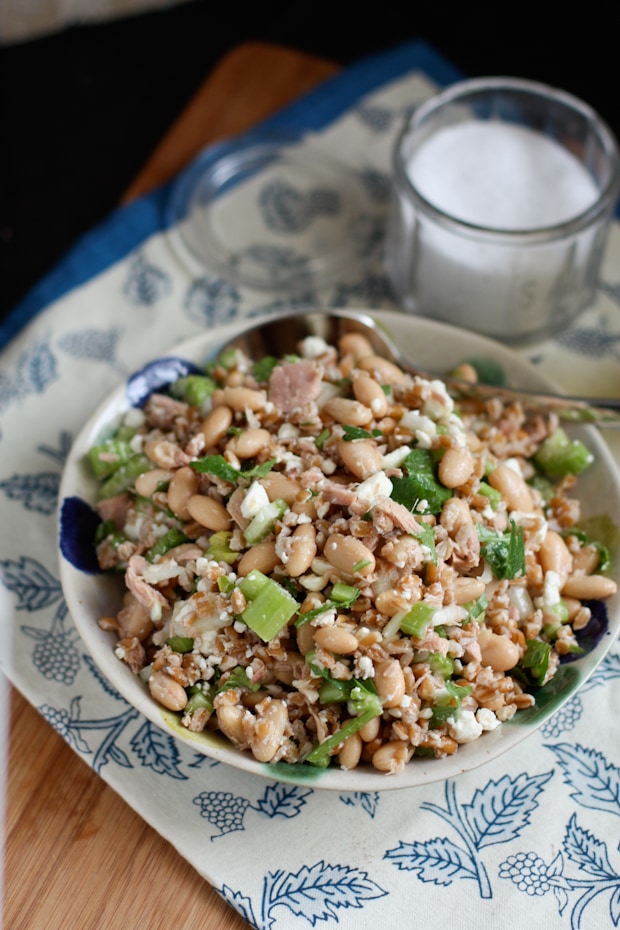 So much goodness in this salad. SO MUCH GOODNESS. I ate it for lunch 4 days in a row last week, that's how much I loved it. I'll be honest by the fourth day I was a little over it so I mixed in some romaine and a little ceasar dressing and wow, that might be another recipe/post for another day.

Have you tried farro? It seems to be becoming pretty trendy in recipes I'm noticing…could farro become the new quinoa? I don't know…quinoa is pretty much all over the place these days. Personally, I really like farro (check out my Garden Farro Salad recipe and this Summer Tabouli with Farro recipe I've made before). It has a chewy, nutty texture and is a great grain to serve on it's own or mixed in with other ingredients into a salad like this Italian Tuna and White Bean Farro Salad.
This farro salad is great to pack in your lunchbox or eat for lunches at home throughout the week like I did. Because farro is such a hearty grain, it holds up well and fills you up with good carbs, protein and fiber. The tuna, beans, celery and feta add even more nutrition and flavor. This is definitely healthy, good-for-you eatin'!
(I think it would be kind of nice to serve for a group along with a variety of salads at a lunchtime gathering too.)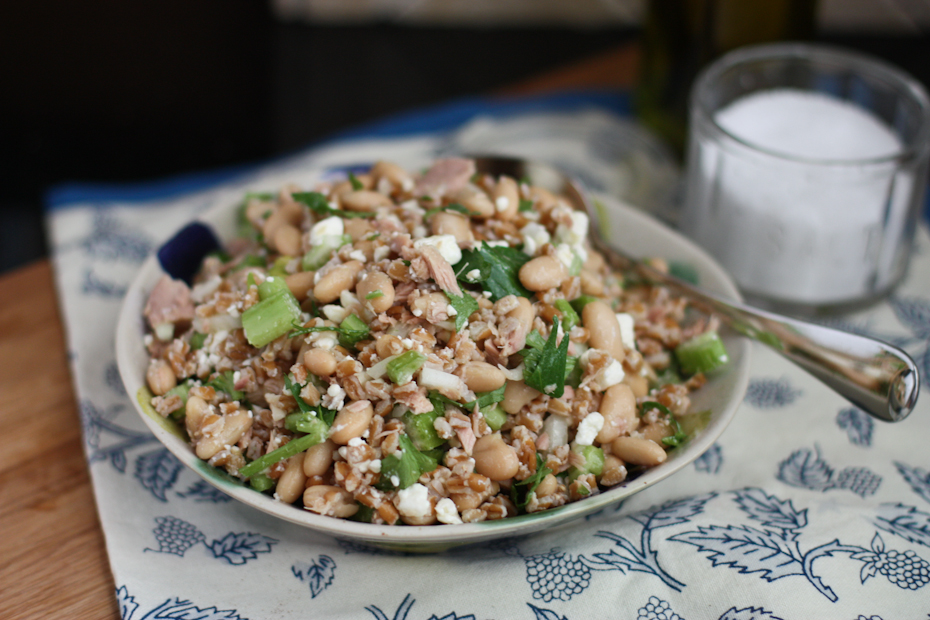 Here is a great blog post on how to cook farro – it explains 3 different methods and a little background on this tasty little grain (I found this post to be really informative!).
Farro might be a challenge to find in your regular grocery store but I do find it there sometimes. I've also seen it at Costco, The Fresh Market and my local health food store. You can also order it on Amazon.
Hope everyone is having a great week! In case you missed it, don't forget to enter my giveaway for The Skinnytaste Cookbook, ends Monday, October 3.
Italian Tuna and White Bean Farro Salad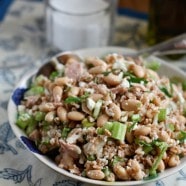 Ingredients:
1 cup cooked farro
1 can tuna in olive oil, drained
1/3 cup crumbled feta cheese
1 can Bush's Cannelinni Beans, drained and rinsed
2 celery stalks with leaves, chopped
1/2 onion, chopped
1 tablespoon dried oregano
2 tablespoons olive oil
pinch coarse salt and fresh ground pepper to taste
juice of 1 lemon
Directions:
Combine all ingredients into a large bowl. Gently stir to combine. Taste for salt and pepper and adjust to taste. Serve chilled.
Love whole grain salads like I do? Check out these 12 Healthy Whole Grain Salad Recipes including farro, quinoa, wheat berries and brown rice!
More recipes using farro:
Black Beans with Farro and Avocado
Easy Farro Salad with Goat Cheese and Cranberries
Farro with Chicken Sausage, Tomatoes and Arugula
Farro Greek Salad with Feta and Dill
Cheesy Chicken Enchilada Farro Bake
Follow Aggie's Kitchen's board Salads on Pinterest.
Are you following me on Instagram, Twitter, Facebook and Pinterest? If you'd like to subscribe to Aggie's Kitchen and have each post delivered straight to your e-mail box, then please add your email here. Happy cooking!
There are affiliate links in this post. I make small earnings through any purchases made through these links. Thank you for supporting Aggie's Kitchen!
13 Responses to "Italian Tuna and White Bean Farro Salad"
Leave a Comment