Stuffed Acorn Squash
Fall has finally arrived in Florida!  We have been enjoying "cooler" temps the past few days…let's just say it's sunny and in the 70s.  Tomorrow might be the last day of paradise for a while though…the forecast shows 80s the rest of the week.  I wish I could bottle up this weather and keep it around a lot longer…
So with fall, comes a whole new bunch of fun stuff to eat.  I'm seeing a ton of pumpkin recipes all over the web, I'm dying to make pumpkin something.  And then there are all those pretty squashes that are in the stores now…one of which the acorn squash.  I have always just admired these guys from a distance…I think I bought one last year and tried roasting it, but apparently it wasn't memorable.  The other day an acorn squash recipe caught my eye on Itzy's Kitchen.  I saw how she served one just roasted, and then another delicious looking one stuffed with all kinds of yummy things. She even baked up the seeds for an awesome snack!  So I decided to give acorn squash another try…and I must say it was a success!
I'm making another version of it tonight….more of a vegetarian mishmosh of a stuffing, with jarred vodka tomato sauce.  Weird combination, yes I know, but I'm playing "use it up" and I think it will be delicious!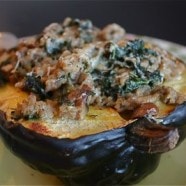 Ingredients:
2 acorn squash
1 lb ground turkey
2 tsp poultry seasoning
1 - 2 tsp garlic powder
salt and pepper, to taste
2 tsp whole fennel seed
1 container of whole mushrooms, chopped
1 medium onion, chopped
1 bunch of kale, chopped
1/2 cup beef broth
1/2 cup panko
Parmesan cheese, freshly grated
Directions:
Take acorn squash and carefully cut into even halves. Sprinkle salt and pepper into each half and place in 400 degree oven. Cook for approximately 1 hour.
In a large non stick skillet, heat 1 tsp oil and add chopped onions and mushrooms. Cook until soften, then add ground turkey. Cook and crumble for about 10 minutes, add seasonings and stir.  Cook ground turkey until browned, add chopped kale. Continue to cook for another 10 minutes or so, add beef broth and panko and bring down to a simmer. Cook slowly until all of broth is absorbed. Set aside.
Spoon turkey mixture into each acorn squash half. Top with freshly grated Parmesan cheese and place under broiler for about 5-8 minutes, until cheese is browned.
Jump on over to Test Kitchen Secrets (Cooking Light's own blog) and read about this month's Virtual Supper Club…if you are a food blogger and have your own Cooking Light "Cooking With Wine" recipe to share post a comment on this post and include a link to the recipe!  Next month's theme is Tapas, Appetizers and Small Plates so stay tuned!
Are you following me on Instagram, Twitter, Facebook and Pinterest? If you'd like to subscribe to Aggie's Kitchen and have each post delivered straight to your e-mail box, then please add your email here. Happy cooking!
There are affiliate links in this post. I make small earnings through any purchases made through these links. Thank you for supporting Aggie's Kitchen!
27 Responses to "Stuffed Acorn Squash"
Trackbacks/Pingbacks

Leave a Comment