Artichoke Stuffed Mushrooms
Stuffed Mushrooms are always a favorite when entertaining. These Artichoke Stuffed Mushrooms have a creamy, cheesy filling and are easy to put together for your holiday table.
This post is created with America's Dairy Farm Families and Importers, in partnership with the Innovation Center for U.S. Dairy. However, the views and opinions included are my own.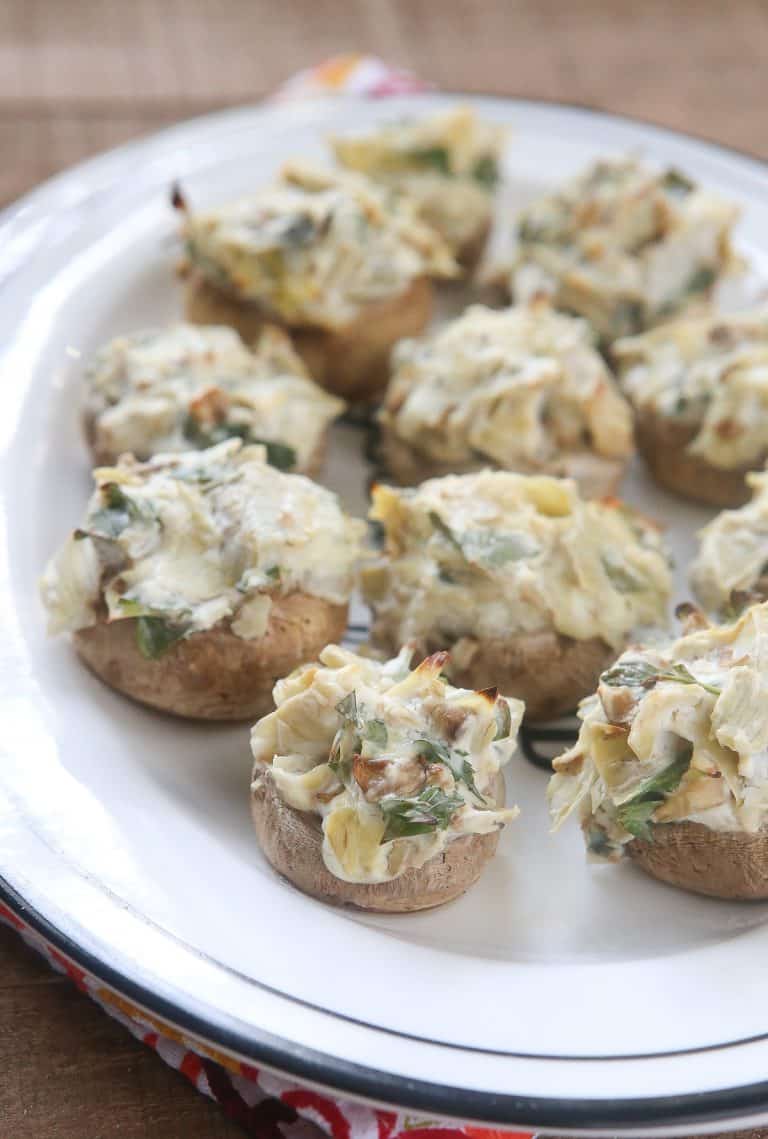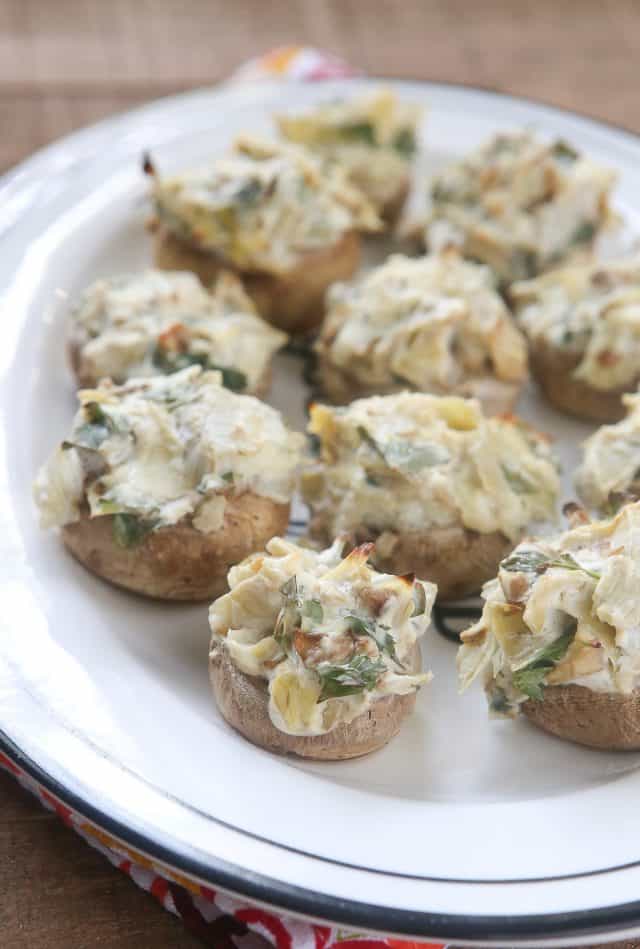 With the holidays and holiday entertaining in full swing, appetizer recipes are in high demand right now. My favorite type of get together during the holiday is one that is laid back and full of finger foods and cocktails.
If you are a mushroom lover like I am, then you probably get excited when you see a plate of stuffed mushrooms included in the spread at a party. Not only do I love eating stuffed mushrooms, but I enjoy coming up with new ideas for fillings every time I make them. For these Artichoke Stuffed Mushrooms, I kept it simple and used artichokes along with cream cheese and Parmesan cheese. Each bite is filled with cheesy goodness!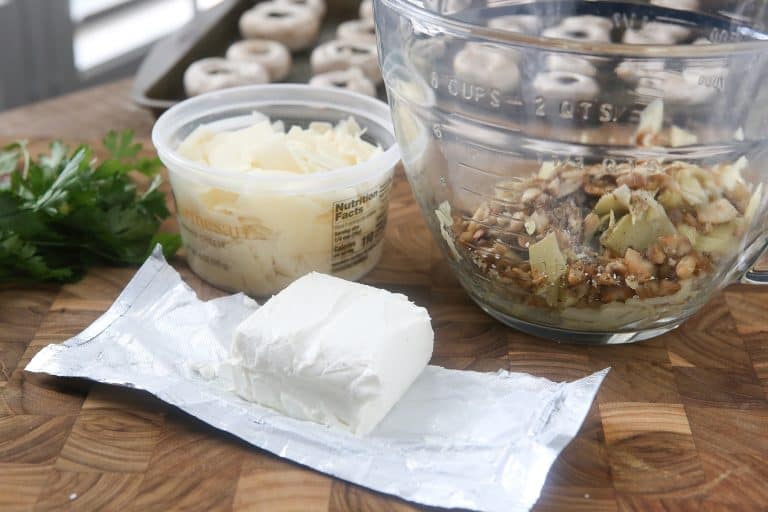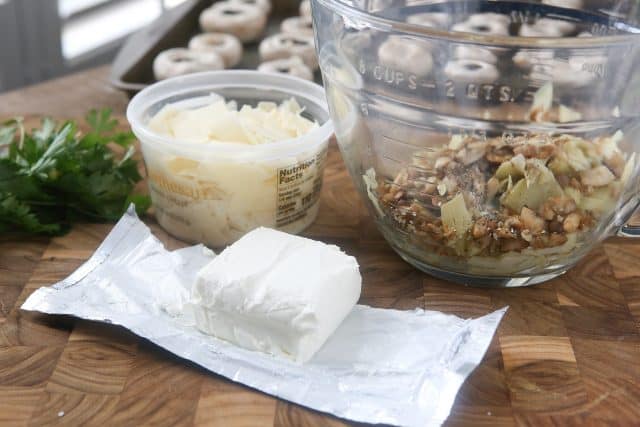 To keep the mushroom filling creamy and cheesy but still on the lighter side I like to use lower fat cream cheese along with a little Greek yogurt and Parmesan cheese. I love adding Parmesan cheese to the filling because of its distinct flavor and a little always goes a long way. To bulk up the filling (and cut back on food waste), I always add the stems of the mushrooms finely chopped and sautéed with a little garlic. These Artichoke Stuffed Mushrooms are so rich in flavor but such a great way to round out a highly indulgent holiday menu. Bonus: they are vegetarian too!
If you are in a crunch for time, make the filling ahead and store in a container in the fridge until you are ready to fill and bake your mushrooms. The recipe can easily be doubled if you are feeding a larger crowd.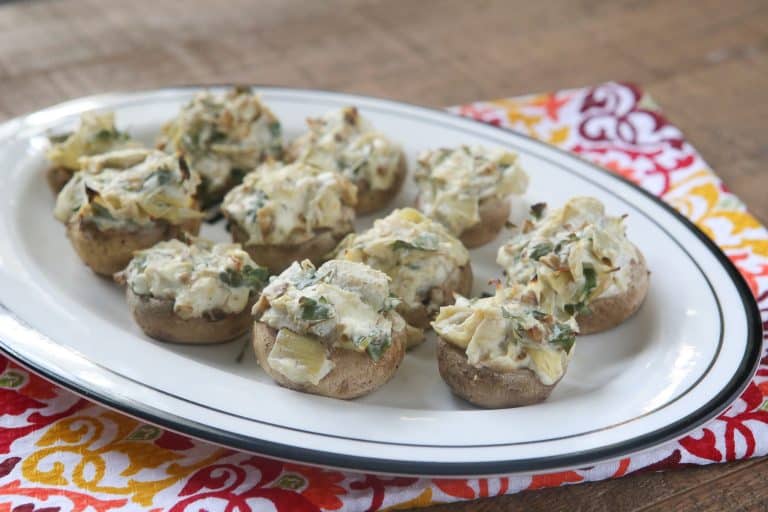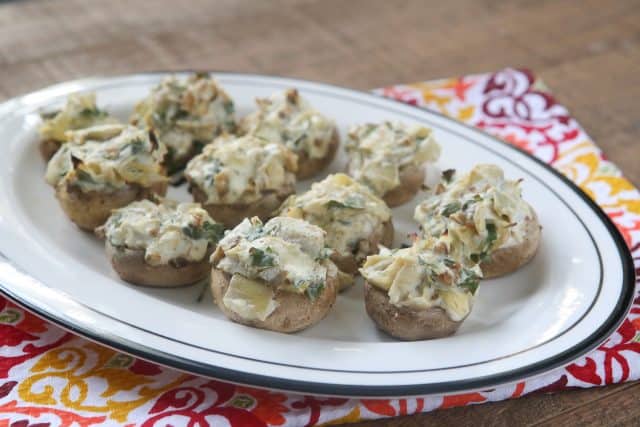 Dairy ingredients like cream cheese, Greek yogurt and cheese are staples in my kitchen and make it so easy for me to create dishes my family loves. Since my recent visits to a local dairy farm and a dairy farm in Rhode Island, I always think of the hardworking farmers and their families when I'm using dairy in recipes. Their dedication to the care of their cows and their family business is like none other, always providing a fresh product that typically only travels up to 300 miles to our grocery stores. That means most of the dairy you have in your fridge is not only delicious, but local and fresh. You really can't beat that!
If you are interested in where your dairy comes from, please visit UndeniablyDairy.org to learn more.
Artichoke Stuffed Mushrooms
Yield: Makes approximately 20-22 mushrooms

Prep Time:15 minutes

Cook Time:15 minutes

Total Time:30 minutes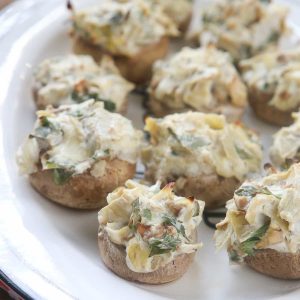 Ingredients:
16 oz whole mushrooms, stems removed and finely chopped
1 teaspoon olive oil
1 garlic cloves, minced
14 oz can quartered artichoke hearts, finely chopped
1/2 cup panko
4 oz low fat cream cheese
2 tablespoons Greek yogurt
1/4 cup chopped fresh parsley
1/4 cup shaved Parmesan cheese
coarse salt and fresh ground pepper, to taste
Directions:
Preheat oven to 375 degrees.
Line up whole mushroom caps on large cookie sheet. Season mushroom caps with salt and pepper.
In a medium nonstick skillet, add 1 teaspoon olive oil over medium heat. Finely chop mushroom stems and add to skillet. Add minced garlic. Season with salt and pepper and sauté 5-7 minutes until soft. Set aside and let cool.
In a large mixing bowl, combine chopped artichoke hearts, cooked mushroom stems, parsley, panko, cream cheese, Greek yogurt and Parmesan cheese. Season with salt and pepper. Mix well.
Using a teaspoon (with the help of your fingers), take a portion of your filling and carefully stuff each mushroom cap. Place into oven and cook for 15 - 17 minutes or until golden brown.
More recipes using delicious dairy for you to try:
Greek Yogurt Parfaits with Pears and Walnuts
Slow Cooker Creamy Chicken and Wild Rice Soup
Sour Cream & Chive Mashed Potatoes | Joyful Healthy Eats
Slow Cooker Chicken Enchilada Soup | The Lemon Bowl
Are you following me on Instagram, Twitter, Facebook and Pinterest? If you'd like to subscribe to Aggie's Kitchen and have each post delivered straight to your e-mail box, then please add your email here. Happy cooking!
There are affiliate links in this post. I make small earnings through any purchases made through these links. Thank you for supporting Aggie's Kitchen!