Layered Taco Dip + a tour of Milk-A-Way Dairy
This Layered Taco Dip was inspired by my recent visit to Milk-A-Way Dairy in Webster, FL. It's full of all the ingredients that we love in our tacos, but in dip form. Great to serve while entertaining family and friends!
This post was created with America's Dairy Farm Families and Importers, in partnership with the Innovation Center for U.S. Dairy. However, the views and opinions included are my own.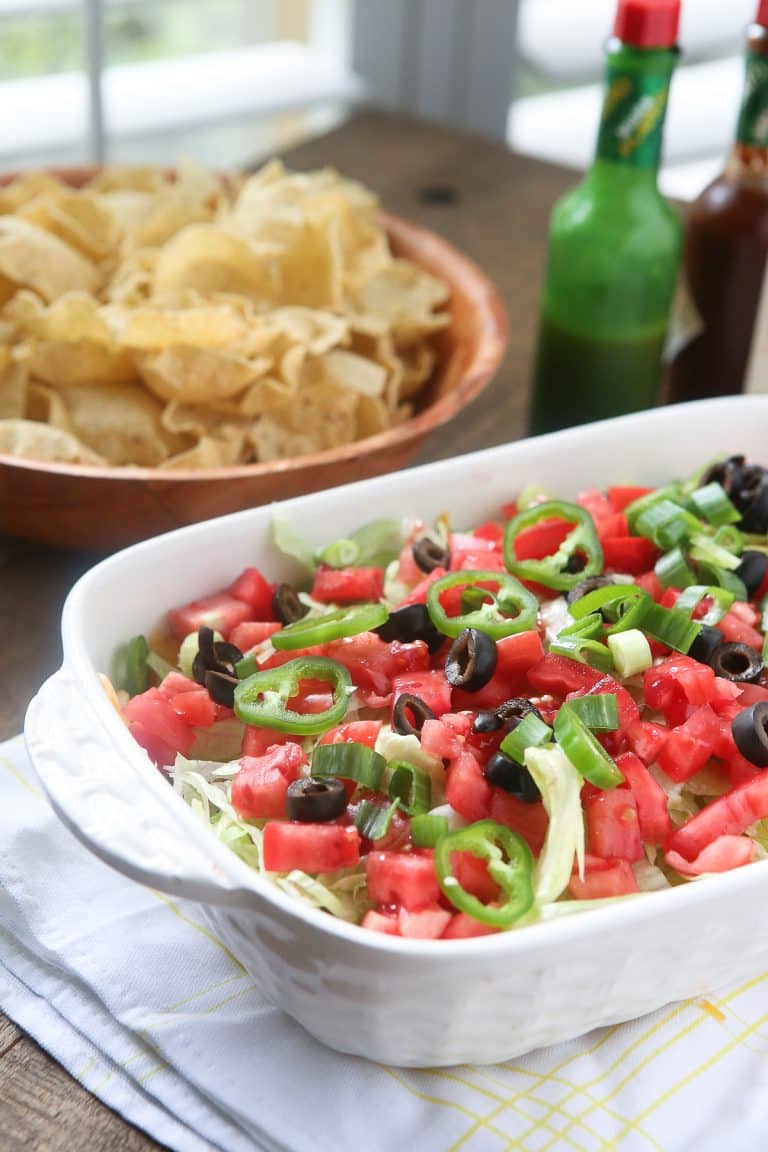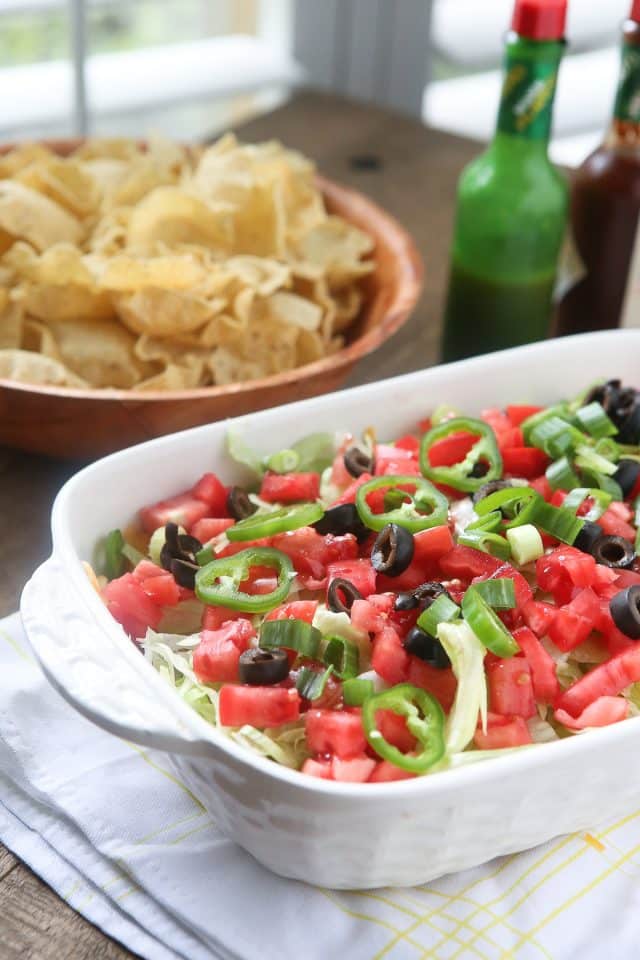 A few weeks ago I spent a morning at Milk-A-Way Dairy, a dairy farm just a couple hours from my house. In just a few hours I had such an eye opening and educational experience, learning so much about dairy farming, the families and people behind it and the cows themselves.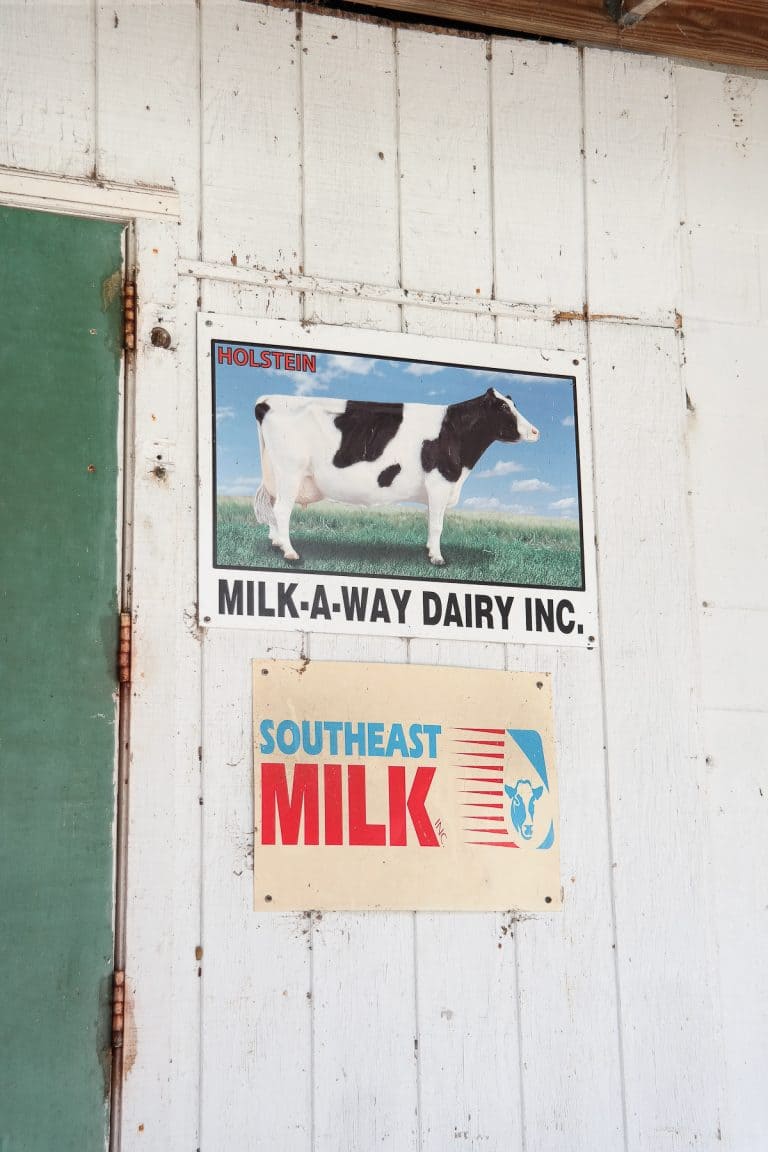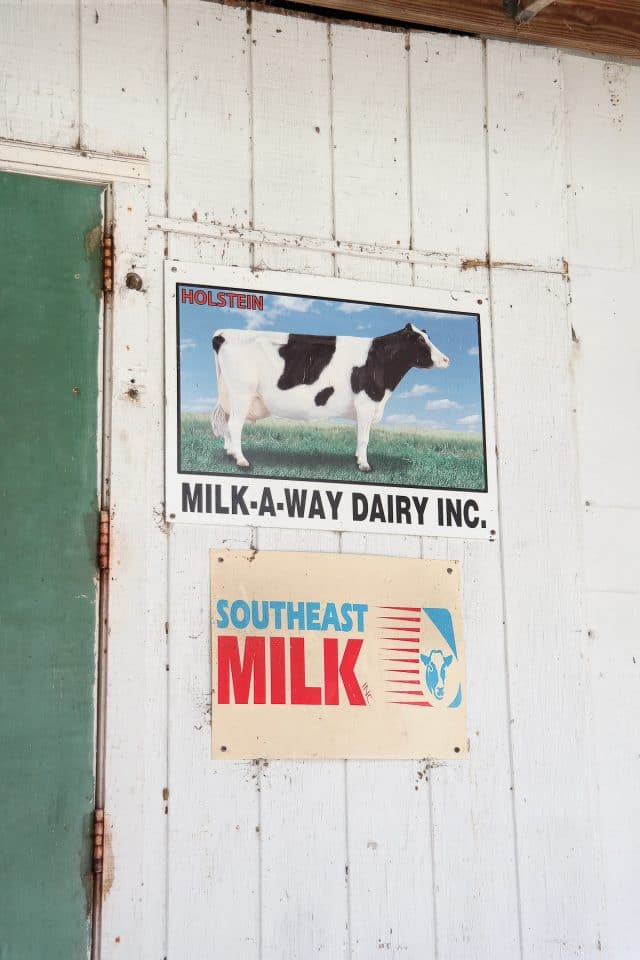 The Farm and The Farmer
I had the pleasure of meeting Johan Heijkoop, who along with his partner Gary Keyes, owns and runs the farm with his wife Trisha and their 4 children. Both Johan and Trisha grew up in families that had cows and ran dairy farms so dairy farming is in their roots and something they have an incredible passion and knowledge for which is obvious in the operation of their family farm. Johan took time to show us the farm, the parlor and the cows all while explaining the entire farm-to-table process of how we get our milk. Because most people live within 100 miles of a dairy, the milk from Milk-A-Way Dairy is most likely the milk that my family is drinking at home. I just loved learning that.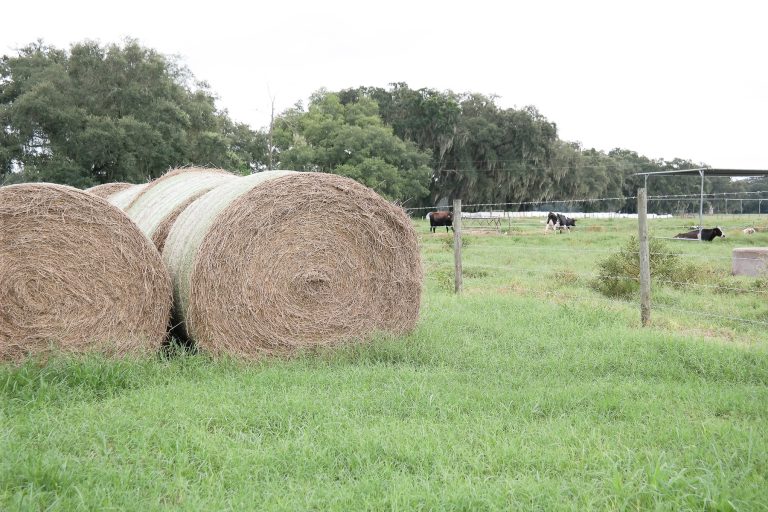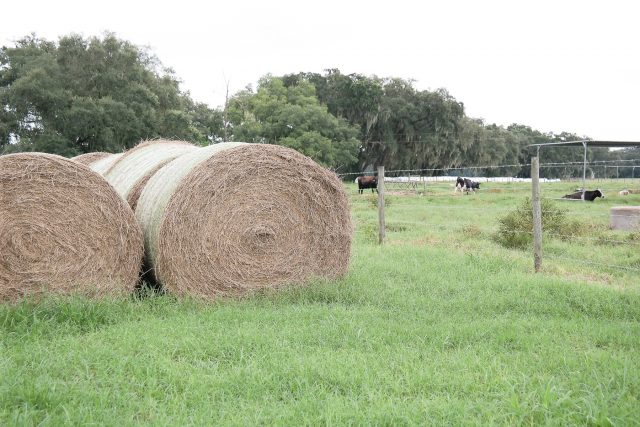 Milk-A-Way Dairy is located in the small town of Webster, Florida. Fun fact: both Johan and his wife Trish went to University of Florida, the same college I attended. Coincidentally Johan and I both graduated from UF the same year, just a few months apart. Meeting fellow Gators always creates such an instant bond.
One thing I noticed right away is that dairy farms are run very efficiently. There are around 700 cows on the farm at Milk-A-Way and I was told that it is one of the smaller farms in the state of Florida. Everyone on the farm has a role and a responsibility in caring for the cows and the farm. The cows roam on the farm, and are led into a parlor twice a day to be milked and fed. While roaming, they are provided with shade, water and hay to keep them comfortable, especially in the Florida elements. Cows are very curious animals and were interested in us being there. So many were turning their heads to look at us and walking over to see what we were doing. I learned that cows are also creatures of habit – they like their routine and know it very well. We saw one cow kind of pushing it's way through the line to get in her spot – cows know their routine so well that they know their place in line to be milked and fed and this cow was not going to miss her feeding time.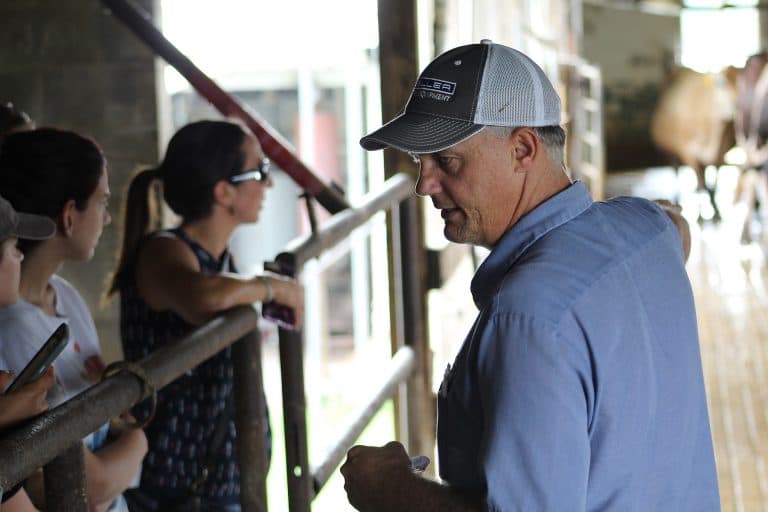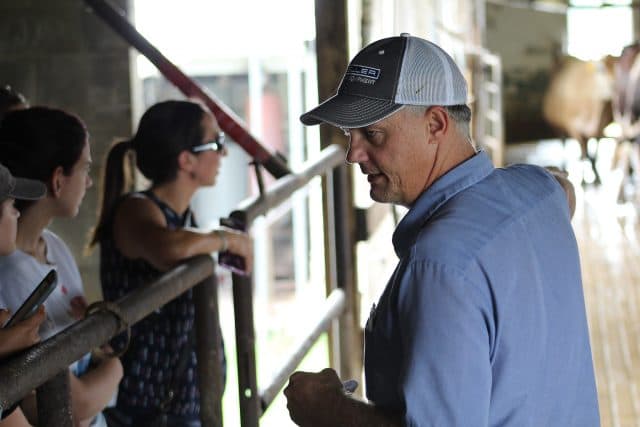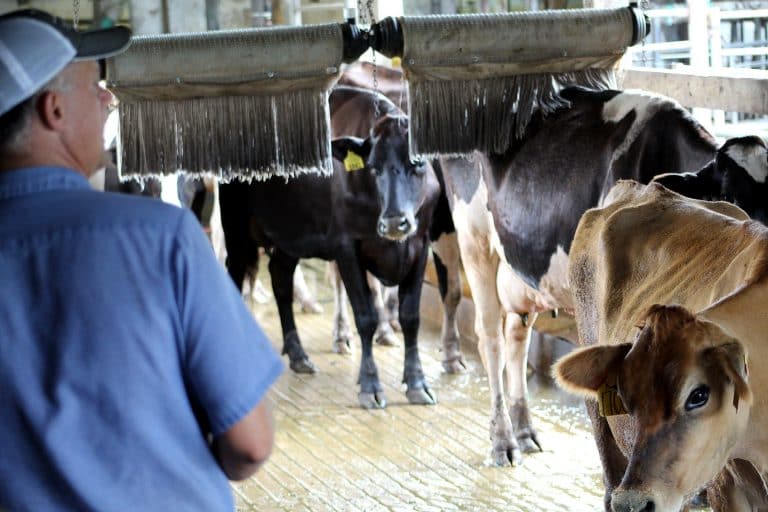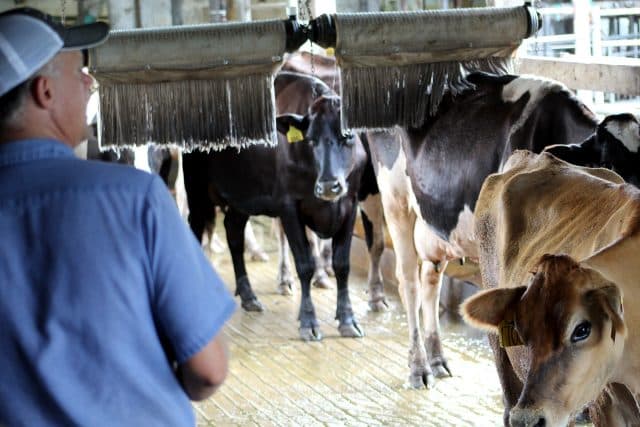 (Above two photos, Photo credit: Brian Chapman, Florida Dairy Farmers)
The parlor is equipped with fans and water stations for the cows. For a typical day in August, I was pleasantly surprised how comfortable the temperature in the parlor was.
 The Cows and Cow Care

Photo Credit: Brian Chapman, Florida Dairy Farmers
Seeing and watching the cows in their element made my day. They are seriously too cute and so fun to watch. There are a few different breeds of cows at Milk-A-Way: Holstein (shown above), Jersey and Guernsey. Holsteins are the most common breed in Florida and probably the most recognized (those black and white spots!). They also can get up to 1,400 pounds or larger. The Jersey cows are on the small side and have a soft, brown color and the sweetest eyes. Their milk has the most butter fat and is mostly used in creamier dairy products like cheese.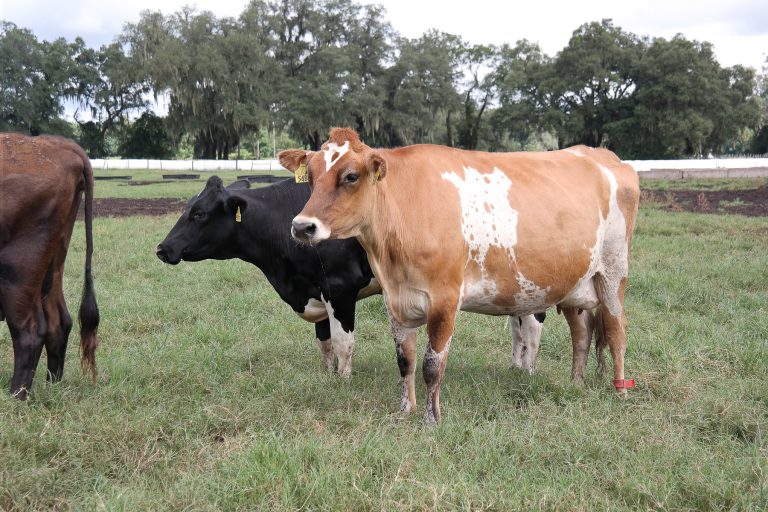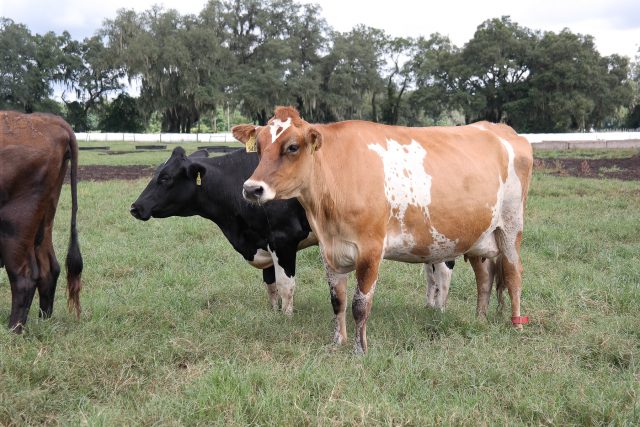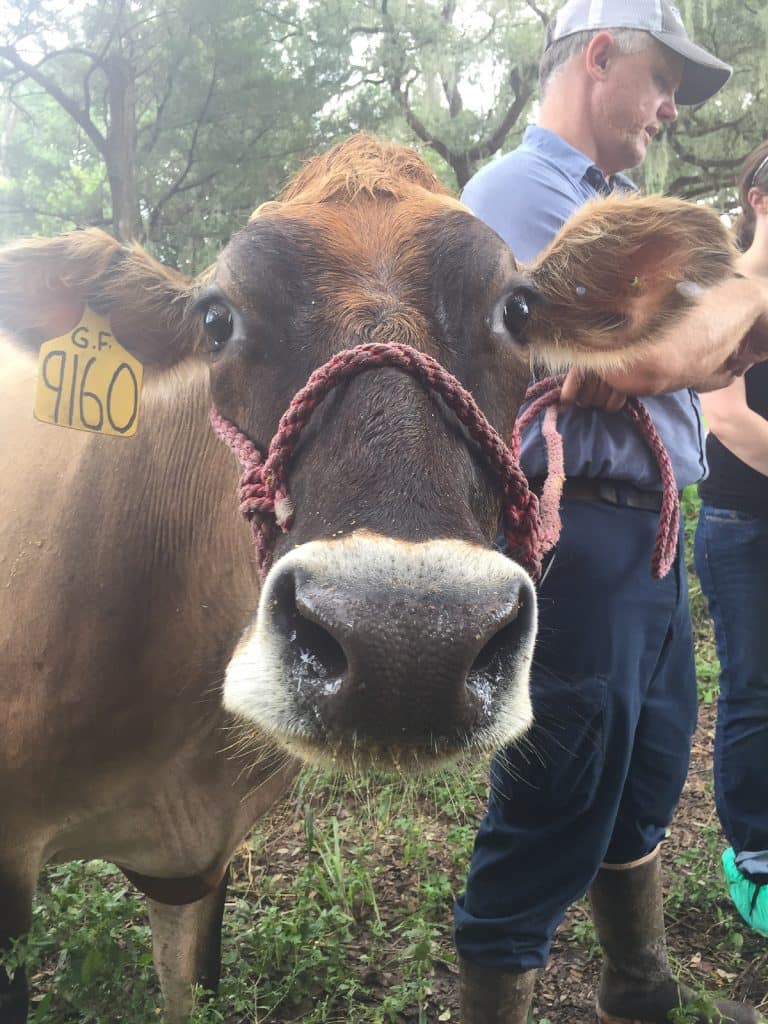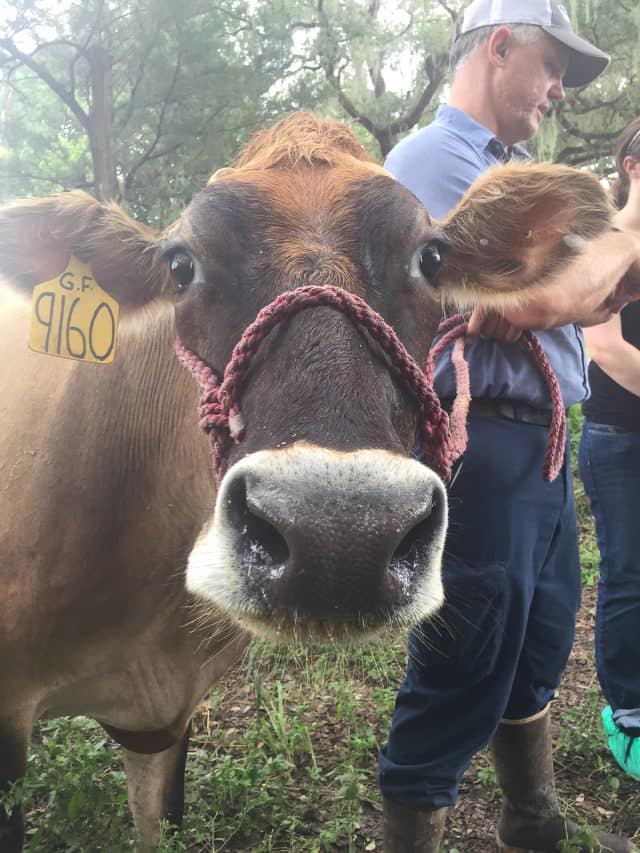 Cows are fed a balanced diet of hay, grains, protein sources, vitamins and minerals. Johan showed us some of the feed and it also includes naturally recycled regional ingredients such as citrus pulp and whole cottonseed which adds nutrients and is also sustainable, since citrus pulp and cottonseed would be thrown in our landfills otherwise.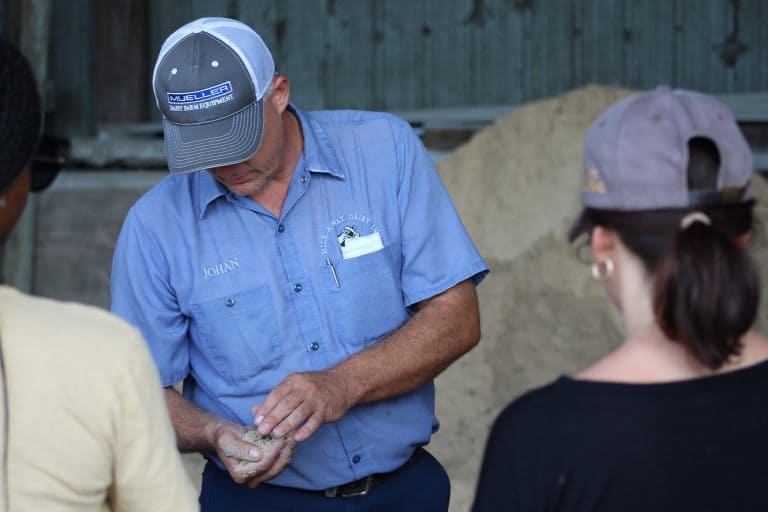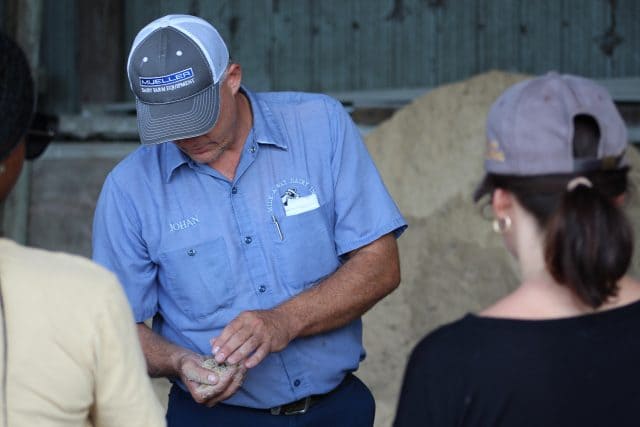 Photo Credit: Brian Chapman, Florida Dairy Farmers
My favorite part of my time on the farm was when I got the opportunity to get a little more up close and personal to the cows right by their cooling pond. This oasis is where a large group of the cows were spending their time, on the bank and wading in the water. The water is kept cool with spring water and is one of the comforts the farm provides to the cows to stay cooler in the summer months.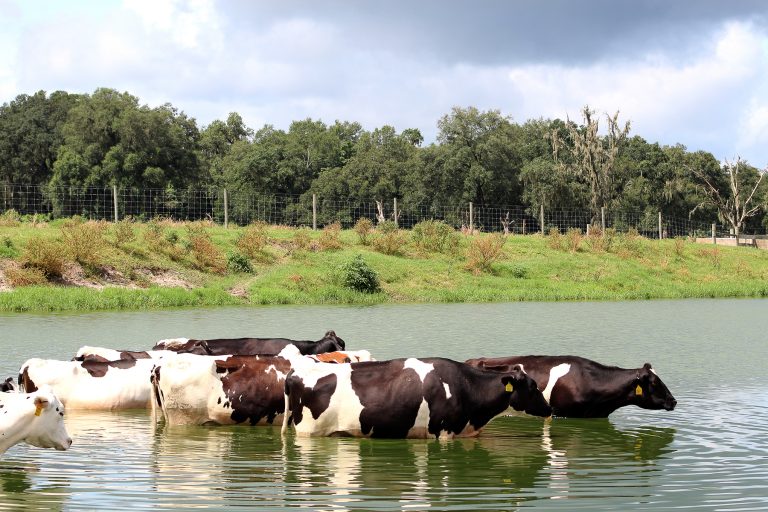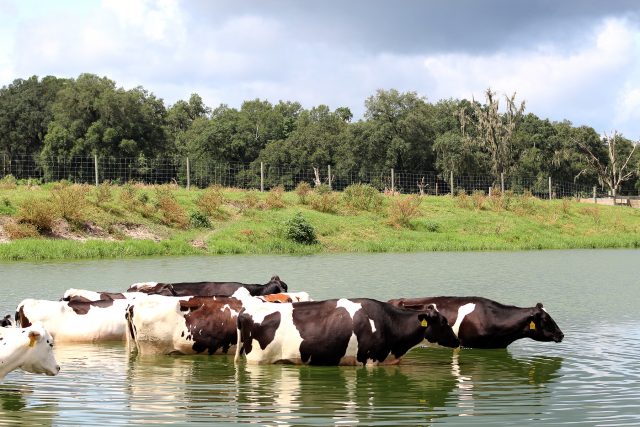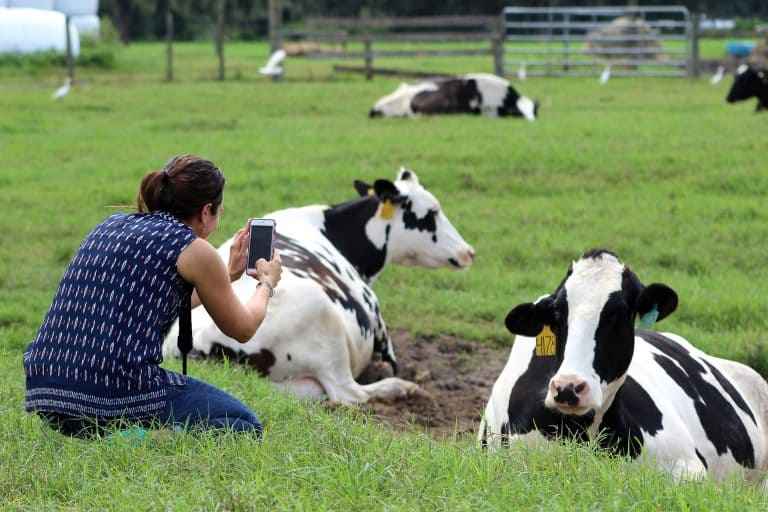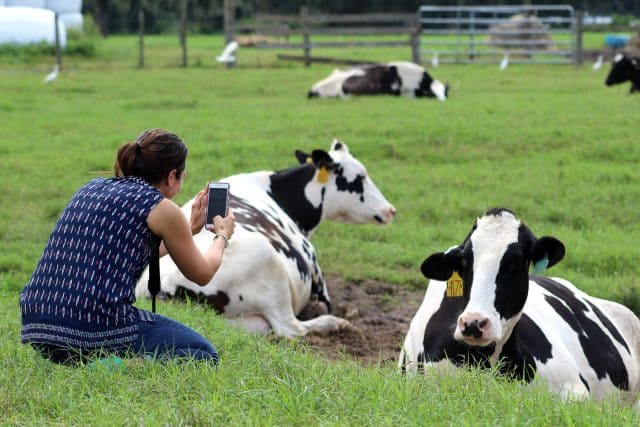 Photo Credit: Brian Chapman, Florida Dairy Farmers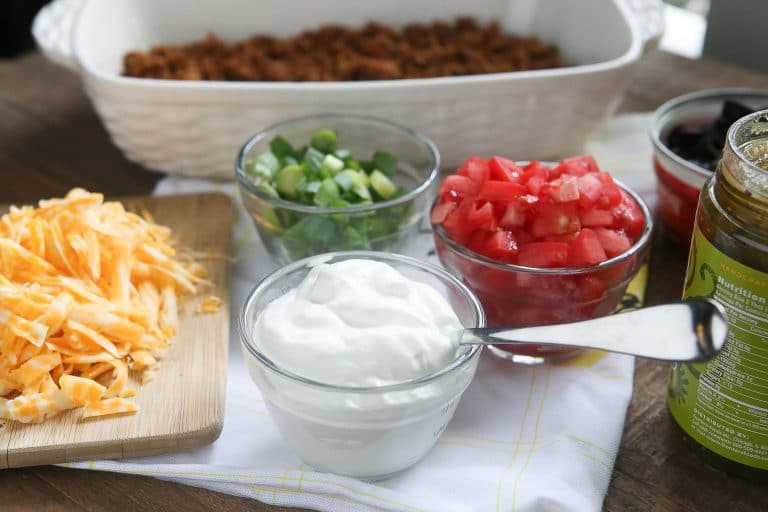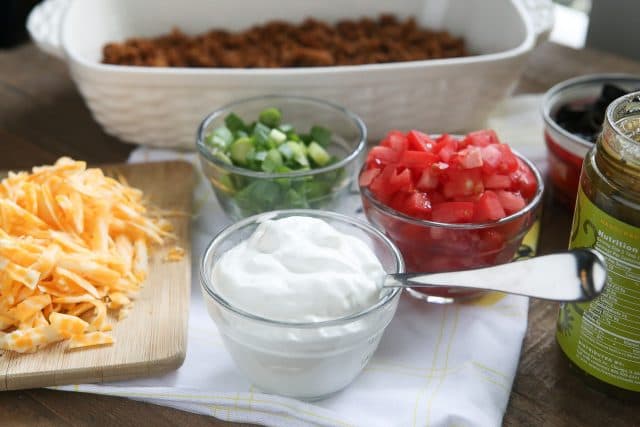 Layered Taco Dip Recipe
I'm excited to share today's recipe with you! Since I found out that the Heijkoop family were fellow Gators like my husband and me, I was inspired to create a recipe to enjoy with my family during the recent kickoff of Gator football season. This Layered Taco Dip is filled with all the ingredients that we love in our tacos, but in dip form. Wholesome dairy like light sour cream and just enough shredded cheese paired with seasoned lean ground turkey and lots of fresh veggies makes this dip irresistible and perfect for entertaining family and friends.

I don't know about you, but I could snack on this Layered Taco Dip watching sports with my family every weekend!
Print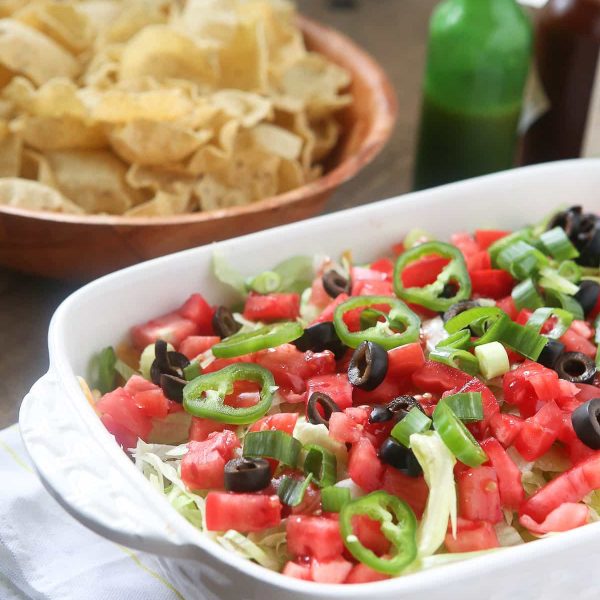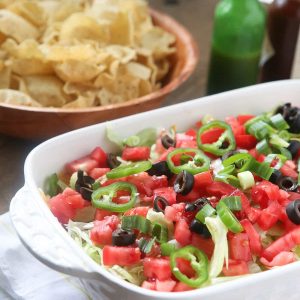 Layered Taco Dip
This Layered Taco Dip is full of all the ingredients that we love in our tacos, but in dip form. Great to serve while entertaining family and friends!
---
Ingredients
1 lb ground turkey
2 tablespoons taco seasoning
1 cup salsa verde
1 cup light sour cream
4 oz Monterey Jack cheese, shredded
2 handfuls shredded iceberg lettuce
1 large tomato, chopped (about 1 and a half cup)
1 green onion, chopped
3 tablespoons sliced black olives
1 fresh jalapeno, sliced
baked tortilla chips or scoops, for serving
hot sauce, for serving
---
Instructions
In a medium nonstick skillet, cook ground turkey until browned. Add taco seasoning to turkey while browning and stir.
Once turkey is browned, let cool for a few minutes, then add to the bottom of a medium sized casserole dish. Spoon salsa over ground turkey.
Dollop light sour cream over salsa and gently spread using a spoon. Top sour cream layer with shredded cheese, shredded lettuce, then tomatoes, green onions, black olives and jalapeno.
Serve immediately with baked tortilla chips or scoops.
More delicious dairy based appetizers for gameday:
Chipotle Ranch Greek Yogurt Dip
Hot and Cheesy Black Eyed Pea Dip
Are you following me on Instagram, Twitter, Facebook and Pinterest? If you'd like to subscribe to Aggie's Kitchen and have each post delivered straight to your e-mail box, then please add your email here. Happy cooking!
There are affiliate links in this post. I make small earnings through any purchases made through these links. Thank you for supporting Aggie's Kitchen!