Walnut and Blue Cheese Stuffed Mushrooms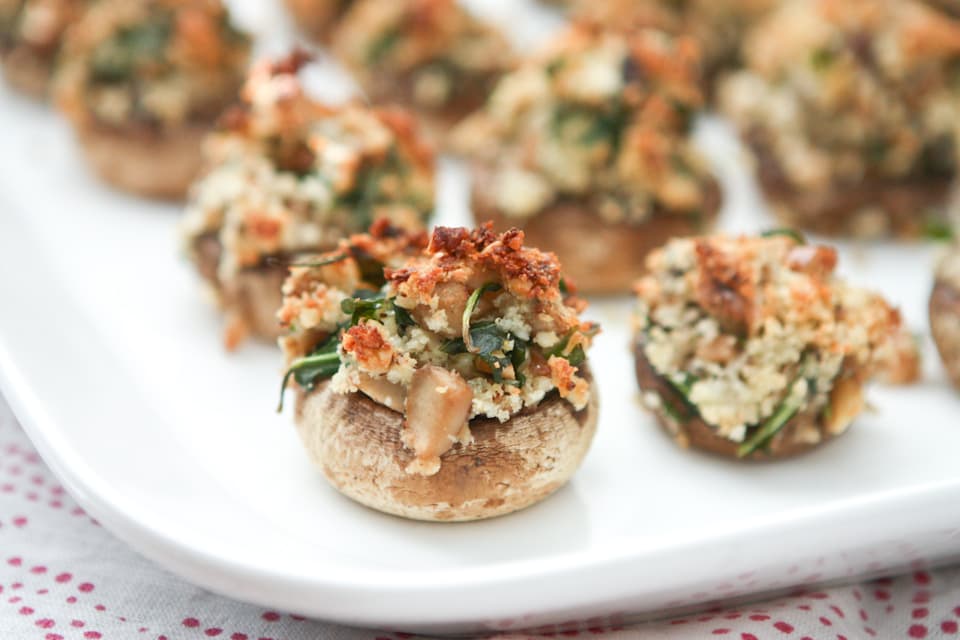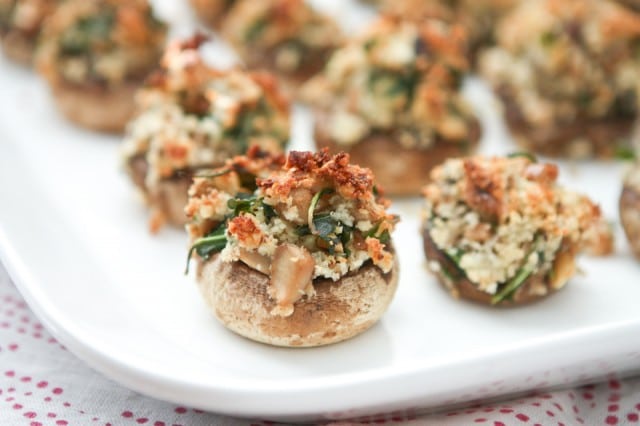 This Walnut and Blue Cheese Stuffed Mushrooms recipe is sponsored by Fisher Nuts.
Stuffed mushrooms are an appetizer that always grabs my attention at a party. If you are a mushroom lover, like me, you probably feel the same. The ideas for stuffing mushrooms are endless, so many combinations to play with, a couple of my personal favorites are these Mediterranean Stuffed Mushrooms and these Spinach and Toasted Pine Nut Stuffed Mushrooms. Well, you can officially add these Walnut and Blue Cheese Stuffed Mushrooms to my favorites list.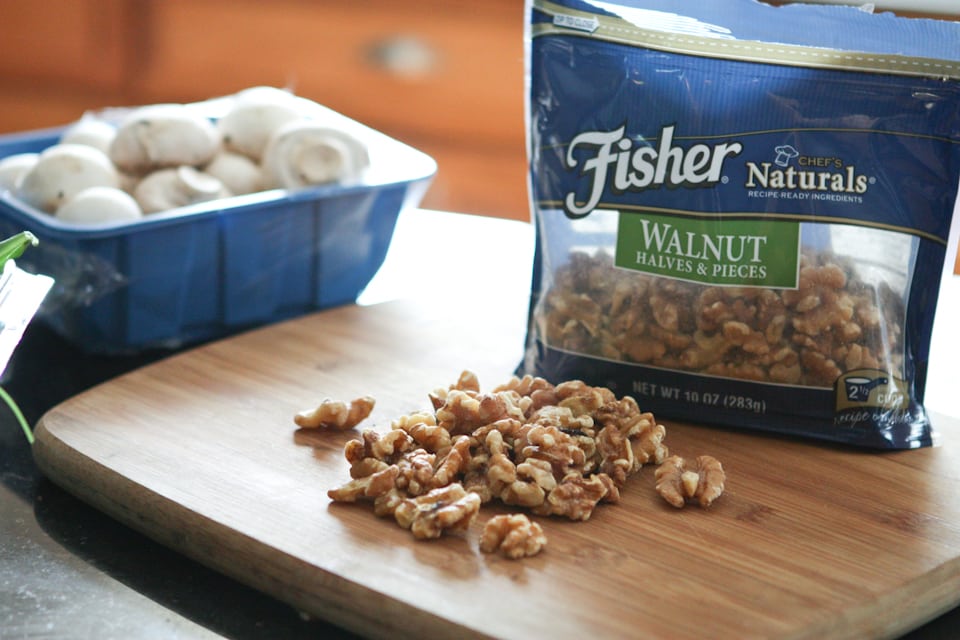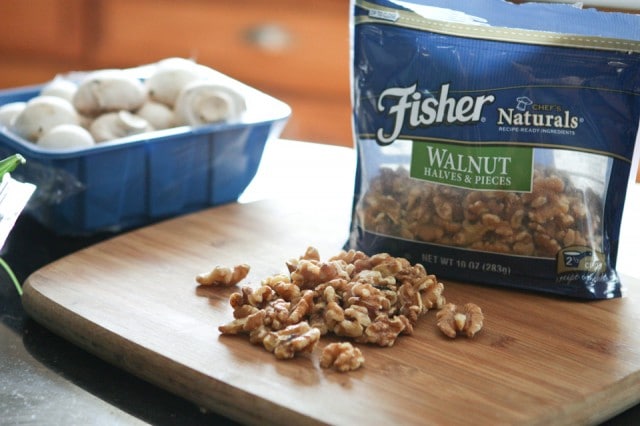 The ingredients for the stuffing are simple, which is always best. When I was in NY with Fisher Nuts and Chef Alex last month I was so inspired by the use of such simple and fresh ingredients in all the recipes we tasted. One of my favorite recipes I was able to try was Chef Alex's Walnut Stuffed Cherry Halves. These little bites included walnuts, arugula, Parmesan and balsamic vinegar and were true perfection. Chef Alex mentioned that she likes to use arugula in recipes as she would an herb and that really stuck with me. I am a huge lover of arugula salads but was inspired to use arugula a little different this time when I included it in the Walnut and Blue Cheese Stuffed Mushroom recipe.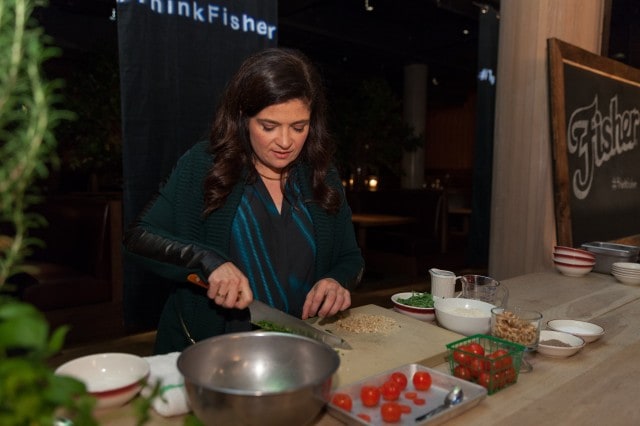 The mushrooms come together pretty easily and can be prepped ahead and cooked later. Just stuff them as you would, and place them carefully in a large tupperware container until you are ready to cook and serve. They cooked up fast, in just 10 minutes, so they are a great to serve to friends and family if you are entertaining over the holidays. They are also vegetarian which is always a nice option to have so that everyone can enjoy them.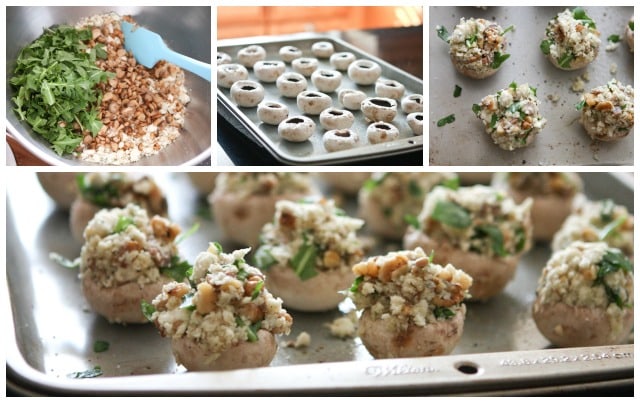 These really do make the perfect holiday appetizer, but these Walnut and Blue Cheese Stuffed Mushrooms are also great to eat as a light lunch or dinner. Pair up a few with a big arugula and avocado salad for a nice meatless dinner.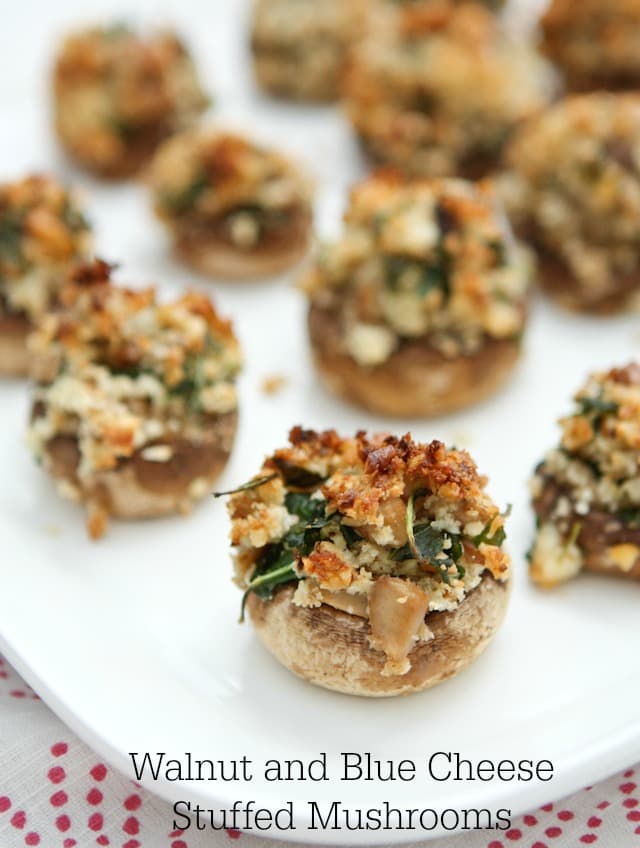 Walnut and Blue Cheese Stuffed Mushrooms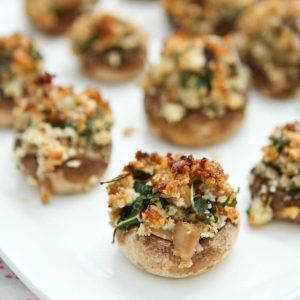 Ingredients:
16 oz whole white mushrooms, cleaned and stems removed (save to include in filling)
1 cup Fisher walnut halves, chopped
1 cup panko
5 oz crumbled blue cheese
1 cup arugula, chopped
1 tablespoon olive oil + 1 teaspoon olive oil, divided
kosher salt and fresh ground pepper
Directions:
Preheat oven to 375 degrees.
Line up whole mushroom caps in large cookie sheet. Season mushroom caps with salt and pepper.
In a medium nonstick skillet, add 1 teaspoon olive oil over medium heat. Chop mushroom stems and add to skillet. Season with salt and pepper and sauted 5-7 minutes until soft. Set aside and let cool.
In a large mixing bowl, combine chopped walnuts, panko, blue cheese, chopped arugula and chopped and cooked mushroom stems. Drizzle filling with one tablespoon olive oil and mix well.
Using your fingers (I find it easier to use fingers than a spoon when filling mushroom caps), take a portion of your filling and carefully stuff each mushroom cap. Place into oven and cook for 15 minutes or until golden brown.
Be sure to chop walnuts and arugula to a small enough size so they fit into mushroom caps nicely.
A few outtakes from our time together in NY with Fisher Nuts. A big thank you to Fisher Nuts and Chef Alex Guarnaschelli for hosting us, such a delicious and fun event to be a part of! Be sure to check out my post recap for more pics from the event too!
Follow Sweet Basil's board Vegetarian on Pinterest.
(Photo credit for all event photos: Zack Seckler )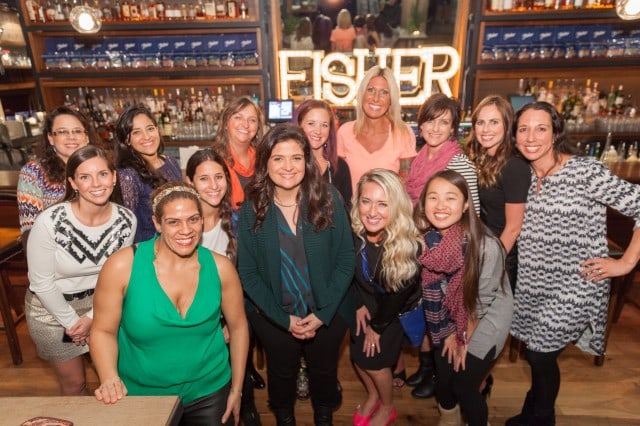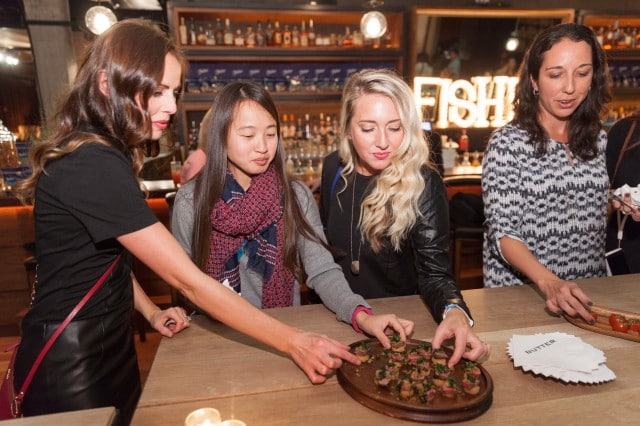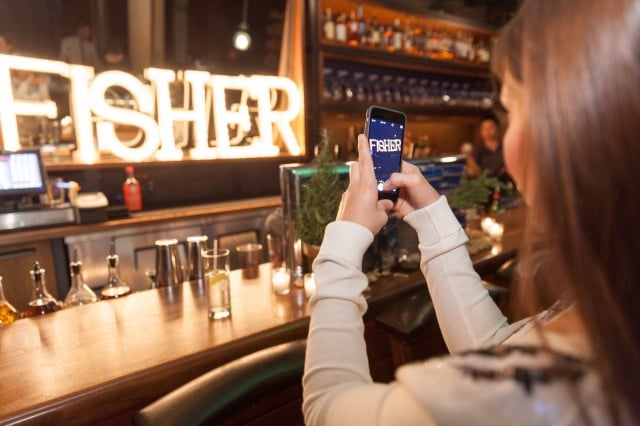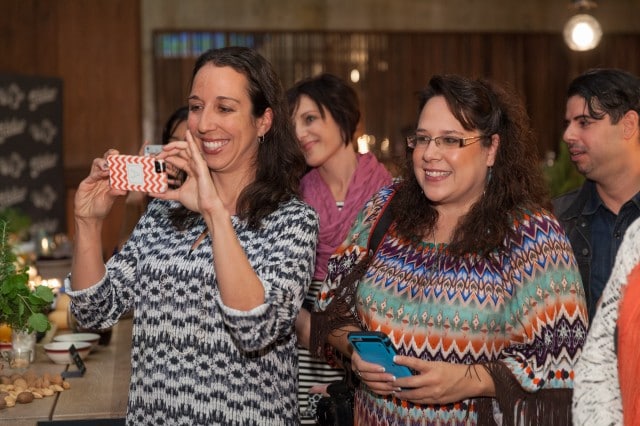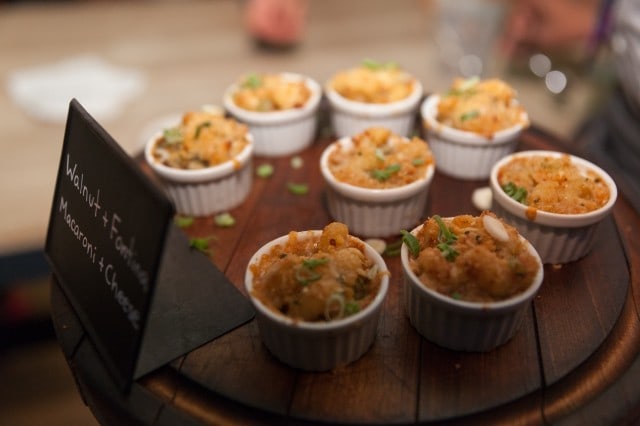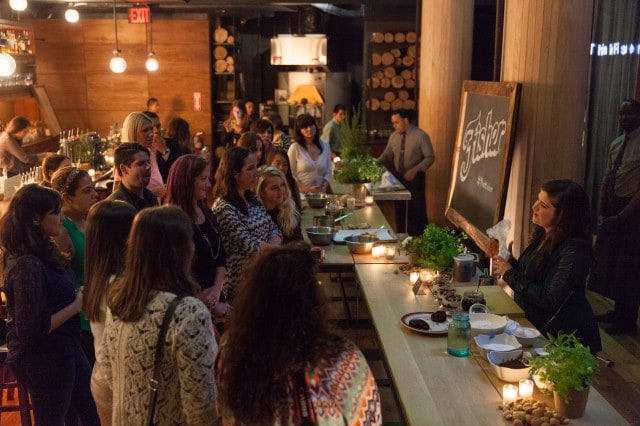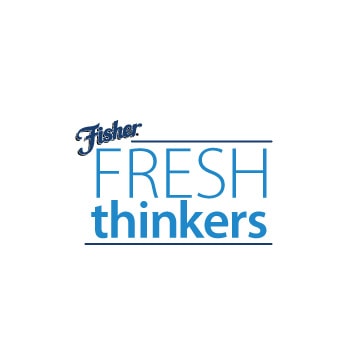 Fisher Nuts are preservative-free and of the highest quality. You can find an array of recipes using a variety of their nuts on their website here as well as informative How-To Videos here.
(Disclosure:  This post is sponsored by Fisher Nuts. I am a brand ambassador for Fisher's Nuts and will be sharing recipes for them this upcoming year. They are a brand I admire and enjoy working with, and as always my opinions are my own.)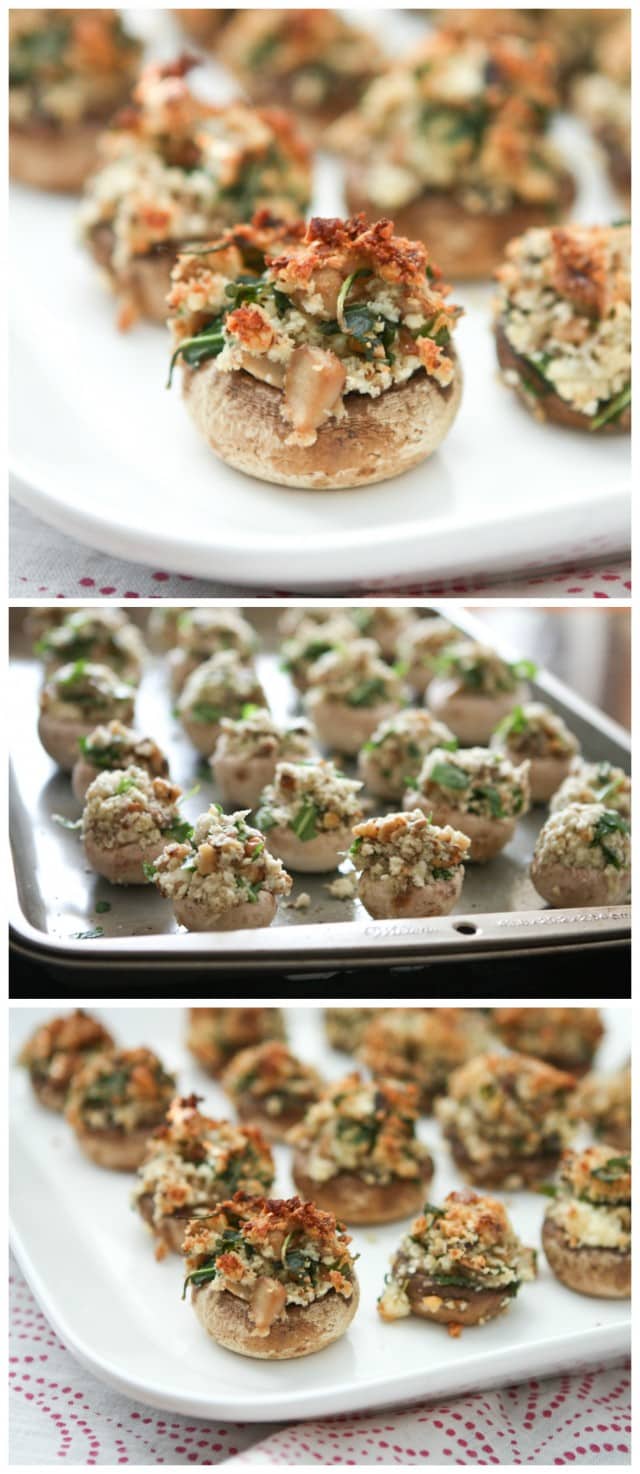 Are you following me on Instagram, Twitter, Facebook and Pinterest? If you'd like to subscribe to Aggie's Kitchen and have each post delivered straight to your e-mail box, then please add your email here. Happy cooking!
There are affiliate links in this post. I make small earnings through any purchases made through these links. Thank you for supporting Aggie's Kitchen!