Chicken and Vegetable Stir Fry
This Chicken and Vegetable Stir Fry is a simple healthy option for busy weeknights. Your whole family will love it!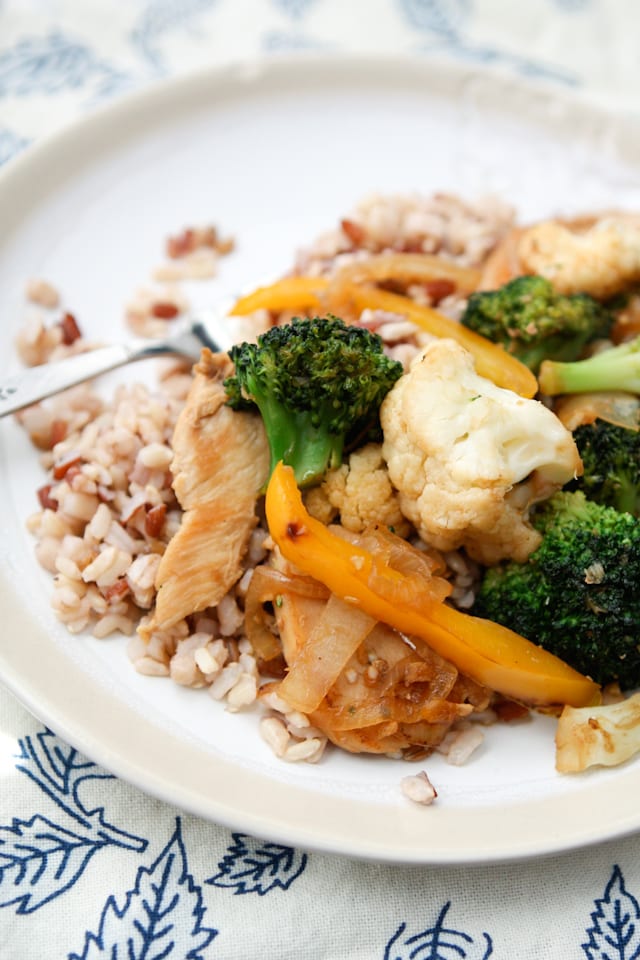 Raise your hand if you love a good stir fry. (My hand is raised high – and so are my family's hands too.)
Stir fries are a busy weeknight's lifesaver. They are simple, healthy and quick. A no brainer really if you think about it. All it takes is a little prep (those precut bags of veggies at the grocery store come in real handy if you are really short on time) and a good wok.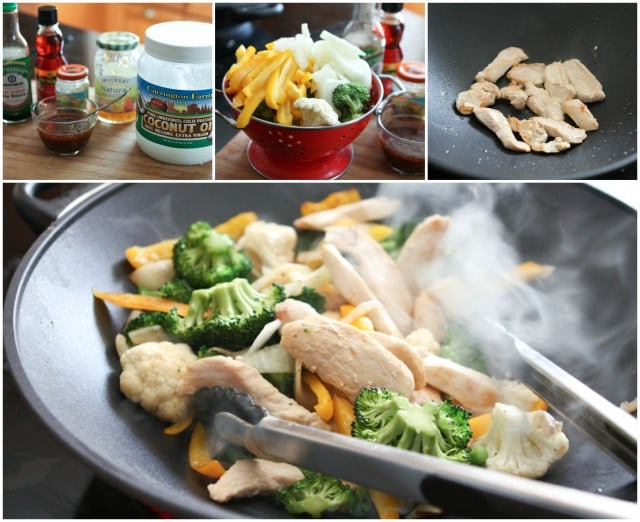 I've been lacking in the good wok department for quite some time. I have not had much luck with woks over the years for some reason. They have always seemed to get warped and become lopsided on my cooktop and the inside of the wok gets a little sad looking after some time.
Swiss Diamond recently sent me their 14″ Nonstick Wok to test out and I am so impressed. The quality is amazing. It's a huge wok (and comes with a glass lid) so you can easily make stir fries packed with veggies your whole family will love – like this Chicken and Vegetable Stir Fry I made this week. Their nonstick coating is made with real diamond crystals (pretty cool, huh) and they are made of heavy-duty cast aluminum with a flat bottom so no warping, tipping or spinning will be happening.
I'm excited to offer the same wok to one lucky reader too – see the below the recipe to enter the giveaway!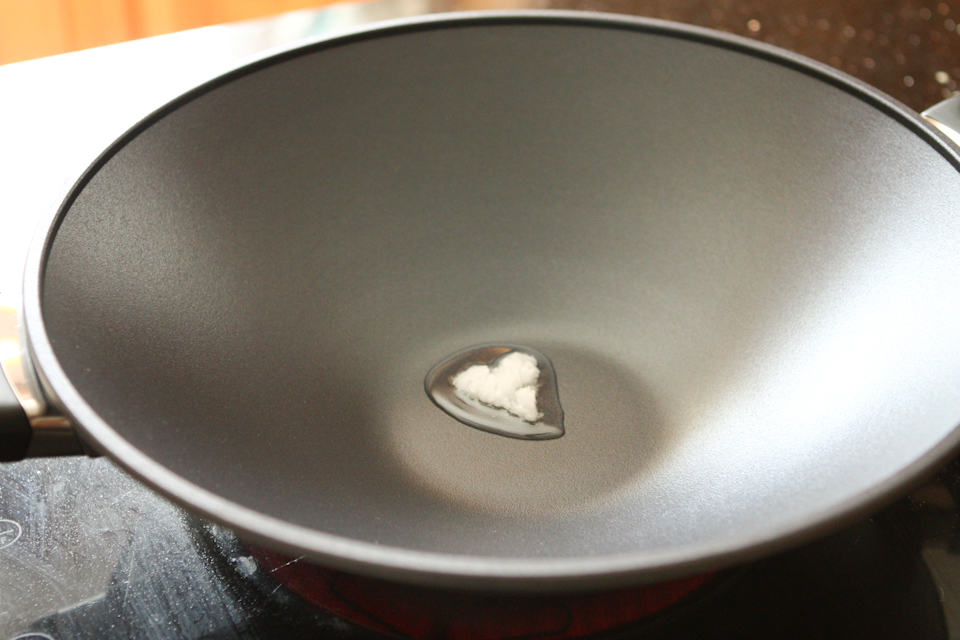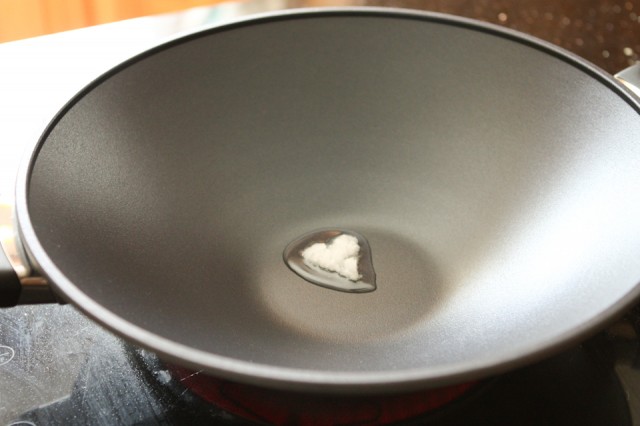 Because of their unique nonstick coating, very little oil is needed when cooking, keeping it a little extra healthy and lower in calories. Love that (and love that little coconut oil heart that I found in my pan too!).
This Chicken and Vegetable Stir Fry recipe is very basic, perfect for a family that includes little ones. The chili oil in the sauce gives just a little bit of kick but it's not enough to overpower the dish (that's where a bottle of sriracha on the table comes in). The orange marmalade adds just a bit of sweetness and the garlic and ginger is always essential. Stir fries are fun to make and the vegetables are always interchangeable. Just make sure you have everything prepped and ready to go before you start.
Enjoy the recipe!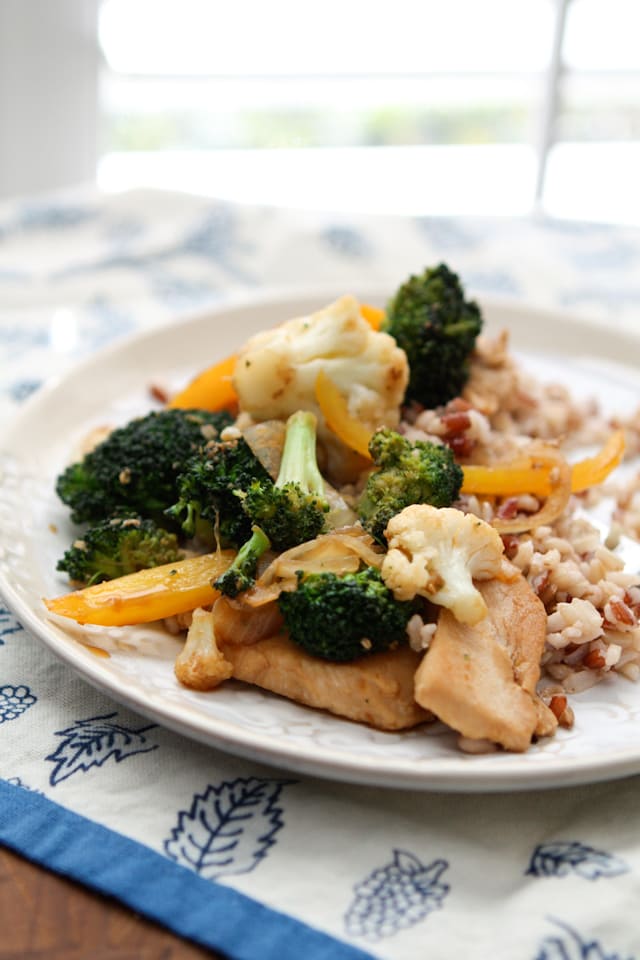 Chicken and Vegetable Stir Fry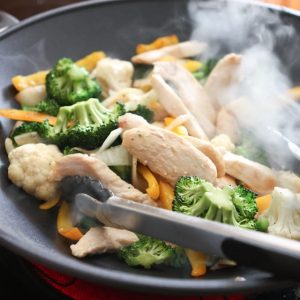 Ingredients:
3 tb low sodium soy sauce
1 tb orange marmalade
1 tb minced ginger
3 garlic cloves, minced
1 teaspoon chili oil
1 teaspoon coconut oil (or other high heat cooking oil)
1lb chicken, cut in thin strips
3-4 cups broccoli and cauliflower florets (I used a bag of Eat Smart pre-cut vegetables)
1 yellow pepper, sliced
1 onion, sliced
Salt & pepper
Directions:
In a small bowl, combine soy sauce, orange marmalade, ginger, garlic and chili oil. Set aside.
Heat wok over medium heat. Add 1 teaspoon coconut oil (or other high heat cooking oil) into wok.
Season your chicken with salt and pepper. Increase wok heat to medium high (I put it at about a 7 on my stovetop). Place half of your chicken into your wok and let cook until browned, about 4-5 minutes. Once that batch of chicken is browned, take out and place on a plate. Add remaining chicken to wok and cook until browned, another 4-5 minutes. Take out chicken and place on plate.
Add onions and peppers to wok. Cook for about 1 minute, stirring with a wooden or plastic spoon or spatula. Add broccoli and cauliflower to wok and cook, stirring for about 1-2 minutes. Add chicken back into wok, along with sauce. Cook for about 3-4 minutes, tossing frequently so that all veggies are cooking and being covered in sauce.
Serve hot over brown rice.
Stir fry happens quick so it is very important to have your sauce and all of your chicken and vegetables prepped and ready to cook before you start cooking.
More easy, flavorful stir fry recipes to try:
Spicy Garlic Pork Stir Fry | Nutmeg Nanny
Garlic Beef, Broccoli and Cauliflower Stir Fry | The Little Kitchen
Ginger Chicken and Broccoli Stir Fry | Barefeet in the Kitchen
Cilantro Chicken Stir Fry | The Cookie Rookie
Follow Aggie's Kitchen's board Healthy Recipes on Pinterest.
Enter to win your Swiss Diamond 14″ Nonstick Wok with Lid by following the prompts in the Rafflecopter widget below.
Giveaway starts Friday, December 12. Winner will be chosen through Rafflecopter/Random.org. Winner will be contacted by me via email and will have 48 hours to reply before another winner will be selected. Sorry, but giveaway open to US addresses only.
(note: if you are commenting on Aggie's Kitchen for the first time, it may take some time to see your comment appear. Thanks for your patience!)
Good luck and thanks so much for entering!
(Disclosure: Swiss Diamond has been provided me with a wok for review, and winner will be sent their own wok from Swiss Diamond. All opinions are my own.)
Are you following me on Instagram, Twitter, Facebook and Pinterest? If you'd like to subscribe to Aggie's Kitchen and have each post delivered straight to your e-mail box, then please add your email here. Happy cooking!
There are affiliate links in this post. I make small earnings through any purchases made through these links. Thank you for supporting Aggie's Kitchen!