Salmon and Veggie Stir Fry: Day 4 of the 17 Day Diet
Salmon and veggie stir fry is one of the most flavorful, easy salmon recipes you can make. This healthy stir fry recipe combines fresh salmon, nutrient-packed fresh vegetables, and Asian seasonings and spices to create a quick dinner in under 15 minutes!
So it's day 4 of my 17 Day Diet and I have to say…it hasn't been too bad! I think once you get your fridge stocked and you know your options and have your meals somewhat planned (and of course the WILLPOWER, which I must say is so incredibly important, and I am happy to have right now) then it's totally doable. I haven't attempted to try on the jeans that I wore on Sunday night. I swear, I thought the button was going to pop off while I was sitting in my seat at the Magic game. A very low moment for me, ugh!
But I have weighed myself, and I am happy to report that I am down 4 pounds since I started Monday! For the record though, I'm technically down 8 pounds, but I really don't want to count the 4 pounds of salt and beer weight that I horrifically gained overnight Sunday. So, I'm sticking to what I weighed New Year's Eve for good measure.
Do you want to know what I've been eating the last few days?
A typical day on this 17 day diet has been going like this for me:
Breakfast – 1 egg/2 egg white scramble (or 1 egg 'fried') with onions and sliced tomatoes, green tea.
Snack – kefir smoothie (1 cup plain kefir, 1 cup defrosted but still sorta frozen blueberries, squirt of agave), apples, oranges (all before 2 pm).
Lunch – big spinach salad with tomatoes, celery, cucumbers, tuna with a drizzle of olive oil and balsamic or lemon juice.
Dinner: broiled fish with stewed kale and tomatoes, fried eggs and kale chips, and this amazing salmon and veggie stir fry.
lots of iced green tea throughout the day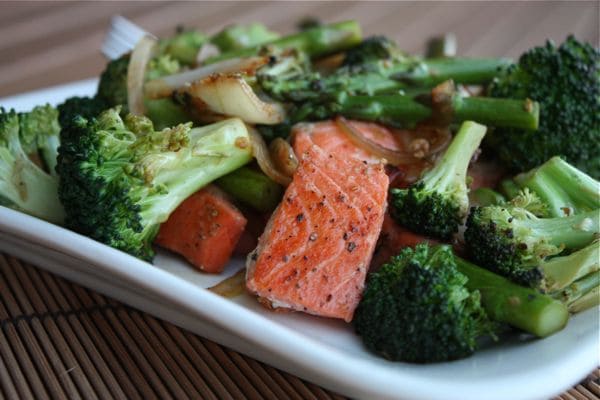 This salmon and veggie stir fry recipe rocks my world, people.
Every single time I make a stir fry, I always ask myself why I don't make it more often. If you make it right, the veggies turn out perfectly bright and crunchy, and I use hardly any oil in this easy stir fry. Actually, I used non stick spray on my super hot wok, which was a first for me. Usually, I use a little canola oil, which isn't a bad thing either!.
This recipe one I adapted after being inspired by a recipe I found in The Good Housekeeping Test Kitchen Cookbook. The only change I really made is that I added broccoli, used sliced sweet onion instead of green onion, and I didn't add any cornstarch, sugar or water.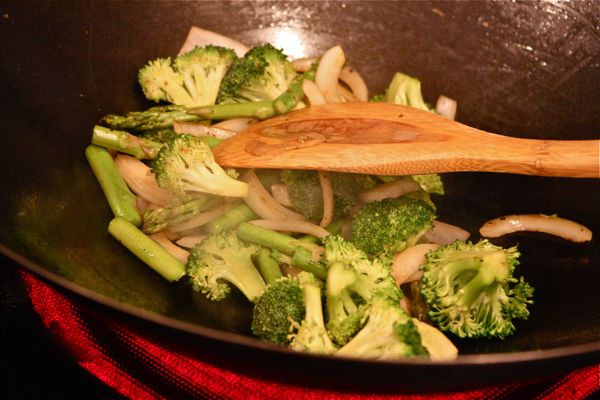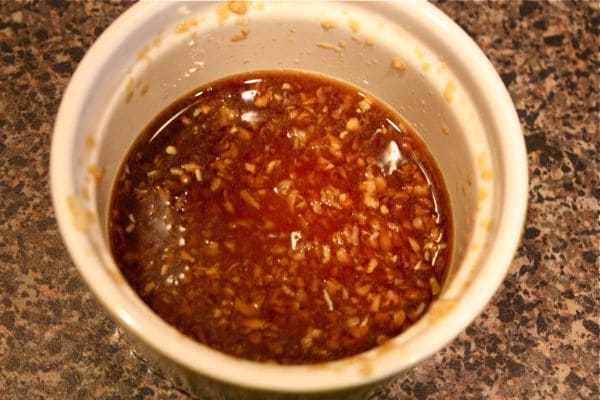 It is such a simple healthy dinner, and this little bit of sauce ties it all together. A little soy sauce, rice vinegar, and lots of garlic and ginger is all you need for a good punch of flavor and hardly any calories.
NOTE: Because I am watching my sugar, I use the original natural rice vinegar in this salmon and veggie stir fry, not the seasoned rice vinegar.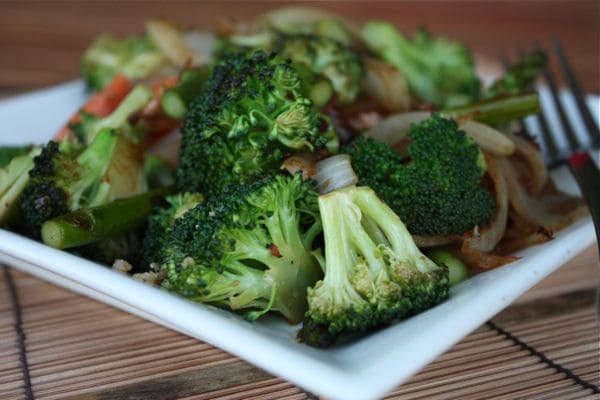 Salmon and Veggie Stir Fry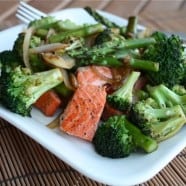 Ingredients:
3/4 - 1 lb wild salmon, cut into 1 1/2 inch pieces
1/4 teaspoon salt
pinch fresh ground pepper
1 good handful of asparagus, trimmed and cut into 2 inch pieces
1 good handful of broccoli, cut into bite sized pieces
1/2 sweet onion, sliced thin
1 1/2 tablespoon low sodium soy sauce
1 tablespoon rice vinegar (I used the natural, original rice vinegar with no added sugar)
1 tablespoon grated or minced ginger
2 garlic cloves, pressed in garlic press or minced very small
1/4 teaspoon agave, honey, sugar or sweetener of choice (optional)
Directions:
Heat a nonstick wok over medium high heat. Season salmon pieces with salt and pepper. Spray wok with cooking spray and add salmon to hot pan. Cook fish gently, turning occasionally as each side starts to turn pink and cooked through. Transfer fish to a plate and keep warm.
In same skillet, add asparagus, broccoli and onion. Cook over medium high heat, stirring occasionally until crisp tender, about 5 minutes.
While vegetables are cooking, stir together soy sauce, rice vinegar, ginger, garlic and sweetener of choice in small bowl. Pour over vegetables in wok and cook for about a minute longer, constantly stirring. Spoon vegetable mixture over salmon and toss gently before serving.
Serve with a few dashes of sriracha if you like heat!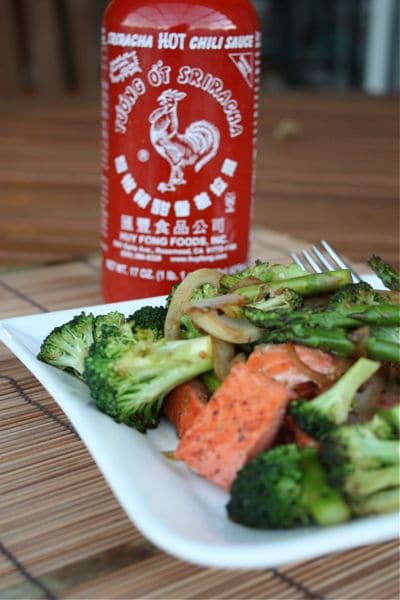 Are you following me on Instagram, Twitter, Facebook and Pinterest? If you'd like to subscribe to Aggie's Kitchen and have each post delivered straight to your e-mail box, then please add your email here. Happy cooking!
There are affiliate links in this post. I make small earnings through any purchases made through these links. Thank you for supporting Aggie's Kitchen!
36 Responses to "Salmon and Veggie Stir Fry: Day 4 of the 17 Day Diet"
Trackbacks/Pingbacks

Leave a Comment