Almond Crusted Honey Mandarin Salmon
Almond crusted honey mandarin salmon is one of the most delicious and easy salmon recipes you'll ever make! The sweet honey mandarin salmon has a crunchy almond crust with lots of flavor and natural health benefits from salmon and almonds. Make this healthy salmon dinner part of your weekly meal plan!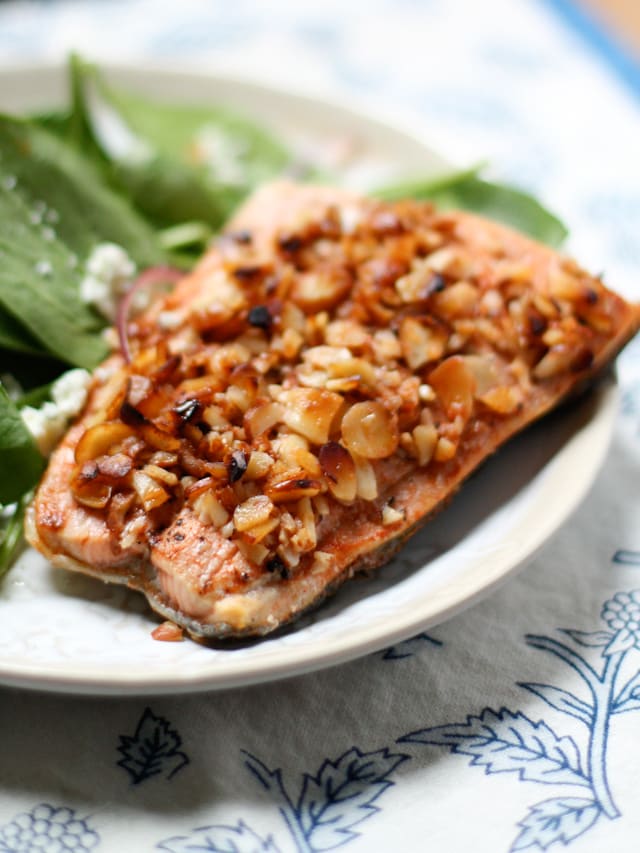 I have been really enjoying reading all of your entries to my Favorite Things / Amazon Gift Card Giveaway! It sounds like a lot of you want to use the gift card to purchase Christmas gifts, but books (yay!), stand up mixers, fitbits and even a few sewing machines are making the list too. You have all week to enter the giveaway if you haven't already, and don't forget to check out the other 14 blogger hosted Favorite Things giveaways too (prizes range from more gift cards, a fit bit and lots of kitchen items!).
One of my favorite "Feel Good" meals is broiled salmon and veggies. It really doesn't get much healthier than that does it? I haven't been cooking as much fish as I used because my son can't eat it. We haven't had him officially tested yet, but we think he has an allergy. I usually end up cooking fish on nights that I have leftovers of something else that I can give him for dinner so that I don't have to prepare two separate main courses. The rest of us love fish so I am making an effort to plan better so that we can have it regularly again.
The best thing about fish dinners like this almond crusted honey mandarin salmon are how quickly they cook up, usually in just about 10-15 minutes!
Turn on the broiler and prepare a salad or saute some vegetables while your fish cooks and you have yourself the perfect "Feel Good" healthy dinner.
I don't know about you, but this time of year, I need more of these types of healthy meals to balance out the other types of meals. You know, those indulgent ones that tend to creep up every other day or so during the holidays. 😉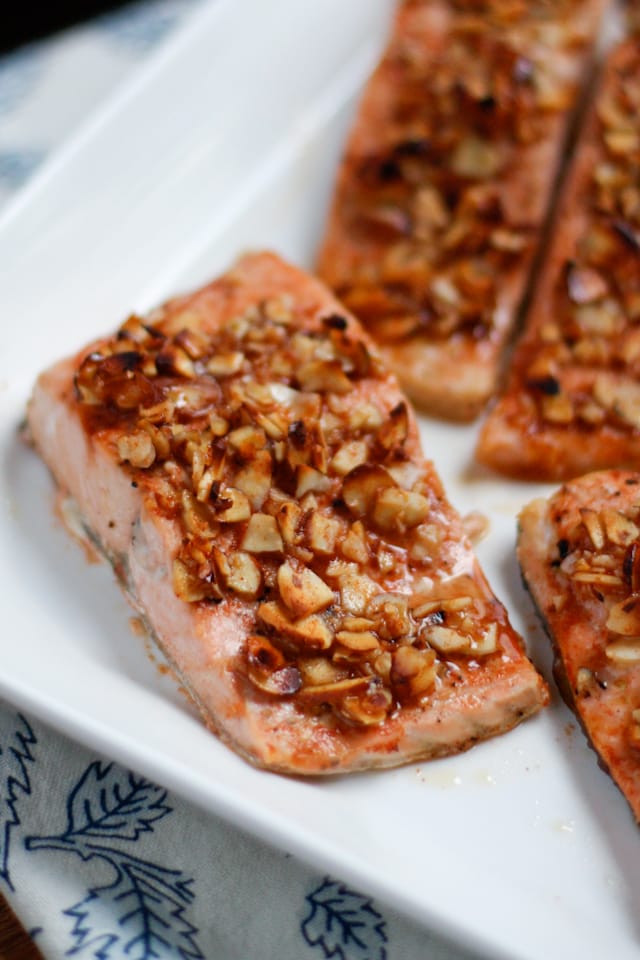 For this easy broiled salmon recipe, I used the juice of a couple of mandarin oranges (or are they clementines, I have always called them clementines – what is the difference?) that are starting to pop up in crates in the grocery store. We eat them like crazy at our house and I am so happy to see that they are back in season! I combined the juice with some honey, smoked paprika and crunchy almonds for a flavorful, light coating and sauce.
I served this Honey Mandarin Salmon with Almond Crust with a simple spinach salad with red onion, feta and vinaigrette – it was delicious!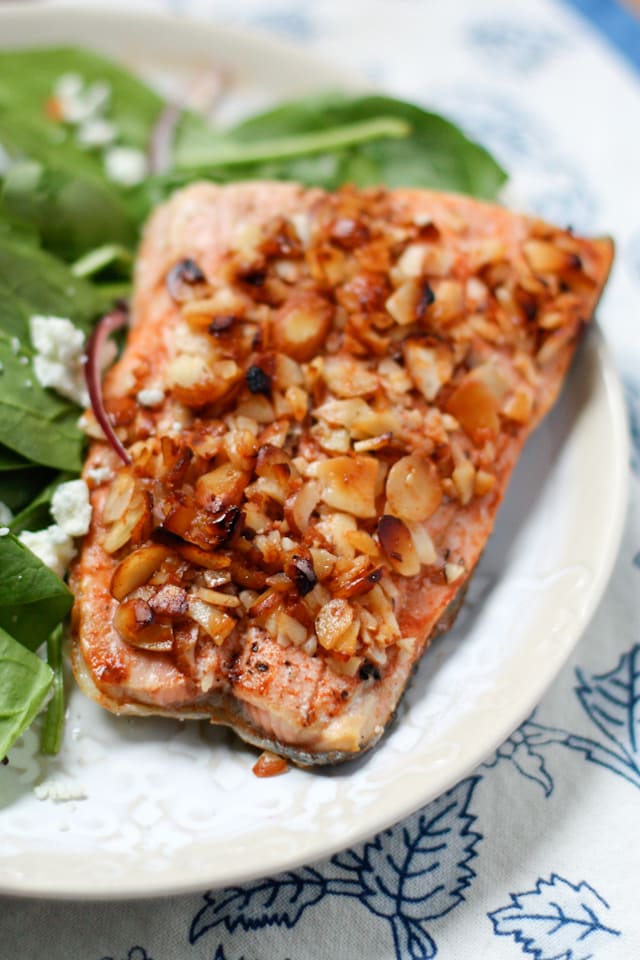 Honey Mandarin Salmon with Almond Crust
Yield: 6 4oz servings
Prep Time:10 minutes
Cook Time:8-9 minutes
Total Time:20 minutes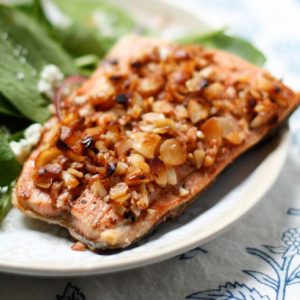 Ingredients:
6 4oz salmon filets (or 1 1/2 lbs salmon)
2 mandarins (or clementines), juiced
2 tablespoon honey
1 teaspoon smoked paprika
1/2 cup sliced almonds, crushed
big pinch kosher salt
freshly ground pepper
2 tablespoons oil
Directions:
Preheat broiler. Set rack 2-3 levels down from top of broiler.
In a small bowl combine juice of mandarins (or clementines), honey, paprika, almonds, salt and pepper.
Place a sheet of aluminum foil on a roasting pan. Place each salmon filet on roasting pan. Drizzle oil lightly over salmon fillets and sprinkle with salt and pepper.
Spoon honey-mandarin-almond sauce evenly over each salmon filet. Be sure to spread the almonds and juice so that top of salmon is covered.
Place in oven and broil for 8-10 minutes until salmon is cooked through and flakes with a fork. Be careful not to burn the almonds (reason for lowering rack in oven).
For more fish recipes check out my Pinterest Board. Follow Aggie's Kitchen's board Fish and Seafood on Pinterest.
Are you following me on Instagram, Twitter, Facebook and Pinterest? If you'd like to subscribe to Aggie's Kitchen and have each post delivered straight to your e-mail box, then please add your email here. Happy cooking!
There are affiliate links in this post. I make small earnings through any purchases made through these links. Thank you for supporting Aggie's Kitchen!